MBTA Proposes Cuts To Ferries, Buses And Trains Amid Budget Crisis
The MBTA is looking to eliminate all ferry service and some bus routes, in addition to running trains less frequently on the commuter rail and subway system, starting next year.
The proposed service cuts will be unveiled at the T's Fiscal Management & Control Board meeting Monday and are part of an effort to help close the transit agency's massive budget gap. That budget gap is currently projected at $579 million for fiscal year 2022 (which starts July 1, 2021), according to MBTA general manager Steve Poftak.
"We have tried to take a thoughtful approach to this, an approach that centers the needs of our riders who depend on the system," Poftak told reporters Monday. "We have also sought to do this as a last resort."
The T's proposed service cuts also take into account ridership levels across the system. Parts of the transit system are running at or near pre-COVID levels of service, but the ridership just isn't there to justify that, transit officials said. Ridership plummeted early in pandemic and has slowly ticked back up as businesses reopened, but is now "stalling out," Poftak said.
To that end, the MBTA is proposing to cut ferry service entirely. Currently, ferries are carrying about seven riders per trip — about 12% of ridership before the pandemic — according to Poftak.
The MBTA is also proposing to stop all commuter rail service on the weekends and after 9 p.m. The T would also decrease peak service during the week and some midday service, reducing the number of commuter rail trains it runs from 505 to 430. The changes on the commuter rail — which currently has only about 13% of its usual ridership — would also lead to the closure of six stations in Walpole, Beverly, Weston, Plymouth and Melrose. And the T would pause the construction of new stations in Winchester and South Attleboro.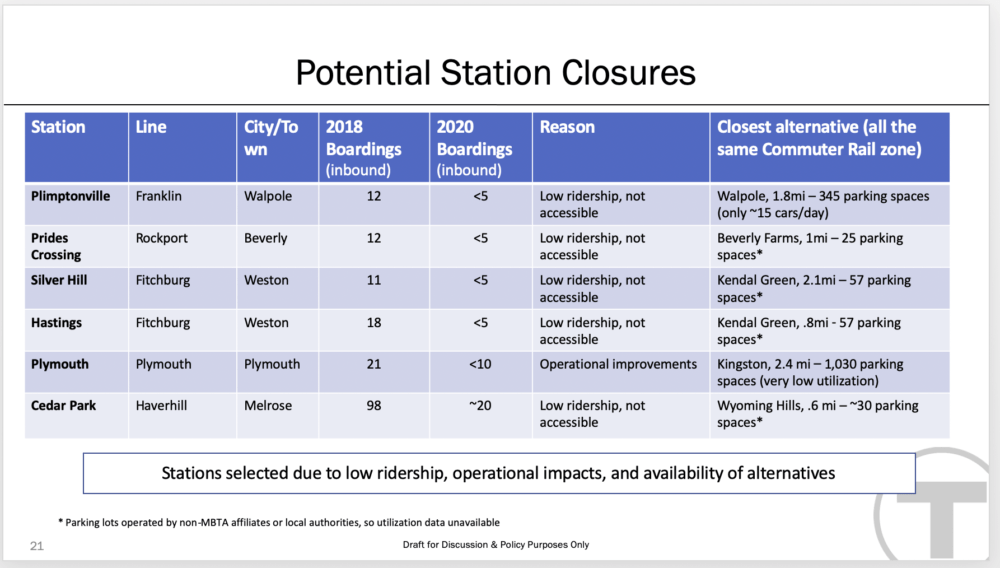 Subway service would end after midnight instead of 1 a.m. under the MBTA's new service proposal. The T would also reduce the frequency of trains on the subway by 20% across all lines. This would mean slightly longer wait times for riders. For example, during peak hours on the Red Line, the T usually aims to have trains about 4 1/2 minutes apart. With the service changes, that would increase to about 5 1/2 minutes in between trains, according to Poftak. In off-peak hours on the Red Line the T aims to have trains seven minutes apart, which would increase to about eight and a half minutes with the service changes.
The MBTA is also proposing to end service on the Green Line's E branch at Brigham Circle — after the Longwood Medical Area. The idea is to divert those riders to the 39 bus, which the T says it would monitor for increased crowding.
Some bus routes would be cut, shortened or consolidated under the MBTA's proposal. Buses, which currently have about 41% of its pre-COVID ridership, have had the strongest ridership during the pandemic. The MBTA is proposing to stop all bus service after midnight, and reduce the frequency of buses by as much as 30% depending on the route and time of day. Routes deemed essential by the T, about 80 out of 169, will only see a 5% reduction in bus frequency. Routes deemed non-essential, about 60, would see a 20-30% reduction in frequency. And some routes like the 111, 116/117 and 109 would likely not see a changes in service levels.
The MBTA would also eliminate 25 bus routes, consolidate 14 routes and shorten 5 routes. Transit officials say those routes have very low ridership and are near alternative modes of transit.
In all, the MBTA expects its proposed service changes will save $14 million in fiscal year 2021, and $128 million in fiscal year 2022. The service changes will also likely lead to job cuts at the transit agency, according to Poftak. The T is still figuring out those details, Poftak said.
The T's service plans are not final and will now go through a public comment period. After a plan is finalized, the service changes will roll out next year, with most changes starting in the spring.
Transit officials did leave open the possibility of some service being restored down the road, but that will depend on ridership and money.
"We are looking forward to a future where we can begin to build service back," Poftak said. "We are not making a long-term service commitment without having a similar long-term commitment on revenue."
Here's a look at all of the proposed changes: