Farms Will Harvest Food And The Sun, As Mass. Pioneers 'Dual-Use' Solar
Play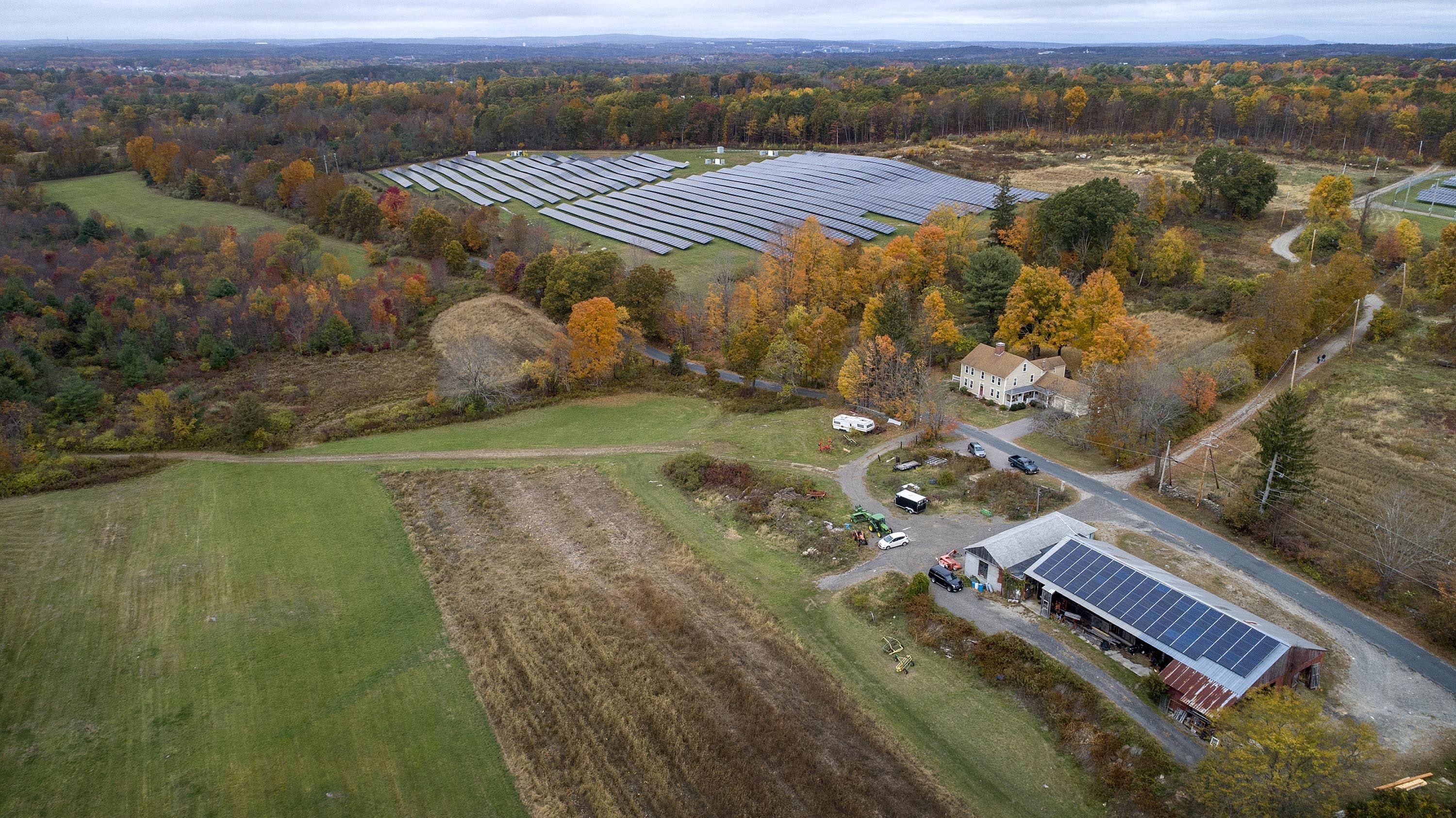 This article is more than 2 years old.
Paul Knowlton owns 300 acres of land in Grafton, and farms about 50. The farm has been in his family for five generation, ever since Knowlton's great-great-grandfather settled in the Blackstone Valley in 1872.
These days Knowlton grows pumpkins, squash and corn. Up a gravel road, past the family cemetery, corn stalks are still standing from this year's crop. "Considering the drought situation, we did fair," Knowlton says.
Fickle weather and fluctuating prices make farming a risky business, so five years ago, Knowlton installed a new cash crop: solar energy. He turned 19 acres into two solar energy fields. "Doing the solar was very beneficial," he says. "In the wintertime there is no revenue for a farm. It's a tough game."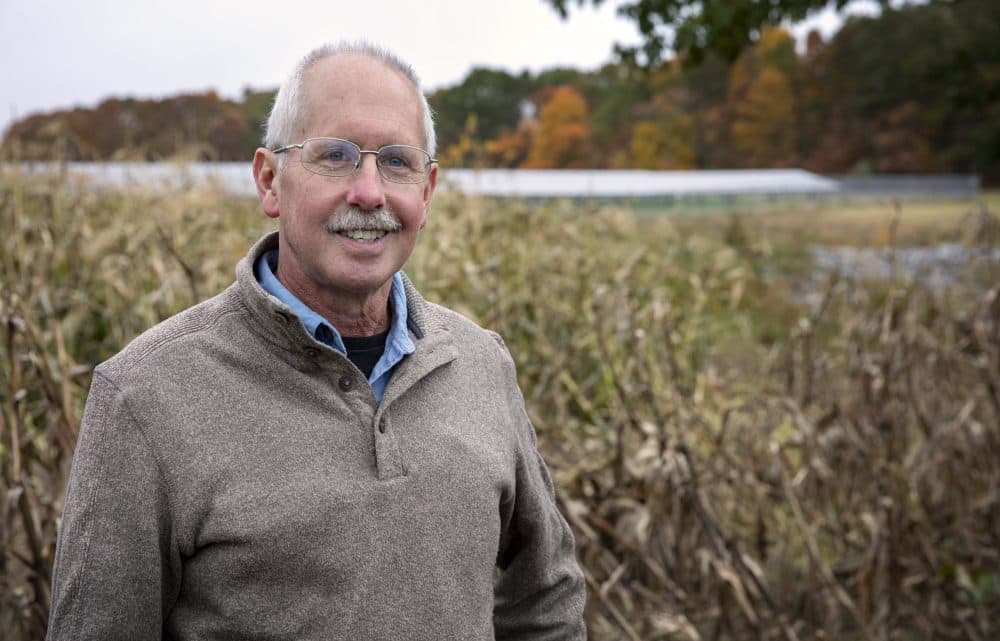 Today, Knowlton's 18,000 solar panels provide a steady income and enough renewable electricity to power nearly 1,200 homes. "Producing clean energy — there was no downside in my mind," he says. "It was a go."
Solar energy produces about 14% of Massachusetts' electricity. That's enough to power about half a million homes, and solar is growing rapidly — helping the commonwealth meet its clean energy goals.
But when it comes to energy generation, there's no free lunch. Thousands of acres of Massachusetts forest and farmland have been turned into ground-mounted solar arrays. According to a recent Mass Audubon study, as much as a quarter of the land developed in recent years — like Knowlton's field — has been converted to solar farms.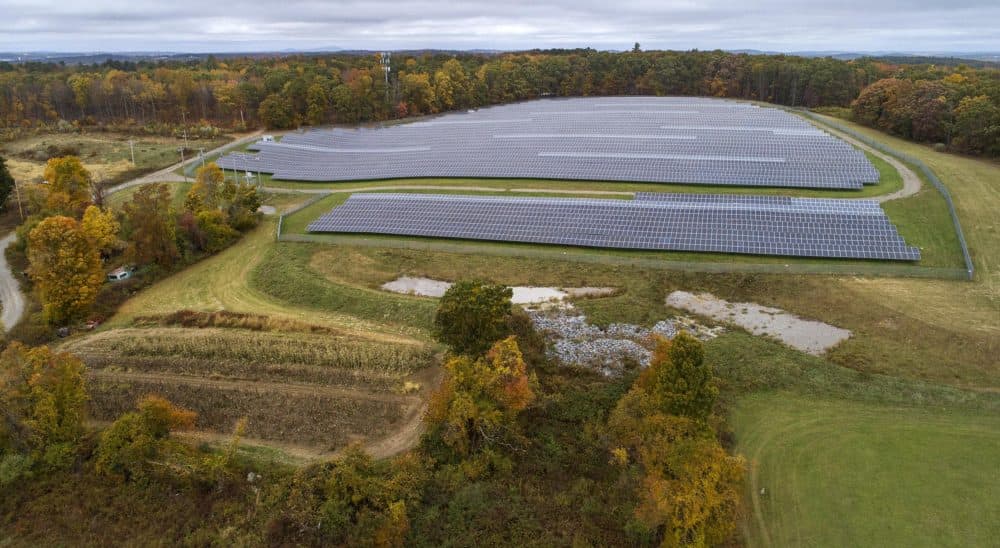 Knowlton wants to increase the production of solar power on his farm, expanding it to another 14 acres. But this time, cutting-edge technology is making it possible to harvest both the sun's energy and crops on the same land. It's called "agrivoltaics" or "dual-use solar."
"Dual-use is brand new," says Iain Ward, a solar expert and land planner who helped design the new system for Knowlton's farm, where construction is scheduled to start this month. "We're changing the paradigm on how solar interacts with the land."
The solar panels will be mounted on racks at least eight feet off the ground, allowing farm machines to operate and plants to grow underneath. It sounds simple, but Ward says it's groundbreaking technology.
"No one has really done dual-use like we're doing it here in Massachusetts," Ward says. "We're really setting a benchmark for the rest of the country to follow."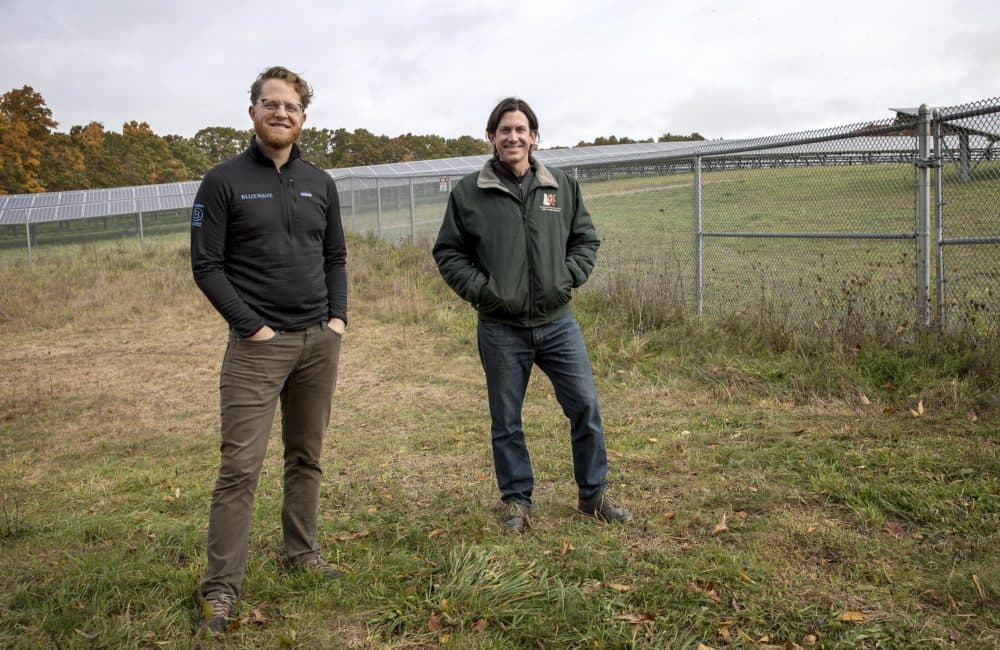 Ward attributes the state's pioneering agrivoltaics work to its early start in setting renewable energy policies. In 2008 the state passed the Global Warming Solutions Act, making it one of the first in the nation to set strict targets for reducing climate-disrupting greenhouse gas emissions. Two years ago the state instituted the Solar Massachusetts Renewable Target program (SMART), offering developers a subsidy to expand conventional solar and jump start dual-use technology. Drew Pierson, head of sustainability with BlueWave Solar, says SMART makes it possible to build the dual use arrays on Knowlton Farm.
"That subsidy is key to unlocking all of the innovation on both sides of the solar and agricultural equation," says Pierson.
The SMART program has been so successful that last spring the state proposed doubling it. But Mass Audubon policy director Heidi Ricci questions whether converting land to solar farms is sustainable. The environmental organization supports rapid solar development to curb carbon emissions, but is critical of where panels have been placed.
In their 2020 "Losing Ground" study, Mass Audubon found that 6,000 acres of Massachusetts farmland and forests have been lost to conventional solar development, and that meeting the state's renewable energy targets could require clearing up to an additional 150,000 acres.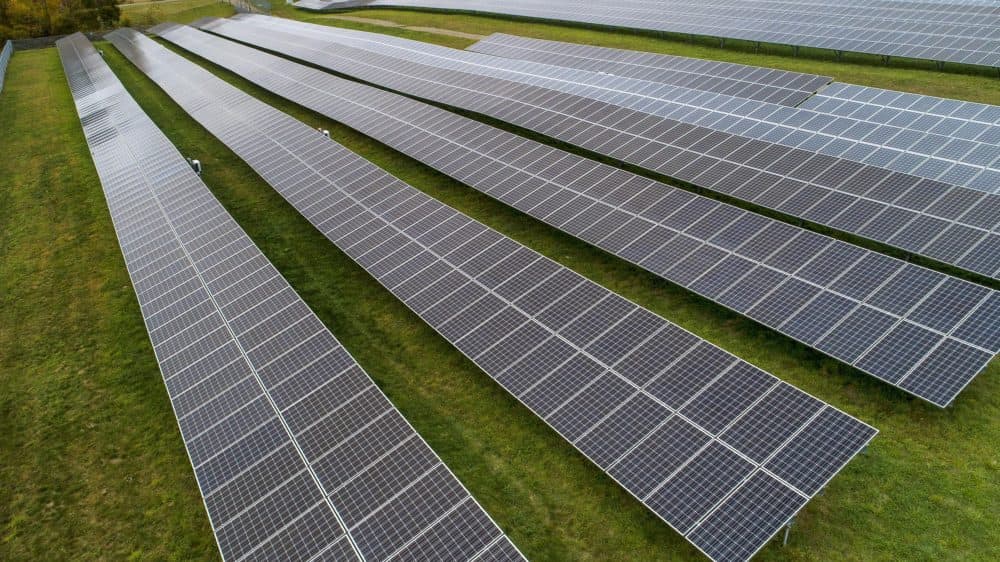 Ricci says there are better places to put solar panels--the roofs of parking lots and shopping malls, for instance. She's cautious, and curious, about the experimental dual-use solar farm technology.
"It's a good idea to try it, to pilot it, to study it and potentially ramp it up when we know the methods are successful," she says.
Until about a decade ago there was little research into growing crops under solar panels. Then scientists at the University of Massachusetts, Amherst, began investigating which crops might thrive in the shade, and which wouldn't.
"Watermelon, eggplant, certain varieties of peppers, and corn require a high degree of sunlight so we're not certain any of those will be successful," says Gerald Palano, an alternative energy specialist with the Massachusetts Department of Agricultural Resources. According to Palano, many leafy vegetables can grow well in the shade: lettuce, spinach, kale, broccoli and Brussels sprouts.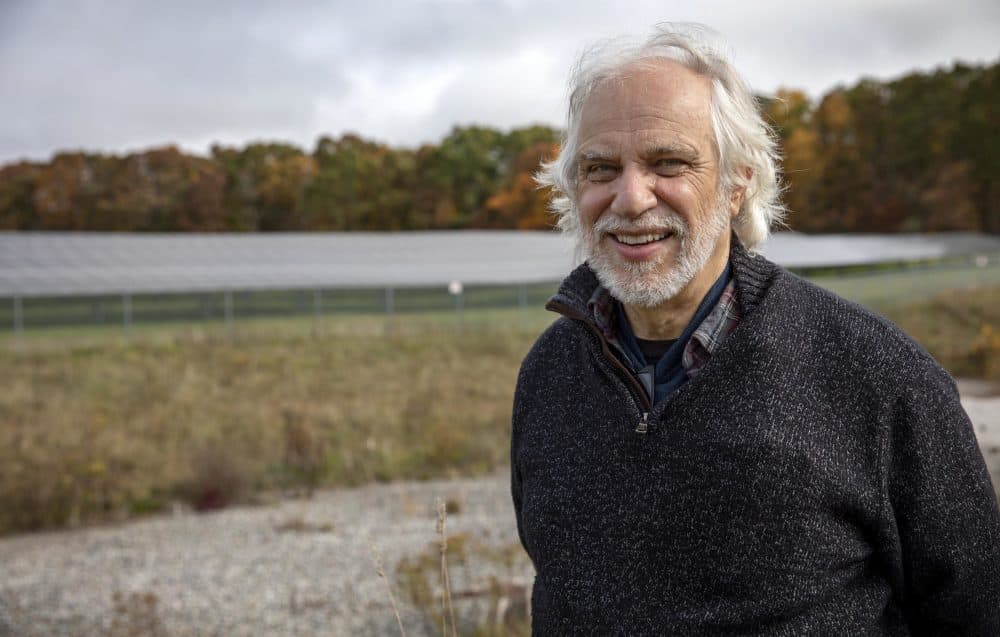 The solar panels to be installed on the Knowlton farm aren't conventional. They are an innovative translucent design, says developer Drew Pierson. The top of the panel absorbs the sun's energy but also lets some light through.
"Bifacial panels capture the sunlight that is reflected off the ground so they're more efficient," Pierson says. "When you raise them high off ground  you can maximize the amount of reflected sunlight that they can absorb. "
UMass and state researchers will be closely monitoring the Knowlton farm as Massachusetts regulators approve more farms for subsidies. Palano says state official hopes to set up 18 to 19 projects through the winter into next spring, to be ready for the upcoming farm season.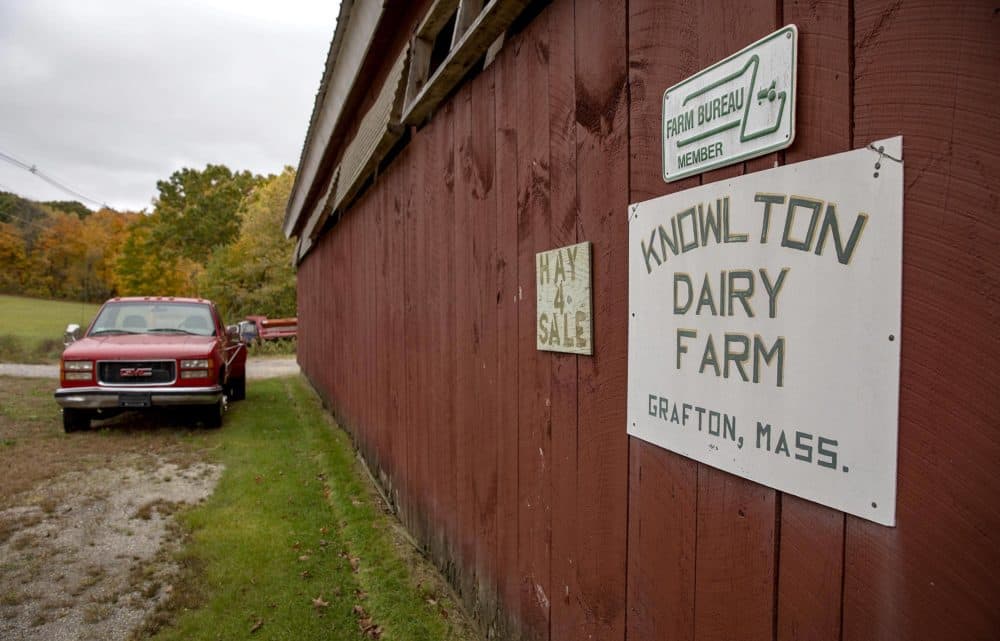 Among the planned projects are several that will put solar panels over cranberry bogs, enabling farmers to harvest the state's number one agricultural product — and the sun's energy — at the same time
"This is truly going to be the future — agriculture and solar together because it just makes sense," says BlueWave Solar's Pierson.
Grafton farmer Paul Knowlton agrees. "We're going to build it. It's going to be a beautiful thing," he says, scanning his field where one of the new dual-use arrays will be built.
Knowlton has nine children, and hopes solar will help the farm stay in the family. "We're going to keep it for the next generation to enjoy," he says.
[CORRECTION: The original version of this story stated that the Knowlton farm would be the first installation of dual-use solar in the state. This is incorrect, it is one of the first. WBUR regrets the error.]
This segment aired on November 10, 2020.