The Lights Glow For Artist Yu-Wen Wu's 'Lantern Stories'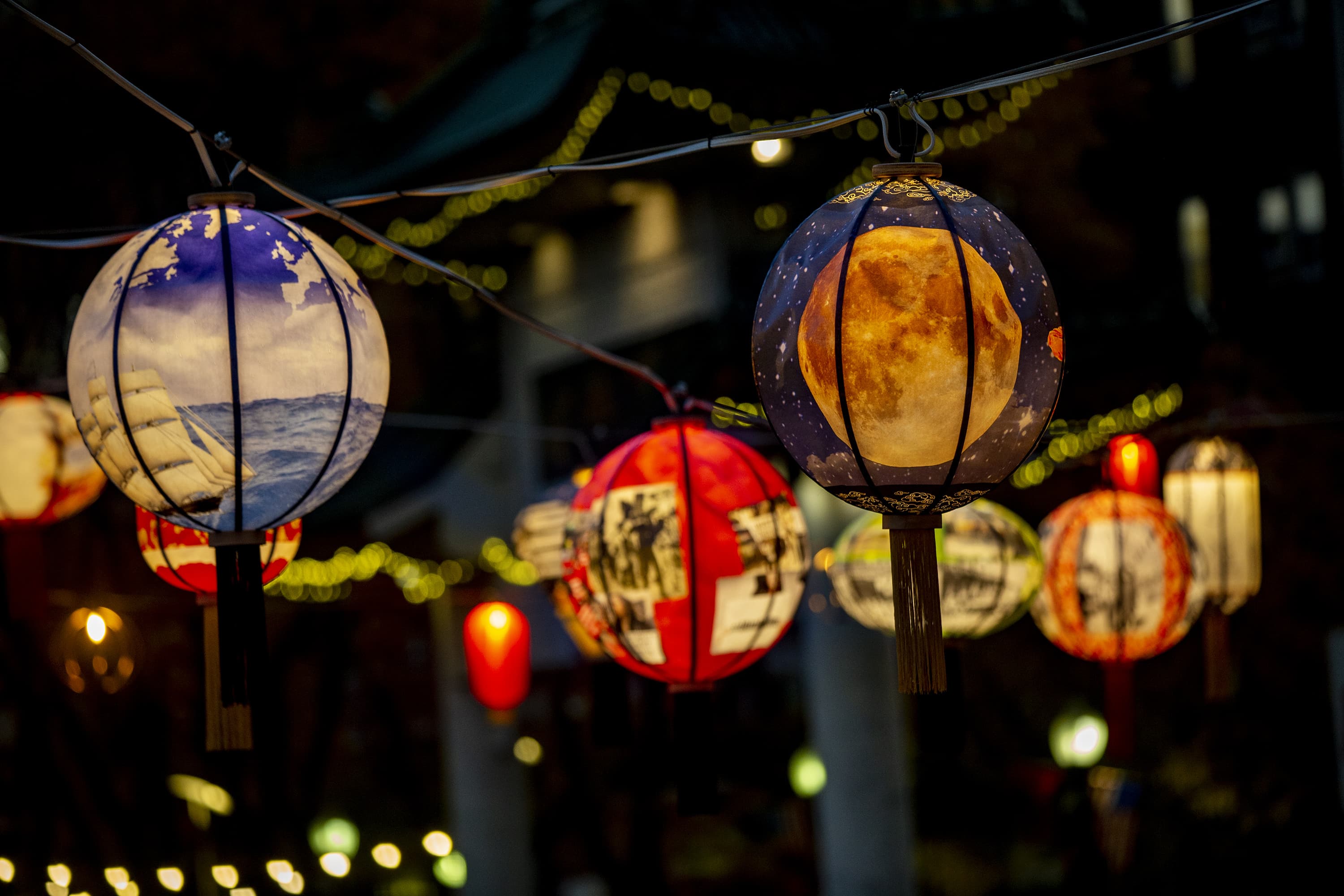 This article is more than 1 year old.
As the sun starts to set in Chin Park on the Rose Kennedy Greenway, more than two dozen lanterns above morph before me. From afar, the circular orbs appear as yellow lights, but up close there is a lot to see. When the sky darkens fully, the lantern's images — faces, text, buildings and more — come alive with light and sharply slice the night sky.
This public art installation "Lantern Stories" by artist Yu-Wen Wu highlights the dynamic community of Boston's Chinatown and seeks to "illuminate the district's history of immigration, its culture and resiliency," according to Wu's artist statement. The installation — for which Wu engaged Chinatown residents, community leaders, organizations and businesses to inform the work — is on display until Nov. 19.
During a webinar hosted by the Rose Kennedy Greenway — "Lighting the Way: Exploring 'Lantern Stories' in Boston's Chinatown" on Oct. 29 — the monthslong process around developing the work was detailed. There was a community listening session at the Pao Arts Center — Chinatown's first arts and cultural center — where participants made clear their desire to center the neighborhood's history of Chinese immigration. Questions such as "What does Chinatown mean to you?" and "In what way does Chinatown interest you?" were posed. Eventgoers wrote their answers on sticky notes beneath the questions. "This project asks how we reflect and commemorate our histories in a public act," Wu shared.
When the pandemic hit, though, the focus of the project shifted a bit. "I was working on 'Lantern Stories' in the fall and during January and February," Wu says over the phone. "I was collating all the feedback… So, during the lockdown, there was a lot for me to absorb."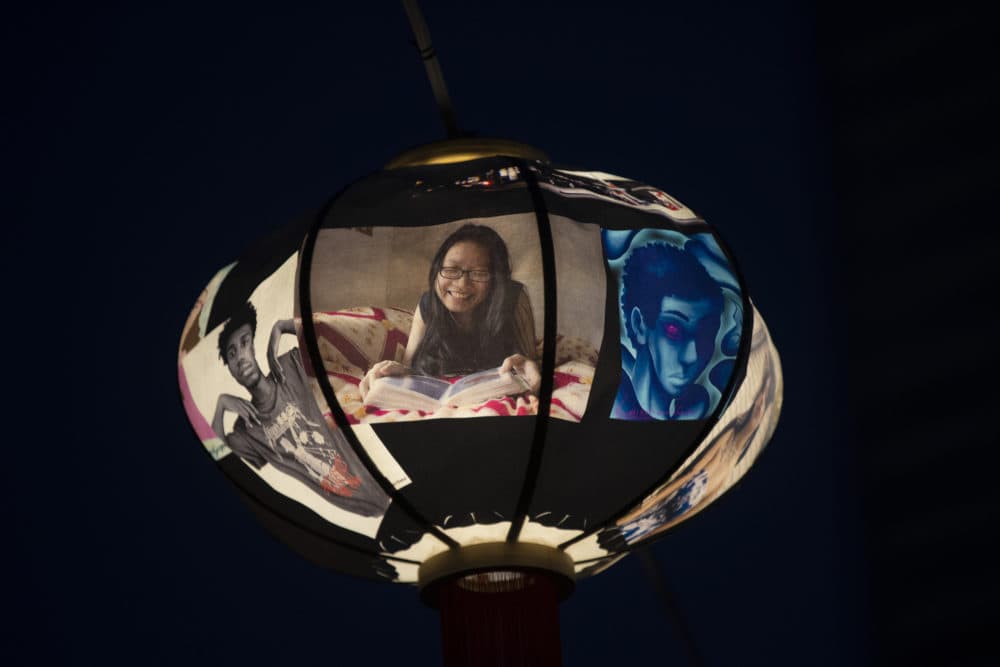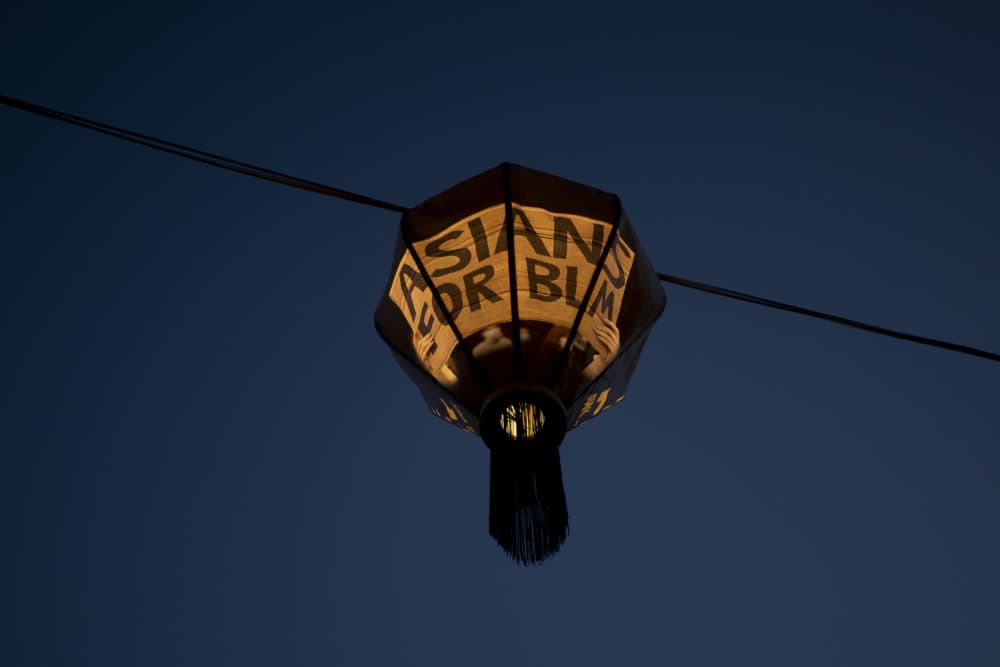 As she continued to work on drawings and ideas for the project, it began to evolve. "The events were unfolding with the Black Lives Matter movement and the focus became less on just the history of Chinese and Asian immigration to the United States," Wu explains, but also "on the role of activism and protest in the Asian American community to fight injustice." Wu also wanted to acknowledge the civil rights movement which led to and affected the signing of the Immigration and Naturalization Act of 1965, which loosened the rules for immigrants coming from non-European countries to the U.S.
This history from early arrivals to entrepreneurship to activism is boldly displayed on the lanterns. News headlines about the Chinese Exclusion Act of 1882 banning Chinese immigrants in the United States, archival photos from the Sampson Factory Shoe Strike and photos of the neighborhood's old row houses are wrapped around the sturdy hanging fixtures made with outdoor building materials and printed with UV coated ink. One lantern shows two hands hold a sign that says "Asians for BLM." Other messages like "#IAmNotAVirus" and "Racism is a Pandemic" are also featured.
The longer one lingers, the more one discovers. That's how Wu's work draws the audience in. She aspires for the work "to be transformative." The hope is to spark curiosity and dialogue so that audiences will want to learn more about the history of Chinatown. Each lantern discusses a different story, she shares, and the light reveals it.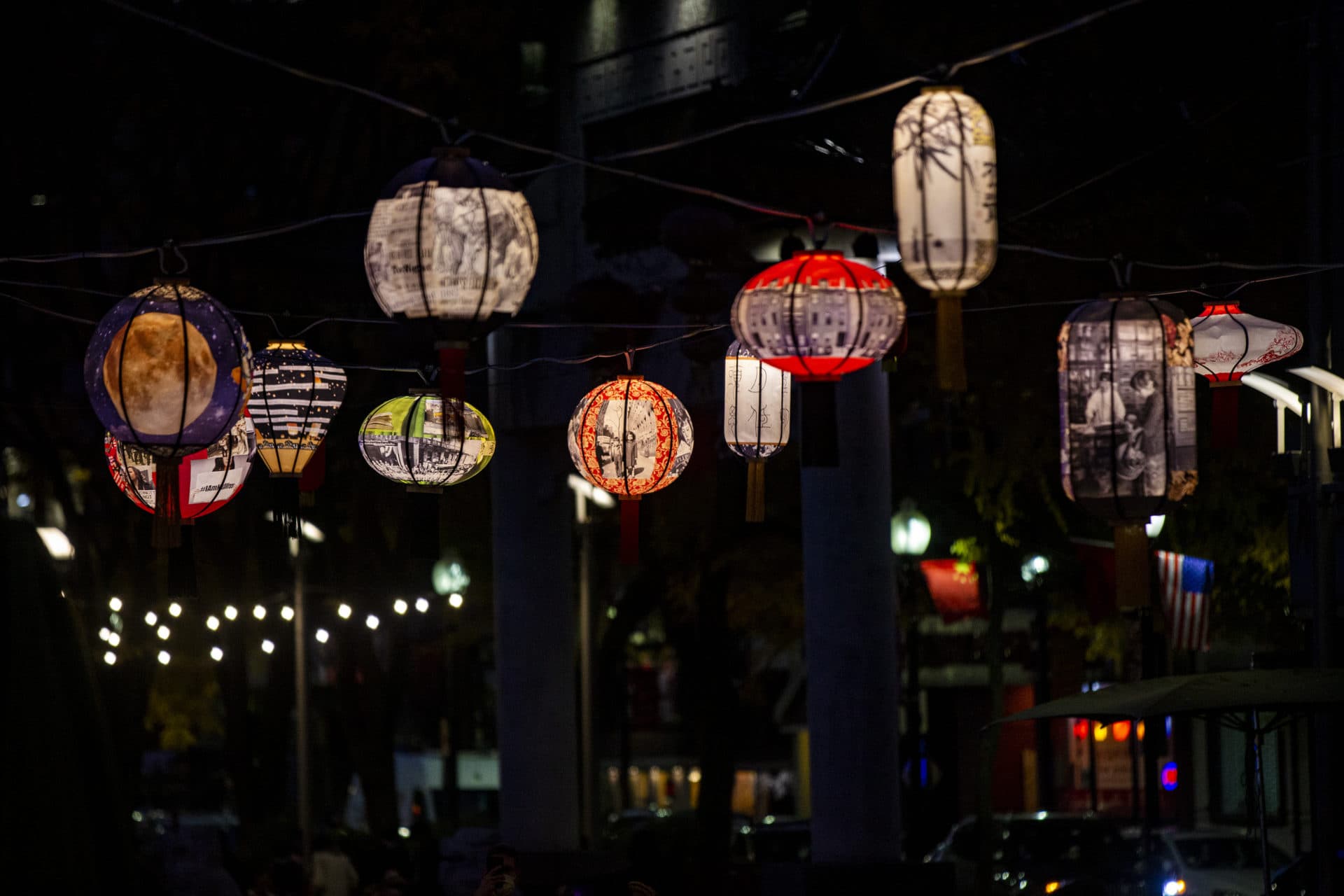 For Lucas Cowan, director and curator of public art at the Rose Fitzgerald Kennedy Greenway Conservancy, that's the goal. Cowan has worked in the public art realm for 18 years and was previously the senior curator of exhibits for the Chicago Office of Tourism and Culture and Millennium Park in Chicago and director of public art for the Maryland State Arts Council. He aims to bring "local, national, and international artists together…and give them money, space and time to pose questions, or to create beautiful work for respite…or to hit those hard issues that we're all struggling with," he says.
Wu, originally from Taiwan, is an interdisciplinary artist whose work centers on lifelong interests that concern her such as migration, immigration and displacement. These issues were highlighted in last year's "Leavings/Belongings" and 2018's "With/Out Water." Within that, she says, "the conversations around assimilation, hybridity, cultural identity in a new country and the position in this society of being Asian American are all part of my personal experience as well." At the intersections of art, science, politics and social issues, Wu's projects include large-scale drawings, site-specific video installations, community-engaged practices and public art.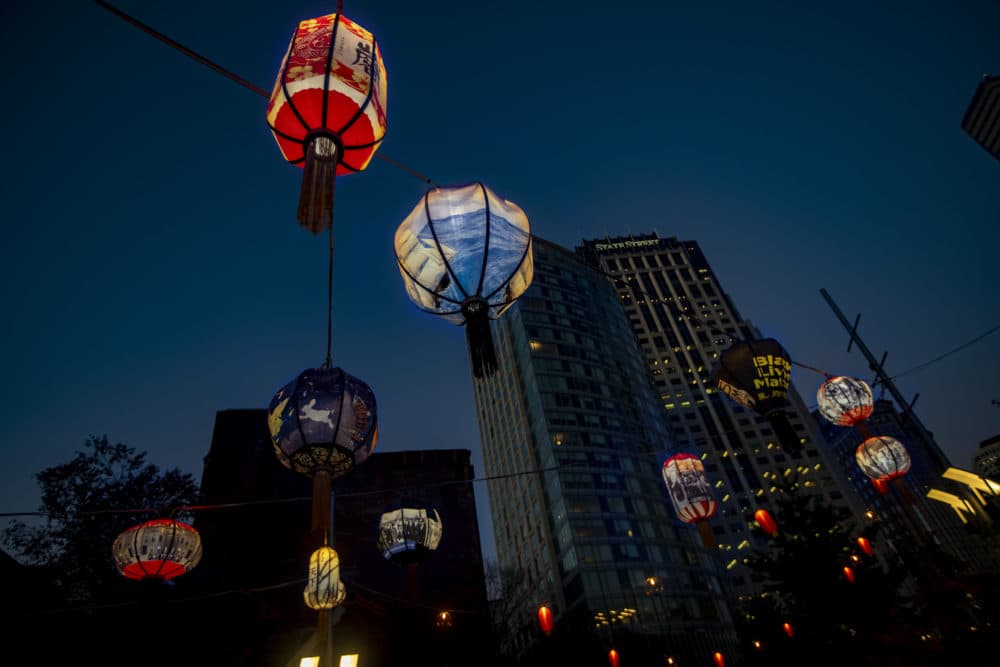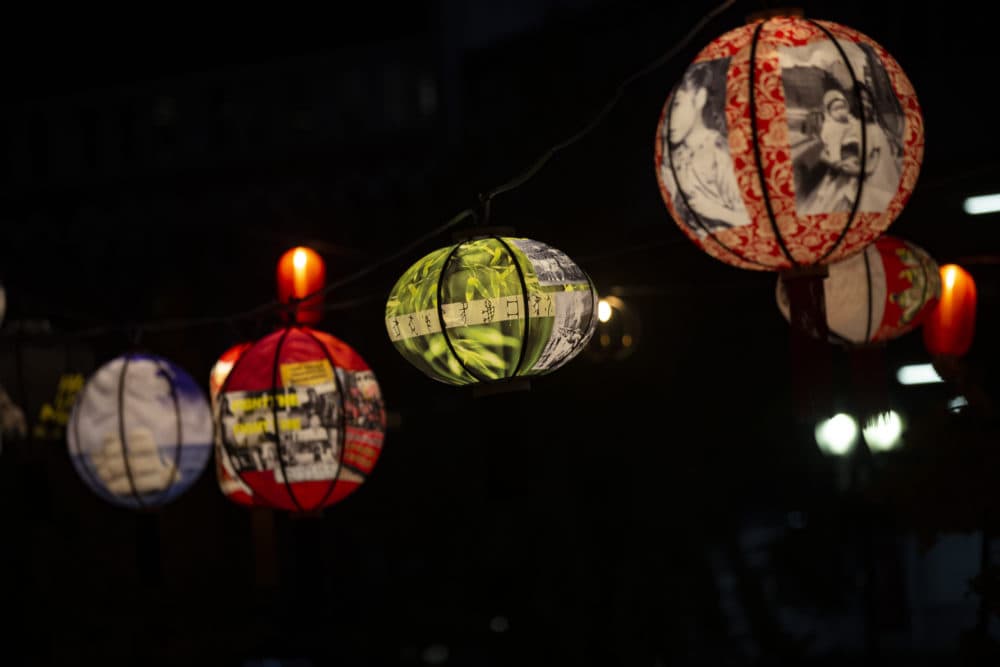 Last year, The Rose Fitzgerald Kennedy Greenway Conservancy put out a request for qualifications to artists for a commissioned work focused on light. Wu was chosen by a jury to complete the project. "Yu-Wen really does know how to use public space and [how] to work with the community to create really interesting and beautiful conversations," Cowan explains.
These conversations Cowan speaks of are at the core of Wu's work. Sure, she wants viewers to enjoy seeing her art, but more than that, she hopes it inspires.
"It's hard to encapsulate an entire series of ideas, but I really want there to be all different levels of experiences from just the simple pleasure of enjoying the work itself, Wu says, "but to every single piece, I really hope that it offers other opportunities for deeper investigations [into] yourself for civic dialogue, perhaps even social action."
---
"Lantern Stories" by Yu-Wen Wu is on display at Chin Park at Rose Kennedy Greenway until Nov. 19.