Questions Remain, But Local Experts Say Moderna And Pfizer Coronavirus Vaccines Surpass All Expectations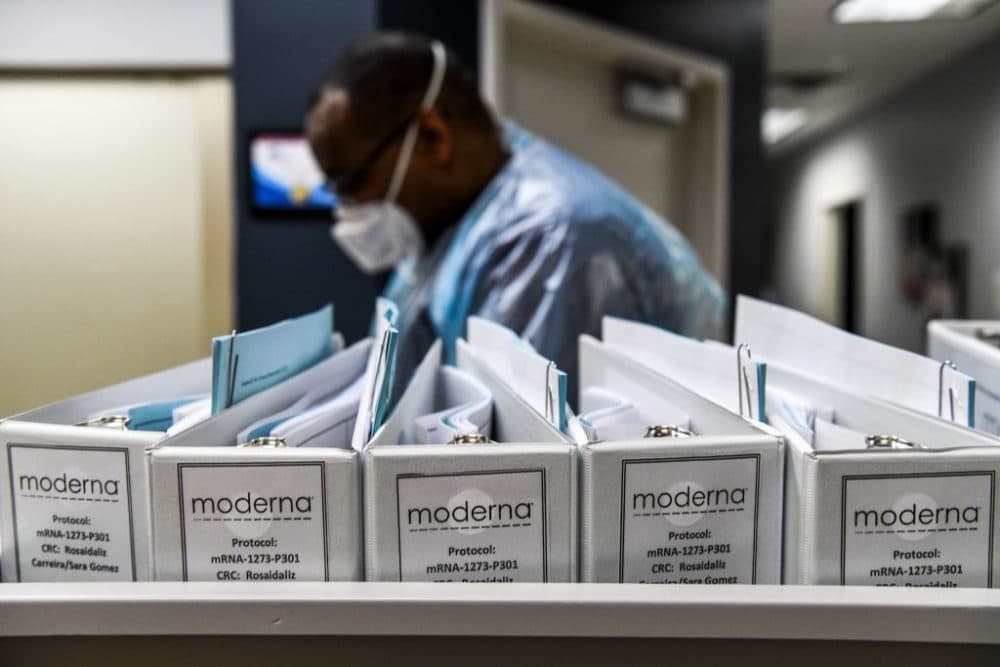 This article is more than 2 years old.
First one, now two coronavirus vaccines have rocketed past all prior expectations with preliminary clinical results that raise hopes of a vaccine heralding the eventual end of the pandemic.
Cambridge-based biotech Moderna Therapeutics on Monday announced its vaccine is nearly 95% effective in an early release of data from its phase three clinical trial. The pharmaceutical company Pfizer announced last Monday that early results suggested its vaccine was over 90% effective as well.
"It's, I think, probably better than almost any expert's expectations," says Barry Bloom, an immunologist at Harvard University who did not work on the vaccine. "It's a very exciting time to be talking about vaccines for COVID."
Moderna's phase three clinical trial includes 30,000 participants. Half got the vaccine and half got a placebo. In the latest release of data, 90 participants who got a placebo became ill with COVID-19, 11 with severe illness. Only five who received the vaccine became sick with COVID.
"It's, I think, probably better than almost any expert's expectations."

Barry Bloom
Those results suggest that the vaccine will be very effective in the short term, Bloom says, but the jury is still out on how long any coronavirus vaccine will provide protection, and whether long-term complications could result. Still, both companies plan to file for an emergency use authorization from the Food and Drug Administration to begin distributing the vaccine sometime in the next month or two.
"You really want to follow them for two years. We don't have the luxury of doing that. We're in the middle of a pandemic that's killing people and hospitalizing people," Bloom says. "It strikes me as not unlikely that we will learn what the duration of protection is and people [may] need booster shots over some period of time, once a year or once every two years."
Typically, the most serious vaccine complications arise in the first two months after injection, Bloom adds. Because of that, the FDA is only requiring two months of safety data from vaccine developers before considering vaccines for emergency approval.
If the FDA does approve both vaccines, Bloom says it's likely that Moderna's vaccine will be far more widely used. Pfizer's vaccine must be stored at negative 70 degrees Celsius to remain stable, and only expensive ultra-cold freezers have the capacity to maintain such low temperatures. But Moderna's vaccine can be stored in regular home freezers, Bloom says.
"Every physician's office, every clinic will have a refrigerator that can keep the vaccine for six months in the freezer compartment of ordinary refrigerators," Bloom says. "Ultra-cold freezers are not going to be available in large parts of the country, particularly in rural places, and certainly much more restricted in low- and middle-income countries."
Both Pfizer and Moderna are already mass-producing their vaccines, and Moderna officials say the company will have close to 20 million doses ready by the end of 2020.
"We just don't know the answer yet, but if it is a disease transmission-blocking vaccine, then that's what puts us very clearly on a pathway to reopening society."

Chris Gill
However, it's still not guaranteed that these vaccines will receive approval from the FDA, because more data still need to be collected, points out Dr. Chris Gill, an immunologist at Boston University who is not working on coronavirus vaccines.
Those data should answer several questions that Gill and other vaccine researchers have. For one, it's still not clear if Moderna's vaccine fully prevents disease or if it simply reduces the severity of disease in those who receive it. If the vaccine does not fully prevent disease in enough people who get it, then life will still not return to pre-pandemic normal for an extended period of time, Gill says.
"We just don't know the answer yet," he says, "but if it is a disease transmission-blocking vaccine, then that's what puts us very clearly on a pathway to reopening society."
Even if the vaccine does prevent disease, progress on the road back to normal will take many stages. For the first several months of distribution, vaccine doses will be prioritized to those at the greatest risk of COVID, including elders and health care workers.
"It's going to be many months before 75 or 80% of Americans are vaccinated, and in the intervening months, there are going to be many millions of people who are not vaccinated," says Dr. Philip Landrigan, an immunologist at Boston College who did not work on the vaccines.
Until then, and quite possibly for some time after as well, Landrigan says people will need to keep their guard up and continue wearing masks and distancing.