At Fuller Craft, 'Makers and Mentors' Showcases Artisans Of A New England Craft School
This article is more than 2 years old.
Three hundred years ago, a weaver, potter or glassblower might have learned their trade from a family member. Surrounded by tools and instruction from a young age, an artisan could develop the kind of deep expertise that comes only after years of close observation and practice.
Today, for better or worse, things don't work that way.
"Craft schools are filling that space where artists can really pass down their skills and their knowledge and their processes to the next generation," says Beth McLaughlin, curator at Fuller Craft Museum. "Part of why we did this show is just to underscore how important the craft school experience is to craft and to the creative community."

In "Makers and Mentors: The Art and Life of Snow Farm — The New England Craft School," on view at Fuller Craft beginning Nov. 28, the public has an opportunity to see the craftwork — including glassmaking, ceramics, fiber art, woodworking, mosaics, collage, jewelry and metalwork — coming out of an influential nonprofit craft school that many of us may have never heard of, but that is located right in our own backyard. Tucked away on a 300-year-old farm in Williamsburg, Massachusetts, Snow Farm is one of just a handful of residential craft schools in the United States, attracting about 1,200 adult students each year to its 50 bucolic acres.
From April through October, students spend a weekend or even a week, in a retreat-like atmosphere, living on campus, taking small immersive classes in the medium of their choice while enjoying the many benefits of communing with like-minded creative spirits. Each July, about 100 high school students also arrive on campus for a "summer camp" experience lasting two to four weeks. About 150 workshops are taught at Snow Farm each year.

"Makers and Mentors" presents the work of 15 artists affiliated with the school, some of whom are teachers, others who are students, and a few that have been both since the school first opened back in the mid-1980s. We see instructor Rick Angus' elegant bowls fashioned from sugar maple and cherry burl, instructor Liliana Cirstea Glenn's red, blue and yellow "New England Foliage" necklaces of leaves created from soda-lime glass, instructor Bob Green's wheel-thrown burnished porcelain vases, and student Beth Klingher's broken pottery and Mexican smalti mosaics.

Cambridge artist Alexandra Sheldon, who has been teaching at Snow Farm since 1990, exhibits painterly 2D work combining collage, silk screening, drawing and painting. Her abstract works in the show are called "Happy Accidents" and reflect her penchant for experimentation.
"I look for a mysterious balance of color, light, shape and movement," she says. "It's really a kind of improvisation, like the way a jazz musician might approach making music."
Sheldon has taught at Snow Farm — she calls it an "unpretentious adult arts and crafts boot camp" — for 15 years. The school attracts both beginners and longtime artists who she says have become something like family. And the importance of the school in the creative lives of both students and teachers has only grown over the years as more and more school districts and municipalities cut back on art programs.
"Snow Farm has become part of my life and I love it passionately," she says. "It's as if we were given a farm to frolic in and share our passion for making things."
Also in the show is Suna Bonometti who presents her four brass "donut spoons." Bonometti, an Italian jewelry designer from Milan, attended Snow Farm when she was 15, taking her first classes in jewelry-making. She immediately "fell head over heels for it." Before Snow Farm, she thought all jewelry was made in a factory.
"Snow farm showed me how there is a human touch to much of the world around us."

Following her four years as a student in the school, Bonometti completed her B.A. in design at London Metropolitan University. She eventually moved to New York where she opened her own business and studio in Brooklyn. She went on to teach at Snow Farm for more than a decade.
According to Lisa Oram, director of marketing and communications at Snow Farm, what makes the school particularly important to artists is its interdisciplinary nature fostering creative collaborations that can profoundly alter an artist's practice.
"A ceramics instructor might make a pot and a flame-working instructor might make a small glass sculpture that then they attach to the lid of the pot in a way that neither one of them might have thought of for their work," she says. "But when they're both there together for those five days, teaching and interacting with each other, there is a synergy that goes on."
That synergy has allowed artists to stretch and grow in new directions, some of which have nothing to do with art.
Graham Deckers, a Connecticut high school student, also has a piece in "Makers and Mentors." His painting, "Guilty for My Actions," portrays Deckers and his brother on two panels which is suggestive of an emotional distance. Deckers appears to swing a fork at his brother in a depiction of a real-life incident in which the artist threw a fork during an argument. (His brother still bears a scar.) Although the two have since mended their relationship, Deckers says he will forever feel guilty. The painting is the culmination of Deckers' three summers at Snow Farm in which he says he was finally able to accept himself for what he is.

"Growing up in a very testosterone-heavy environment, I wasn't really ever exposed to the artistic environment," he says. "I had always been the art kid amongst a community of athletes. I had also been questioning my sexuality for some time but never felt I had the right setting to understand the importance of these feelings. When I went to Snow Farm for the first time in the summer of 2016, I was introduced to all these new interesting people from all different demographics. I felt that it was a safe place to actually come out of the closet for the first time. And for four amazing weeks, I had been able to identify as a gay man. It was like I created this bubble in the middle of the woods of Williamsburg where I could test out my identity by using my queer labels. It was completely liberating because my teachers and friends were so loving and supportive of me. And even though that first year I made some pretty crazy art, I would say that I definitely learned more about who I was."
In short, the experience of Snow Farm is much richer than what a visitor might discern by looking at objects, no matter how beautiful they may happen to be.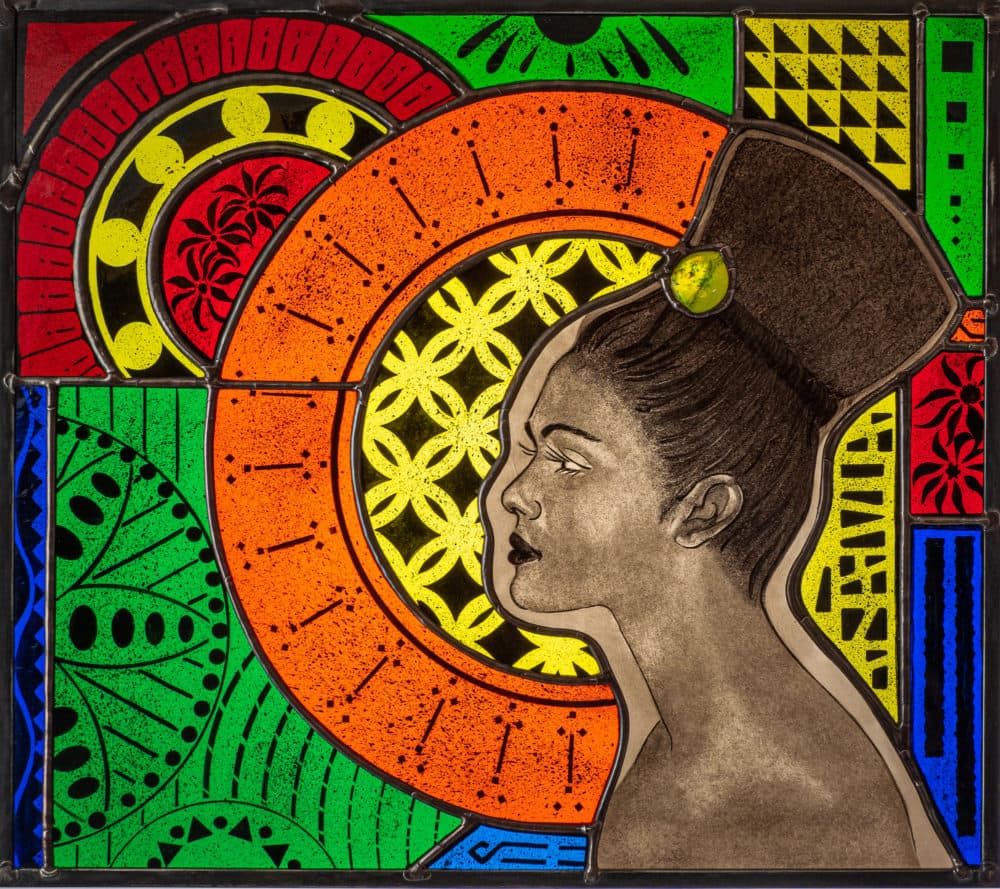 "People come and get this immersive experience where they can kind of tune out the world that they've come from and be in a world of creativity, craft and art for the amount of time that they're there at Snow Farm," says Oram. "So, there is just this combination of things, the place, the people, the operations, creativity, friendliness of people, the camaraderie — it just equals something that is greater than the sum of the parts. And that's why we call it magic."
If the "Makers and Mentors" exhibit demonstrates any one thing, it may be simply that craft schools may actually have an edge over the old-fashioned, family-based way of learning a craft.
---
"Makers and Mentors: The Art and Life of Snow Farm — The New England Craft School" is on view at Fuller Craft Museum Nov. 28-July 4.