Historical Romance 'Ammonite' Digs Into The Later Years Of Paleontologist Mary Anning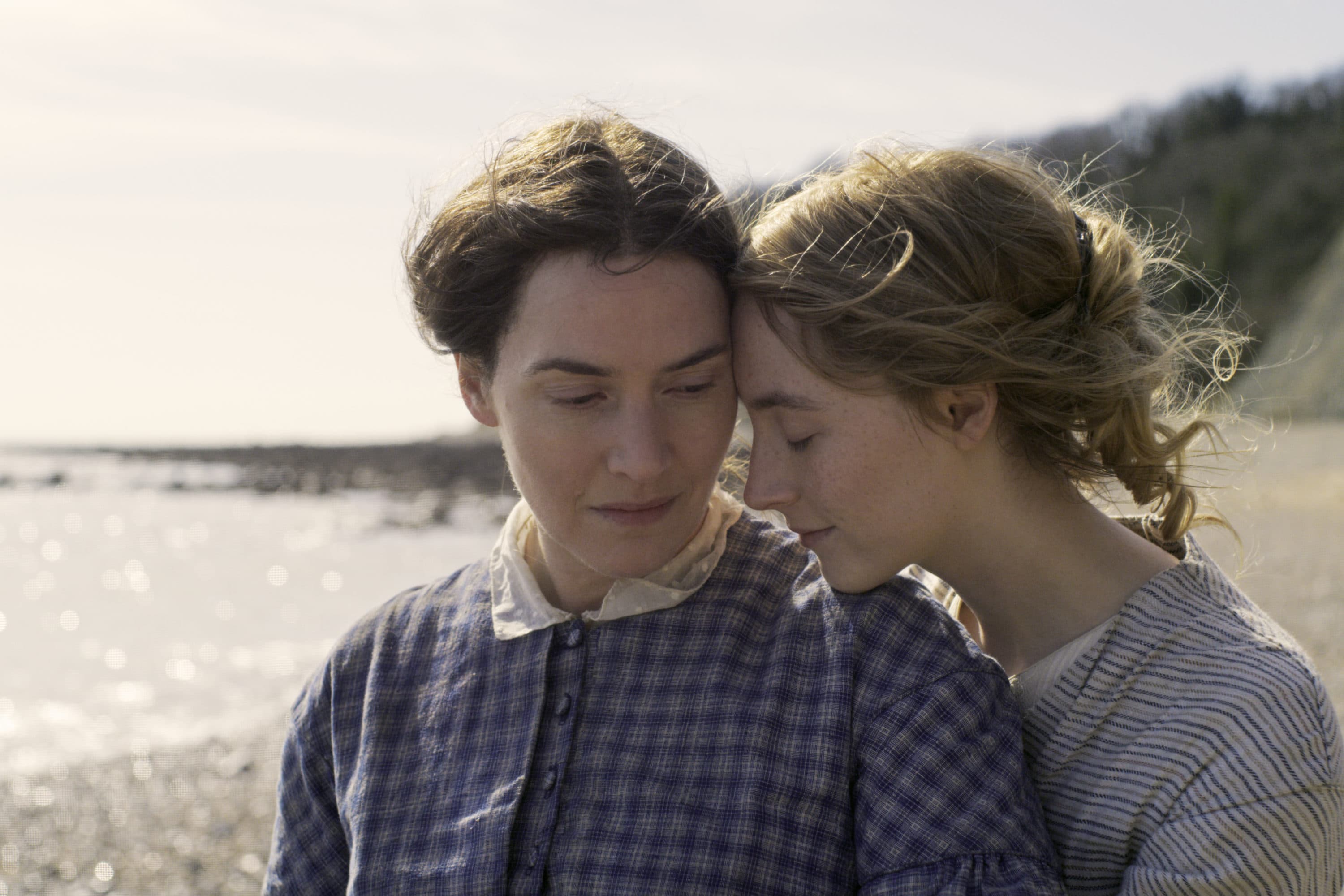 This article is more than 1 year old.
They say you know a movie is doing something right when you can feel its weather. "Ammonite," a windswept historical romance from writer-director Francis Lee, puts you right on the raw, rocky beaches of the southern English coastline. It's a more tactile picture than most, concerned with cold mornings and cramped, permanently damp interiors. Dialogue and music are scarce, with an aggressive sound design dominated by rattlings of old houses, the dull roar of the ocean and howls of freezing winds. I paused the movie about halfway through to go put on a sweatshirt.
It's a biopic of sorts, a snapshot from late in the life of paleontologist Mary Anning, whose discoveries were largely written out of history books by the boys' club. But the movie isn't so much interested in her achievements as her isolation. Set in the 1840s, the film catches up with Mary when she's working at a seaside shop selling snail shells to tourists and excavating fossils by hand from a nearby beach. Kate Winslet does her best work in years as the brusque, all-business spinster, barely tolerating the intrusive company of a visiting scientist (James McArdle) and fuming when she gets stuck caring for his sickly wife Charlotte (Saoirse Ronan) after the gentleman gets called away on an expedition.
Winslet has transformed herself physically for the role to a subtly astonishing extent, the camera lingering on her rough-hewn hands and broad, muscular back. But the performance lacks the preening vanity of most actresses who "ugly up" for Oscar nominations. There's nothing gimmicky about it, this is just who Mary is. Wrapped neck-to-toe in worn flannel and wool, her movements are blocky and heavy-footed, her gaze downcast. Living in near-silence with an ailing mother (Gemma Jones) who mostly just sneers and coughs blood into a handkerchief, Mary's so gruff and withdrawn it's not until almost an hour into the movie you realize it's the first time you've seen her smile.
The wispy Ronan is diaphanous by comparison, with her fancy bonnets and evening attire. Sent to the seashore on doctor's orders to recover from a miscarriage, she stays in bed all day and is horrid to the hired help. It's only after being nursed through a life-threatening fever by her reluctant caretaker do any stirrings of affinity between the two women begin. It's fascinating to watch the flickers of feeling cross Winslet's face as this flighty young girl begins to bring her out of a self-imposed emotional exile. It's a slow thaw, then things really heat up.
"Ammonite" has the bad luck of arriving so soon after Céline Sciamma's "Portrait of a Lady on Fire," with story similarities abounding between these brief encounters on off-season beaches. But where Sciamma's film was swoony and cerebral, Lee goes for the grit. There are a lot of bugs in this movie and all the food looks like it tastes terrible. People pee outside. He's an experiential filmmaker prioritizing physicality over all else, an approach that sometimes fails him on the screenplay side. (I'm not saying I expected to learn a lot about paleontology from watching this movie, but I had to go look up what ammonite is after it was over.) The thinness of the script would probably be a much bigger issue if not for these two actresses.
Bluntly speaking, this hasn't been the easiest decade to be a Kate Winslet fan. After her breathtakingly bad performances in the risible "Labor Day" and Woody Allen's "Wonder Wheel," she slummed for a bit in YA piffle like "Divergent" and studio schlock such as "Collateral Beauty" and "The Mountain Between Us," and in "Steve Jobs" she suffered the indignity of playing a woman in an Aaron Sorkin screenplay. "Ammonite" is a reminder of what a richly, rigorously disciplined performer Winslet can be, and of the sheer volume of emotions she can cram into a lingering glance.
It was inspired to pit her opposite Saoirse Ronan, who with an air of sophistication beyond her years and exemplary taste in projects already seemed to be Winslet's heir apparent, one blockbuster boat ride away from similar superstardom. Ronan's got precious little to work with here beyond her formidable screen presence, but you can see the pleasure these two take in working off each other, filling in gaps the writing doesn't address. They only stumble in the film's dialogue-heavy final scenes. Talking is simply not this movie's strong suit, especially when the weather speaks so much louder than words.
---
"Ammonite" is available on video on demand starting Friday, Dec. 4.