Nor'easter Brings Heavy Snow To Most Of Mass.
03:27
Play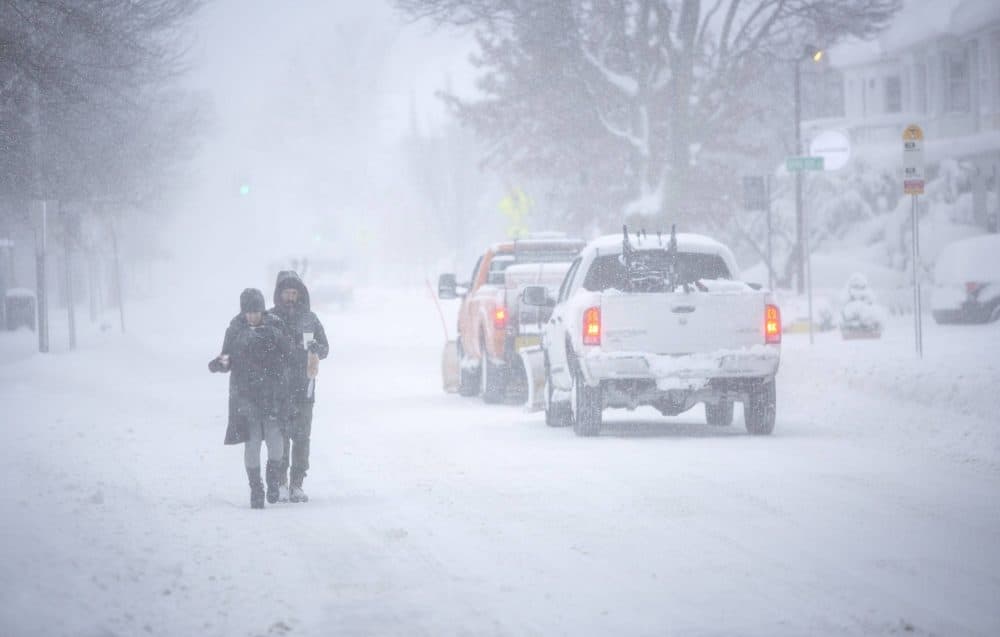 A significant winter storm made its way up the coast of New England overnight and is bringing heavy snow to much of Massachusetts.
Snow was falling at a rate of 1 to 2 inches Thursday morning, and accumulation will likely average 10 to 16 inches across the state, with the exception of the Cape and Islands. Some spots with heavier bands could surpass 16 inches.
Story continues below
Current conditions in Boston
The bulk of the snow was be on the ground by 11 a.m. in Boston, although you can expect snow showers and even a burst to linger a few hours afterward. That would definitely be a good time to start clean-up if  --  if not before — but be aware there could be a coating to an inch or two in the early afternoon.
It remains cold, and temperatures dropped quickly to below freezing in Greater Boston early Thursday. If you're in an area that saw some sleet or even rain mixed in, your temperatures will fall below freezing as well. The exception to this is going to be the mid- and outer part of Cape Cod, where I don't expect it to go below freezing today. These folks don't have to worry about a flash freeze.
The snow has been sticky in eastern Massachusetts, but very light and fluffy to the west. The snow texture will dry out this morning, making it easier to move.
Gov. Charlie Baker urged residents to stay home and off the roads if possible during the storm. Boston Mayor Marty Walsh declared a snow emergency, with a parking ban in the city beginning 6 p.m. Wednesday.
"We haven't had a major snowstorm in Boston since March 3, 2019 — over 21 months ago," he said during a press conference Wednesday. "So I'm urging everyone to be ready and prepared for this one."
Walsh said Thursday morning that about 700 pieces of equipment were hitting the roads to plow and treat for snow.
"We are asking people today to be patient," the mayor told WBUR. "We will get to every road in the city."
State Highway Administrator Jonathan Gulliver also urged residents Thursday morning to avoid travel, saying it would be "very difficult."
As expected, the winds have not been excessive, so any power outages will remain scattered. There were a few gusts over 40 mph on the coast — certainly, the region has seen much worse.
Until 4 p.m., there is a coastal flood advisory in place. During high tide, there could be some minor coastal flooding. The lack of wind and the relatively short duration of the storm are why we're not seeing more major coastal issues.
Friday and Saturday are both bright and sunny days, with temperatures around 30. We will start to see some moderation on Sunday. The above freezing temperatures will of course mean some melting snow.
However, it's unlikely all of this will be gone before Dec. 25, so it's likely a white Christmas for 2020 — something happy in this unprecedented year.
With additional reporting by WBUR's Newsroom
This article was originally published on December 16, 2020.