10 Books That Will Transport You Anywhere But Here This Winter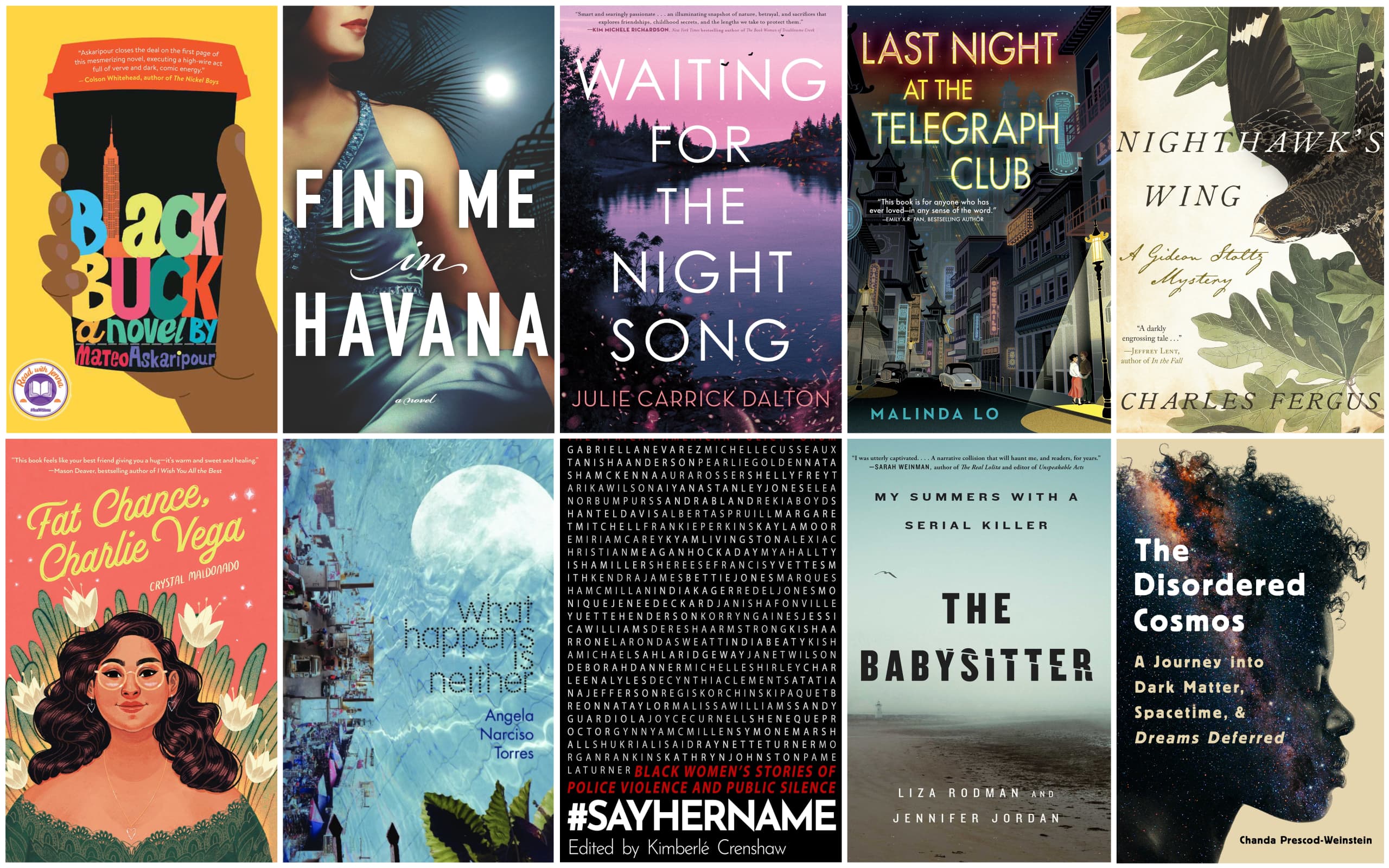 This article is more than 2 years old.
Last winter, I encouraged readers to stay home and read, not knowing that would soon be a requirement for nonessential workers. I apologize for not shooing you out the door to your nearest bookstore, library, or author event before the age of physical distancing. This winter, I'm still encouraging you to stay home and read more books by New England authors (although, now it's a civic duty rather than a quest for coziness). These 10 titles will transport you to other worlds while we all eagerly await our turns for the COVID-19 vaccine.
'Black Buck'
By Mateo Askaripour
Jan. 5
From one of the 2018 Rhode Island Writers Colony writers-in-residence comes a sharp dark comedy about a barista turned ruthless salesmen. In this novel, 20-something-year-old Darren graduated as valedictorian of his high school class only to forgo college in pursuit of a simple life with his mom and girlfriend. A chance meeting with a startup CEO offers Darren another chance to change his station in life, but when his home life begins to suffer and the workplace starts feeling more like a cult, Darren sparks a chain reaction to change the salesforce forever. Under a thin veneer of satire, Askaripour also embeds genuine advice to young professionals of color hoping to navigate largely white workplaces.
---
Jan. 12
This captivating novel is based on the life of actress Estelita Rodriguez, drawn from true events and exclusive interviews with Estelita's daughter, Nina Lopez. From singing at nightclubs in Cuba at age 9 and New York's Copacabana at age 15, to acting in Hollywood throughout the 1940s and '50s, Estelita's life was anything but ordinary. Part glittering biography, part thriller, part unsolved mystery about Estelita's untimely death, this novelization offers closure in honor of an unbreakable mother-daughter bond.
---
Jan. 12
In this debut novel, entomologist Cadie Kessler realizes that climate change is causing pine beetles to migrate to New Hampshire as an invasive species, where they are destroying the local trees. Meanwhile, Cadie's estranged childhood friend reaches out to let her know that a dead body was found from 27 years ago, bringing a secret that Cadie has long buried to the surface. The author blends issues of climate change (dubbed "Cli Fi") with a compelling mystery. Julie Carrick Dalton splits her time between Boston and her organic farm in New Hampshire.
---
Jan. 19
Malinda Lo writes an enthralling historical lesbian romance set in 1950s San Francisco. Lily finds it difficult to relate to her boy-crazy Chinatown peers as her passion grows for space exploration, or more specifically, computing for the rockets that go there. She easily bonds with her classmate Kath over airplanes but soon after she realizes the feelings she has for Kath might be romantic ones. Being LGBTQ+ is dangerous for Lily, whose Chinese American family is under close scrutiny during the McCarthy-era. Any toe out of line might cost her family their hard-won citizenship.
---
Feb. 2
Drawing from the setting of Charles Fergus' native Pennsylvania, the second Gideon Stoltz mystery novel is set in 1836, when Pennsylvania Dutch sheriff Gideon Stoltz must solve the murder of a woman who suffered domestic abuse — and who the town suspected of witchcraft. However, a recent fall from a horse has left the sheriff with severe memory loss. As he struggles to remember his sheriff responsibilities, flashes of memories come back to him. Not only did he know the victim, he was with her the night she died. Now he must count himself among the suspects. (Fergus now lives in Vermont's Northeast Kingdom.)
---
Feb. 2
This debut coming-of-age novel from Crystal Maldonado delves into the life of Charlie Vega, an ambitious young romance writer who has never dated anyone. While she daydreams of being kissed, the world instead tells her again and again that her only goal should be to lose weight. When will her loved ones — and her crush — see the real her? This heartwarming, body-positive narrative will lead you on a journey of self-acceptance and complex relationships with the people closest to you. The novel takes place in Connecticut and Crystal Maldonado lives in western Massachusetts.
---
Feb. 15
"What Happens Is Neither" is a stirring collection of poetry from Harvard Graduate School of Education alum Angela Narciso Torres. Torres explores grief, memory, motherhood and home in musical and mantra-like form that echoes the layers of family history — and its gaps. Her sensory language allows you to feel both fully present and fully distant, whichever the mood calls for. These poems stitch together a history of two countries, two homes, that could have tugged the speaker in two different directions, but instead blend together in this soothing pattern.
---
Feb. 16
In response to the too-often-unnamed Black women, girls and femmes who have been killed by the police, the #SayHerName campaign began in 2014 to remember the stories of those who have lost their lives. Spearheaded by The African American Policy Forum and edited by Kimberlé Crenshaw, this book lifts up the stories of Breonna Taylor, Alberta Spruill, Rekia Boyd, Shantel Davis, Shelly Frey, Kayla Moore and more to emphasize that all Black lives matter. This book (and the #SayHerName campaign at large) examine the dangerous intersection of police violence against Black people and gendered violence. This Black feminist framework offers a gender-inclusive understanding of how our community can combat these dangers and demand consequences for those responsible.
---
Mar. 2
Little did Liza Rodman know while she was growing up on Cape Cod in the 1960s that the kind handyman who babysat her and her sister would later be convicted as a serial killer. Reflecting on her personal connection to this gruesome murderer decades after the fact was no less chilling for Rodman. Fond memories of visiting his "secret garden" were poisoned when she later made the connection that that was where the infamous serial killer buried his victims. Co-writer Jennifer Jordan helps Rodman reexamine her memories of a charming psychopath.
---
Mar. 9
Renowned theoretical physicist Dr. Chanda Prescod-Weinstein is driven by her desire to understand the way mathematics can describe the universe. In this book, she shares her love of particle physics, the cosmos and dark matter, but she also shares her difficulties as a woman of color in STEM. Science is a collective human endeavor, and like any human endeavor, it is subject to the human failings of racism and sexism. But ultimately Prescod-Weinstein has faith in humanity like she has faith in the stars — she believes we can work toward a world that will encourage all scientific minds who are drawn to the cosmos to uncover the mysteries of the universe.