Listen To BoriRock Delve Into Lived Experiences On New Album 'It's Me'
BoriRock. The Teflon Hoot. El Hooto for short. The Puerto Rican-Dominican rapper out of Dorchester is leaving a lasting impression on Boston's urban hip-hop scene through his self-confidence and support of other musicians. The performer has a larger-than-life personality, and his music is equipped with all sorts of sound effects and phrases (some of the best ad-libs in the city) that make his aura easily felt. With his new album, "It's Me" (available to stream as of Jan. 20), you'll see precisely where these sentiments originate. You'll also get a feel for Bori's love of his people — his family and fellow musicians — especially on tracks like "Chelo's Home," an ode to his nephew feeling the absence of his father.
The support Bori's music has seen isn't manufactured. Instead, his organic lyrics and his display of community are what draw his audience in, exploring lived experiences. Even with all the good energy surrounding him, BoriRock spent some time in jail last year during the pandemic that would have extinguished most rappers' momentum, but it only added fuel to his already well-lit fire. From the title track of the project, Bori raps "Got locked up/ I was still the trending topic." These lyrics were written after his release, and since then, he has been turning lemons into lemonade.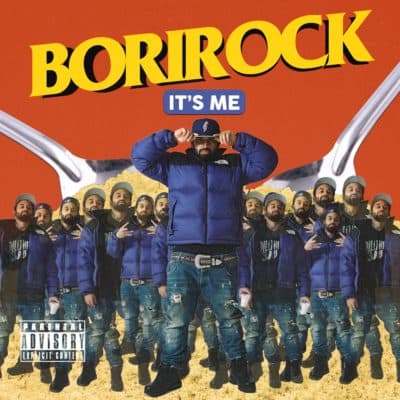 It seems that El Hooto's lemonade recipe is one many didn't know they needed. I've personally seen people from Roxbury, Dorchester, Mattapan and Hyde Park who have nothing to do with Bori's music management saluting his campaign. Getting support from different neighborhoods has always been somewhat of an obstacle for street rappers. On the support he receives, Bori explains, "Anybody that knows Bori, knows, he's love. That's why when I'm getting love, it's just like the world working like that. Cause that's how I really move...I'm really genuine. I get love everywhere. It could be in a function, it could be in jail…They just feel it."
As someone who's been paying close attention to the city's hip-hop scene going on seven years now, I can tell you that the rapper makes a lasting impression. The first time I met BoriRock was at Cambridge music venue Sonia circa 2018 or 2017. I was at the bar getting my night started when a voice directed at me dwarfed the PA system. Here came Bori, "Yo, this my boy right here!" I knew who he was but had never met him prior to that moment. Thinking back, to see what his music has grown into is no surprise for me.
You can't fake it and get genuine love in Boston. You have to stay consistent, support others and, most importantly, be you. BoriRock's "It's Me" is less than 30 minutes long, and all 10 tracks from El Hooto are worth the listen. Shout out to all the genuine movers propelling this urban music culture along in Boston.