Company Plans To Rehab And Reopen Cambridge Pond For Public Use
The owners of a fenced-off pond in North Cambridge will clean up the area and open it to the public, according to plans released during a public meeting last week.
Jerry's Pond is part of a larger 26-acre site purchased by real estate company IQHQ last summer. The area had historically been owned by chemical companies, and contaminants including asbestos have been found in and around the pond.
The pond has been an important issue for many in the area, because of its history as a swimming hole, its contamination and its proximity to the Rindge Towers. The towers — along with the nearby Jefferson Park apartments -- mark the highest density of affordable housing in Cambridge.
IQHQ's development plans include widening the sidewalk along the pond on Rindge Avenue, improving bike and pedestrian paths, building overlook areas next to the pond and replacing the current chain link fence with a smaller railing.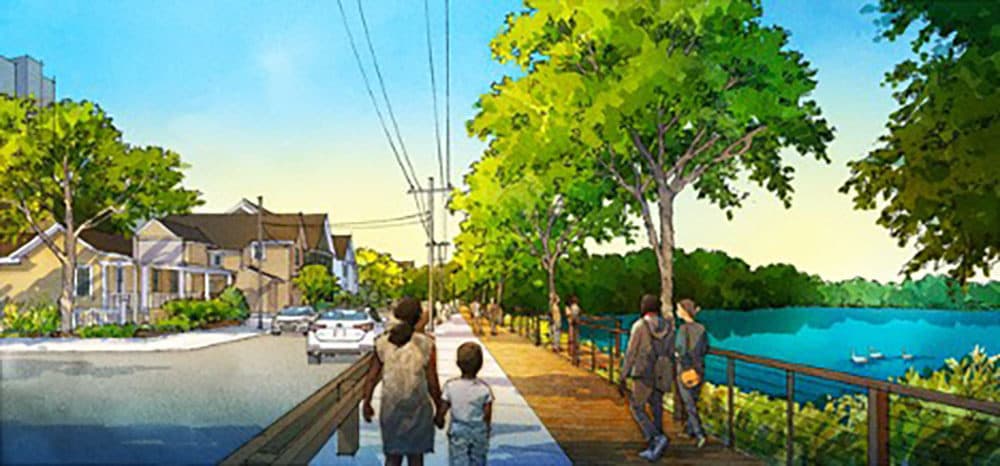 "The goal for the area...is a balance," said Jennifer Sweet, the environmental consultant for the project from the firm Haley and Aldrich, speaking at the recent virtual public meeting. "Expanding public access in a safe manner while minimizing both soil disturbance and tree disturbance, maintaining the protective cover that's there, and maintaining natural habitat."
The company does not intend to open the pond's waters for public use, and is encouraging residents to provide more input on the plans.
Community groups have called for the safe cleanup of Jerry's Pond for years, but had  made little progress because the land is privately owned. Several members of those groups attended the meeting and provided feedback, with some expressing concerns about the chemical contaminants and environmental impacts. Others questioned why plans for Jerry's Pond don't go further in re-naturalizing the pond's waters and banks.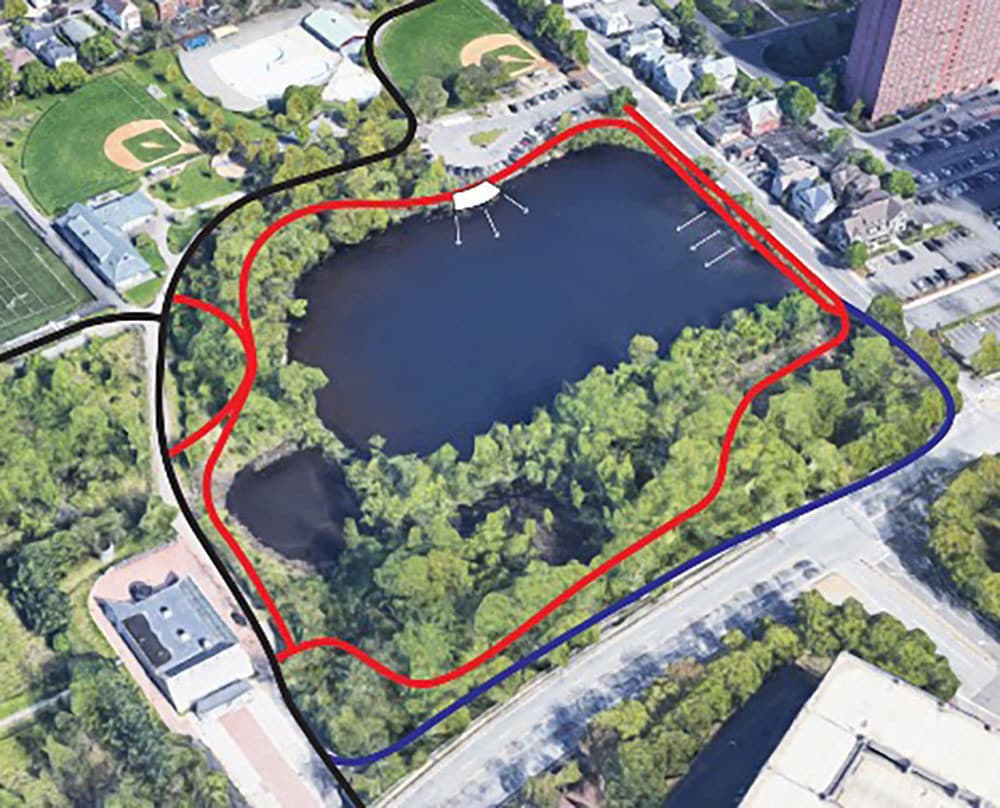 Attendees also highlighted the importance of community involvement, particularly from residents of the Rindge Towers. Former resident Anusha Alam spoke about the importance of making sure those who live closest to Jerry's Pond are heard; she said she was happy that IQHQ was taking steps to reach out to the community.
IQHQ will also redevelop two existing buildings on the site, and build three more buildings and a parking garage. Representatives at the meeting said all construction would be above mandatory flood plain levels, and the company would not apply to build outside the city's existing zoning code for the neighborhood.
Before any construction gets underway, the company will conduct more chemical testing for contaminants in the soil to comply with legal requirements.
IQHQ intends to file for the first of several necessary permits in the spring.