5 Valentine's Day Meal Kits That Bring The Restaurant Home
This Valentine's Day can still be special and full of love, even if you choose to stay in. You can set the mood as you please, light whichever candle makes your senses happy, set the table for a dinner for two and settle in for a romantic evening. However, planning all that and cooking might be a little difficult — so here are a few restaurants that are doing Valentine's Day dinner meal kits. Whether you're celebrating with your partner or a friend, these restaurants have options for you, including American, Eastern Mediterranean and European-inspired cuisine.
According to the restaurant's website, the word 'moona' is slang for the Arabic word mana or ma'oona that translates into "storing or "pantry." For Valentine's Day, the Eastern Mediterranean restaurant and bar will be creating packages for two that'll be ready for pickup on Saturday and Sunday from 3-6 p.m. The three-course meal includes some great choices, from slow-cooked beef short ribs to saffron lobster bisque. While there is only one option for dessert, you can never go wrong with Knafeh -- a traditional Middle Eastern dessert of shredded phyllo filled with sweet cheese and topped with crumbled pistachio. This delicacy is very hard to find in Boston!
---
Russell House Tavern has options for portions! You could order for one if you're planning on spending this day indulging in some self love, for two if you want to have dinner with a special someone, or order for more if you want to have dinner with friends! Each meal comes with the best way to start any meal — Brioche dinner rolls that come with whipped butter. For the main course you could choose from the Atlantic halibut or petite filets served up with lobster mac and cheese and heirloom beet salad. To satisfy your sweet tooth, the dessert on the menu is a chocolate hazelnut tart. Order ahead and pickup your meal on Sunday between 2-4 p.m.
---
Clover has many spots around Greater Boston, including in Harvard Sq., Kendall, Burlington, Back Bay and more. This Valentine's day they're getting a little fancy to ensure that you have a day full of delicious romance. On their special menu for their Valentine's Day kit, they're offering a rich and creamy mushroom soup, a whole cauliflower steak that'll be served over hot lentils (sounds innovative!) and pink oatmeal cream pies. I typically have a lot of sweets leading up to this day of love, but thankfully, their pies will have beet buttercream filling so I won't feel as guilty.
Clover owner Ayr Muir's wife, Brooke Dyer, is a children's book illustrator and has collaborated with her husband to make sure this kit has everything you need. Purchasers of the box will find a specially designed card . To make things easier on you, they also will also throw in a box of candy hearts for your date night! To sweeten the deal even further Clover is offering free delivery within a 30 mile radius of CloverHUB in East Cambridge on Friday and Saturday.
---
Galentine's Day: A day to celebrate all female friendships, celebrated on February 13th. Lamplighter Brewing Co. and Brato are joining forces to prepare a special meal for all those looking to celebrate the gal pals in their life.. This kit brings four courses of waffles that range in flavor from cheddar and chive drizzled with hot honey, to Belgian Liege waffles covered in dulce de leche and spiced chocolate fondue. The meal isn't complete without a beverage, and each waffle is paired with a beer to really optimize the experience. (Vegetarian options are available.) Pre-orders are required and pickups will take place at the brewery on Saturday, Feb. 13, from 2-8 p.m.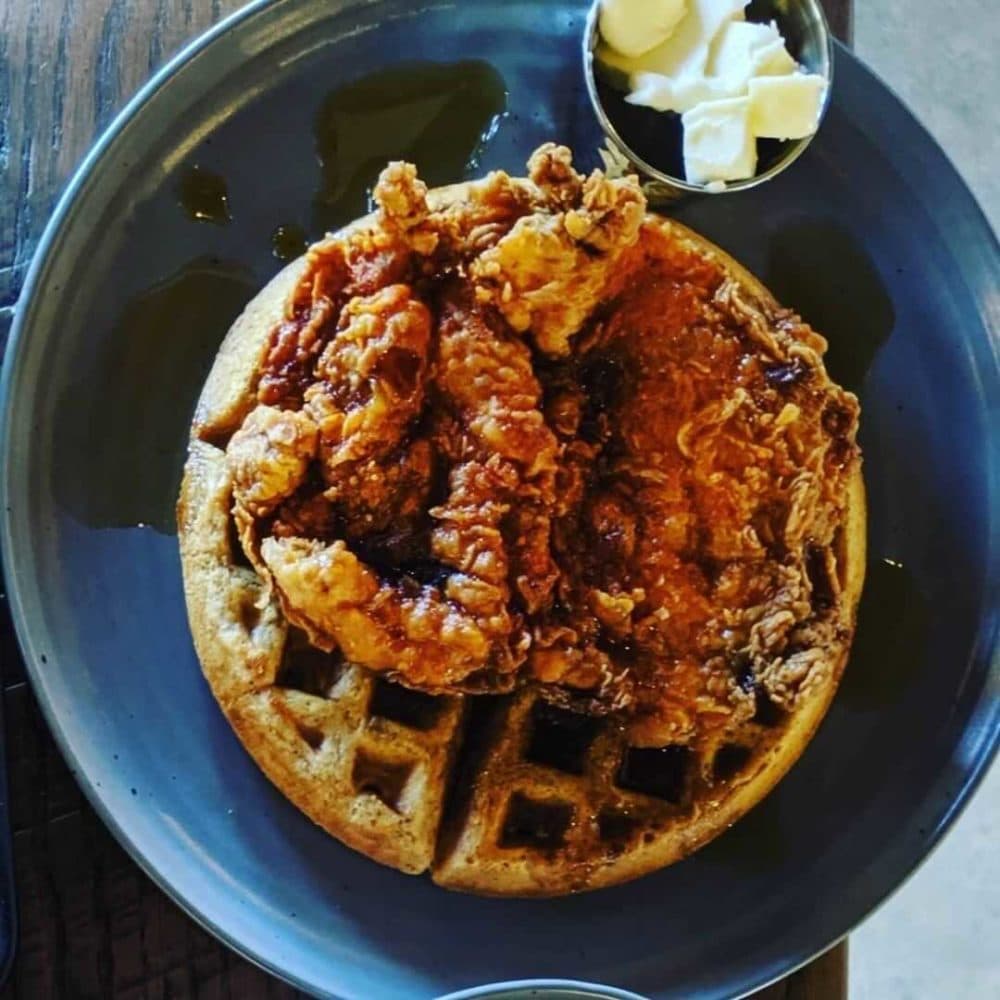 ---
Located in Newton Centre, this restaurant is influenced heavily by London's modern gastropubs, Thistle and Leek is putting together a meal kit for dates this Valentine's Day. Their menu sounds quite enticing, which includes truffle hummus with seeded crackers, braised short ribs with rainbow carrots, fontina risotto and, most importantly, they're offering a chocolate caramel tart topped with whipped cream for dessert. The restaurant says of their meal kits "romance included, some assembly required." The order deadline is Wednesday, Feb. 10, by noon and pickup is available Saturday, Feb. 13, 12-8 p.m. and Sunday, Feb. 14, 12-4 p.m.