ICA Distributes 1,200 Art Kits To Boston Public School Kids For Creative Nourishment Amid The Pandemic
Resume
The Institute of Contemporary Art has been quiet since it closed in early December as the coronavirus curve rose, but this week a flurry of activity filled the museum's performance hall that overlooks Boston Harbor. On a sunny morning two staff members rolled in cart loads of cardboard boxes stuffed with shiny metallic bubble wrap envelopes and stacked them in designated spots on the floor.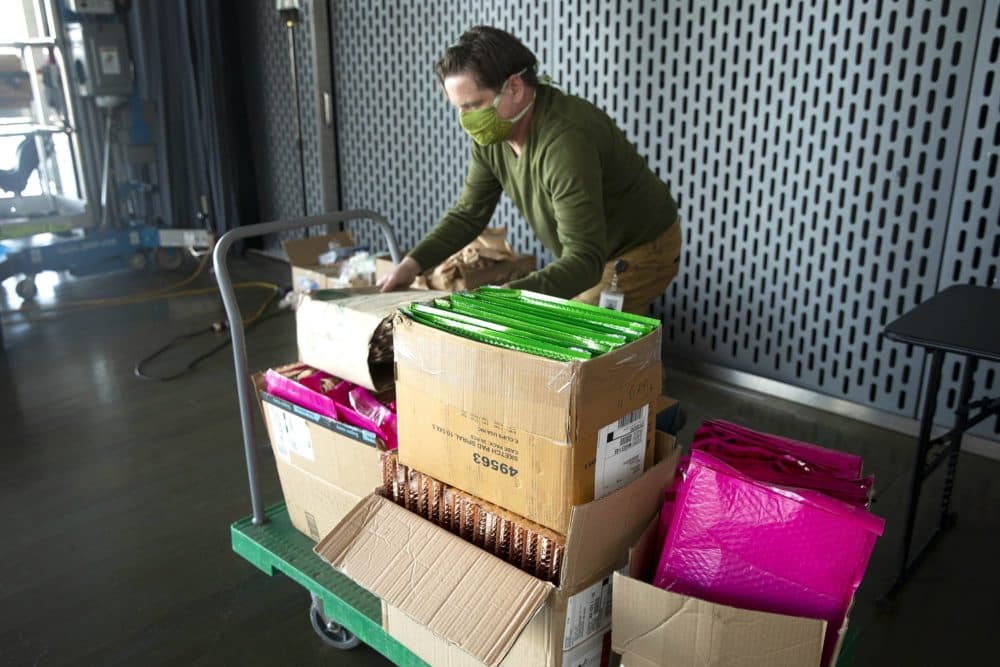 The museum's education team assembled 1,200 of these packages off-site and department director Monica Garza drove around a frigid, icy Boston to pick a bunch of them up. She was happy to show us the goodies inside.
"We have some watercolor board...some markers...and some watercolors...and some colored pencils," Garza listed off.
There's also a letter inside the little care packages introducing the ICA along with three activity cards written in Spanish and English. The bundles are a new way for the museum to reach students at home since they can't come visit with their families or on field trips with their teachers.
"Before the pandemic, of course, we would see children during their school hours visiting our exhibitions and looking at art," Garza said. "And since the closure we've really had to rethink our work and how we can fulfill our mission in different ways for children."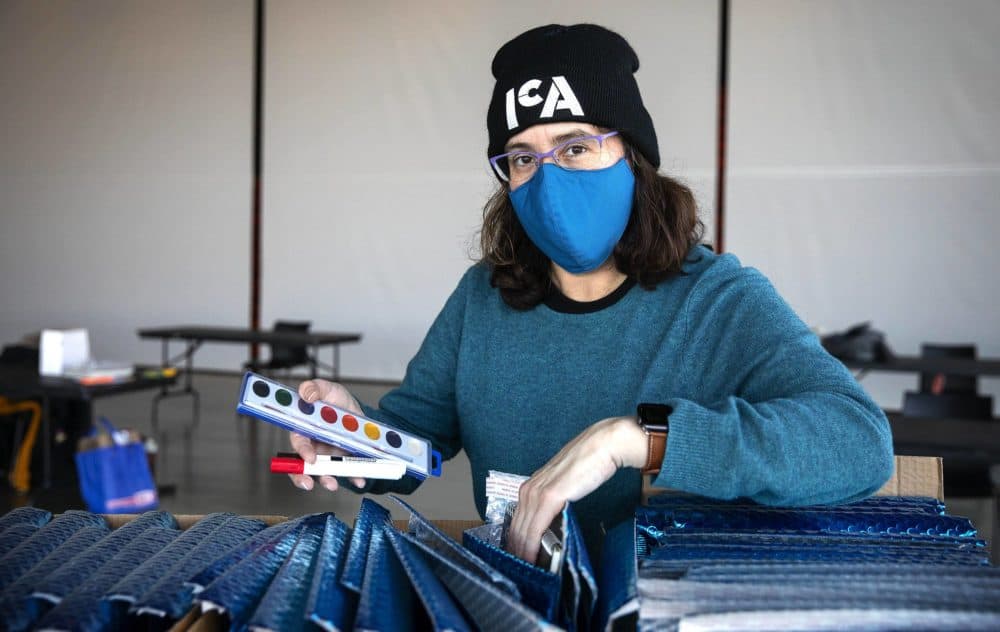 Just days before February vacation week, more than 1000 Boston Public School families who've been struggling to put food on their tables will find these kits nestled in with their meal and grocery boxes at BPS food distribution sites. The pairing of food and art grew out of an initiative the ICA started in April. Museum director Jill Medvedow and her staff wanted to help the hard-hit community of East Boston, so they turned their gallery outpost there — called the Watershed — into a distribution hub for boxes of fresh produce and dairy.
Over the summer Garza's team decided to add art supplies and activities designed by professional artists to the boxes, many of them local, including Mark Dion, Adobo Fish Sauce, and Porsha Olayiwola
"As some of our colleagues here at the ICA have been saying 'it's food for the body and food for the soul,'" Garza said. The museum is committed to distributing 5,000 art kits at the Watershed with its neighborhood community partners through the end of June.
Garza said East Boston have families loved the art kits that have included poetry, collage and a music project by composer Maria Finklemeier that came with a pair of professional drum sticks. This new round is being shared Feb. 11 at a dozen BPS distribution "super sites" in neighborhoods including Dorchester, Mattapan and Jamaica Plain.
"With February vacation week ahead, the cold months in Boston, and the isolation many kids are feeling, we're just trying to do our part, at least in the Boston area," Garza said. "We're doing what we can – what we know – and we know the positive effects of art."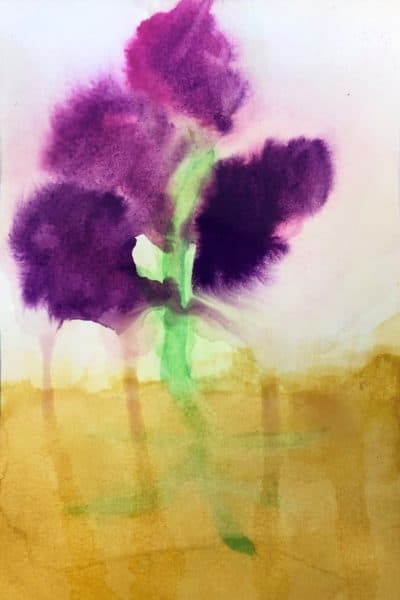 Garza said a recent CDC report detailing the pandemic's impact on children and teen mental health also spurred the free art kit project's expansion, which is funded by donors.
Artists jumped on-board to dream up exercises that kids and families could do at home. Boston hip-hop and visual artists Shaka Dendy wanted to help kids paint soil and sow plants with their paint brushes. He started using watercolors during the pandemic and said how much they've helped him to slow down and focus. In his activity card Dendy reflected on how hard quieting the mind can be in these overwhelming times.
Dendy explained that he wanted to give students something physical they could work on, "something that's really tactile, like moving pigment across a paper," he said, "because obviously so much of their everyday experience was like immediately ported into computers."
Giving young people a break from hours of screen time was also on dancer Ellice Patterson's mind. She's founder and executive artistic director of Abilities Dance Boston, a non-profit that uses movement to promote intersectional disability rights.
For her contribution Patterson wanted to show families how to be active inside their homes with whatever kind of body they have. To illustrate Patterson took pictures of herself demonstrating simple stretches.
"So many of us have faced loss of loved ones or financial hardships due to this pandemic," she said, "and the great thing with this activity is that it shows you don't need any special equipment or tools. You really just need your body and your mind."
The dancer also sees the ICA's project as a potential point of connection between people in the disability community and non-disabled people. For the kids receiving her guidance card she added, "It's great that they're able to see a Black disabled woman who is not only a teacher but a leader."
The third artist participating in the at-home art activity project is digital illustrator and art educator Alice Caldwell. She created a draw your own "Community Garden" that kids can fill with whatever they want to grow — even giant robots.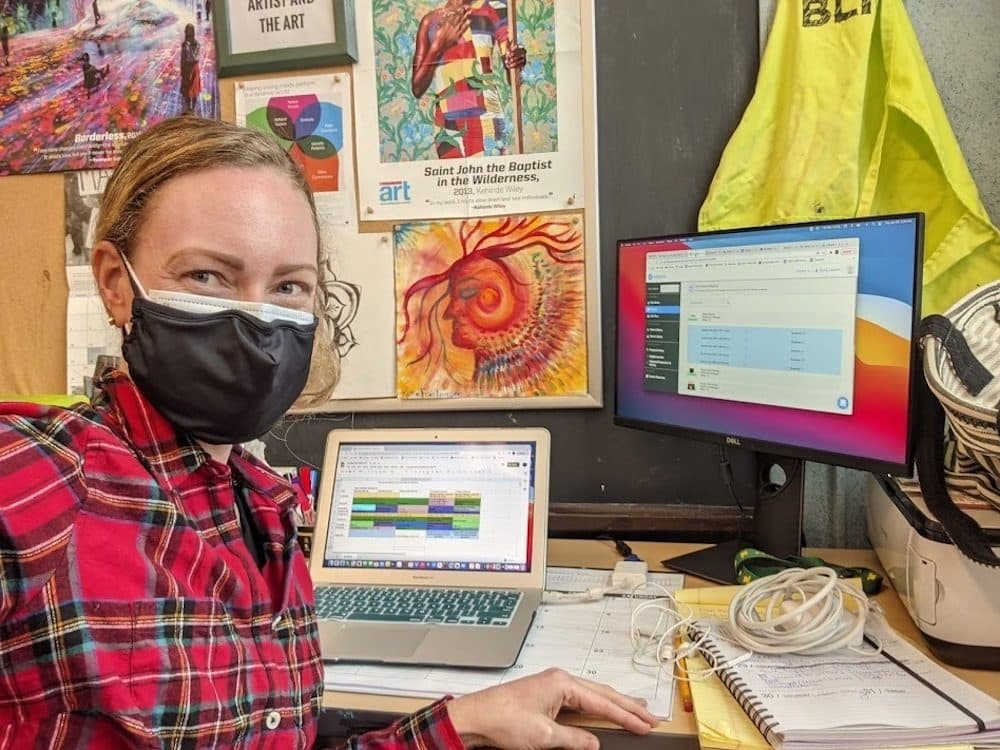 Families are looking for ways to engage with each other, according to BPS visual arts teacher Katie Freiburger. For months she's been leading virtual classes for about 200 kindergarten through 8th grade students at the Curley School in Jamaica Plain.
"It's been really hard on the kids," she said, "they've been in their homes by themselves not having a whole lot of socialization."
Now 100 students at Freiburger's school will receive art kits.
Before the pandemic she would take her classes on trips to the ICA. Freiburger said she misses that – and her classroom – where kids had access to clay and paint and other art materials. Having something new to engage with during school vacation week will help, but the arts educator hopes the kits' supplies will stretch beyond February break. Getting materials to students for distance art classes has been challenging.
"We did order supplies in the beginning of the year," Freiburger said, "but a lot of them were back ordered. We just now received a lot of the supplies, so the addition of these art kits is major because it's already using a preexisting network that exists to get the supplies to the families that need it the most."
Freiburger has even been delivering materials to her students' homes and said many of the Curley School families cannot afford to buy their own. She's also thrilled that the ICA art kit instructions are bilingual since about one-third of the Curley School families speak Spanish.
"Right now — more than ever — access to art and art making it's every child's right," ICA education director Monica Garza said. "It should be part of their education all the time."
That's one major reason why this initiative is really important for her department and the museum. She said art making has the power to help kids and adults heal from trauma and relentless uncertainty.
"This is a time when everything feels totally out of control," Garza shared, "so having those materials in front of us — being able to control what we're making, and we are the maker — it's very empowering."
And Garza added it can also provide a lot of much-needed fun.
---
Many of the ICA's activities for families are available online.
Correction: A previous version of this story incorrectly described Abilities Dance Boston. The organization promotes intersectional disability rights. We regret the error.
This segment aired on February 11, 2021.