As U.S. Surpasses A Half Million Deaths, COVID Cases Are On The Decline
04:33
Play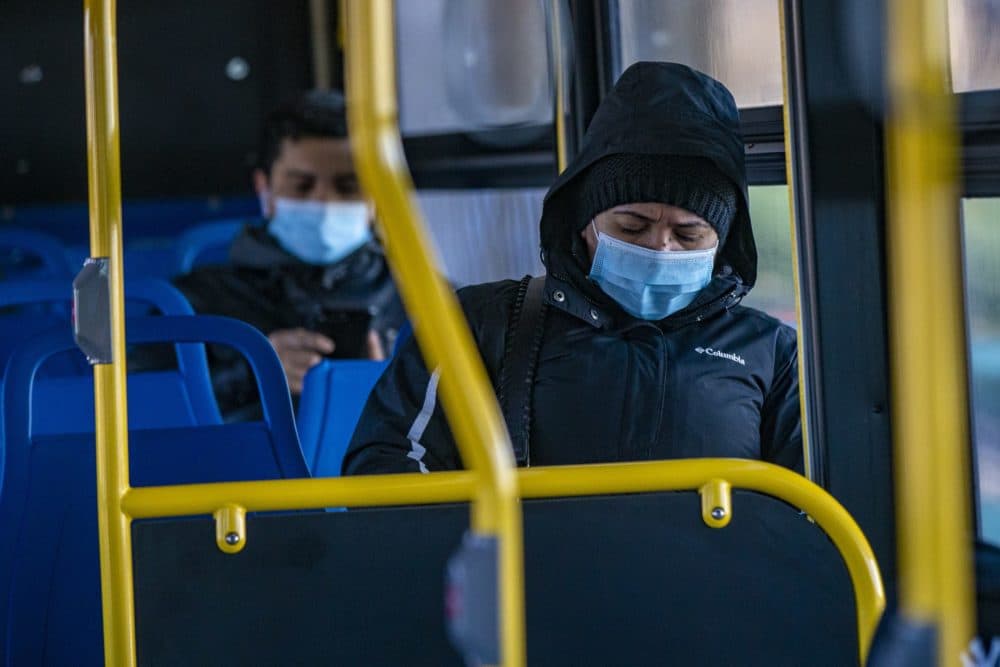 This article is more than 1 year old.
The coronavirus pandemic has hit a grim milestone: 500,000 people in the U.S. have now died from COVID-19.
But, there are some signs of hope. The number of daily new cases nationwide has dropped dramatically over the last six weeks, and more people are being vaccinated.
Still, Dr. Anthony Fauci says we might need to wear masks into next year if the country's infection rate doesn't continue to decrease.
Here in Massachusetts, hospitalizations and positive test rates have been declining — the seven-day average for positive tests is back below 2% — even as other variants of the coronavirus have begun to appear.
Bill Hanage, an associate professor of epidemiology at Harvard's T.H. Chan School of Public Health, joined WBUR's Morning Edition to talk about what he thinks is behind the state's falling COVID numbers.
Interview Highlights
On what's driving the decreasing COVID-19 numbers in Massachusetts:
"We don't think that there is a very large amount of infection-induced immunity in Massachusetts, and we don't have a large amount of vaccine-induced immunity yet. But whatever immunity there is has to be counted alongside the seasonality of the virus — and regular coronaviruses peak in January and then drop. That peak in January may be explained by some of the gatherings that people get together over the holidays. So it's amazing if you look at different states, how many of them have a peak somewhere within the first couple of weeks of January."
On the possibility of another spike in cases:
"There are a few reasons to be cautious about this. One of them is the variant that was first detected in the southeast of the United Kingdom. That is in Massachusetts. To epidemiologists, something like that variant, which is both more transmissible and somewhat more dangerous, is particularly worrying. The reason I'm a little bit hopeful about it is the seasonality piece that I mentioned suggests that, over the coming months, we may be seeing somewhat less transmission of that variant. And that's going to allow us to be catching up in terms of vaccines and other things like that. We are still going to need to be watching very closely come October."
"It's certainly premature to think that we are out of the woods. We're not out of the woods. We're just in a somewhat less densely wooded part of the woods."

Bill Hanage
On Dr. Fauci's suggestion about wearing masks into 2022:
"I'm actually with Dr. Fauci, but I would add the concern that I think people may take limited transmission over the summer months as being a sign that the pandemic is in the rearview mirror, and it won't be. There are lots of reasons for that. One of them is potential variants, but also the fact that not everybody will receive a vaccine. Some people will choose to not be vaccinated, and those people will be able to be infected, obviously, and we think that they'll be able to be reinfected. It's certainly premature to think that we are out of the woods. We're not out of the woods. We're just in a somewhat less densely wooded part of the woods."
On when we can expect a return to "normal":
"When we think about the idea of getting back to normal, it may be more helpful to recognize the various ways in which things are beginning to become more normal — because I think that what we're going to be taking is a bunch of steps towards a place which is going to be substantially better, but it's not going to be exactly back to what you might think of as normal. Instead, just think about the things which are getting closer to normal, the things that you're able to do now that you weren't able to do. And at some point, we're just going to look at ourselves and go, 'Hey, I just spent a whole day in which I only wore a mask for a small part of it. Wow. I can't remember the last time that happened.' And remember that we will get there. It's only a matter of time."
This segment aired on February 23, 2021.