Two Friends — One From Dorchester And One From Wayland — Talk Racial Divides On Podcast
As a kid growing up in Dorchester in the 1980s, Gloria Harrison's life changed when her parents enrolled her in the METCO program in first grade. Suddenly, she found herself waking up before dawn to be bused to an elementary school in suburban Wayland, where she was one of the few Black students in a virtually all-white town.
As she progressed through the school system there, she became friends with a classmate from the town, Carrie Clifford. The pair later worked with each other in Chicago before their jobs sent them to opposite coasts in New York and Los Angeles.
Last spring, in the wake of the high-profile killings of Black people by police and growing racial tensions, Clifford reached out to Harrison with a proposal to set up a podcast creating a space for discussion about race and the disparate backgrounds that caused their paths to cross.
"I think a lot of people in that time were reflecting on racism in their own lives," explained Clifford. "I was so in my head about wanting to do the right thing, I felt I needed someone to tell me what to do. I called Gloria and we started having these discussions and it was so eye- opening to me...I thought, why don't we do a podcast?"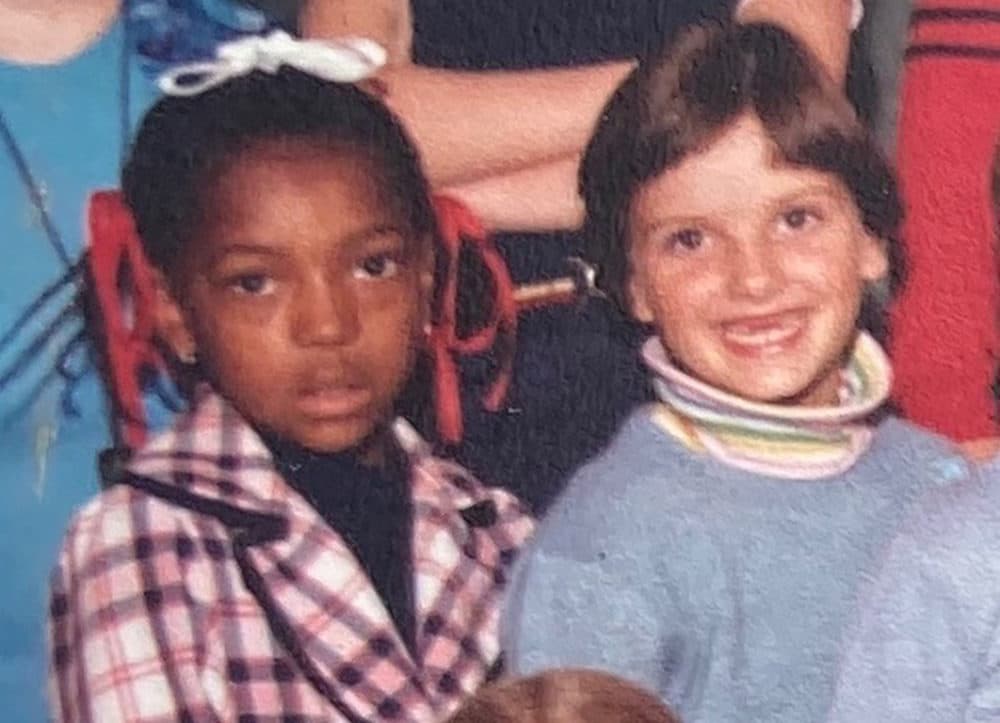 At first, Harrison wasn't on board with the idea. "When she called me, I had been lying on my couch and crying. I was seeing the George Floyd and Ahmaud Arbery videos and emotionally going through it, and I was dealing with it in my home with my own husband and kids," she said.
"I definitely didn't want to talk about it in a public way...I told her no, and we went back and forth for months before eventually I agreed. But I told her, we can't talk about my story unless we also talk about your own privileged upbringing."
At the start of the first podcast episode, the two of them established a baseline of honesty and transparency: Clifford asked Harrison to call her out on any shortsighted or ignorant viewpoints, while Harrison promised not to judge or hold back from expressing her true feelings. In laying all their cards on the table, they hoped to create a "brave space" for tough conversations about race, inequality, white guilt, and justice.
"We decided that if we were not going to talk about these things, what is it for?" said Clifford. "We wanted to take this meaningful conversation and put it in action, and to have this space where a Black woman and a white woman can come together and not judge each other, and at the same time be individuals and not be representing Black or white women as a whole...but as adults looking back and reflecting on our experiences and what we did or didn't realize. Hopefully we can inspire other people to have that conversation at home, in their living room, or at work."
In the podcast, the two women reflect on memories from their time together in Wayland and what that experience reveals about structural inequities in the country at large, as "almost like a counseling session with a friend. "Sometimes I just want to cut white people off," Harrison admits, but she saw that Clifford's attempts to reconnect with her were genuine at their core. "I want you to know I care," Clifford told her.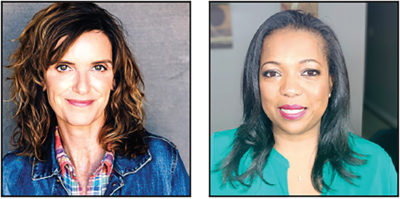 "It's a vulnerable space for us both," said Harrison. "I want to be a part of the healing process, I want people to know they can talk to me, that it doesn't always have to be an argument."
Across over a dozen episodes of the podcast — titled "Hard Candy & Fruit Snacks" after their favorite childhood treats — Harrison and Clifford delve into the different worlds they grew up in.
Reflecting on her childhood home on Park Street in Dorchester, Harrison recalled the neighborhood as "a community" where she could "go next door to borrow sugar. "I learned unity in Dorchester," she said. "I remember seeing all walks of life at the Kite Festival in Franklin Park, I remember these summer block parties with everyone hanging out near the fire hydrant and having a good time.
"But, at the same time, I could hear gunshots not too far from where I lived. I started thinking, 'How do I get out? How do I make it out and not become a statistic?'"
In retrospect, Clifford sees her upbringing in Wayland as sheltered. Racism was something she never learned about or considered while growing up, yet it existed — she remembered someone burning a cross in her town when she was a kid.
"Looking back, I have mixed feelings about METCO," she said. "We talk a lot about how Gloria had to learn about Wayland and fit in here, but there was no reciprocating — we never went to Dorchester. It was presented to us that you are doing an amazing thing by letting these 'inner-city' kids come to our school. It was a desegregation program that I think now was actually segregating in some ways."
Harrison's experience in Wayland was not all rosy. She recalls an instance when she was called slurs by two boys in her class, and another when she was pulled over and racially profiled by Wayland police.
But she credits METCO for fundamentally changing the path of her life. "My overall feeling is I love the program. There were nights and days where I would cry and scream at my parents, saying why do you make me go there. Now I look back and I say 'thank you.'
"I can code switch like nobody's business. Plus, the education that I got there pushed me to do extra things to stay on the level of my peers and realize my potential and go on to be a first generation college graduate...It helped make me who I am today."
Harrison and Clifford are using their new platform to give back to current METCO students. Recently, Hard Candy & Fruit Snacks was awarded a Social Justice Grant from Brigham & Women's inclusion initiative, The Office of IDEAS. This spring, they will launch The Social Justice Scholarship Fund, through which they will raise money to help disadvantaged high school seniors from Boston neighborhoods pay for college.
Scholarships will be awarded to two Wayland METCO seniors and two seniors from the Boston Public Schools.
For Harrison and Clifford, the fund represents that key step of turning their conversations into action. And the feedback they've received from listeners in recent months indicates that the podcast is making an impact.
"One week, a former METCO student called me crying, and told me 'Thank you for what you are doing,'" said Harrison. "They identified with some of the traumatic memories I had discussed, and said they were grateful for us talking about moving on and healing...It's striking nerves."
For her part, Clifford sees their conversations sowing change in people's world views. "Wayland people want to talk about it more. Some of my parents' friends are listening and feeling shame, not that I want them to feel shame, but I know that it can lead to healing...It has been a safe way for people to hear another side of things."
Added Harrison: "I think it shows we can be friends and still disagree and have different political or religious views.
"It's hard sometimes. Some days Carrie says something from a privileged place and I have to take a breath and count to 10...but those tough moments are what makes life worth living. It's important to care enough to take extra time in your life to have a conversation to inspire someone else."
"Hard Candy & Fruit Snacks" is available for streaming on Apple Podcasts and most digital streaming platforms. To make a donation to the Social Justice Scholarship Gofundme campaign, visit https://charity.gofundme.com/o/en/campaign/social-justice-scholarship.
This story originally appeared in The Dorchester Reporter.