Cornel West, Feeling 'Disrespected,' Is Leaving Harvard For A Second Time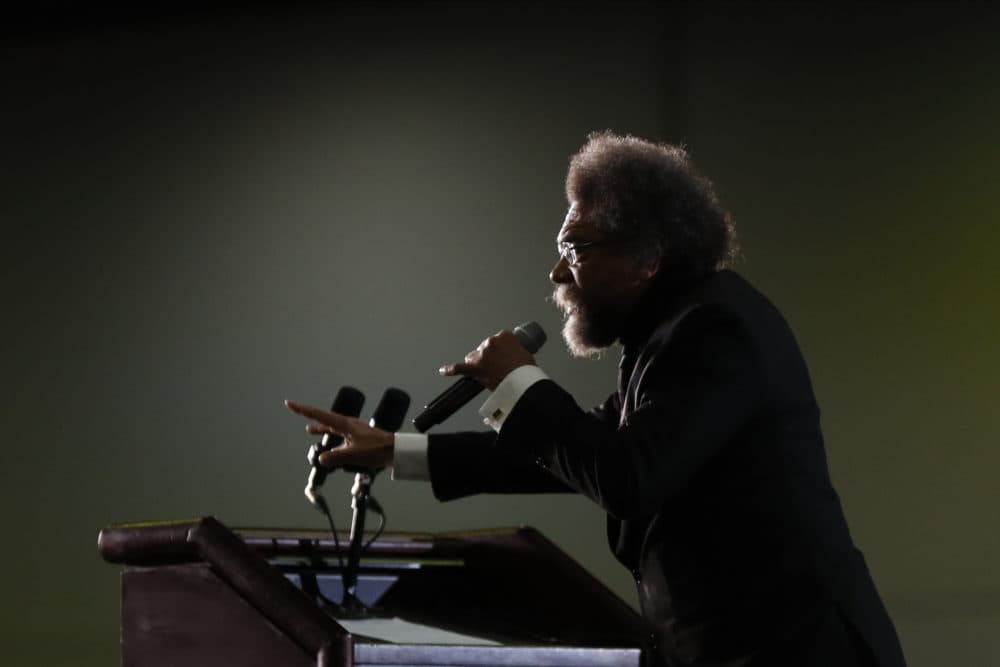 Cornel West is leaving Harvard again.
West, one of very few philosophers called upon in times of crisis by CNN, has in a long career received tenure at Princeton, Yale and at Harvard itself — his alma mater — on a prior appointment.
But he wasn't granted tenure when he returned with a dual appointment to the Harvard Divinity School and the Department of African and African-American Studies in 2016, and was not granted it upon a recent review of his contract.
Speaking with The Boston Globe last week, West said that was due to his outspokenness as a socialist and supporter of the Palestinian people, among other causes, which left him feeling "disrespected and devalued." University officials did not respond to West's allegations that he was deemed controversial by decision-makers there.
West did not reply to requests for comment on his departure. But in an interview published Monday by the independent online publication The Boycott Times, West said that while Harvard's leadership became more diverse during his 12 years away, "it does not yet translate in terms of being able to speak to the seeking of truth amongst the students."
West left Harvard for the first time in 2002, after the university's then-president Larry Summers implied that his public work, including a rap album, was interfering with his scholarly obligations.
In the interview Monday, West said that Harvard has focused on "donor money" over the "souls and minds of students," with whom he engaged as the professor of an introductory course on African-American studies.
West will decamp for Union Theological Seminary in New York — what he called his "perennial home" and the site of his first academic job. He chose Union, he said, because it "believes in robust conversation across the board, but has a fundamental tilt towards empowering oppressed people."
Supporters, from Harvard students to UCLA professor Robin D. G. Kelley, had flocked to West's cause, chastising the university for failing to grant an academic honor to, in Kelley's phrase, "undeniably the leading American public intellectual of my generation."
It was not only students, though, who gave voice to bitterness at West's departure on the Cambridge campus. History professor Walter Johnson shared the news in a tweet, calling it "a(nother) disaster for Harvard."
Lorgia García Peña, a scholar of Latinx and Caribbean studies, was also denied tenure, after being recommended for it by fellow faculty, in 2019. And a number of prominent Black faculty have left the campus in the past two years as well.
In a statement, Harvard Divinity School deans David Hempton and David Holland said West had made "an enormous contribution to our curriculum and to our capacity to address issues of racial justice," and that they "had hoped to retain him on our faculty for many years to come."