An Iconic JFK Portrait — On Loan From The MFA — Now Hangs Inside Biden's White House
Play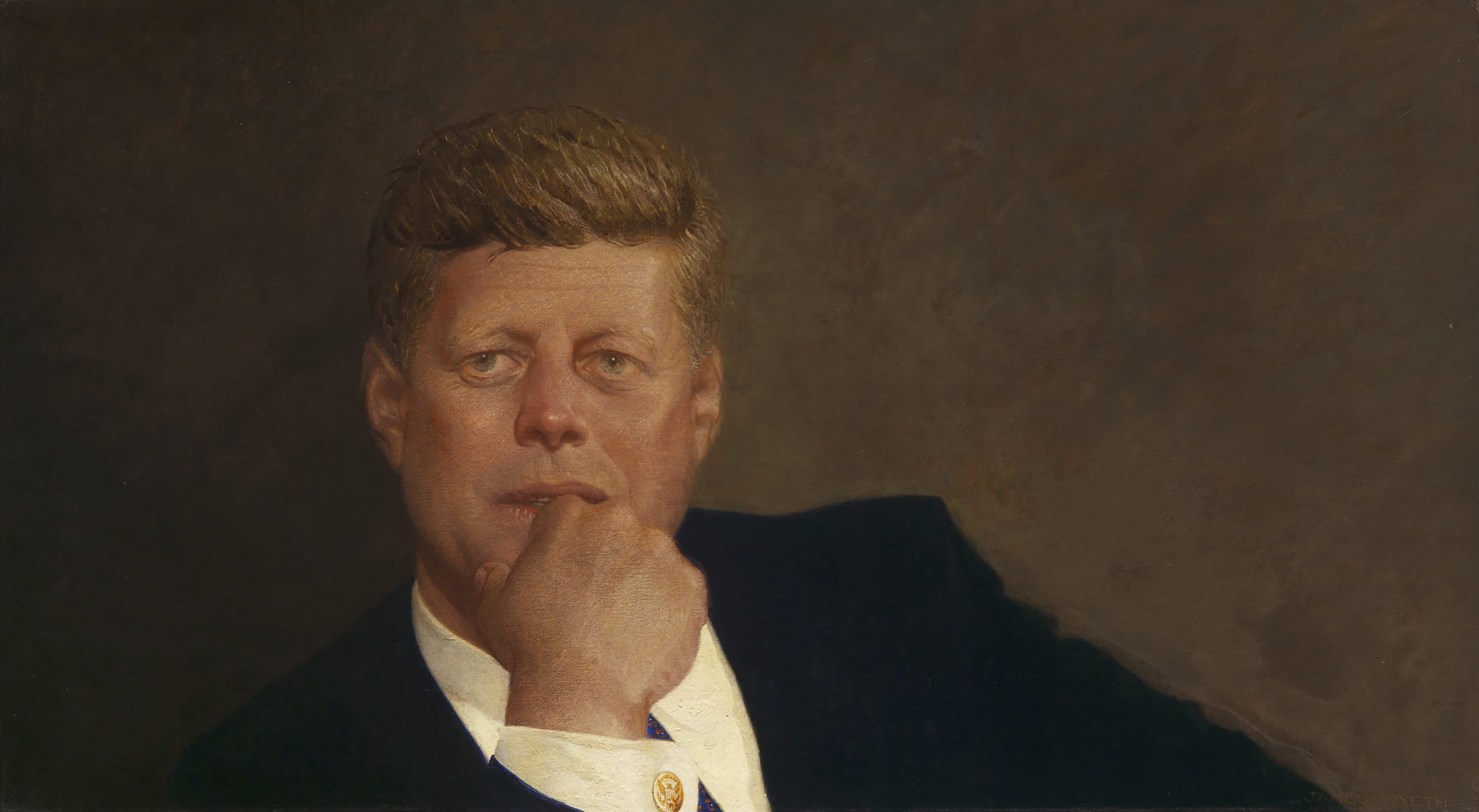 This article is more than 1 year old.
An iconic portrait of John F. Kennedy has made its way from the Museum of Fine Arts, Boston to the White House. You might be familiar with the ethereal image American artist Jamie Wyeth created of JFK. The President wears a navy blue blazer over a white button-down. He's seated, leaning to his right, propped on an elbow with a hand touching his chin. JFK's eyes appear to look simultaneously at the viewer and off into the distance.
Ethan Lasser chairs the Art of the Americas department at the MFA and said this portrait is well-known for a reason. "It's a bit ambiguous – like he's listening, he's contemplating – but it is for me a portrait of calm, a portrait of poise."
Lasser says JFK's pose and gaze convey the strength of a great leader. Even so, the MFA was surprised by President Biden's request to borrow the portrait as he prepared for his move to the White House.
"I just want to say how excited I am – and all of us at the MFA are – that one of the first orders of business was to find the works of art to install in the Oval Office and the rooms around it," Lasser told me, "and that we can be part of that."

After the painting shipped from Boston, Lasser said a White House curatorial team hung it in Biden's private study, off the Oval Office, as MFA staff watched remotely. He also said the work itself has a fascinating backstory.
It begins with Jacqueline and Robert Kennedy reaching out to commission Wyeth – a rising realist painter and son of artist Andrew Wyeth – when he was just 20 years old. This was after JFK's assassination in 1963.
"And he's asked to do the most difficult thing for a portraitist, which is to paint his subject posthumously," Lasser said, "When you think about what makes a great portrait, it is the sitter and the artist sitting in a room together. They're getting to know one another, sparks are flying, body language is apparent, and you build a relationship.
Of course that was impossible for Wyeth.
"But, you know, I was fascinated by it," the artist recalled. "I'd never done a posthumous portrait."
By phone from his home in Tenants Harbor, Maine, Wyeth explained how he turned down the commission for an official portrait but still wanted to attempt a more unconventional painting of JFK.
"I'd never seen him, and so I had to sort of establish [JFK's image] in my memory. And she – his widow – was wonderful and giving me all her photographs of him and films and the National Archives. So I just totally immersed myself ."

To capture JFK's physicality and gestures Wyeth studied members of the Kennedy family.
"I started working with the two brothers Bob and Teddy, and bird-dogging them and doing lots of drawings," Wyeth said.
For more than two years the artist followed JFK's brothers around D.C., Hyannis Port and on the campaign trail to make sure he got the Kennedy likeness right.
"I was swept up – as most people were – with this sort of deification of JFK," Wyeth remembers, "He was sort of larger than life."
The artist said he destroyed the first portrait he made because it looked too romantic. In 1967, when Wyeth finished the painting, he said the image upset Robert Kennedy because he thought it evoked his brother during the Bay of Pigs. But Jacqueline found it personal and moving.
Wyeth held onto the portrait for decades until the MFA acquired it in 2014 when the museum hosted a major retrospective of his work.

"I kept the portrait for, you know, years, mainly because I had spent such a huge chunk of my life on it – and I've never done that with any painting of mine," Wyeth said. "But now it's gone on to have a life of its own. It's became a national stamp of Ireland, and now here it is hanging in the White House."
The 74-year-old artist is honored the portrait is in the new President's private study. Biden, who served as a longtime senator in Wyeth's birth state of Delaware, has a long relationship with the painting. It hung above the fireplace in his Vice Presidential residence surrounded by family photographs.
When asked if he knew why the President connects with the work Wyeth said, "I've never really spoken to him as to why what he finds compelling in the painting, but he seems to like it."
After the MFA acquired it, the Bidens shared their affections for Wyeth's portrait in a statement saying, "We always appreciated how President Kennedy's concentrated gaze, captured in Jamie's wonderful detail, demonstrates the difficult decisions world leaders face. The portrait served as a symbol of President Kennedy's extraordinary dedication to public service and education, and his belief that it is our obligation to make the world a better place."
Wyeth's portrait isn't the first MFA holding to be loaned to the White House. Lasser said the Kennedys also sought out paintings from the museum's collection when JFK was in office.
The MFA has archived letters Jacqueline Kennedy wrote to then-MFA director Perry Rathbone, stating she wanted "to bring a more 'Boston complexion' to the White House," Lasser said.

The Kennedys chose six watercolors by John Singer Sargent for their family's private living room. But after JFK's assassination a heartbroken Mrs. Kennedy wanted to return the loans and wrote again to the museum saying, "'They're hard for me to be around and I want you to know how much they meant to the late President,'" Lasser paraphrased.
Which makes the curator ponder the role artworks like the Sargents and Wyeth's portrait play in the president's private rooms at the White House.
"These are out of public view. They're providing a kind of solace. There's going to be an intimate relationship between viewer and work of art. They're not there for show," Lasser said. "What does that mean to come back to a work of art at the end of the day, facing the challenges one faces in that office?"
If only the paintings could talk....