Six Documentaries To Stream At Salem Film Fest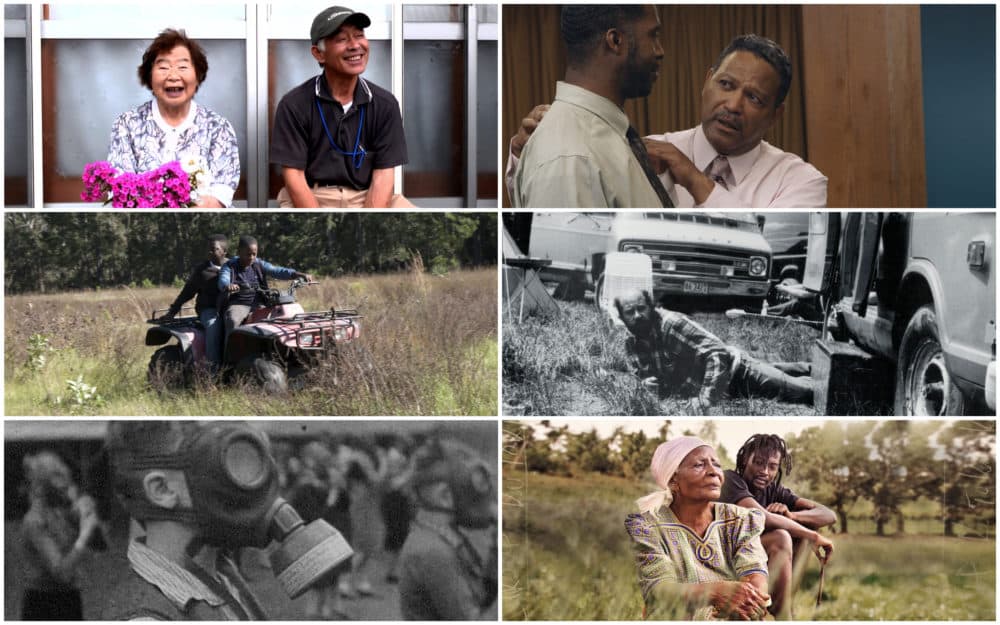 This article is more than 1 year old.
Supposed witches. Low-life van culture. A motivational speaker who actually motivates. These are a few of the subjects on tap at this year's all-documentary and all-virtual Salem Film Fest. Over its 14 years, I've seen enough films exhibited by this fest to confidently say that whatever subject captures your attention, the film about it will be both thought-provoking and worth your time. I've narrowed the feature-length program down to six recommendations but there are several shorts programs as well, which is why I encourage a perusal of the entire schedule, streaming from March 19-28 within the United States.
Boston-area filmmakers Beth Balawick and Beth Murphy make their United States premiere with a powerful, clear-headed account of the devastation of Japan's 2011 nuclear disaster through the eyes of an aging farmer. As the eldest son, Hidekatsu initially resisted taking over his family's farm. Decades later, displaced by radioactive contamination caused by a major earthquake and tsunami, he begins to reassess the significance of shouldering a legacy that he can no longer pass to his own children. Without grandstanding, "Son of Fukushima" questions the futility of trying to mitigate the disaster (with dubious efforts like washing windows in only one direction) and deftly connects the Fukushima tragedy to Hiroshima. As Hidekatsu considers what lies ahead, the endless rows of toxic topsoil, bagged and waiting with nowhere to go, speak for themselves.
---
Motivational speakers are not my thing. But a few minutes into "The Road Up" and I was hooked on Jesse Teverbaugh, the charismatic mentor in a job training program in Chicago that helps people struggling with criminal records, addiction and homelessness get on track and keep a job. His no bull---- approach gets reflected back in the form of genuine respect from program participants, some of whom the filmmakers follow back to their tenuous "homes," which might mean a few drawers and a bunk in room that sleeps 20. "The Road Up" breathes new life into what it takes to overcome deep-seated challenges largely because Teverbaugh is so good at his job. But so are these filmmakers. (Directors Greg Jacobs and Jon Siskel won the SFF audience award in 2011 with "Louder Than A Bomb.") The care Teverbaugh brings to his work, and they to theirs, comes through in every frame.
---
Cornelia Walker Bailey is a ninth-generation resident of Sapelo Island off the coast of Georgia, a place once bustling with five distinct communities of Geechee people who settled there after the abolishment of slavery. Over her 70-plus years, she and her husband have raised and fostered more than 20 children, including Johnathan and JerMarkest, ages 10 and 11. The camera follows the boys between island and mainland as Bailey tries to find the best situation for their wellbeing. She worries over Sapelo's dwindling youth population and how its real estate has started appealing to newcomers. "Sapelo" makes a compelling modern-day coda to Julie Dash's landmark period drama, "Daughters of the Dust," about a Gullah family in the throes of upholding their cultural traditions at the dawn of modernism. Some of the documentary's most affecting moments come in the form of Bailey's stories (narrated by Bahni Turpin, who also appears in "Daughters"), an echo of the latter film's spiritual core.
---
In that slip of youth when Vietnam vets earned decent blue-collar wages and didn't yet have much other responsibility, some found kinship with "misfits and hooligans" like themselves among a growing subculture of van lovers. They formed clubs and drove thousands of miles to truck-ins. One of the most legendary attracted some 20,000 partiers to an Indiana cornfield with a small pond, dubbed Sleeze Lake, where the vanners could let it all hang out. With archival photos, 8mm footage and present-day interviews, "Sleeze Lake" recollects this time of abandon with homespun irreverence. In many ways it's a counter counterculture documentary about an era normally dominated by depictions of war protesters. While conversations never turn political, there are hints of disenfranchisement that might explain how some tides shifted from blue to red. And with van culture of a different sort getting attention with "Nomadland," this seems a fitting counterpoint.
---
Fifteen years after she first learned of the Holocaust, the film's director and narrator, Elena Horn, returns to her rural public school to see how other German students are responding to the same lesson. She follows their introduction to the topic, presented with blueprints of a concentration camp, to their in-person visitation of that camp. Outside of school, they question the veracity of what they're being taught and face the dilemma of having tight-lipped family members who would prefer to keep that chapter of history closed. Horn adds the context she missed at their age with archival footage and historic analysis. She discusses how under Nazi rule "every class was designed to heighten the children's excitement for war and combat" and how average people looked the other way for a small surge of entitlement. She has not stopped asking herself what she would've done under similar circumstances. Her film is a worrisome testament to the concern she has over the lesson falling short.
---
Though circumstances over the last five or so years have made the story of "The Letter" feel more plausible than I'd ever imagined, at the end I still wondered what I'd just seen. In "The Letter," a young Kenyan man returns to his grandmother's home to find out why his family members have accused her of being a witch. With admirable neutrality he listens to concerns over getting pregnant and what will happen to grandma's land after she dies. One uncle divides the family as either for or against grandma and demands she take an oath, a practice that goes against her own Christian faith. Filmmakers Maia Lekow and Christopher King craft an earnest, convincing story around the ends made possible by a cascade of self-serving lies. (Indeed, Kenyan elders have been murdered under a similar ruse and the nation's relationship to witchcraft intertwines with its colonial history.) The film's title references the triggering event — a social media post — as well as, of course, "The Scarlet Letter." It's no coincidence this film found its way to Salem, where Nathaniel Hawthorne penned his cautionary tale.