Almost 100 Years Old, The Huntington Theatre Gets A Fresh Restoration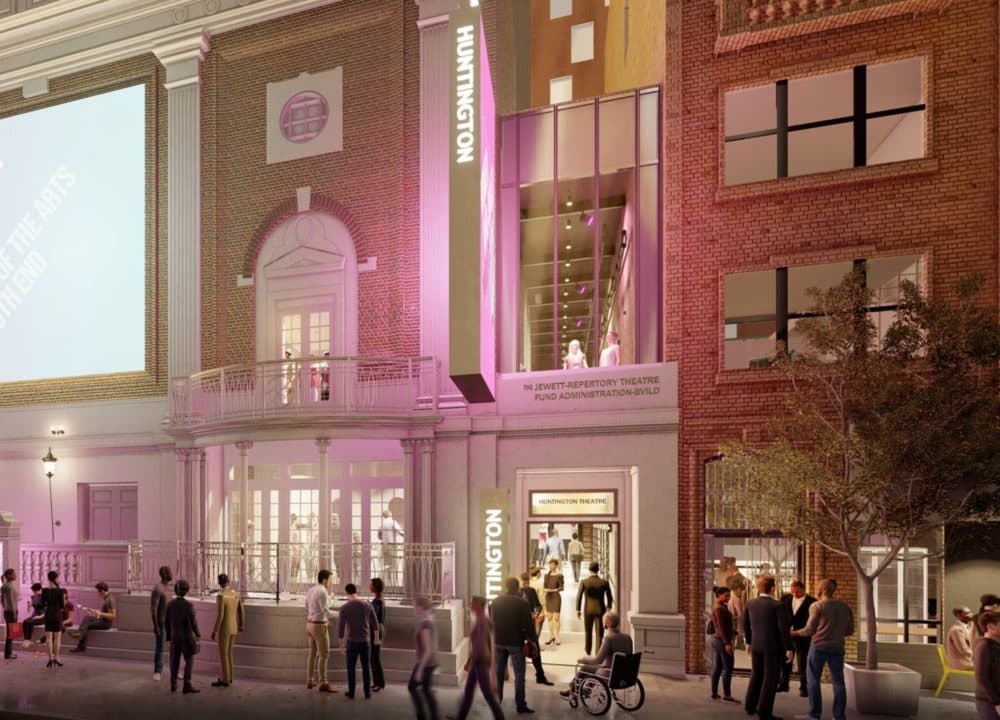 After more than a year away from the stage, those who've dedicated their lives to the theater know that first rehearsal is going to be an emotional one.
It's been a time of extreme upheaval, especially for the Huntington Theatre Company, which is kickstarting an overhaul of its nearly century-old building, and seeing the return of its staff, many of whom were furloughed for most of the last year as a cost-cutting measure because of the pandemic.
"I think of theater as a team sport, even though you don't necessarily get sweaty while you're doing it," said Kat Herzig, Huntington Theatre manager. "It does require you all to work together in order to create an end product. The better you work together, the better the end product is. Working in a building that had been falling apart around us for a very long time can make that end product suffer."
While the theater undergoes this transformation, the company expects to produce a full season of in-person theater, beginning in late August, at the Calderwood Pavilion in the South End. And if ticket buyers feel uncomfortable sitting in the theater, there will be an option to view the show digitally.
"I think what's most exciting is the arc we've been through. There was a moment not too long ago when the entire fate of the theater building built in 1925 was at risk, when it could have been knocked down and turned into condominiums," said managing director Michael Maso. "Thanks to a lot of work by a lot of people, we now have the opportunity not only to save it...but we're going to restore it to its former architectural glory."
The Huntington has not seen a change of this magnitude since it first opened. The construction process is expected to last 16 months. The $110 million project includes an estimated $46 million for phase one, including the theater renovation, the initial enabling project, and relocation of The Huntington Production Center and administrative offices, and $9 million for phase 2 respectively.
The Huntington has raised $81.5 million in its capital campaign.
The accelerated plan would see it reopen in the fall of 2022 and include a reimagined auditorium, new acoustic systems, and more legroom. Though capacity decreases slightly, new theater seating allows for an increased number of accessible seats. There will also be major updates including a new elevator, HVAC and sprinkler system.
Like other arts institutions across the city, the Huntington is consulting with with Harvard professor and director of the Healthy Buildings program Joseph G. Allen and his 9 Foundations team to include high quality ventilation and filtration systems.
A new arcade main entrance created in the "spirit of universal design" according to leadership allows all visitors to enter together, with a ramp from the sidewalk level to accommodate accessibility needs and the loading of scenery to the backstage.
"It's a building that's been negatively impacted in some ways, by the way the city changed around it," said Jason Forney, partner and principal, Bruner/Cott Architects, "the street was widened, which made our sidewalk narrow. There was a terrace originally on the front of the building in 1925 that was removed at some point along the way. So it kind of has an awkward relationship to the ground."
"I feel like we're able to take all the really good bones that are there and the raw material which is beautiful, robust and gorgeous, but breathe new life into it."
Herzig said while it's wonderful to see the overall building restored and the audience experience uplifted, it will be equally gratifying to see the support staff working in-house. Their office has been across the street for a few years.
The vintage 1925 lighting fixtures, including the chandeliers and vintage star fixtures, will be restored along with a newly expanded and accessible orchestra pit and trap system underneath the stage. And the second-floor rehearsal hall and event space will be rehabilitated, including restoring the wood paneling and refurbishing of windows that have long been boarded up. The actors will now have a rehearsal space with windows versus a smaller more compact area to practice their craft, Herzig said.
The project comes in two phases, the first being the restoration of the theatre building, renovation of the adjoining service building which houses dressing rooms, a rehearsal room and function space, and will include new lobby space.
Phase two will provide 14,000 square feet of cultural space for performance and public events in the neighboring residential tower once it is complete.
In a press conference, Maso noted that they will begin looking for a new artistic director in the next several months. The former longtime artistic director Peter Dubois resigned after staff voiced concerns about him.
"We are fundamentally an urban theater company. We are in the heart of the city. We have to reflect the values of the city. We have to reflect the population, the neighborhoods of the city," Maso said. "There are ways in which we've done that very well, and there are ways in which we still have a long way to go...there are certain experiences that make city life worth living, [part of that] is coming together in a theater to take a journey into other people's lives, who you may not have familiarity with, to go on that voyage to create that that understanding and that empathy and that expression, to lift up voices of many different people as possible."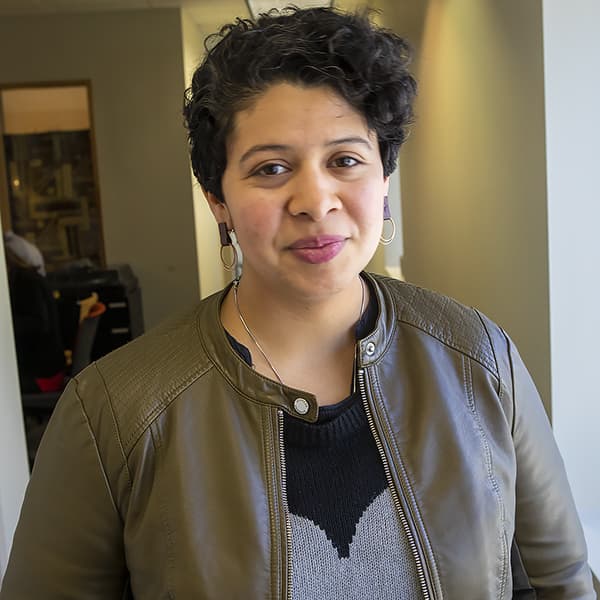 Cristela Guerra Reporter
Cristela Guerra is an arts and culture reporter for WBUR.