Escape The House With These 15 Spring Art Exhibitions
This article is more than 2 years old.
Is it safe to come out yet? It's been more than a year of Zoom cocktail hours and Netflix nights, and we're all really, really anxious to leave the house. After all, COVID-19 cases have edged down from the heights of winter, and more and more of us have been vaccinated.
Plus, there's this: there are finally places to go. Museums that had been closed last winter have reopened. Galleries that had put shows on pause are back in the swing of things. True, the pace of new exhibits has slowed (spring shows at the ICA and MFA are pretty much those that opened last fall) and most university art venues are still sitting this season out, but smaller art galleries, particularly artist-run cooperatives, have picked up the slack.
In our non-exhaustive list, we propose a few places to see exactly how creative artists have been in these months of forced isolation. Now's your chance to escape home, see what they've come up with, and maybe see other people, too.
Note: Because the coronavirus situation is fluid, we recommend calling ahead or checking online before visiting any venue.
---
APRIL
Yuri Shimojo: 'Memento Mori'
Praise Shadows Art Gallery | Brookline
Through April 18
After an earthquake and tsunami rocked Japan in March 2011, artist Yuri Shimojo needed some way to process the pain of losing more than 16,000 compatriots in the disaster. Living in New York, far from her native Tokyo, Shimojo began painting Sakura petals, the delicate Japanese cherry tree blossoms that somehow continued to bloom amid the debris in Tōhoku, the region at the earthquake's epicenter. For Shimojo, the repetitive act of painting petals was a form of ritual that she likens to the motions of Buddhist monks counting prayer beads. "By the time I stopped counting how many petals I had painted, I started to see each petal as a life," she says in her artist statement. "I conversed with each. I became them."
Shimojo's mandala-like spheres, painted with Japanese ink on Indian Khadi paper, have been exhibited in Kyoto and Tokyo. For this exhibition, she adds an installation dedicated not only to the victims of the 2011 Japanese earthquake but to the millions of people around the world who have lost their lives to COVID-19. Praise Shadows, a hybrid gallery and retail space founded by Yng-Ru Chen, has only been in business for a few months but has already enlivened the Brookline art scene with thoughtful shows featuring nationally and internationally known artists.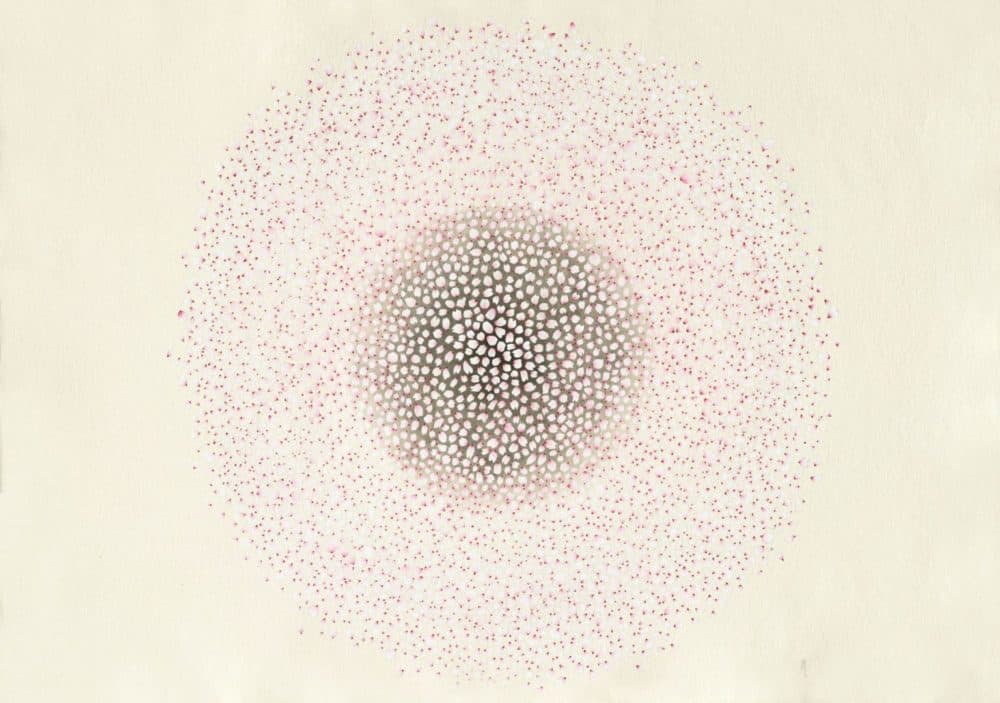 Christina M. Tedesco: 'The Playground Project'
Gallery 263 | Cambridge
Through April 10
Artist Christina Tedesco has cerebral palsy. Her disability is the subject of her first solo show centering around the playground. Using gouache and Sharpie pens, Tedesco creates vivid, child-like paintings that depict a figure negotiating seesaws, swings and monkey bars. Although playgrounds are normally considered places of freedom where kids can throw their bodies about with wild abandon, in Tedesco's case, playgrounds were a reminder of physical limitation. An arts editor for Divergents Magazine and an attendant at Harvard Art Museums in Cambridge, Tedesco developed her figures as an expression of how she views her own body. As a child on the playground, Tedesco could not hopscotch without falling, or swing fast and high, but as an artist, the limitations fall away.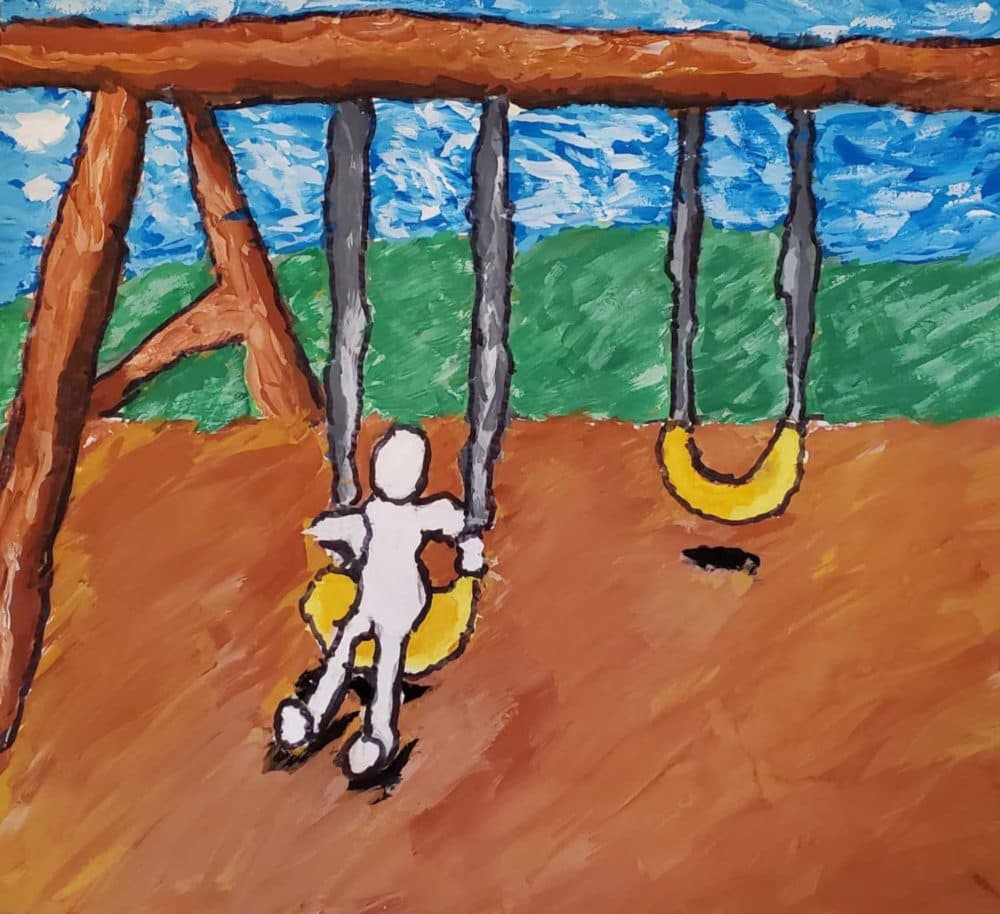 Ponnapa Prakkamakul + Steve Sangapore: 'Phantasm'
Fountain Street Gallery | SoWa
March 31-April 25
In "Phantasm," artists Ponnapa Prakkamakul and Steve Sangapore present work in radically divergent styles. Sangapore tends toward the super-realistic combined with surrealism, while Prakkamakul, who is also a landscape architect, creates work that is more dreamily abstract with some figurative elements. What they have in common is an interest in nature, science, illusion and imagination. Prakkamakul uses natural elements, like groundwater and rust from found objects, to create the "paint" for her landscape scenes. Sangapore combines hyperrealism and abstraction to address links between the observer and the object being observed. Although they work in distinctive styles, they cap their show with a collaborative piece, suggesting their views are just the opposite sides of the same coin.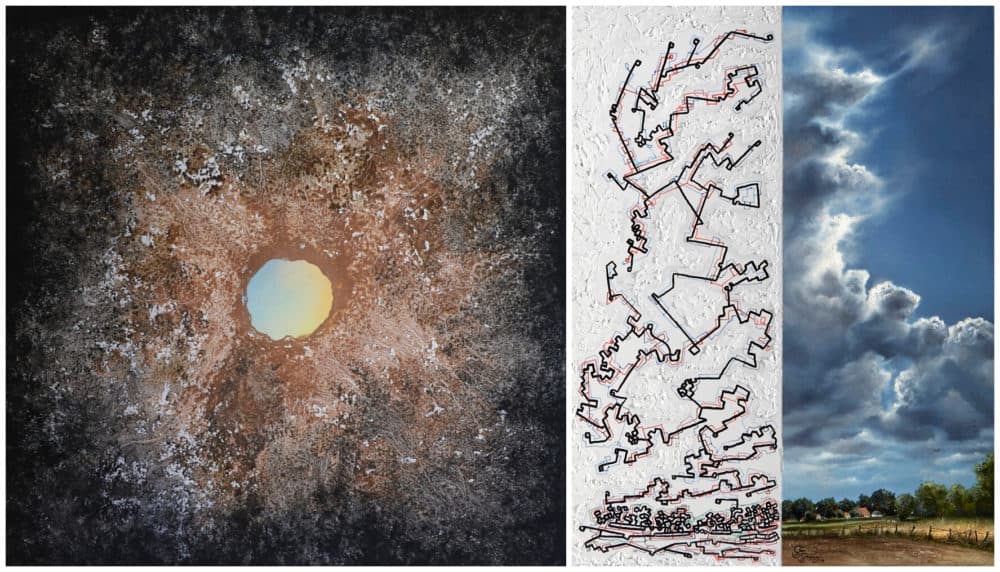 Adria Arch: 'Murmurations' and Christopher Frost: 'non-pastoral'
Boston Sculptors Gallery | SoWa
March 31-May 2
While many of us have felt disconnected from others in the last few months, Adria Arch has made a point of celebrating human connection. In "Murmurations," Arch suspends bold biomorphic shapes cut from PVC sheets from the ceiling. Floating at eye-level, the colorful organic forms seem to dance and cavort, thanks to small motors and air currents. Visitors are invited to physically engage with the pieces by bending down, standing on toes and peeking through holes for surprising new vistas. Referencing the phenomenon of birds swarming in flight, "Murmurations" seeks to point out how each of us as individuals can belong to one interconnected experience.
Also on view is Christopher Frost's "non-pastoral." A Somerville sculptor, Frost tackles the subject of landscape, not just as a natural place in time but as nature affected by time. In both floor and wall sculptures, Frost combines traditional landscape painting, porcelain and collage, by using painted fabric, white glazed ceramic and resin on shaped panels. The unique combination of materials is Frost's equally uncommon interpretation of the natural world.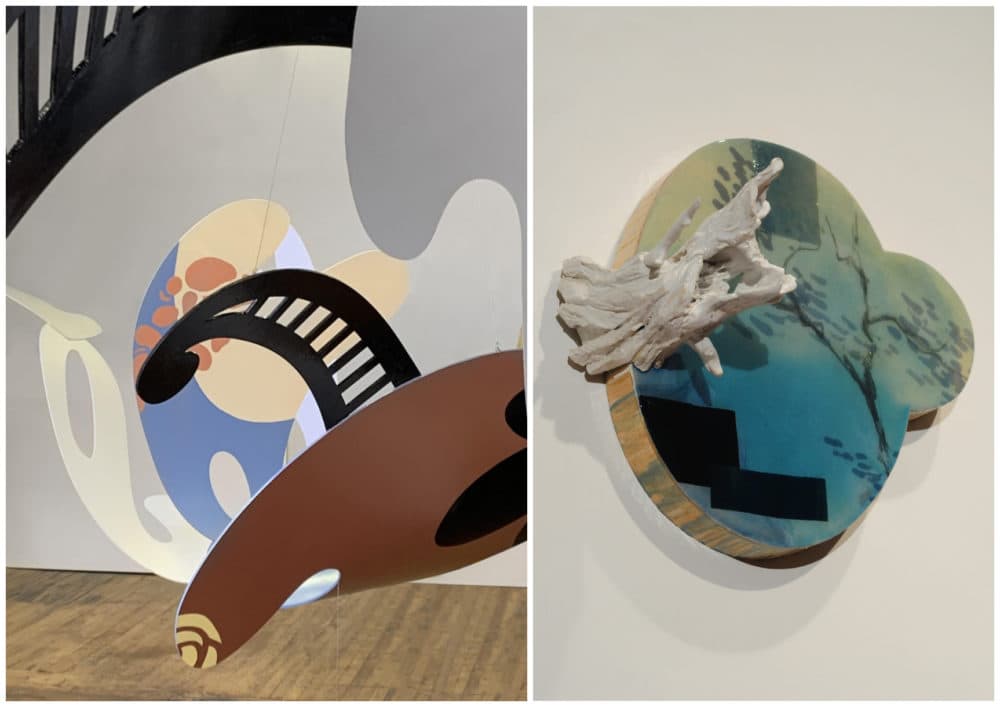 March 31-May 2
During last year's lockdown, artists had nothing but time on their hands. That led to all sorts of ruminations, including the body of work presented by three artists at the Kingston Gallery. In "Flying Without a Parachute," South African artist Ilona Anderson presents lyrical animations of people and animals in both linear and nonlinear spaces, meant to underscore the importance of living in the present moment. In "Too (un)Familiar," multi-media artist Kledia Spiro presents quiet photographs reflecting life under quarantine, as well as both the resilience of nature and her own immigrant family.
In "All is Well," Nat Martin presents animations and instant prints that he created to be seen on phone via text message. (He wasn't sure the pandemic would allow for an in-person show.) His poetic works are intended, he says, "to appear like memories that have been retrieved from a nervous dream." That pretty much sums up our collective memory of all of last year.
Michael C. Thorpe: 'Meandering Thoughts'
LaiSun Keane | SoWa
April 15-May 29
Newton native Michael C. Thorpe found his calling in quilting. He creates large-scale portraits using quilting techniques learned from his mother. Now, his fabric-based works — offering humorous vignettes inspired from his own life — are on view at one of the newest galleries in the SoWa district. Thorpe's fabric works depict his dreams of visiting Japan, playing pro basketball and traveling in space. Also on view is his portrait of activist and comedian Dick Gregory during his 1968 presidential run. Rooted in African American quilting traditions, Thorpe's work draws inspiration from a long line of quilters of color, including the women quilters of Gee's Bend, Alabama. In this show, Thorpe provides his own whimsical touch.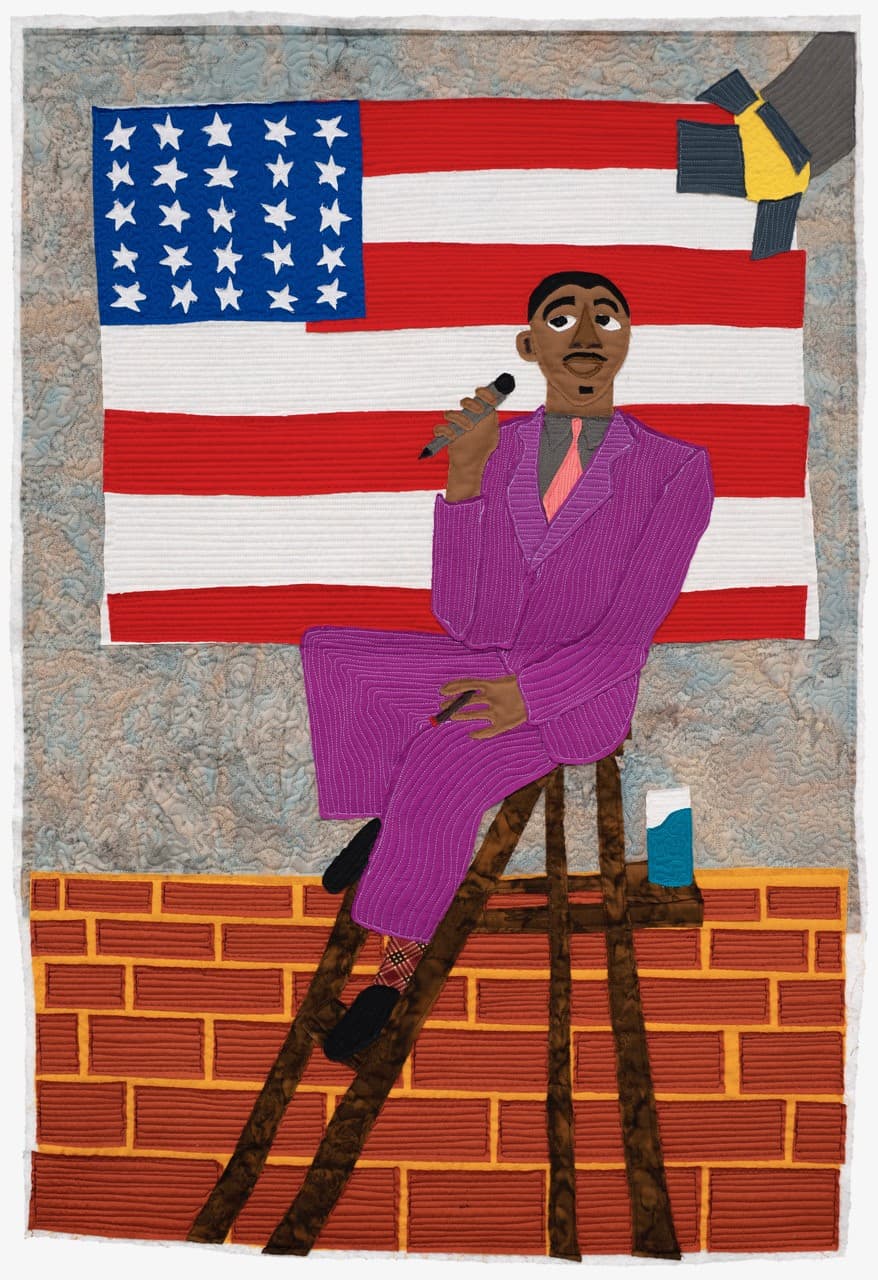 ---
MAY
Lesley Cohen: '(IN)Between' and Elizabeth Strasser: 'Still Life'
Bromfield Gallery | SoWa
May 7-30
When people talk about "the before times" we all know what they mean, referring to those relatively lighthearted days when a global pandemic was the furthest thing from our minds. Well, now that we've definitely passed beyond "before," Bromfield artist Lesley Cohen presents "(IN)Between," abstract drawings that explore what she calls "the interim space of last year's meanwhile-times." It seems we may have a while to go before we get to "after." Meanwhile, Elizabeth Strasser creates paintings and ceramics in "Still Life" reflecting both the stillness and disturbing contradictions of a locked-down society.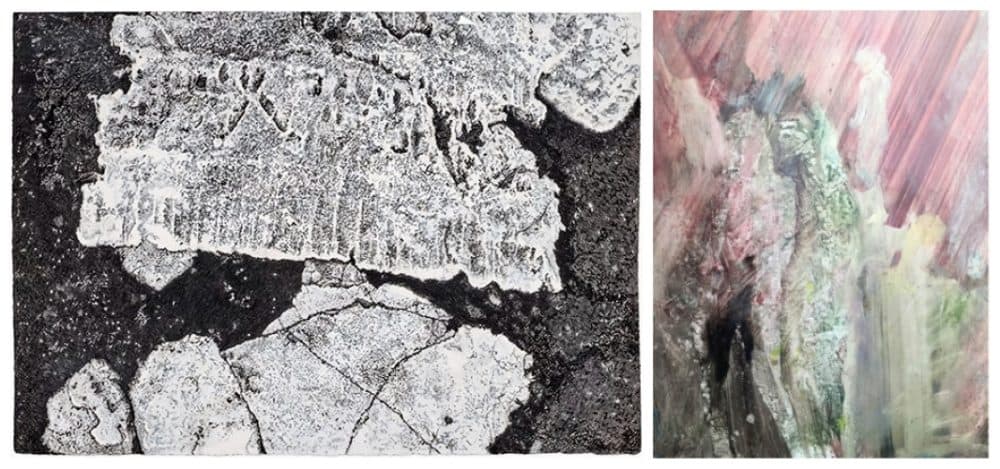 ---
JUNE
Anina Major and Demetri Espinosa
LaiSun Keane | SoWa
June 3-July 17
Born and raised in the Bahamas, ceramicist Anina Major (an assistant professor at the Rhode Island School of Design) has made a career of investigating the relationship between self and place and those moments of reflection that provide a whole new understanding of history. In this show, she uses her skills in clay to create work that explores identity, culture, race and geopolitics.
Demetri Espinosa is a Boston-based painter of Greek and Mexican extraction who creates audacious abstract paintings with free-flowing frenetic energy, vivid color and bold brushstrokes. His work, he says, deals with notions of identity, belonging, nostalgia and otherness. "My paintings are full of gestural forms and it's really entirely abstract right now, but I could very easily decide to start painting photorealistic flowers tomorrow and that's where I'd be," he told the Boston Globe in 2019. "I just want what I create to be a direct manifestation of complex ideas rather than a drawn out and calculated creation."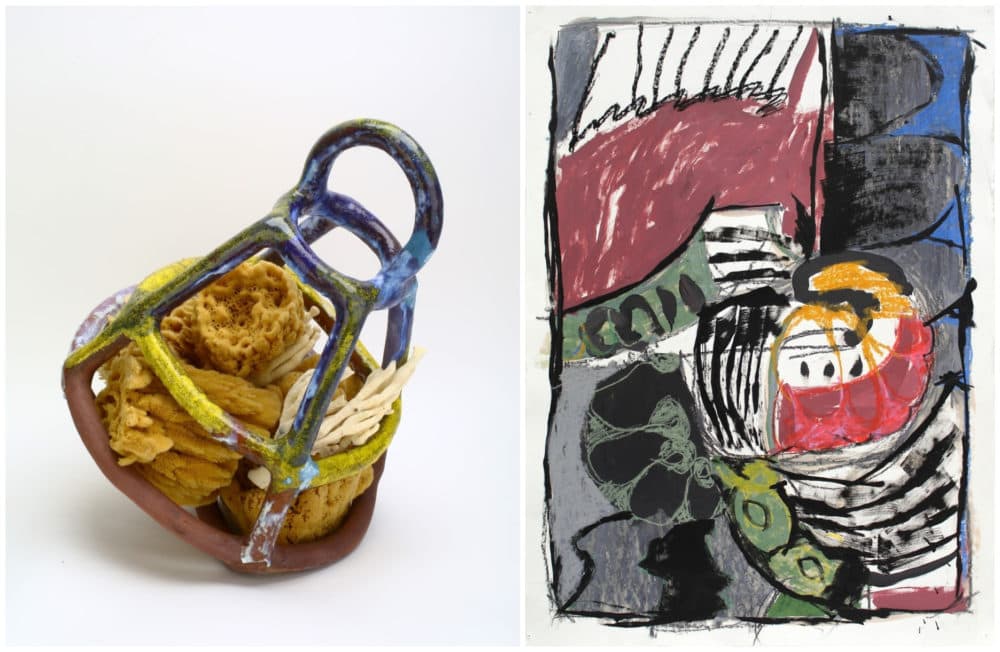 Youngsheen A. Jhe: 'Nonetheless,' Carol Wontkowski: 'Blooming' and Vicki Kocher Paret: 'Encounters'
Galatea Fine Art | SoWa
June 4-27
Pandemic art reflecting isolation and estrangement continues in Youngsheen A. Jhe's "Nonetheless" at the SoWa cooperative gallery Galatea. Jhe has painted fashion models strutting down the runway with bored, vacant faces. Her intent, she notes in her artist's statement, is to "depict the reality of human beings through the inanimate mannequins, helplessly stuck in their own solitary world." She continues, " "They walk away from other models with expressionless and inanimate faces, but nonetheless their steps are always confident, and they walk on a bright path full of light, not bleak hopelessness. It seems to be the image of us living in a pandemic. We have to walk with social distancing, but there is always a bright light for us."
In "Blooming," Carol Wontkowski turns away from the isolation we've felt to create beautiful photographs of, well, beauty — specifically in the form of flowers and blooms. "It is my desire to capture the more tranquil and serene images of this world," she says in her artist statement.
Also, on view is "Encounters" by Vicki Kocher Paret, who takes on the theme of beauty but in a different sort of way, exploring " the contrast of brilliant vs. drab, buoyant vs. grounded, light vs. shadow — visual metaphors for forces/relationships that exist in the world," she says in her artist statement. "Intensity, in all things, is so much greater because of the existence of its opposite."