Isabella Stewart Gardner Museum Art Heist Gets Another Retelling In New Netflix Docuseries
After more than 30 years, the story of the Isabella Stewart Gardner Museum heist has all the trappings of a spectacular true-crime drama. The thief's disguises, mobsters and missing art valued at more than $500 million have captivated and confounded law enforcement, reporters, book authors and podcast hosts. Yet, no matter how many people pour over the facts, the crime remains unsolved.
The new four-part Netflix docuseries "This Is a Robbery: The World's Biggest Art Heist," premiering on April 7, isn't likely to put someone behind bars anytime soon. But it will potentially introduce a new audience to the remarkable event and its seemingly infinite number of outlandish characters and rabbit-hole theories. Aside from getting an entertaining fix then turning in for the night, the hope of another Gardner retelling, one presumes, is that the series might finally make someone who knows something talk.
Told in four 50-plus-minute "chapters," the first recounts the crime through a combination of dramatizations, archival photographs, TV news footage and current interviews. At minimum, the visual juxtaposition of then and now serves as a stark reminder of how much time has passed. People initially involved with the case have retired; suspects have been murdered or died of natural causes. Even the boxy cars and clunky technology (convincingly depicted in scenes staged by Berkshire Theatre Group) suggest the time to pass the torch to a new generation of sleuths draws closer with each passing year.
The series opens with witnesses who say they saw two men dressed as Boston Police officers sitting in a hatchback on Palace Road, just outside the museum in the early morning hours of March 18, 1990. A recreated scene shows the "officers" gained entrance by telling museum security guard Richard Abath they were investigating a disturbance. After handcuffing and blindfolding Abath and another guard, the thieves moved between galleries for more than an hour, littering the floor with broken glass and emptying gilded frames. All told, 13 pieces left the premises that night, including Rembrandt's only seascape ("Christ in the Storm on the Sea of Galilee") and a Vermeer ("The Concert"), precious for its astounding use of light and the limited number of his paintings in circulation.
While the first chapter drops several suspicious seeds to be tended later in the series, it does so evenhandedly, without the heart-pumping music or tacky narration that make other true crime dramas feel forced (strangely both show up in the trailer). Instead, and preferably, it allows interviewees to introduce the museum's daunting Italian palazzo-inspired architecture, incomparably arranged collection, and the mastermind behind it all, Isabella Stewart Gardner. Other heist coverage, like WBUR and The Boston Globe's in-depth Last Seen podcast from 2018, paid her similar respect.
After a year without a real-life gallery visit, seeing the museum's interior felt unexpectedly poignant. So did hearing from Anne Hawley, former director of the Gardner and the principal interviewee who recaps the crime and briefly remarks on being the first woman to oversee the world-class museum. She took the reins just six months before the heist and footage presumably shot on the morning after shows her in tongue-tied shock. What a plate she was served and what life she gave the Gardner over her 25-year tenure.
Not all true crime aficionados will patiently await the juicier stuff of who did it and why. The second chapter gets somewhat bogged down with trying to explore the museum's vulnerabilities and the most obvious theory, that like a majority of art thefts, this was an inside job. For that reason, Abath always gets sideways looks. (Granted, he sometimes went to work stoned and photos from that night show him with long curly hair, tie-dyed T-shirt and fanny pack, ready to attend a Grateful Dead concert.) One clean-cut former colleague describes him as the "type of hippie who's good at chess," as damning a combo as being the guy who let in the thieves. The series peppers in some absurd humor.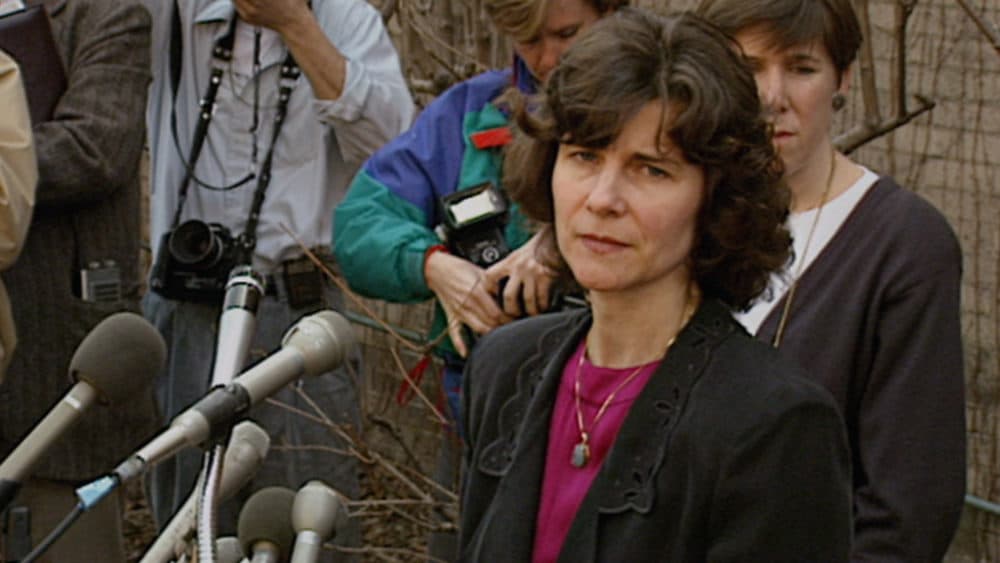 Charges have never been brought against Abath for this crime and the series evades the dramatic potential of conveying the terror he and his fellow guard must have felt that night. (The other guard does not appear and often declines interviews.) While chapter two points out a number of peculiarities about the case (like how the duct tape used on the guards went missing), it didn't leave me hanging the way I hope for when watching serial programs. I rarely want handholding but, at that point, it felt necessary.
Chapter three redeemed that desire with an engrossing overview of the array of known criminals with mafia ties who have at one time or another been part of the circle of heist suspects. The final chapter narrows that list down. There's a suggestion that to crack this case, the answers must be found among the living. Again, I found myself wanting something I usually don't, a tidier ending like one of those pesky reporter ambush scenes that catch a suspect in his robe, reaching for the morning paper.
Series director Colin Barnicle, who produced "This Is a Robbery" through his production company he started with his brother Nick Barnicle, told The Berkshire Eagle that he's been working on the series for five or six years. (The brothers also produced "Billy Joel: New York State of Mind," a chronicle of the singer's sold-out shows at Madison Square Garden.) For this series, Barnicle utilized commentary from several current and former Boston Globe reporters, including Stephen Kurkjian, who wrote "Master Thieves: The Boston Gangsters Who Pulled Off the World's Greatest Art Heist" and served as consulting producer on "Last Seen." Globe parent company CEO Linda Pizzuti Henry served as an executive producer on the Netflix series.
Without making any earth-shattering discoveries, "This Is a Robbery" offers a primer on what happened then and since and may lead some viewers to additional research. At this point, the heist has become a staple of Boston lore. As ever, Boston can't shake the appeal of its white gangster history, especially when Irish and Italian mobs clash with each other or elite institutions. With theories like those in the mix, the Gardner heist story finds people unwittingly rooting for criminals, or art, or perhaps both. We may never know exactly what happened that morning on Palace Road. But the mystery of the heist has proven to be both intoxicating and enduring.