5 Reasons To Feel Hopeful About Boston Area Restaurants
There's a lot to feel (cautiously) hopeful about right now, with vaccines becoming more readily available and many of us venturing back out around the city after months spent cooped up indoors. One thing this weird and uncertain time has taught us? You have to celebrate even the little things whenever you can — and those celebrations should absolutely involve food. With that spirit in mind, here's a five-course menu of food and restaurant news to celebrate, from the return of patio season to daring doughnut delights.
After months of the same home-cooked food, perhaps you're on the hunt for new favorite restaurants. Hen Chicken Rice opened without fanfare back in October in Somerville's Union Square, but what diners should absolutely celebrate is the spot's laser-focus on Khao Man Gai, a Thai spin on Hainanese chicken rice, that's also a favorite street food in Singapore, Malaysia and elsewhere in Southeast Asia. Here, you'll find traditional Thai boiled chicken on a bed of flavorful ginger rice, with other offerings including crispy chicken, soothing daikon soup and spicy wings. All of the rice plates feature organic chicken served with a zippy house sauce, and you can sip Thai iced tea for dessert. And even sweeter: The restaurant donates chicken rice to the Rachawadee Home for Persons with Disabilities in Thailand for every dish sold.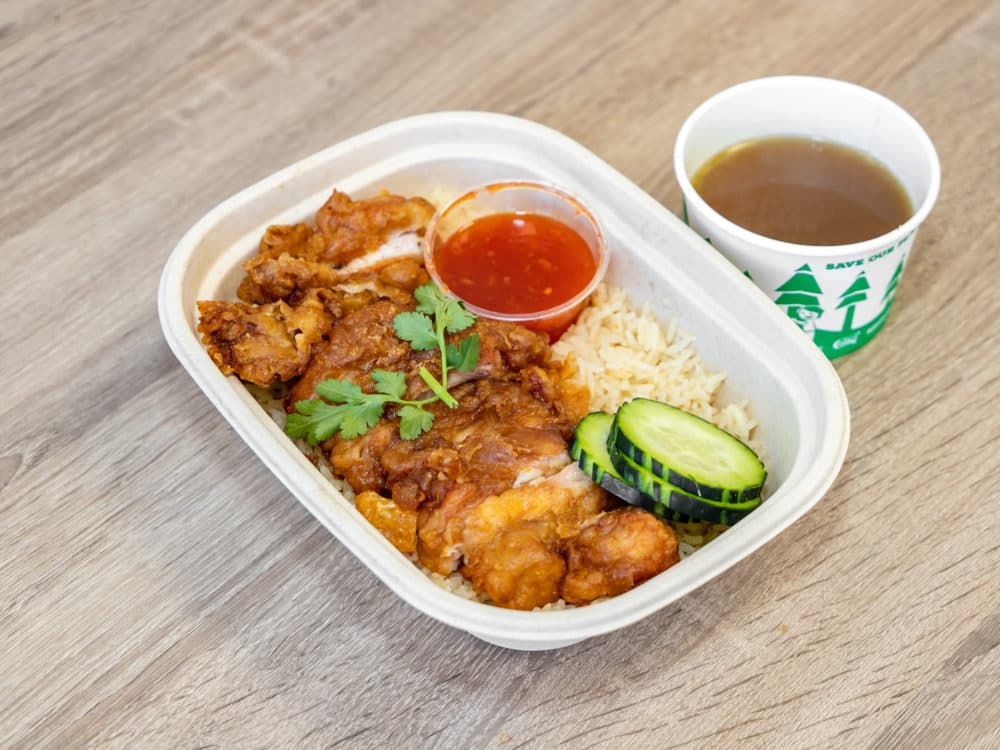 ---
Chances are you could use some sweet treats right about now. Greater Boston-based Lionheart Confections, a pastry and baked goods pop-up run by Kate Holowchik, roars with bold flavors. Holowchik focuses largely on playful doughnuts with ever-changing flavors — think brownie batter Boston cream and Funfetti cinnamon roll — with frequent, themed pop-ups at Bow Market in Somerville and more to come. "I tend to go for nostalgic and then try to elevate that idea," Holowchik says of her flavor inspirations, and no better example of this is the recent "afterschool special" doughnut: A vanilla brioche with brownie batter pastry cream and a host of toppings including Ritz crackers, torched marshmallow meringue and banana-tahini caramel. She usually features one savory doughnut at each popup, with the recent French onion dip doughnut and the pizza pretzel offering (with mozzarella mousse, tomato basil jam, pepperoni spices and parmesan crisps) showcasing her command of the salty-sweet combo. "I joke a lot about how I make fancy fat kid food," she continues. "As much as people love fine dining and fancy things, at the end of the day, most people would love a good snack."

---
Consider the sandwiches of the Mikkusu pop-up in Cambridge, served out of the Blackfin Collective's forthcoming Cloud & Spirits restaurant, as a preview of the cuisine you can expect from chef Katie Cheung when the Korean and New American-inspired eatery opens. "We had talked about just opening Cloud & Spirits and just doing takeout, but I didn't want the first impression of my food to be takeout necessarily," Cheung says. "So we decided to go with the sandwiches pop-up, which is something that's executed easily enough for me to be able to do this and also focus on things I need to deal with for opening the restaurant." The sandwich menu is much more than just a placeholder, though. It's a fully realized concept in itself. You'll find pork katsu, wagyu beef, panko-dredged omelet sandwiches and more served up on light and pillowy shokupan — a crustless Japanese milk bread made in-house daily — and accompanied by pickled veggies and potato salad. Cheung's favorite is the menchi katsu sando, which features a super savory patty of Berkshire heritage pork with roasted garlic, shallot, cream and breadcrumbs that's fried until crispy and served with house-made roasted garlic mayo. It's more than enough to hold you over until the planned opening of Cloud & Spirits the third week of May.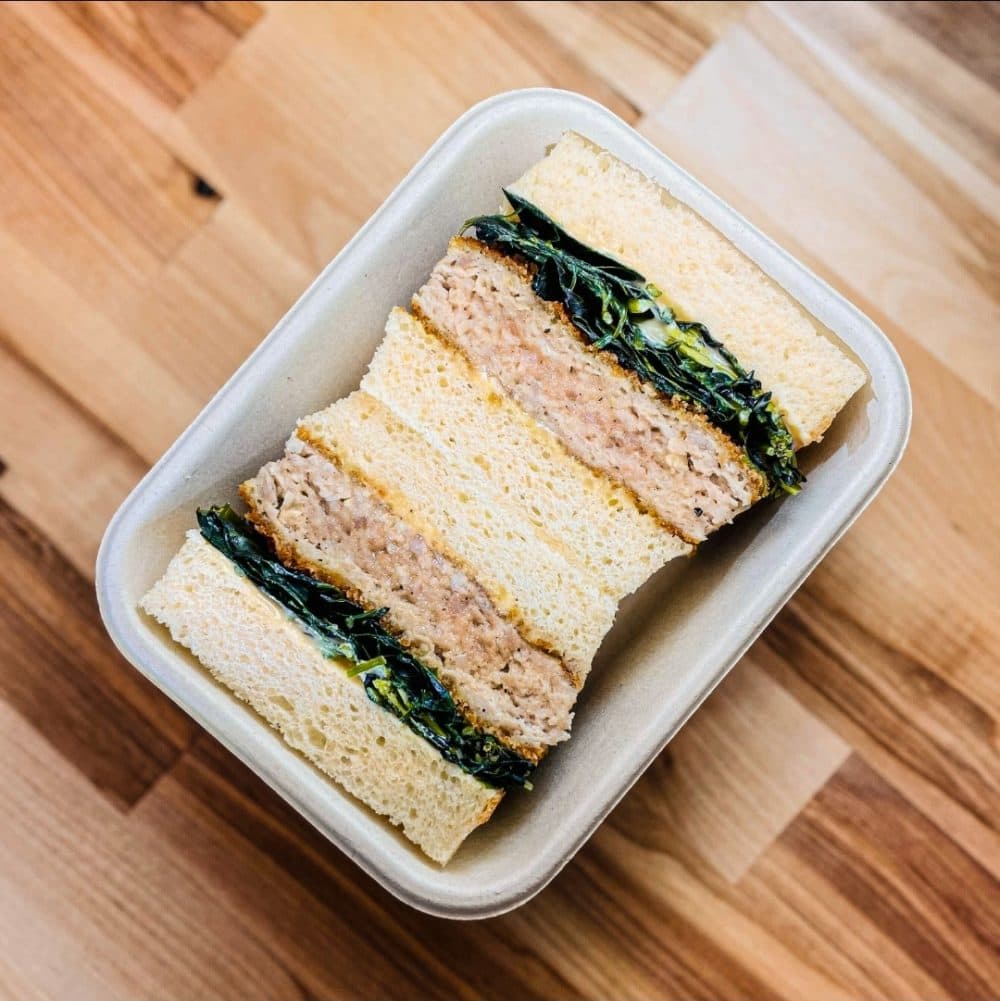 ---
At a time when so many restaurants are closing, the fact that The Quiet Few in East Boston just marked its second birthday is enough of a reason to celebrate. During the early stages of the pandemic, owner Josh Weinstein was an advocate for the "Cocktails for the Commonwealth" bill to allow struggling establishments to sell to-go cocktails as a way to save their businesses. His bar and restaurant had been closed since Dec. 7 save for a few pop-ups, and now he's welcoming his passionate regulars back with the newly reopened patio and a refreshed food and drink menu. "We're bringing back some classics," Weinstein says. "And what we're really excited about is that we've got three new burgers." Among the new bites, come hungry to try the Uncle Junior burger, with decadent fried mozzarella, pesto mayo and bacon jam atop a house-made "smash" patty — what Weinstein calls the ultra-juicy burgers marinated in a house blend of spices and whiskey. He expanded the already grand whiskey list to include 150 offerings, and new drinks include a house sangria blend dubbed "alligator wine" and a spin on a Mai Tai called a "4th chamber." It's enough of a reason to say cheers all spring and summer long.
---
The Return of Patio Dining
April 1 cued the return of outdoor dining on patios around Boston — and a sigh of relief from diners at the same time. For many of us who don't feel comfortable dining indoors at a restaurant just yet but still want to support the industry (and are pretty sick of takeout at this point), the chance to dine at a table outside is a literal breath of fresh air. On the menu this spring, consider a trip to favorite Caribbean spot Jamaica Mi Hungry in Allston, where you can savor jerk chicken, curry vegetable stew, and other delights on their patio (there's also a location in Jamaica Plain, though no patio there as of yet). New outdoor spaces include Will Gilson's latest Cambridge restaurant, The Lexington, which welcomes diners to dive into some wild mushroom cavatelli when the rooftop outdoor dining area opens on April 6.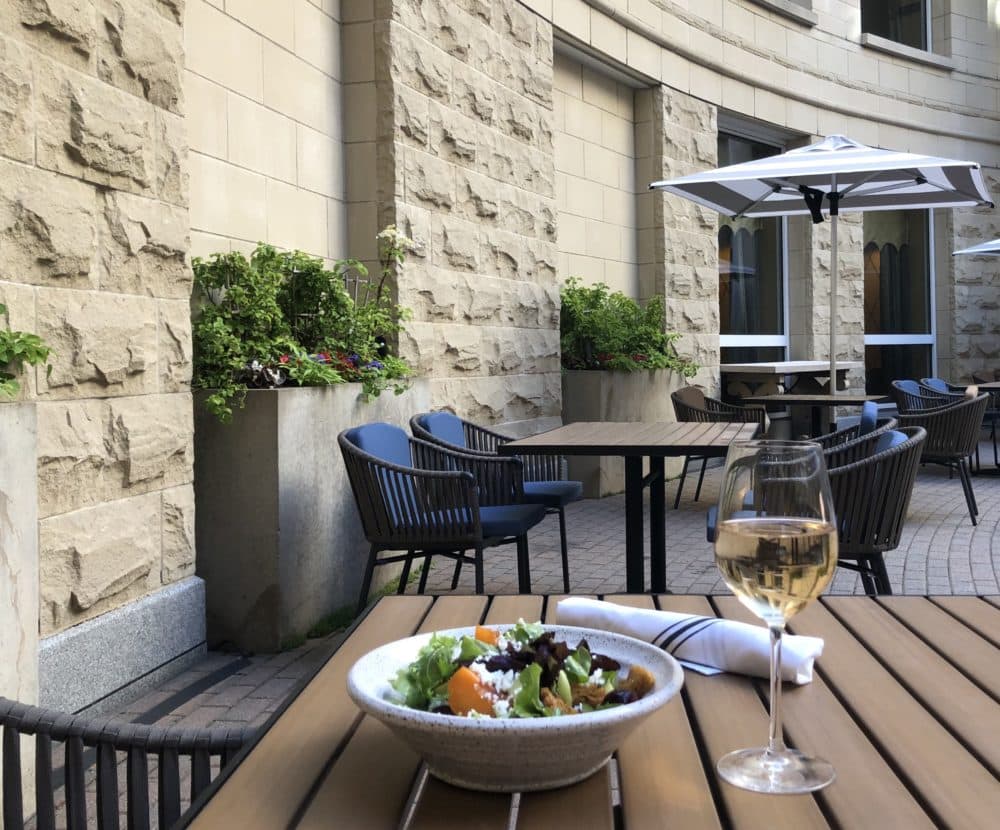 Also offering food al fresco: Starting on April 15, Bambara takes over the courtyard of the Kimpton Marlowe Hotel in Cambridge for a playful "Bambara's Backyard" outdoor dining experience, inspired by the warm-weather family gatherings we all miss so much. The spot is open seven days a week for food and drinks, with a patio, an outdoor bar, more private alcoves and backyard games like bocce and more. Also keep an eye out for the forthcoming return of the Cize Air, the outdoor oasis at favorite Dorchester eatery Restaurante Cesaria, which dishes out rich Cape Verdean delights.