Former Suffolk County Prosecutor's Behavior Was 'Troubling,' Not Criminal, Investigation Finds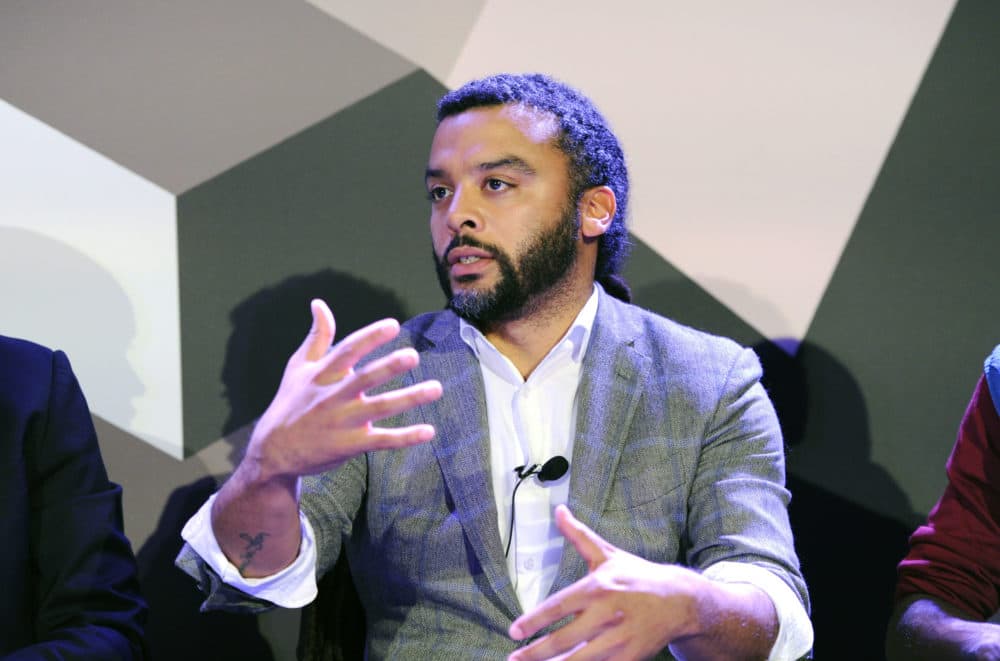 This article is more than 1 year old.
Former Suffolk County Prosecutor Adam Foss, now a high-profile criminal justice reform advocate, did not engage in criminal conduct while he worked in Boston. That's the conclusion of an independent investigation into allegations from women that Foss acted inappropriately and abused his authority while he was an assistant district attorney in Suffolk County from 2008 to 2016.
Suffolk County District Attorney Rachael Rollins said while the investigation found that Foss' behavior with young adult women interns was "troubling," it did not constitute criminal conduct.
Rollins, who assumed her role three years after Foss left the office, retained the law firm Goodwin Procter to investigate the allegations that were made online and in print last November. The review looked at whether Foss engaged in similar alleged conduct while he worked in the Suffolk County District Attorney's Office (SCDAO) and whether the office has relevant policies to protect interns and staff from sexual harassment and misconduct.
Last November, a number of women alleged that Foss engaged in behavior that ranged from inappropriate and an abuse of his authority, to unethical and criminal. The lawyers leading the review say they interviewed 28 people and searched electronic documents.
"In sum, our investigation did not reveal evidence of any per se violation of any law, formal SCDAO policy, or ethical rules by Mr. Foss during his tenure as an ADA," attorneys Roberto M. Braceras and Jennifer L. Chunias, who led the investigation, wrote in an April 14 letter to Rollins. "That being said, our review identified evidence that Mr. Foss engaged in concerning conduct with at least two female Office interns and students that violated informal SCDAO expectations and norms."
The lawyers said Foss declined to be interviewed. Rollins said the investigative report will remain confidential to protect those who were interviewed.
"All of the women who brought their experiences to light — sharing intimate details of deception, coercion, manipulation, and even sexual assault — exhibited tremendous courage," Rollins said. "Victims always have a right to tell their own stories and should be given the opportunity, empowerment, and respect to control their narrative. This is not SCDAO's story to tell."
Foss did not respond to a request for comment.
"That Mr. Foss' behavior in Suffolk County was not 'criminal' is of no solace to the women his conduct impacted and harmed. As the leader of this Office, I want to personally apologize for your experience here."

Suffolk County District Attorney Rachael Rollins
One of the things that prompted Rollins' investigation was an essay by writer and singer Raegan Sealy, in which she outlined Foss' alleged misconduct. Sealy's attorney Kim West says other investigations of Foss continue.
"We are very pleased that the Goodwin investigation revealed facts supporting what Raegan has always alleged: Adam Foss used his position as a prosecutor to engage in inappropriate behavior and take advantage of a power dynamic with young women who looked up to him as a mentor," West wrote in an emailed statement. " We too, like D.A. Rollins, honor the women who told their stories of Foss's deceit, coercion, manipulation and sexual assault and hope that these women have found some peace in the telling."
Rollins' investigation says leadership in the DA's office was not aware of any alleged misconduct at the time. Rollins, who took over as DA in 2019, says her office began reviewing relevant processes before the allegations surfaced against Foss and has updated training procedures and sexual harassment policies.
"We took the allegations very seriously and we have already, or are now putting in place policies, protocols and procedures to ensure that the troubling behavior reported cannot happen again," Rollins said. "That Mr. Foss' behavior in Suffolk County was not 'criminal' is of no solace to the women his conduct impacted and harmed. As the leader of this Office, I want to personally apologize for your experience here. You did not deserve the treatment you were subjected to. It was unprofessional and not appropriate."
This article was originally published on April 15, 2021.