'The Essence Of Giving Hope': Remembering Activist And Ballroom Icon Jahaira DeAlto
Play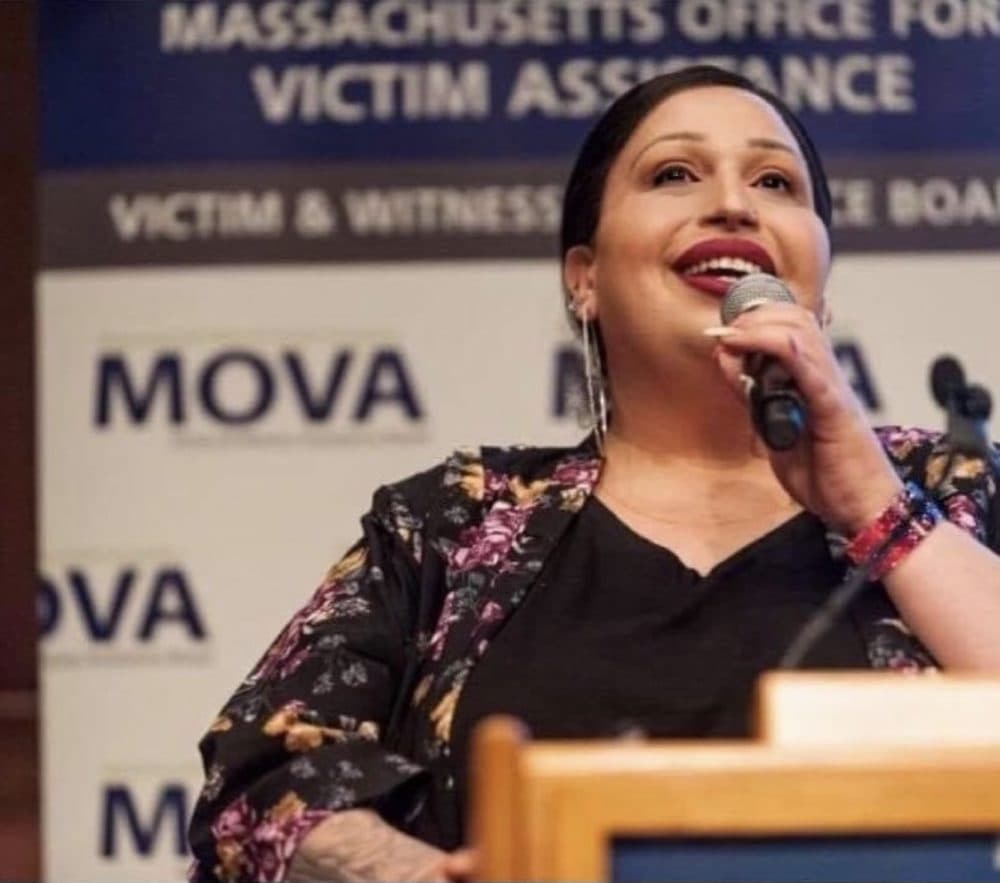 This article is more than 1 year old.
Jahaira DeAlto was unapologetic.
She walked in her truth, in life and in ballroom. The category she was best known for is called "realness." On the runway, friends say, she ascended.
Queen for a night, to vamp and strut for the House of Balenciaga. On May 2, Boston lost this important trans activist, killed in her Dorchester home.

DeAlto, 42, taught her best friend about ballroom. Nolan Tesis holds onto those lessons, how today's "nots," might be tomorrow's legends. So be kind to everyone.
"That's the beauty of the ballroom scene, for people who have nothing, who have no hope, it allows you a space to imagine a different possibility and then you create that," he said.
He saw DeAlto as a soulmate. They would spend late nights talking, confiding in one another. He tattooed her name on his wrist. She tattooed his name on her neck.
"I don't know how I'm going to live with this. Just the idea that the major moments, my milestones, you know, like I can't call her anymore," he said. "To think that someone who spent their life giving just unconditional love, laughter — just brings so much joy to people's lives — she deserved an ending filled with kindness and tenderness. I'm really having a hard time accepting the reality that she faced."
A proud trans woman, DeAlto survived domestic violence, and became an advocate, recognized by the state for her work. Above all else, she was a mother. She embraced queer children cast out by their biological families. She gave them a place.
Athena Vaughn was one of those kids. In a recent interview over Zoom, I asked her how many kids DeAlto cared for throughout her life.
"Ohhhh honey," Vaughn said laughing. "Old Mother Hubbard is what you can call my mother ... I can not put a number on how many kids she had, and that is just me honestly speaking."

Vaughn lived with DeAlto for more than a decade after her family rejected her when she came out as trans. DeAlto was there to catch her, a mother in every way. She bought Vaughn her very first pair of jeans when she was a church-going teen.
"She used to look at me like, 'Sweetie, you need to buy you some jeans,'" Vaughn said. "And I used to be like, 'Holy woman, we're not supposed to wear jeans, Mommy.'"
Vaughn says her mother was one of the smartest people she'd ever met. A woman who loved rare steaks, good conversations, and spending time with family. She could buy a book one day and finish it the next. DeAlto loved Oprah, traveling, and water.
"If it was thundering rain outside, she would take off her shoes and put on just a little jump shirt and some shorts," Vaughn said. "And she would take her hair out of a bun and she would just run outside into the rain, and stand there for a few seconds. And then she would walk back into the house."
DeAlto did not fear death. In fact, she made a video around her 42nd birthday saying so. Her definition of courageous was to just step outside each day and live. On YouTube, she shared her life and encouragement with the world. Vaughn says her mother was the kind of person who would meet you, and two hours later, love you.
"For her and the people she's touched, it's just what that is. Mother," Vaughn said. "The essence of giving hope, the essence of guiding, the essence of uplifting, and just having someone having someone to show you the unconditional love that your biological family was no longer giving because they were not supporting your lifestyle."

DeAlto's own mother, Doris Camer, adopted her from Beirut. Camer  remembers how DeAlto struggled to express who she truly was as a child. Kids bullied her for being different. She watched DeAlto overcome so much and choose her name.
DeAlto's mom said she worried every day about her daughter, but was proud of her work with survivors of domestic violence. She was told DeAlto was a natural at her work, knew exactly what to say to help women leave difficult and sometimes dangerous situations.
"She had a big heart and tons of compassion," Camer said. "Always. Always. And she had a sense of humor that was beautiful."
Camer said DeAlto had sent her a gift recently: cookies. She read the note that came with the package: "Mom, your love is the greatest gift I will ever receive. Here's hoping this makes you smile. You truly deserve it. All my love, Jahaira."
DeAlto loved ferociously. The man, who police allege fatally stabbed DeAlto, had been staying with her. She never turned anyone away. Now, her community intends to see her off with a ball. A celebration. Despite the statistics, despite losses, despite everything her mission was always to empower trans women. That charge remains.
"What do we do now? What do we do that we haven't done before? What do we sacrifice that we haven't sacrificed before? What's new? What's next?" Nolan Tesis asked. "I think that she would want this moment to be a catalyst for change."
I met DeAlto last fall at a ball inside the Museum of Science, she said she wanted to see her sisters step into their light. Unapologetic, always and forever.
"I want to see more of us," DeAlto said that night. "I want to see those who have receded into the shadows by virtue of things like passing privilege and a desire to just get by, understand that standing in the sun is the only way that we're going to see quantifiable change."
---
For anyone that wants to support, friends have started a crowdfunding campaign to pay for Jahaira DeAlto's funeral expenses.
This segment aired on May 7, 2021.