The Retribution Of Juliana Hatfield's New Album Is Soaked In 'Blood'
For someone who has lived in Cambridge for the better part of 15 years, Juliana Hatfield feels remarkably far away. "It's hard to resist the pull of modernity, although I keep trying," she tells me from her home in Central Square after redialing me from her crackling landline. One day, she says, she'll be totally off the grid; for now, though, leading up to the release of her 19th solo album "Blood" (out May 14), she maintains her social media out of necessity, and still rocks a Nokia flip phone she purchased in 2004. She fantasizes about living in a small stone home by a clean water source in a foreign country. "You have to have dreams to sustain you sometimes," she says hazily.
But there's a reason the Massachusetts native hasn't wandered off to a remote corner of the world just yet: Making music is a necessity. "I don't know how to communicate in other ways," she says. "It's just what I do. I have a compulsion to make music." And it's staggering to consider the sheer volume of her output (between solo albums and other projects, she's released well over 25 albums), but it's of no surprise to find that an artist of her diligence and consistency is still releasing her best work at 53, well into 35 years of songwriting.
"I don't know how to communicate in other ways. It's just what I do. I have a compulsion to make music."

Juliana Hatfield
"Blood" exists at the unique intersection of infectiously melodic pop rock and a deeply cynical perspective of humanity. The album, like much music being released now, was recorded largely in the 2020 quarantines, and places a large emphasis on "how seriously and negatively a lot of people have been affected by the last four years." She offers a tinge of clarity for that subtext: "I've always had this misanthropic streak running through my music since the beginning, in the sense of wanting the bad guys brought to justice. That's been a thread running through my music since the very beginning."
From its romping opening moments to its subdued finals minutes, "Blood" is soaked in… well, blood. But the album's ubiquitous violence is only a touch more arresting than the joyful exuberance of the music. "I don't believe in genre," she proclaims. "I don't believe that a lyrically dark song has to be a musically dark song. I just don't believe that. My music persona is very sonically joyful. I love melody and harmony."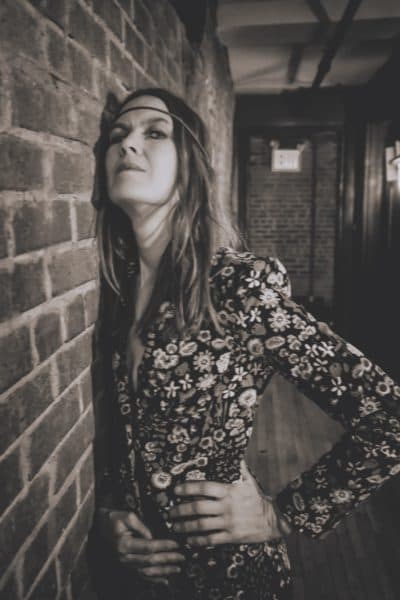 On the murder-fantasy of "Had A Dream," she stabs and quarters an unnamed racketeer to the tune of a distorted rock shuffle; "Someone's gonna take your hand/ and break every finger," she threatens on the buoyant boom-bap of "Chunks." Between these blunt declarations of rage and the scattered scribblings of insecurity and self-deprecation ("The Shame Of Love," "Dead Weight"), the album boldly illuminates Hatfield in her most inflamed and liberated state, somehow both approachable and practically foaming at the mouth.
It's fair to credit Hatfield's savagery to not just four years of a perverse patriarchy, but decades of one. Consider this: she is a female, rock-oriented musician who has a lifetime in the mainstream music industry. That's over 30 years of blatant misogyny to grapple with. She lived through the "Women in Rock" era of the 1990s with songwriters like PJ Harvey and Courtney Love, a grouping she found to be sexist and exclusionary. "It seems as if the whole industry back then, the mainstream music business, was determined to not respect women," she says; numerous offensive and invasive tabloid pieces on her offer proof to such a statement.
But it didn't immediately begin that way. After moving from Duxbury to Boston to study at Boston University, Hatfield quickly transferred to Berklee College of Music in desperate need of a band to play with. She describes herself as a "scruffy indie kid" in the mid-1980s and deeply entrenched in the local Boston music scene — particularly with her first band Blake Babies — a scene that spawned Boston's great "college rock" movement with bands like Pixies, Throwing Muses, Bullet LaVolta, Volcano Suns and The Lemonheads, for whom she briefly held a stint as a bassist.
"I've always had this misanthropic streak running through my music since the beginning, in the sense of wanting the bad guys brought to justice."

Juliana Hatfield
Blake Babies found some critical success, but it wasn't until forming The Juliana Hatfield Three when commercial success really set in, particularly with the 1993 album "Become What You Are." The complications of the attention brought an unwelcome realization to the songwriter who prided herself on doing the work and molding her craft.
"There was this whole publicity machine telling me to do interviews and do photoshoots and have people put makeup on me and place me in settings," she says. "I had not worked out an image for myself; I never contemplated how I wanted to project myself, so other people thought about it for me, unfortunately."
Hatfield spent years in and out of the mainstream music industry as both a major label and indie artist, even spending a spell as a label owner herself, a complex venture she considered to be "too much math." Since moving to American Laundromat Records — a chic New England indie label that represents fellow college rock alums Tanya Donelly (Belly, Throwing Muses) and Lou Barlow (Dinosaur Jr.) — in the mid-2010s, Hatfield has been able to forgo the worst of the soul-sucking publicity machine and focus on her blue collar approach to music.
"I'm just in a place in my life where I just want to do work and not be distracted by anything else," she says without hesitation, as the lyrics for "Suck It Up" ring in the back of my mind: "We creatives/ we always find a way/ when a door closes/ we just open a vein."
Hatfield's newest effort isn't so much a revivification as it is an act of artful retribution. Within the balmy core of "Splinter," the album's halfway point, Hatfield sings: "I'm ready to finally pop this bubble/ get myself in some kind of trouble/ I dream mostly of justice." It's not only a testament to the album's vitriolic overtone, but to her entire career, one that's built upon championing the demise of pigheaded men, particularly those who were in charge of her identity.
"There are people who hear the name Juliana Hatfield and they have a certain image that they were led to believe was Juliana Hatfield," she says. "But I think that my music holds up, and that's the most important thing."
---
Juliana Hatfield's new album "Blood" is out May 14.