Mass. Hit New Overdose Peak In 2020
Opioid overdose deaths have hit a new peak in Massachusetts. Preliminary data from the state Department of Public Health (DPH) shows a 5% increase in 2020. That's 102 more fatalities than in 2019 and just above the previous high in 2016.
The problem varies dramatically by race. There was a small decrease in deaths tied to opioids for white male drug users. But fatal ODs rose for white women, Latinos, Asian Pacific Islanders and Black people, groups also hit harder by COVID-19. Among Black men, fatal overdoses were up 69%.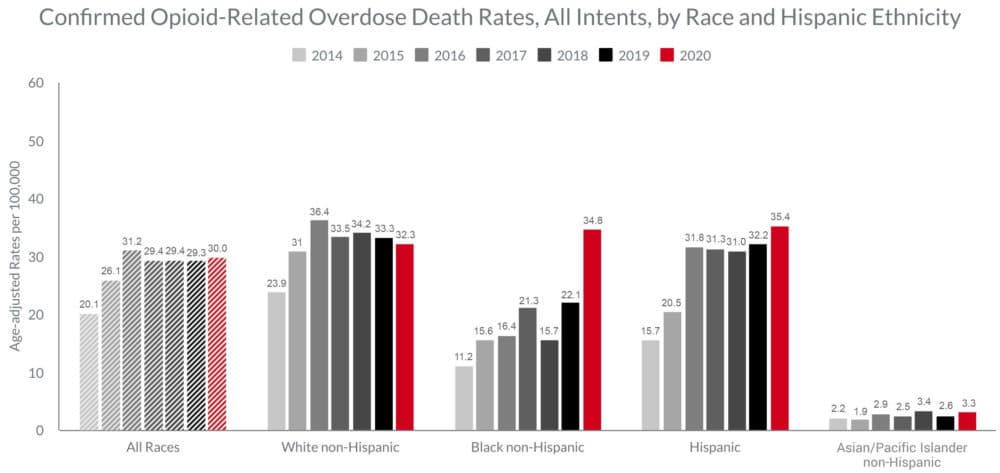 "This is unacceptable and deeply troubling," said Department of Public Health Commissioner Dr. Monica Bharel. "It serves as another stark reminder of the multiple barriers and challenges they experience that are not of their own making but ours as a society."
The department is responding by looking at the risk factors for high risk populations, including black men, according to Bharel. The state has just launched a pilot project, for example, to try to reduce the high rate of overdose deaths among Black and Latino residents soon after release from incarceration.
Dr. Miriam Komaromy sees a connection between the heavy COVID-19 impact on some groups and their increased risk for an overdose death.
"We know that substance use disorder is characterized by people being triggered to use and relapse when they're under tremendous stress," said Komaromy, medical director of the Grayken Center for Addiction at Boston Medical Center. "So if you live in a community where your aunt and your cousin and your neighbor have died of Covid, you're having a very different experience than someone who is well-off and isn't working in a front-line type job."
Komaromy said some research points to another reason Black drug users may be dying more often: They may be more hesitant to take medications that help curb a drug addiction.
Massachusetts' increase in overdose deaths is lower than the 29% rise reported nationwide from September 2019 to September 2020. It's not clear why, but Bharel said the state has taken a number of steps to try to counteract isolation and other effects of the pandemic. These include: distribution of more than 110,000 naloxone kits since March of 2020, increased the use of telemedicine for treatment, expanded take-home doses of methadone used in recovery and designated Covid units within recovery programs.
"While Massachusetts experienced a smaller increase in drug-related deaths compared to the rest of the country, these trends make clear we have to redouble our efforts," said Gov. Charlie Baker in a statement.
Some addiction treatment leaders say they are still trying to determine which efforts have the biggest impact. Lynn, for example, is a predominantly minority community, but overdose deaths there did not increase last year.
Dr. Kiame Mahaniah, an addiction treatment provider and CEO at the Lynn Community Health Center, said that there are several theories about why that's the case. Lynn offers same-day treatment to people with addictions. Another possible reason is there are fewer people coming to the city during the pandemic.
"We have immense success with Narcan [naloxone] prescriptions, distribution and education," Mahaniah said. "There is some research that when you hit a certain saturation point, deaths decrease."
Dr. Kavita Babu agreed that delivering more than 100,000 naloxone kits in Massachusetts during the pandemic is making a difference. She's also not sure what's going on in her city: Worcester. Overdose deaths increased last year, but fewer people called 911. Babu said she doesn't know if people aren't calling because they are using and dying alone, or if they don't feel comfortable seeking medical help.
"That mismatch between EMS calls going down and the increase in Worcester resident deaths, I find that very concerning," said Babu, the chief opioid officer for UMass Memorial Health Care.
Fentanyl is still the main cause of opioid overdose deaths in Massachusetts. It was present in 92% of deaths confirmed by a toxicology report. Almost half (46%) of drug users who died after an overdose were also using cocaine.
Babu said the steady, high penetration of fentanyl may help explain why overdose deaths are rising faster in other states than Massachusetts.
"Some of the midwestern and southwestern states are experiencing the front edge of fentanyl in their communities the way that we did in 2016," she said. "There's some lag with fentanyl showing up in communities where it wasn't available before."
2016 is the year fentanyl soared past heroin to become the dominant opioid in Massachusetts. Overdose deaths peaked that year, a record that held until Covid.

This article was originally published on May 12, 2021.