After 14 Months Of Movies At Home, A Film Critic Returns To The Cinema
It had been two weeks and three days since my second vaccine shot and 429 days since I'd been to the movies when I walked back into the old, familiar lobby of the Coolidge Corner Theatre on Thursday night for its reopening. Things look a little different now than they did when I'd last been there in February of 2020. Beyond just a snazzy new coat of paint, the concession stand is now enclosed in plexiglass and the similarly aquarium-like bar now shunted off to the other side of the lobby. Both were closed for this evening's show, management keeping a fully masked, no-food-or-drink policy for the time being, while we all get used to watching movies together again. (I'm told that barring any unforeseen developments, snack sales will return in time for Memorial Day weekend.)
It was a beautiful afternoon in Brookline. This was my first subway trip to town in 14 months, and it was impossible not to feel a flush of optimism in the air. Massachusetts had just reported the state's first day with no COVID-19 deaths since June of 2020, and that morning's announcement of new CDC masking guidelines suggested things might be back to feeling normal even sooner than a lot of us had ever imagined. Of course, I've seen enough horror films to know that at the end, whenever you think the monster's dead he always comes roaring back for one last attack, but I was trying to leave those thoughts aside and focus on something that would have seemed routine to me two years ago and suicidal last summer: I was going to the movies again.
Before anybody had heard of the novel coronavirus, I used to go to the movies maybe three or four times a week. Before that, I'd spent a good chunk of my 20s and 30s working in movie theaters, and on my days off, I would go to other movie theaters where my friends worked, meaning there was a stretch of about 15 years when I was basically at the movies every day. Cinemas are my churches, my sanctuaries. They're where I'd go to feel closer to people and where I go to get away from them. Roger Ebert said that movies are machines for generating empathy, and the best ones have provided me with ideas and perspectives outside my own, expanding my understanding of the world. Movie theaters were where I could vicariously experience lifestyles and adventures beyond my wildest imagination, or sometimes just take a nap.
Movie theaters were where I could vicariously experience lifestyles and adventures beyond my wildest imagination, or sometimes just take a nap.
"Holy s---," a friend of mine said upon walking into the lobby on Thursday night. After being greeted at the door by program manager Mark Anastasio and development director Beth Gilligan, I noticed most folks pausing to look around for a moment or two, just taking it all in. We were a sparse crowd, in keeping with social distance regulations only 68 tickets were sold for the 440-seat Moviehouse One. (Demand was so overwhelming, the entire online ticketing system crashed not once, but twice, the afternoon they went on sale. It felt like trying to get Springsteen tickets, or a vaccine appointment back in March.) I noticed we're all still doing that awkward, cagey thing like we forgot how to talk to other people and nobody's really sure where to stand anymore, but by and large this was the most reverential, appreciative audience I've ever been a part of.
"Community, community, community," reiterated the Coolidge's executive director and CEO Katherine Tallman last week, at a virtual IFFBoston panel discussion I moderated about the state of local arthouse cinemas. Joined by the Somerville Theatre's Ian Judge and Ned Hinkle from the Brattle, we talked about the reopening challenges given that the scope of current restrictions makes it impossible for movie theaters to make money. (This is why the Brattle Theatre remains closed at the moment — though private rentals are available for small groups — and the Somerville has been taking this time to undergo extensive renovations, including the transformation of the two smaller upstairs screens into a ballroom for concerts and events a little cozier than those normally held in the 700-seat main auditorium.)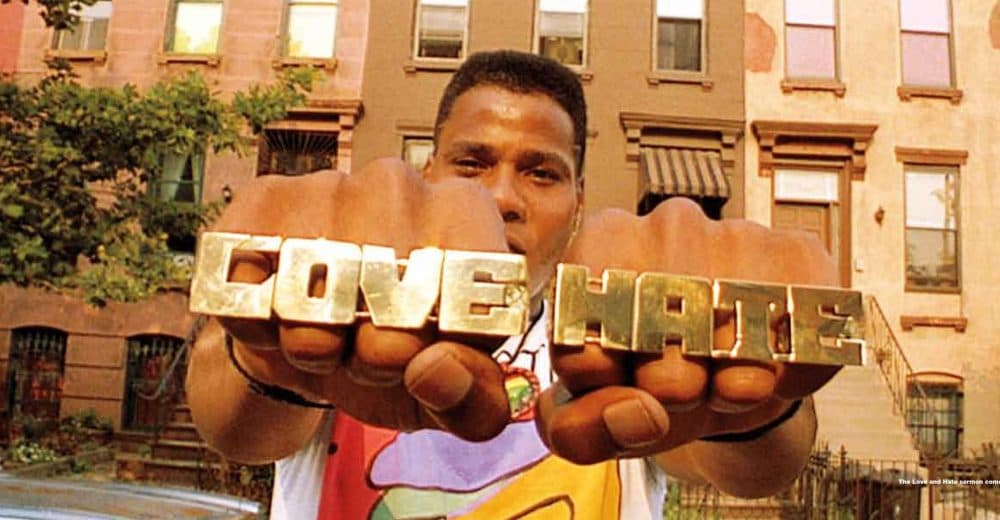 Selling 68 tickets with no concessions doesn't bring in enough money to power a projector in these places, so think of these early-phase Coolidge screenings as a thank you to loyal audiences who were so supportive during the shutdown and a promise of things to come. (The exterior marquee reads: "The Coolidge Is Here Because Of You.") They've chosen the most popular titles from their Big Screen Classics program in order to ease us back into the swing of things, with films such as Federico Fellini's "8 ½," Claire Denis' "Beau Travail" and James Cameron's "Aliens" all screening in the next few weeks. Regular first-run programming is set to resume in June with the Lin-Manuel Miranda musical "In the Heights" and the Rita Moreno documentary "Just a Girl Who Decided to Go for It." As a visibly verklempt Anastasio announced before Thursday night's show, "We're gonna show you some trailers for new movies that you'll be able to come here and see this summer." He paused before adding, with something resembling wonderment, "How about that?"
In many ways, it's fitting that the Coolidge reopened with a screening of "Do the Right Thing," Spike Lee's towering 1989 masterpiece that only gets timelier and more relevant with each passing year. It's a movie I've seen more times than I can count — heck, I've probably seen it half a dozen times at the Coolidge alone — and I usually make a point of watching it every summer. But I didn't last year. In the wake of George Floyd's murder and the Black Lives Matter protests, it felt like I was already watching "Do the Right Thing" every night on the news. Yet, the thing about great movies, and "Do the Right Thing" is one of the great American films full stop, is how they can offer you different things under different circumstances. Sitting there at the Coolidge Thursday night, gathered to watch a movie with a group of friends and strangers for the first time in 14 months, I kept coming back to those words, "Community, community, community."
We weren't just sitting at home watching a movie, this was an emotional experience we were all sharing with each other.
After over a year spent watching movies at home, the sheer hugeness of the theatrical experience is a wonderful readjustment. During the opening seconds of "Do the Right Thing," when Branford Marsalis' lonely saxophone rendition of "Lift Every Voice and Sing" is suddenly clobbered by the aural assault of Public Enemy's "Fight the Power" and Rosie Perez starts shadowboxing alone onscreen against those scalding red backdrops, I felt myself gasping at the size of the image and volume of the sound. But it was a few minutes later when I realized what else I'd been missing all this time: other people were laughing, too. We weren't just sitting at home watching a movie, this was an emotional experience we were all sharing with each other.
I think one of the key questions of our modern age is articulated in the film when Samuel L. Jackson's fast-talking disc jockey Mr. Señor Love Daddy asks his listeners, "Are we gonna live together, together are we gonna live?" Most of us haven't been able to live together for a long time, for a lot of different reasons. And now that we're finally coming out of hibernation and rejoining one another, this boisterously funny and terribly sad film felt like an important reminder of something I think we all learned many times over the past year, which is just how precious and vulnerable our communities can be. Cherish them.