35 Years On, Why I've Never Lost That Loving Feeling For 'Top Gun'
I'm only slightly ashamed to admit that the film I'd been most looking forward to seeing on a big screen post-vax was the extraordinarily belated sequel "Top Gun: Maverick," which after three decades of anticipation and two years of release date delays had finally been scheduled to open this coming Fourth of July weekend. After all, what could be a more symbolically appropriate way to rally back from quarantine than an Independence Day IMAX screening of a gaudy, all-American extravaganza that takes place in an alternate universe where the Navy lets 58-year-old men fly fighter jets? Alas, citing concerns with international vaccine rollouts, Paramount moved the movie once again, this time to the week before Thanksgiving — as if anyone wants to watch people play beach volleyball in November.
In the meantime we'll have to make do with the original, I guess. That's right, "Top Gun" is roaring back to your local AMC theaters this weekend to celebrate the 35th anniversary of the film's release, as well as something called "Top Gun Day," which is one of those meaningless memetic holidays people invent as an excuse to talk about stuff they like on the internet. (Hilariously enough, "Top Gun Day" falls a few days before the film's actual May 16 release date because the guys who came up with it made a typo on their merchandise designs.) Remastered in Dolby Vision and Atmos for this reissue, the 1986 movie was also recently made available in a new 4K UltraHD Blu-ray edition, which of course I ran out and bought right away because I find "Top Gun" to be politically repellant, logically incomprehensible and aesthetically irresistible. It's a big, dumb movie that was probably bad for the world, and it's also totally awesome.
Released six months after Rocky Balboa won the Cold War by defeating Ivan Drago in the ring, "Top Gun" offered an even more ecstatic escape into triumphalist, Reagan-era revisionism, removing all the blood, death and despair from combat — replaced by backlit beefcake shots and rah-rah aspirational recruiting mottos about being the best of the best. These clean-cut, freshly scrubbed flyboys weren't haunted war criminals like John Rambo, they're upbeat athletes aspiring to excellence. "Top Gun" might be framed around the military, but it's a sports movie through and through. The screenwriters even invented a fake trophy competition and added a locker room to the Navy's elite Fighter Weapons School as a way of reassuring audiences that all this war stuff is just fun and games.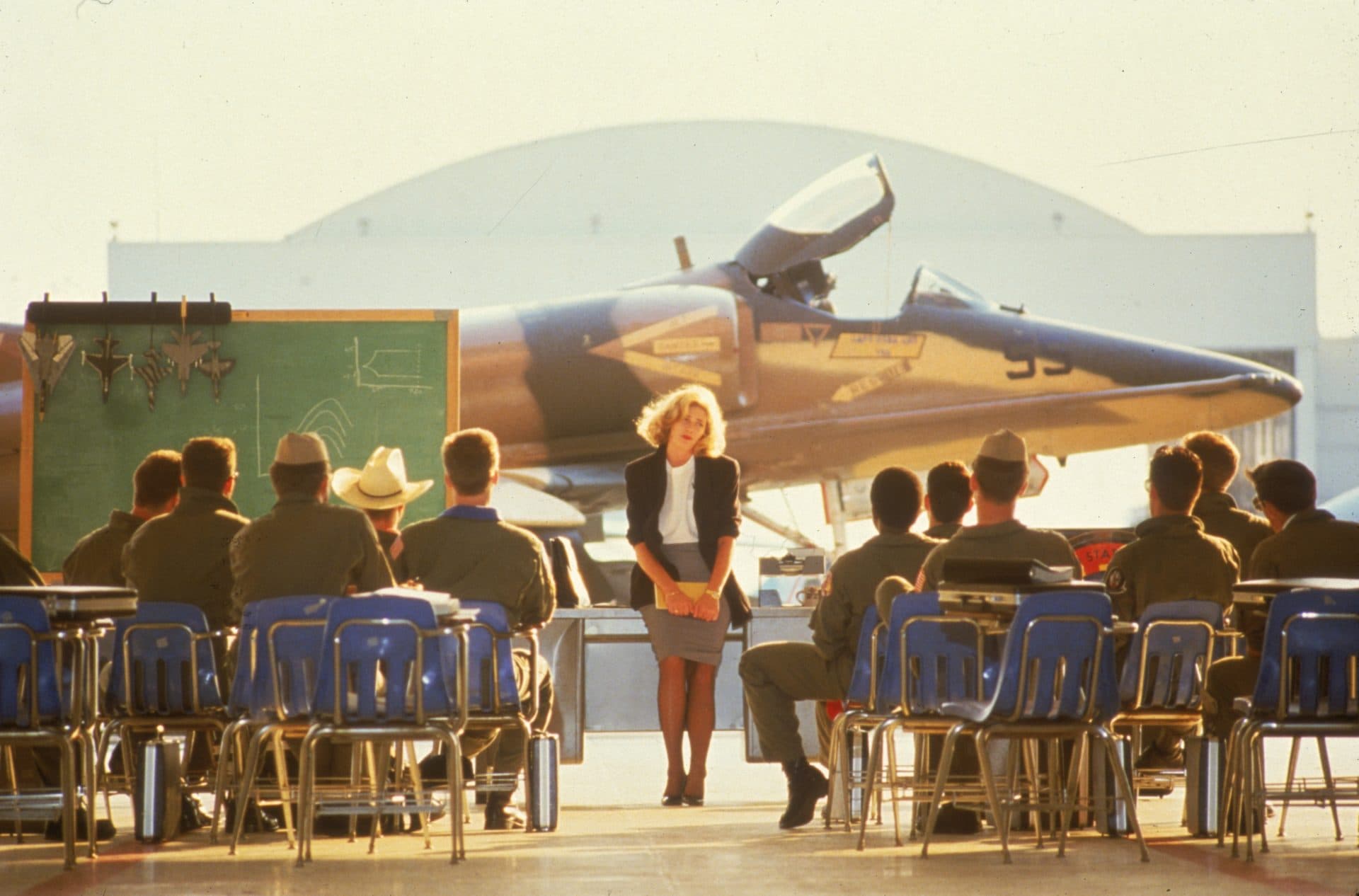 Producers Don Simpson and Jerry Bruckheimer were hot off of "Flashdance" and "Beverly Hills Cop," but their stroke of genius here was hiring brash British ad man Tony Scott to direct. A Royal College of Art graduate who'd crashed and burned in Hollywood a few years earlier with his inscrutably esoteric lesbian vampire movie "The Hunger," Scott scored the "Top Gun" gig thanks to a car commercial he'd helmed in which a jet plane races a Saab. The kind of blustery, larger-than-life figure one rarely finds in the film industry anymore, Tony Scott was almost always attired in short shorts and a safari vest, puffing on a cigar beneath an omnipresent pink baseball cap. Few filmmakers from the era were so adept at exulting in their own ridiculousness, which made him the ideal director for "Top Gun."
Scott supposedly threw a book of Bruce Weber photographs onto Bruckheimer's desk and announced that's what the movie was going to look like. To call "Top Gun" over-stylized would be an egregious understatement, as every angle is finessed with smoke machines and soft gel lights to a degree of giddy absurdity. Witness instructor Kelly McGillis' entrance into the cadets' class, filmed low and from behind to show off her seamed stockings and stiletto pumps. The Navy made their actual academy classrooms available for filming, but of course, Scott found them dreadfully boring and instead staged the lessons in a sunlit hangar in front of an F-15 and a gargantuan American flag. (I love the lonely chalkboard shunted off to the side.) Also, her lipstick.
Every scene of "Top Gun" is shot and cut like a commercial — all shimmering sunsets and golden magic hours with cool motorcycles and vintage cars. People wear heavy leather bomber jackets in the San Diego summer simply because they look so great in them. Everyone in this movie is always glistening for some reason, and any given frame could be put on a poster. Characters speak almost exclusively in catch-phrases and slogans they repeat back to each other later for applause cues and the soundtrack is wall-to-wall chart toppers and classic oldies. (Note the mercenary brilliance of the monologue during which Maverick talks about his mother's favorite song, never mentioning the title nor the artist to give the filmmakers maximum leeway when negotiating the movie's music rights.) "Top Gun" looks and sounds like the longest advertisement you've ever seen, but what exactly is it supposed to be selling?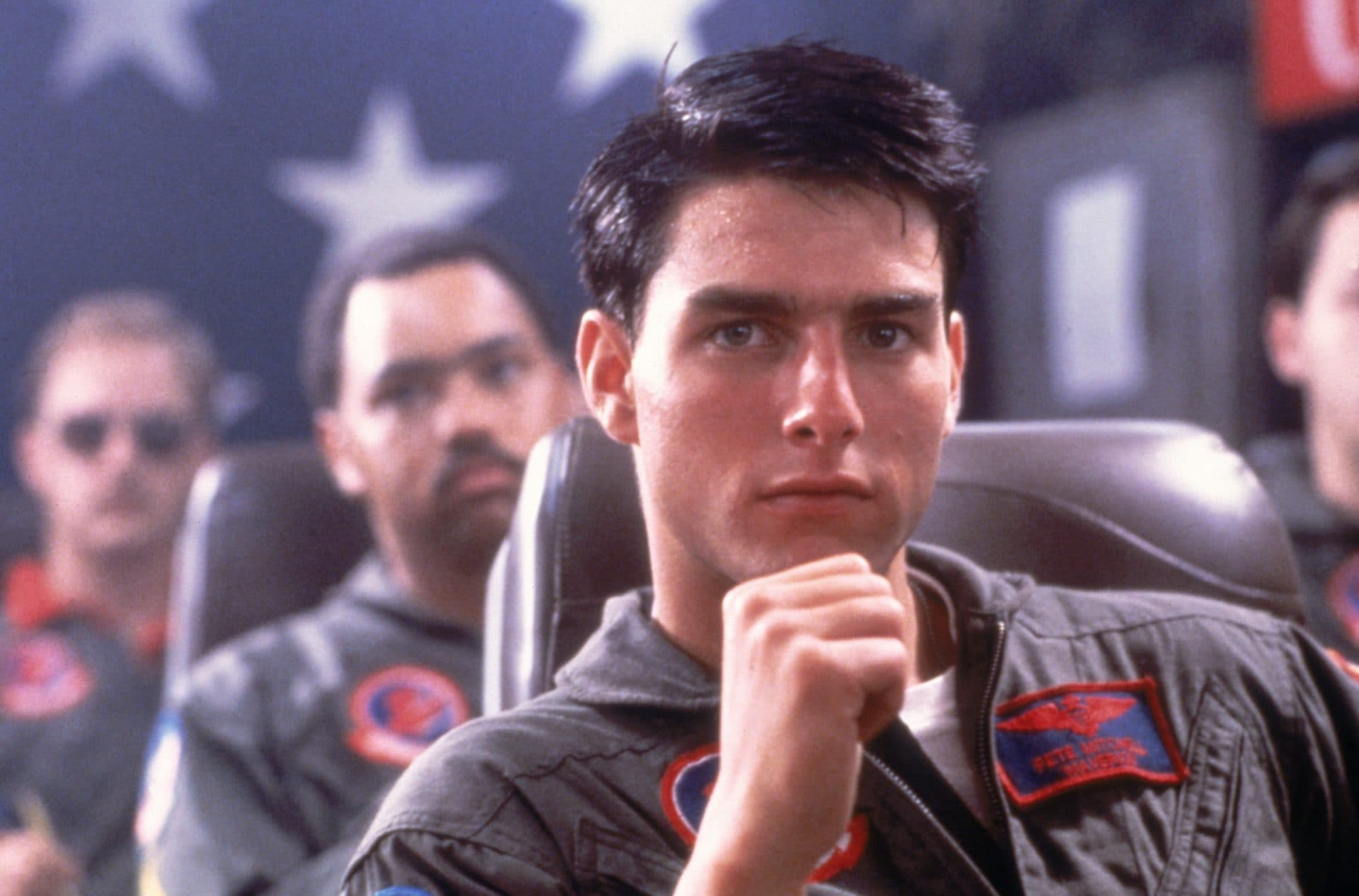 The Navy famously set up recruiting tables in theater lobbies, no doubt enlisting an entire generation of cadets disappointed to discover that their classes were taught indoors and never by Kelly McGillis. It's an aesthetically jingoistic film according to the flattering photography of flags and uniforms, with still unparalleled aerial footage of these majestic silver phallic symbols whizzing around at the speed of sound. Yet the screenplay is clear as mud when it comes to cryptically exonerating Maverick's deceased dad for I think maybe bombing Cambodia, and nobody's ever been really sure if it ends with our boys starting World War III. "Top Gun" clearly hasn't the slightest interest in — nor any ideas about — the problematic geopolitics it keeps stumbling over, because the movie is really just selling swagger, sunglasses and speed. Well, all those things and also Tom Cruise, who in the span of these 109 minutes went from a promising young dork dancing in his underwear in "Risky Business" to an instant American icon.
I've always considered Cruise one of our most underrated actors, but between us, he's not very good in "Top Gun." He still hadn't learned how to modulate his voice yet and falls back on that jerky smirk far too often, especially in the chemistry-free scenes he spends sexually harassing Kelly McGillis. Of course, none of this matters because Scott and cinematographer Jeffrey Kimball frame and light Tom Cruise as a modern-day deity, embodying all the cocky aspirations of America's recently restored confidence whenever he's putting on a pair of aviators. His physicality is extraordinary, a diminutive god among taller, lesser men. Characters are constantly telling Maverick how amazing he is, and even when Maverick isn't in a scene people only talk about Maverick. I saw "Top Gun" in the theater when I was 11 years old — one of the neighborhood kids and I were thwarted in our efforts to sneak into Sylvester Stallone's grisly vigilante cop movie "Cobra" so we had to settle for this PG alternative — and even though the film hadn't been our first choice for that particular afternoon, when it was over we both wanted to be Maverick.
"Top Gun" didn't have a massive opening the way blockbusters do today, and it actually got clobbered that Memorial Day weekend by competitors "Cobra" and "Poltergeist II: The Other Side." But the movie stuck around all summer, thanks to repeat viewings and rapturous word of mouth, not to mention a smash soundtrack album that kept cranking out hits. The film's Oscar-winning love theme "Take My Breath Away" remains composer Giorgio Moroder's towering masterpiece, with Berlin vocalist Terri Nunn cooing over billowy synth bubbles that make the world feel like it's moving in dreamy slow-motion every time you hear it. 1980s soundtrack staple Kenny Loggins was a last-minute replacement for the group Toto on the Moroder-penned kickoff track "Danger Zone," and the singer later confessed that his bizarre enunciation of the title's two words was a feeble attempt to mimic the inimitable accent of his musical hero, Tina Turner. (This is one of those things that once you notice, you will never be able to unhear it. You're welcome.) Even Harold Faltermeyer's instrumental "Top Gun Anthem" got radio airplay, as this summer movie lingered in the box office top 10 until almost Thanksgiving, when it finally began to fade from theaters, presumably because nobody wants to watch people play beach volleyball in November.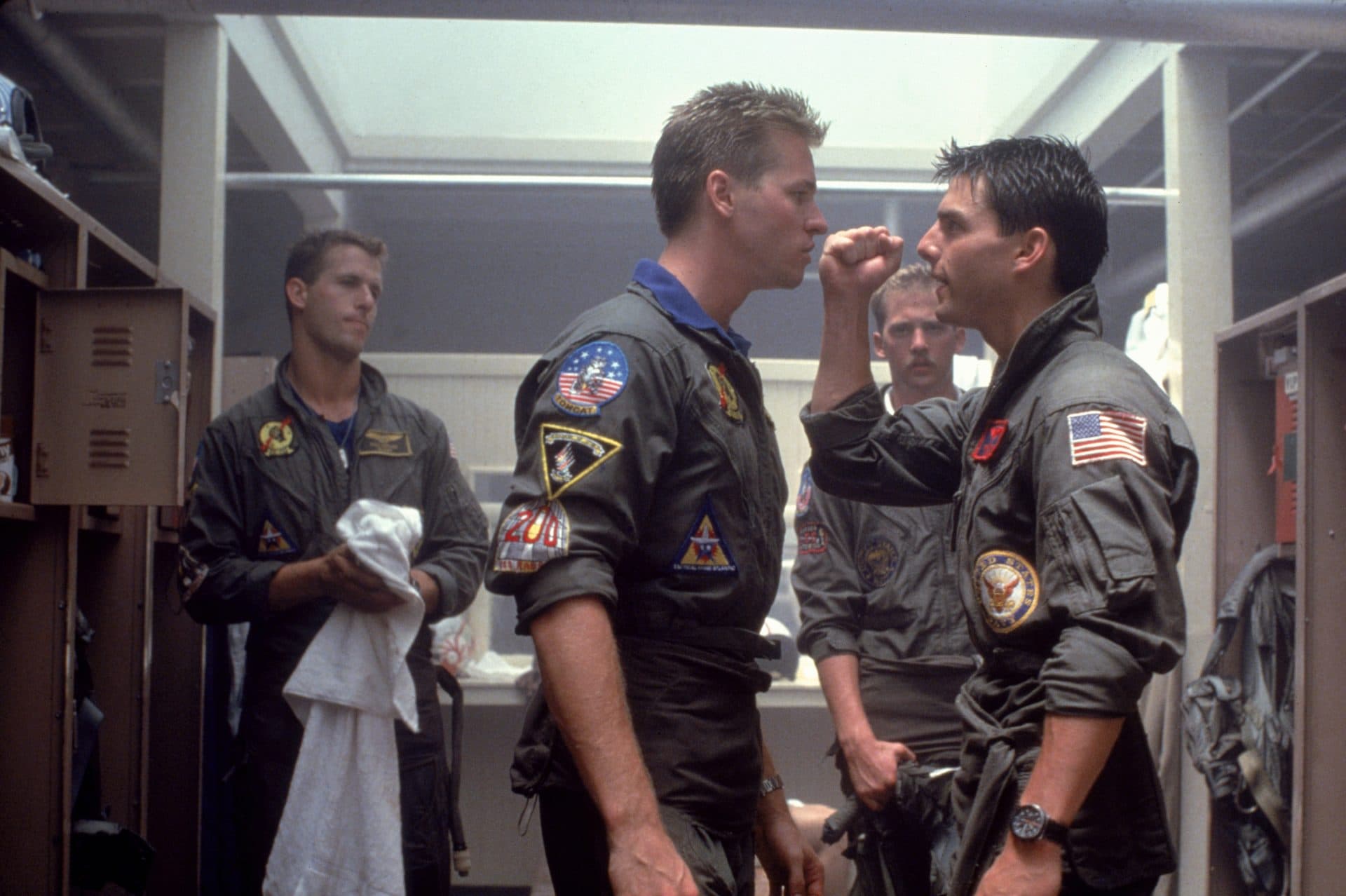 Ah yes, about that volleyball scene. Every generation thinks they're the first to discover the hilarious homoeroticism of "Top Gun," a subject dissected at amusing length by Quentin Tarantino in the otherwise forgotten 1994 rom-com "Sleep With Me." It's no stretch to say that Cruise has considerably less chemistry with Kelly McGillis than he does with flyboy rival Val Kilmer, the two literally snapping at each other half-naked in their fictitious locker room. (When I spoke to Kilmer before the Boston Film Festival screening of "Kiss Kiss Bang Bang" back in 2005, he laughed and acknowledged "it was recently pointed out to me that I'm really f---ing gay in that movie." Then he jokingly accused Tom Cruise of intentionally sabotaging all the volleyball shots in which Val looked hotter.) During an amusing archival interview during one of the new Blu-ray's generous supplements, Scott admits he "had no vision" for the volleyball game, which was requested by the producers to once again emphasize that this was a sports movie and not a war film. So Scott shrugged and "slicked the boys up with baby oil "and "shot it like a softcore porno."
None of this went unremarked upon at the time. Critic J. Hoberman's Village Voice review was titled "Phallus in Wonderland," and he drew angry letters from regular readers after writing, "the screen is so packed with streamlined planes and heat-seeking missiles, wagging forefingers and upright thumbs that, had Freud lived to see it, he might be excused for thinking 'Top Gun' an avant-garde representation of Saturday night at the Saint Marks Baths." (Well, the movie was designed to look like a book of Bruce Weber photographs, after all.) At an early screening for midwestern exhibitors, it was sheepishly suggested that maybe they should beef up the hetero love story a little bit?
So two new scenes were hastily shot scant days before the release, while the film was already being mixed. In that bit with Maverick and McGillis in the elevator, the actress is wearing a baseball cap because it was now months later and her hair no longer matched the character's. Meanwhile, Cruise's coiffure is all slicked down and soaking wet because by then he was busy shooting Scorsese's "The Color of Money," for which he'd grown out a formidable pompadour. Scott was savvy enough to know we'd never stop to ask why Maverick might be stepping into a crowded elevator after just getting out of the shower, much as he knew we wouldn't care about these characters' mismatched haircuts and bad wigs during their later sex scene that, to preserve a PG rating, was restricted to the memorably acrobatic intertwining of backlit tongues. ("We only had time to set up one light," cinematographer Jeffrey Kimball sighs defensively on the DVD.)
Ever-underrated, Tony Scott went on to helm meathead masterpieces like "The Last Boy Scout," "True Romance," "Crimson Tide" and his fantastic final film, "Unstoppable." Scott was for so long a lowbrow pariah in critical circles, it's been enormously gratifying in recent years to watch young writers latching onto his work, citing Scott's formal innovations as the trailblazer in a school that's come to be called "vulgar auteurism." His big brother Ridley might have been more respectable and won Oscars for his visionary science-fiction pictures and humorless historical epics, but I always preferred Tony's lowbrow laughs and his sense of what fun, silly things these big blockbusters could be. (To my knowledge, he's still the only director who has his entire filmography engraved upon his headstone.)
One of my dearest moviegoing memories was watching "Top Gun" at the Somerville Theatre's 70mm festival back in 2017, with a six-track magnetic soundtrack that shook the bloody walls and a loud, rowdy crowd that was the exact, perfect level of drunk for the occasion. Everybody was halfway between mocking the movie and adoring it — applauding every iconically absurd line. Seen up close and so massively large, there's no mistaking "Top Gun" is the work of a disgruntled British art student having a bit of a laugh about all this admittedly awesome American nonsense. What makes the film so much fun is that you're invited to share it with him.