After 14 Dark Months, The Coolidge Corner Theatre's Big Screen Lights Up For In-Person Movies
Art house cinema lovers (especially those who've been vaccinated) have reason to rejoice. The Coolidge Corner Theatre – an adored Boston-area movie mecca – is reopening on Thursday, May 13 for in-person screenings on weekends exactly 14 months after its projectors went dark because of the pandemic.
"To the day, we shut down on March 13, 2020," Beth Gilligan, director of development and marketing at the Coolidge recalled while standing in the main theater's empty aisle. "It's been a long road – but we've just been completely floored by how supportive the community has been, and we're really excited to welcome everyone back."
The Coolidge will look different to fans. Gilligan explained how the year-plus hiatus gave staff an opportunity to freshen up the historic theater with new paint and carpeting. But in order to reopen with confidence, they also made expensive, invisible changes.
"We upgraded our system to Continuous Infectious Microbial Resistance," she said with a laugh about the new, high MERV-rated air filtration. "These are words that had never entered my vocabulary prior to 2020, but it was important that when we were ready to reopen our doors and that everyone felt safe."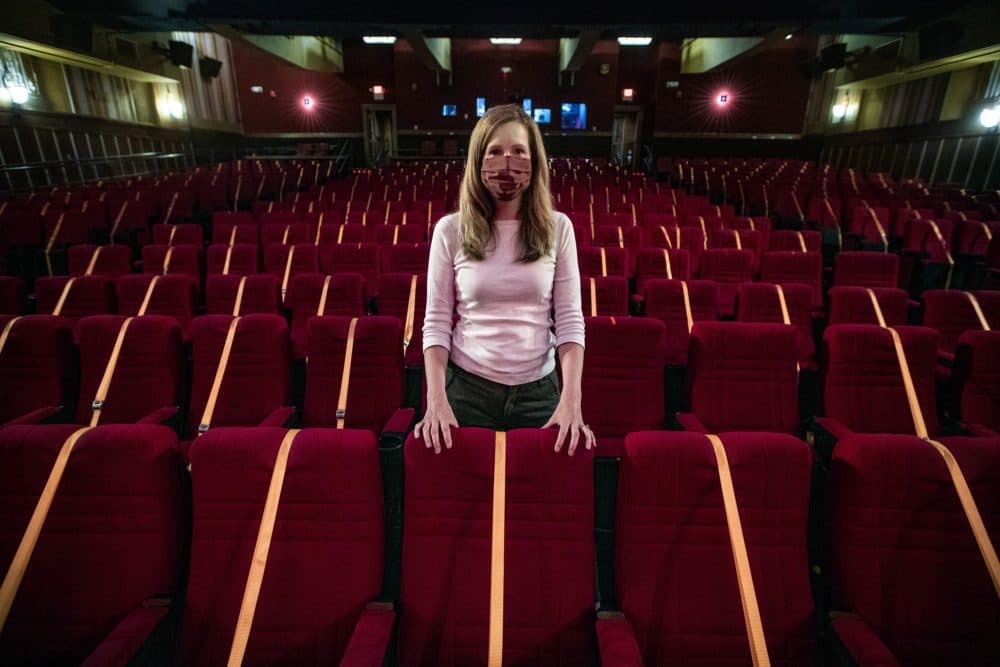 Because the Coolidge is a non-profit, Gilligan said they were able to fundraise for the HVAC improvements. She added the Coolidge also entered the pandemic in a strong financial position because the theater had been "jammed" in previous years. They did receive PPP loans and recently applied for a new shuttered venue operators grant.
Reopening was never in doubt, Gilligan said, thanks to an outpouring of donations from the community. She believes she's not alone in thinking there's something magical about the Coolidge, which has been entertaining people in the Brookline neighborhood since 1933.
"When we shut down we were just getting all kinds of messages, emails, and letters with stories of people's first dates, about coming here to see a film and meeting up with friends," she recalled. "I think it just holds such a special place in people's hearts."
After the Coolidge announced in April that it would be back in action, cinephiles jumped online with a crush of excitement.
"Our ticketing system initially crashed because of the demand," Gilligan said. "People are clearly ready and eager to get back to the Coolidge."
Other safety protocols include what we've come to expect: masks, lots of plexiglass, distanced seating and reduced capacity. The Coolidge followed guidelines developed by the National Association of Theatre Owners, and those set up by the CDC and Massachusetts.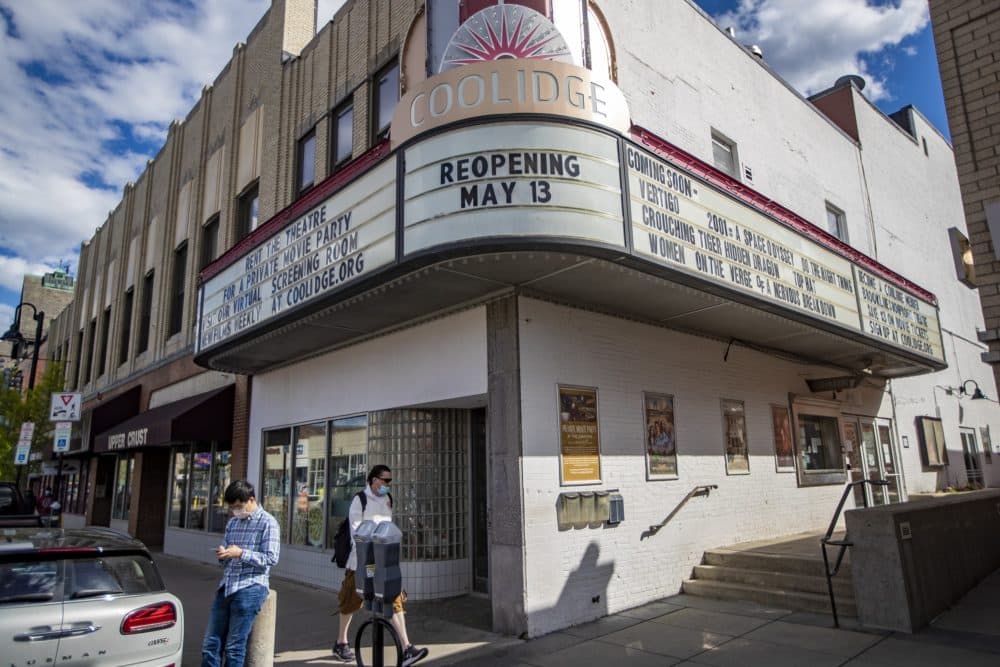 Movies will only light up the biggest of the Coolidge's screens in its largest theater. Just 68 of its 440 seats will be occupied during each showing.
"Even though the state guidelines say 50%, the reality of the six-foot distancing is 15%," Gilligan explained while surrounded by sections of off-limits seats wrapped with bright orange straps.
A new advance-purchase seating system will assign seats to patrons. People will receive emails the morning of their showings. Ushers can also tell folks where to sit. Bigger parties might have to split up.
The theater has stayed engaged throughout the pandemic with its "Virtual Coolidge" program. Gilligan said it's been providing careful curation viewers can't get from Netflix or Hulu.
"With the large streaming services, there's so much content, it's so vast, it's all based on whatever your algorithm says you should be selecting," Gilligan said, "and I think people have come to rely on the Coolidge to for new discoveries to see things they might not see otherwise."
They also hosted online Q&As and classes with filmmakers and audiences from all over the world.
"Those were sort of pandemic silver linings," Gilligan mused, "but at the end of the day, there is nothing like being here in our grand art deco theater surrounded by familiar faces to watch a film on our big screen without interruption from kids, pets, anything else that people might have had at home."
As for the programming, staff deliberately chose a selection of classics that demand to be seen on the big screen.
The first three weekends include "Do the Right Thing" and "Vertigo" on 35mm film. "2001: A Space Odyssey" (also on 35 mm), "Black Narcissus," "The Grand Budapest Hotel" and "8 ½." A new short, "The Human Voice," by director Pedro Almodovar will be paired as a double feature with his 1988 classic "Women on the Verge of a Nervous Breakdown."
"It's been a challenging, hard, long year for everyone, so to be able to escape into the movies, to see Fred Astaire and Ginger Rogers dancing, to see '2001" A Space Odyssey,'" Gilligan said, "we just tried to bring back Coolidge favorites that we knew people would embrace. And they clearly have."
On the day we spoke Gilligan said the evening shows had already sold out, and a few matinees still had tickets. First-run films and documentaries will enter the Coolidge's projectors in the coming weeks, including the new adaptation of Lin-Manuel Miranda's stage musical "In the Heights" and "Summer of Soul."
Alas, there will be no popcorn at the Coolidge – at least not just yet. Gilligan anticipates concessions being made available Memorial Day weekend, but said for now, "This will be the first time some people have had an auditorium with strangers in over a year. So to have that added reassurance of knowing that other people are going to be masked, I think for some people that's really significant."
Gilligan believes people have been deprived of communal experiences and that there's a lot of pent-up demand for going to the movies. "And I think that will grow as more people get vaccinated and hopefully we turn the corner on this."