Local Independent Movie Theaters Are Taking The Pandemic Month By Month
The pandemic has impacted all corners of the arts scene. This week, WBUR's arts reporters are examining the effects on institutions, large and small. This is the next story in our series, examining the present and future of independent movie theaters.
---
While optimism still buoys Boston's independent movie theaters, the pandemic has taken a heavy toll. To varying degrees, COVID-19 has forced the Coolidge Corner Theatre, Brattle Theatre, Somerville Theatre and West Newton Cinema to reduce staff, significantly revise operations and remain constantly flexible.
If it sounds exhausting, it has been.
That grim reality is playing out nationally as well. U.S. chain Regal Theatres announced it will temporarily close again on Oct. 9, fulfilling the prophecy laid out by industry leaders in a letter to Congress the week prior. The call for industry-specific subsidies warned, "If the status quo continues, 69% of small and midsized movie theater companies will be forced to file for bankruptcy or to close permanently, and 66% of theater jobs will be lost."
The Sense of an Ending
Despite closing to in-person screenings in March, Ian Judge and nine other full-time staff of the Somerville and Capitol Theatres stayed on salary through mid-July with the help of a Paycheck Protection Program (PPP) loan. (The 30 or so part-time employees went on unemployment or found different employment.) When that money dried up, Judge says he and the others opted to be furloughed to increase chances that "the company will still be here in a year."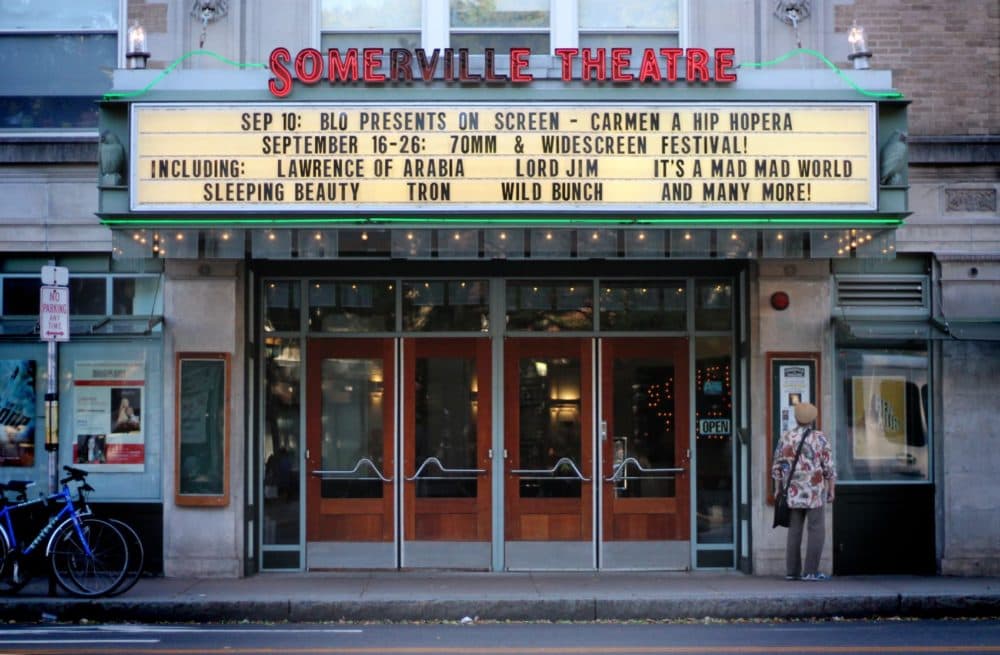 Over the summer, the Capitol sold ice cream "to show we're still hanging on" more than to make money, says Judge. He asserts that the owners of the theaters are deeply committed as theater owners but "don't have inexhaustible resources. You can only hang on for so long." While other independent theaters have maintained a lively but not highly profitable presence with virtual programming, the Somerville's doors have been locked, phones off, and the website static since mid-July.
For Judge, one of several who used the word "dire" when considering the future, the real reckoning will come in early 2021 when unemployment runs out for the furloughed staff. That's when he'll have to evaluate his own situation. While acknowledging how many people have experienced far worse through the pandemic, Judge says, "It's sad to think that my life vocation could be over."
Only Counting on Change
Over the last seven months, Coolidge Corner Theatre executive director Katherine Tallman has had to scrap so many different plans. The theater's new normal is to be flexible and expect change. "Plan within what you have but don't get too invested in it. Always keep a backup," she says. (Another shrewd observation she made about the pandemic, "this could be as good as it gets," made national news in July.)
Tallman describes prepping to open for the supposed July release of Christopher Nolan's "Tenet" (on 70mm, no less) only to realize that moving ahead did not make financial sense. At that time, Tallman and the Brattle's Ned Hinkle decided not to reopen given the state's mandate to limit indoor theaters to 25 persons, including staff, regardless of seating capacity. They penned a joint letter to Gov. Charlie Baker explaining that their operations "cannot generate sufficient revenue at this level."
The fact that the latest state guidelines, effective Oct. 5, allow indoor movie theaters to seat up to 50% capacity but no more than 250 people has not changed how the theaters interviewed for this story will operate in the short term, though the new capacity number "opens the door" to re-opening, according to Tallman.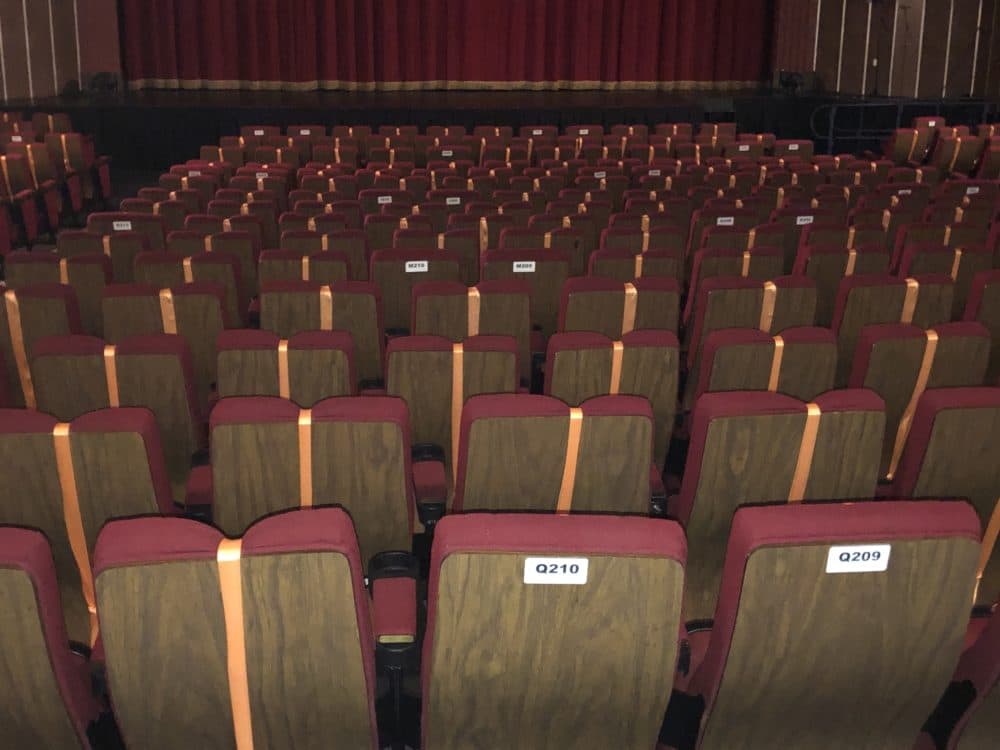 Instead of in-person screenings, the Coolidge and Brattle have offered a rotating and robust slate of streaming releases and other virtual programming. From rentals of new independent releases to live director Q&As to educational seminars, Tallman says the Coolidge's 14-person administrative staff "are working harder than we have ever worked." Yet both theaters acknowledge the streaming revenue has nowhere near made up for lost income from ticket and concession sales, a combo that typically amounts to 75% of the Coolidge's annual income.
So far this year, Tallman says 87% of income is coming from donations and memberships and about 9% from the virtual screening room. (The remainder comes from private rentals, T-shirt and concession sales.) "It's totally upside down," she says. (Hinkle says the Brattle's percentages are likewise "flip-flopped.") At the start of the pandemic, the Coolidge paid all staff through April and then furloughed what Tallman calls the "floor staff and projectionists." A PPP loan, donations and a remarkably strong balance sheet from 2019 have enabled the nonprofit organization to keep on the administrative staff through the time of our interview. However, Tallman describes the fiscal budget that starts in November 2020 as "very, very dire."
"Plan within what you have but don't get too invested in it. Always keep a backup."

Katherine Tallman, Coolidge Corner Theatre
"Our only place to go is to look at compensation," she says hesitantly. Meanwhile, she anticipates that new paint, carpet, dynamic reserved seating and military-grade air filtration systems will be finished by late November. At that point, the theater may consider some in-person repertory screenings. Hinkle says the Brattle, too, is "still eyeballing the idea of doing special screenings for the public or our members before end of the year." Private screenings — available at all theaters mentioned here except the Somerville and Capitol — have helped bolster the bottom line and staff prep for what public screenings will require.
In addition to adhering to local and state safety guidelines — the Somerville has so far not had the option to open, for example due to the city's restrictions — theaters have also had scant or unpredictable supply of new content. Like countless other big-budget films, the release date for "Tenet" got bumped several times before its ultimately underwhelming September theatrical arrival, pointing to another issue: demand. "The irony is, even if you open, the public has to want to go," Judge says.
If You Open, Who Will Come?
The West Newton Cinema's owner David Bramante rolled the dice on opening for in-person screenings in mid-July. (Chains AMC, Landmark, Regal, Showcase and a handful of other Massachusetts independent theaters outside Boston later followed suit. Of course, Regal has now closed again.) Bramante says he had an expectation that there would be more attendance. "It has been a disappointment; however, we are getting customers," he says. A successful GoFundMe helped bridge the initial income gap and a PPP loan also "made a huge difference," he says on how the theater made it to the summer. But now, his average staff size of about 15 is down to just one — Bramante.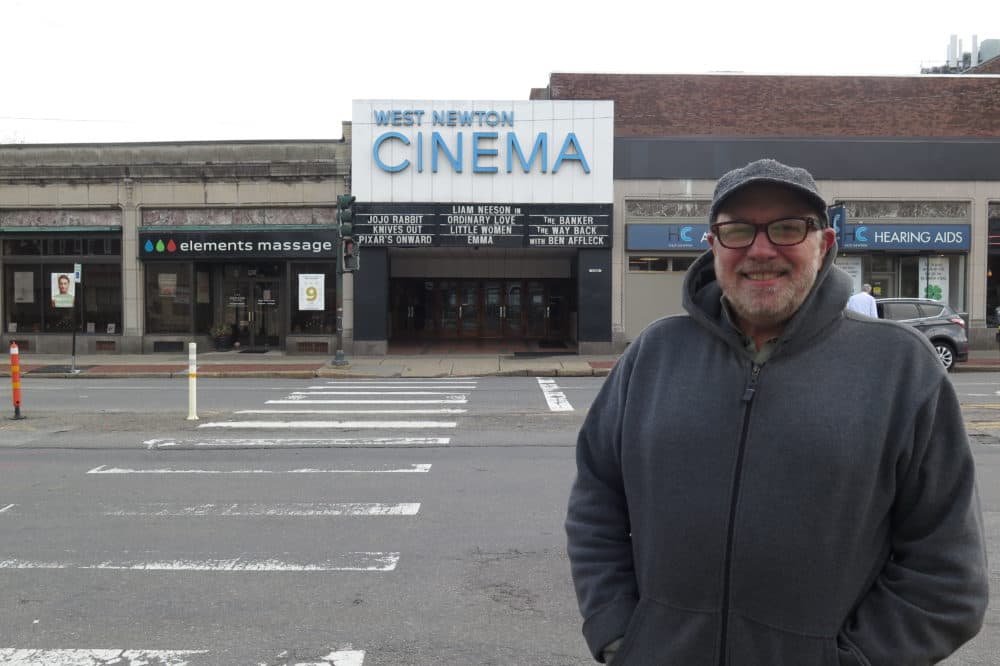 If the theater could run on likes (or love letters) alone, he'd be doing okay. In fact, the outpouring of support from those who have shown up has been heartening. He says every single person who caught the screening of the 2018 documentary "RBG" told him they were so glad to have had the opportunity to watch it. One day, he opened a hand-addressed envelope only to discover a 91-year-old customer had penned him a letter imploring him not to close. "Your presentations have become a lifeline for me," she wrote. With the pre-pandemic hustle and bustle of running his six-screen establishment, he says he couldn't as readily connect with audience members as he has these last few months.
Winter is Coming
The West Newton has been playing older classics like "Citizen Kane" and "The Maltese Falcon" along with more recent, under-the-radar foreign titles like "The Keeper," but the tickets sold for these screenings might not cover the bills coming in the next few months. Heating the theater through winter will be an enormous cost that Bramante says could be "the deciding factor" on whether or not he can stay open. ("You got to heat the whole deal," he says of the two-story building.) For now, he's going forward on a month-by-month, maybe even week-to-week basis. "I don't have any kind of forecast for the future. I tried that once it didn't work out so well," he says.
Tallman also used the phrase "month by month."
Judge adds, "I don't see how winter makes this any better."
"Now that money is gone, we're just limping along like everybody else."

Ned Hinkle, The Brattle
It's really the next eight months that worries the Brattle, according to Hinkle. A PPP loan paid their administrative staff as if they were working through the month of July. "Now that money is gone," he says, "we're just limping along like everybody else." Private theater rentals have given the Brattle's hourly employees some work and Hinkle hopes fundraising can cover the lease, rent insurance and keep salaried staff with full pay and benefits, "because we feel that's important."
Looking Ahead
Hinkle remains convinced that "there's a huge opportunity for theaters like the Brattle and independent art houses to come back stronger than ever after the pandemic." He situates the Brattle among other live performance venues that make up "the gathering economy" (a term he credits to Brattle executive director Ivy Moylan). Hinkle imagines that a post-pandemic world may precipitate the hiring of "younger, fresher, more diverse talent who could bring a completely different perspective to independent cinema programming."
Judge agrees that when society reopens there will be a pent-up demand for moviegoing and live events. Maybe the Somerville will have both. Though he wonders, "Who will be standing when that happens? I don't know." He's certain that without some sort of government intervention a lot of venues are going away and never coming back.
"We're all relying on a huge mixture of support to hunker down and make it through. There are very few magic bullets."

Ned Hinkle, The Brattle
Hinkle thinks everybody would agree that the "gathering industry" needs more help. "We're all relying on a huge mixture of support to hunker down and make it through," says Hinkle. "There are very few magic bullets."
The challenges brought on by the pandemic have highlighted the ongoing commitment of the Coolidge's community and forced the staff to master new skills, according to Tallman. From continuing to offer a mix of in-person and virtual movies and film seminars online to possibly adding a drive-in next year, several adaptations made by the theater will carry on post-pandemic.
Bramante has kicked around several versions of the future of West Newton Cinema. One idea is shifting to a nonprofit model that looks a lot like how the Coolidge was about to disappear in the late 1980s when a rally of support (and a group hug) turned it around. "I'm not sure what my role would be," he says. "I can adapt."