50% Of All Mass. Residents Are Fully Vaccinated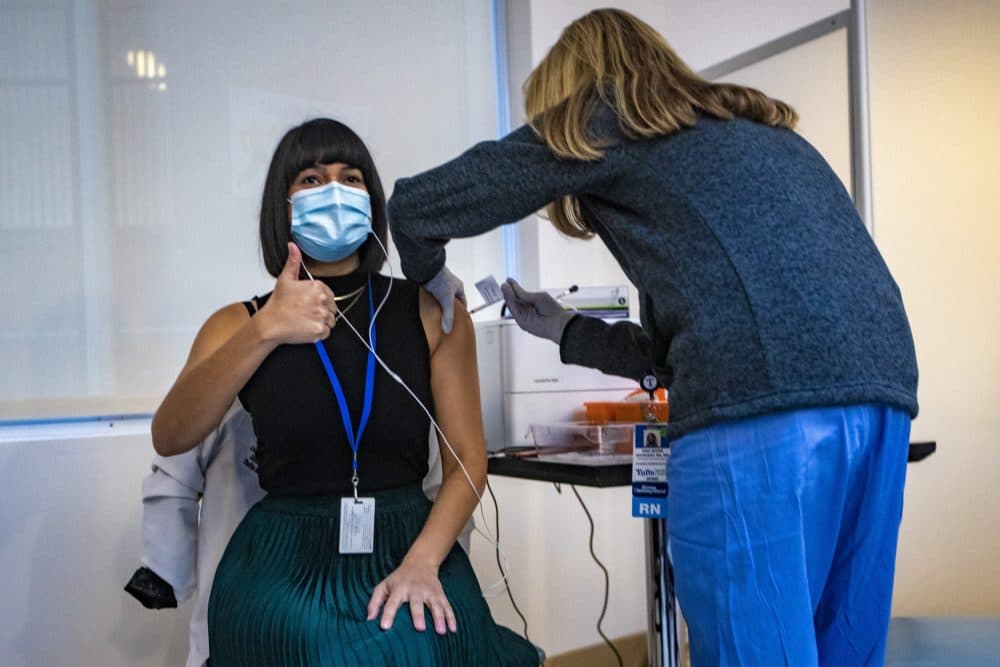 This article is more than 1 year old.
More than half of all Massachusetts residents have been fully vaccinated against COVID-19, an important milestone in the year-plus slog of extraordinary losses, and a major step closer to the state's goal of getting 70% of residents inoculated.
There are now an estimated 3,520,075 Massachusetts residents who have received either two doses of the Moderna or Pfizer vaccine, or a single shot of the Johnson & Johnson vaccine. That's 50.07% of the state's 7,029,917 residents, as estimated by the 2020 Census.
On Tuesday, the Biden administration announced that half of all adults in the U.S. are now fully vaccinated, as are more than 70% of adults in Massachusetts and across New England.
Mass. has become one of the most aggressive states when it comes to vaccinations, after a slow start to the rollout and disastrous technical set-up that marred the commonwealth's early efforts. The state is now among those leading the nation in vaccination rates, along with most of the other New England states. Vaccinations continue to lag in parts of the south and Mountain West.
After a crunch in supply slowed delivery in February and March, Massachusetts picked up the pace in administering vaccinations in April and May.
Vaccinations are now available to anyone over the age of 12 who wants one, and there's no need to register for an appointment; many clinics now welcome walk-ins. The state and regional vaccine programs are also rolling out mobile and pop-up clinics and reaching out to residents who may be homebound.
While some people who received vaccinations in Massachusetts could be non-residents, such as those who work or study in the state, it is also possible that some residents have been vaccinated in other states. New Hampshire, for example, opened its vaccination clinics to non-residents.
Whether Massachusetts can reach herd immunity remains an open question, in part because scientists can't agree on a figure for that marker of infectious disease control. Several prominent epidemiologists and infectious disease experts have pointed to new evidence that shows vaccines are a key driver in declining COVID-19 deaths and cases, even without reaching total herd immunity.
All of this comes after a catastrophic loss of lives and livelihoods during the pandemic. As of Tuesday, 17,475 people have died of COVID-19 in Massachusetts, and more than a 650,000 were sickened. Massachusetts is third in total COVID-19 deaths per capita in the U.S., behind only New York and New Jersey.
The growing number of vaccinated people across the U.S. has led the CDC to loosen its recommendations about mask-wearing and maintaining physical distance from others. Massachusetts will soon lift more of its own restrictions, according to Gov. Charlie Baker.
Globally, the U.S. and several European countries have the highest vaccination rates, in large part because these nations paid to get to the front of the line, offering billions in payments up front to vaccine manufacturers.