Boston City Councilor Wants Big Buildings To Become Carbon Neutral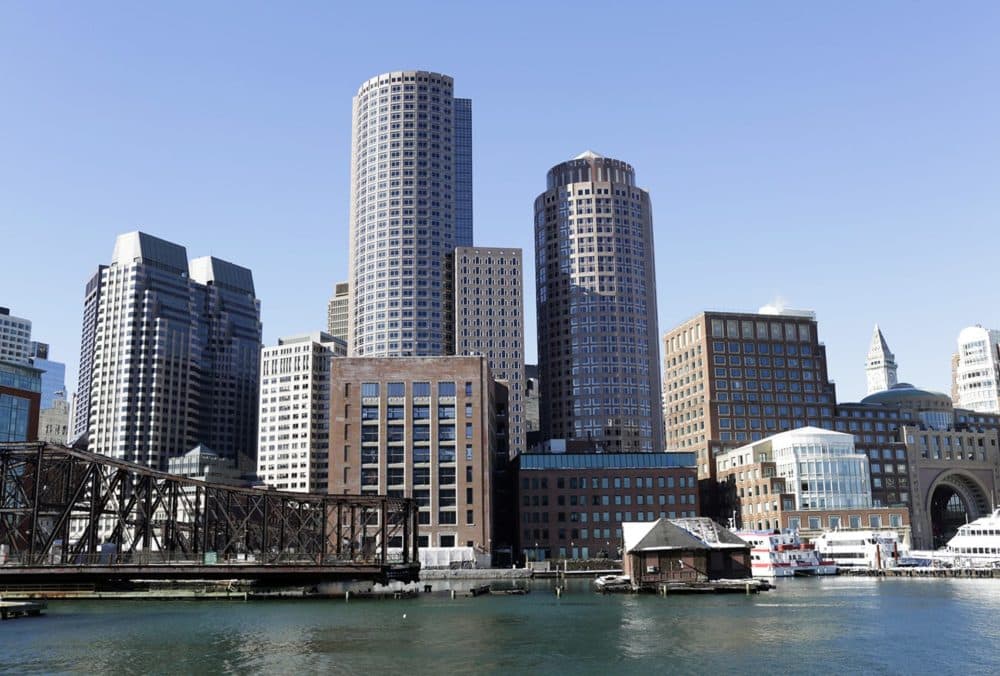 This article is more than 1 year old.
A Boston City Councilor hopes to force the owners of the city's largest buildings to reach carbon neutrality over the next three decades, arguing the measure is needed to enable Massachusetts to reach its goals to reduce greenhouse gases.
"We've talked the right talk," Councilor Matt O'Malley said at Wednesday's  council meeting. "This is going to get it done."
In 2013 Boston started requiring large building owners to report their greenhouse gas emissions through the Building Energy Reporting and Disclosure Ordinance, also known as BERDO. Now O'Malley says the next step is to push those buildings to become carbon neutral with BERDO 2.0.
The proposal sets out five-year benchmarks for cutting carbon emissions for buildings of at least 20,000 square feet and residential buildings with 15 or more units.
If adopted, all applicable buildings would have to reduce greenhouse gas emissions to zero, with certain exceptions including emergency power generation and electric vehicle supply equipment. Buildings could use a combination of clean energy, conservation, and carbon offsets to reduce their emissions to zero.

The Jamaica Plain-based O'Malley is serving out his last term on the City Council. And he says BERDO 2.0 is his most significant effort, positioning Boston to be among the first cities in the country to limit emissions by large buildings.
Greg Vasil, head of the Greater Boston Real Estate Board, said it could be difficult, however, for some industries to cut carbon emissions to zero. He said many factors, such as government policy and the state of clean energy, could dictate whether it's  feasible.
"A lot of it is going to depend on what we do nationally," Vasil said. "So if we phase out fossil fuels, we've got to have some other alternative that that is at a price point that will allow people to continue to function."
Vasil declined to say whether his group would oppose BERDO 2.0. But he said officials should wait until the city has a permanent mayor before implementing such a big change.
Still, O'Malley argues reducing energy consumption will benefit building owners as much as it does the planet.
"I'm confident that I'll be able to make the case why this is not only good for the environment — and good for a harbor city like Boston —but it's good for their bottom line," O'Malley said.
Advocates say the carbon neutral requirement would apply to just 4% of Boston's buildings. But those structures account for roughly 60% of the city's building emissions.
To highlight the urgency of curbing those emissions, O'Malley cited the findings of the Climate Ready Boston report. The study found found sea levels could rise several feet by the end of the century, but significantly less if emissions are brought to zero.
John Cleveland, executive director of the Boston Green Ribbon Commission, which authored the Climate Ready Boston report, said BERDO 2.0 puts the city on a path to mitigate the damage of climate change.
"This covers 30% of the city's total greenhouse gas emissions," Cleveland said. "So it's very significant and there really is no way the city could achieve its 'carbon neutrality by 2050' target without something like this in place."
The next step, Cleveland says, is for the state to lay out its plan for capping greenhouse gas emissions.
O'Malley said he hopes the city council will approve BERDO 2.0 by the fall. The measure already appears to have broad support from a number of other city councilors.