Live Theater Returns With A Bang And A Big Heart In Gloucester Stage's 'Tiny Beautiful Things'
Beneath the shade of a cluster of trees at the Windhover Center for the Performing Arts in Rockport, Celeste Oliva responds to beckoning chimes coming from her computer. She reluctantly answers yes to an email asking her to take over an advice column under the moniker Sugar amid writing a book and raising children with her artist husband in Gloucester Stage Company's "Tiny Beautiful Things."
Dear Sugar fans know the woman is Cheryl Strayed, whose columns are the basis of Nia Vardalos' ("My Big Fat Wedding") heart-wrenching tale. The show (through June 27) signals the long-awaited return to live theater as Gloucester Stage moves its season to Windhover.
For a little over an hour, audiences get pulled into the lives of the letter writers whose inquiries explore life's complexities. They want to know how to face their bosses, overcome significant loss, and even forgive. When the more distressing notes from advice seekers are shared, the crowd's respectful hush nods to how some universal truths — death, birth, grief, infidelity, uncertainty and more — color our lives and how we all collectively hold space for it. No matter how dark things become, "Tiny Beautiful Things" reminds us of the sliver of light piercing through.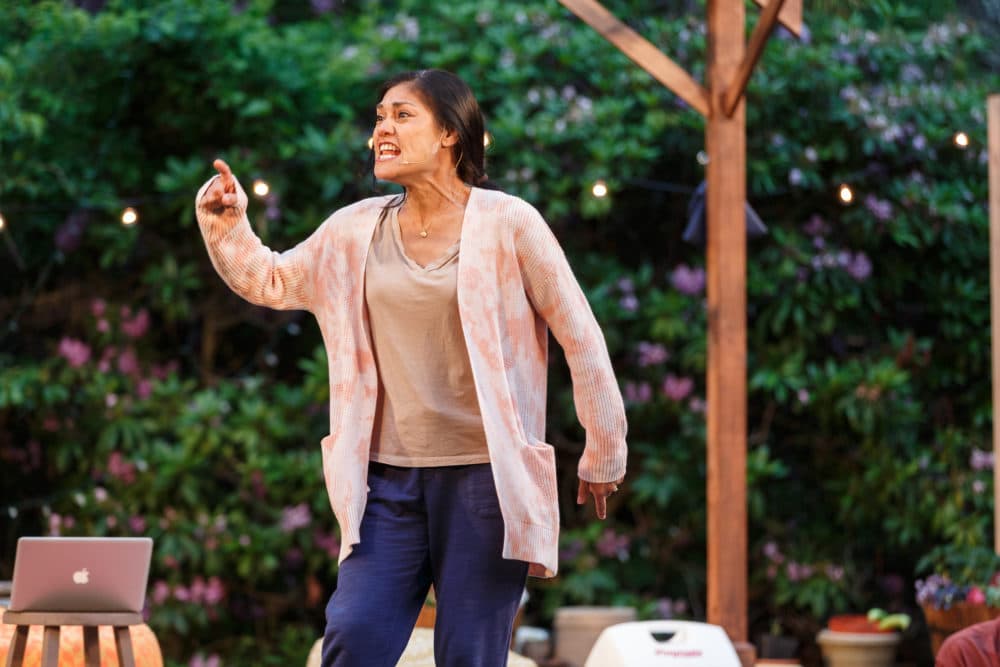 Oliva is one of Boston's most celebrated actors, and she shows why here. Under Lyndsay Allyn Cox's imaginative direction, Oliva uses the whole stage — a brown pagoda-like roofless structure with three areas — and gesticulates with the excitement Strayed must have embodied once she's figured out how to help.
She tells one love-anxious person to be "brave enough to break your own heart." She encourages the writer, in this case, actor Adrian Peguero, to tackle love fearlessly after sharing that love was the last word her mother said to her before dying alone in a hospital room.
Peguero, along with Kelly Chick and the always-riveting Nael Nacer, each portray multiple letter writers whose empathetic connection to the characters and to at least this audience member perfectly illustrates what live theater has that virtual theater doesn't: the ability to command an undistracted, connected crowd.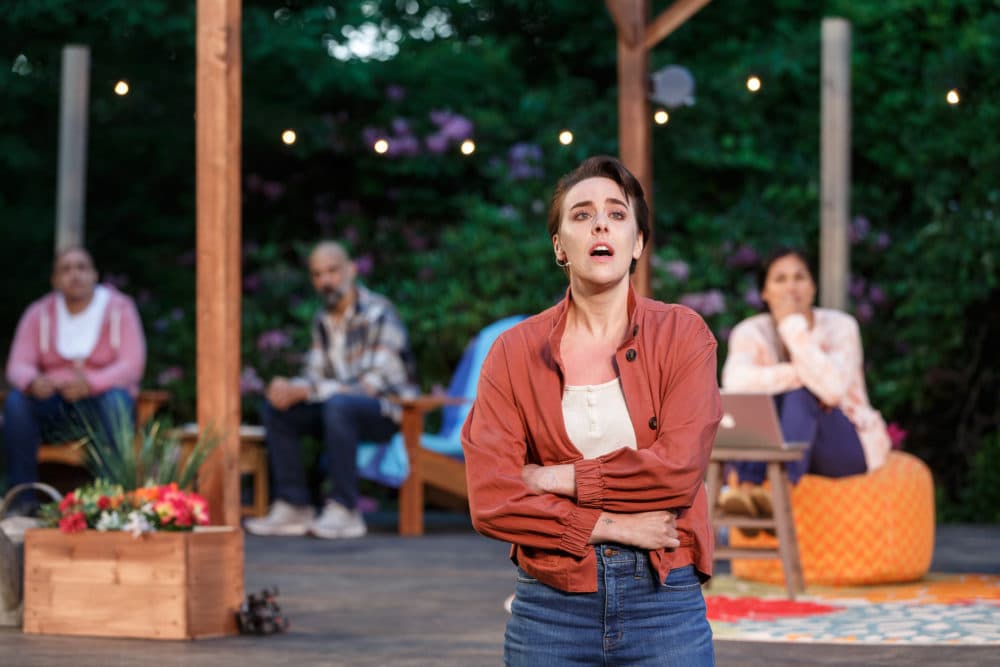 The compelling stories of loss are indelible. One woman who signed her letter "Stuck" (Chick) miscarried at six and a half months pregnant. She lost her daughter, whom she had already named. In her mind, she chanted the word "daughter, daughter, daughter" repeatedly. The baby's absence numbed her. Sugar pushes her to connect with other parents who lost their children. She also talks about a time when she worked with at-risk girls with challenging lives. A mentally ill mom, alcoholism and incarcerated parents were just some of the girls' issues. But she couldn't keep those things from happening to the teens, so she told them, "This will not stop. This will go on. So, you have to find within yourself a place to not only escape...but to transcend it," she says. "You have to do more than hold on. You have to reach."
She tells the woman, "You have to reach for your desire to heal. True healing is a fierce place. It's a giant place. It's a place of monstrous beauty and glimmering light, and you have to work really hard to get there."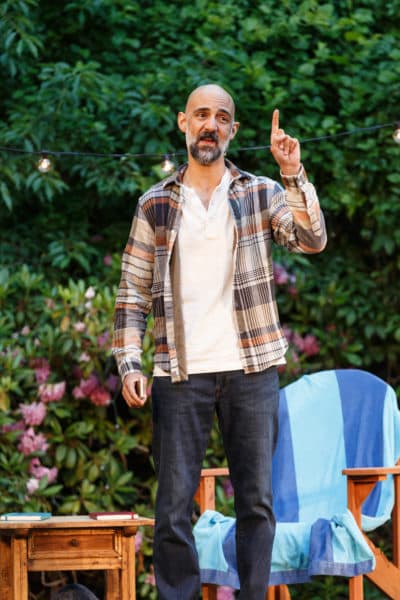 Later, Nacer shares in a message that a drunk driver killed his 22-year-old son four years earlier. He's so full of sadness and wrath he fears he's lost his humanity. Sometimes the sting is so great he just lays in bed and wails. Gratefully, not everything is heavy. There's a man, for example, whose girlfriend is turned on by Santa Claus.
The transparency of Strayed, who's written several books and hosted the WBUR podcast Dear Sugars with Steve Almond, makes it easier for readers and listeners to share their problems and forgive themselves.
Throughout the story, more of Sugar's — or Strayed's — life leaks out. Surely the cloak of anonymity provided her the freedom to tell her life's excruciating truths and brazenly shout about even the minutest joys without judgment. But during the performance, she points out that being Sugar allows readers to listen to her advice without preconceived notions about gender, education and other details. Either way, we learn of her bout with heroin, sexual abuse and leaving a husband that she says was close to perfect.
What I remember most, though, out of everything that she and the readers of the column shared, is the story of a car accident Strayed was in. She describes with spellbinding eloquence the eerie silence before impact. Years ago, I was in a multi-car pileup and experienced that same quiet acceptance that I might die. At that moment, I could clearly see everything precious about living and all the hurt and trauma I should let go of but didn't know how to.
As I listened to the rage, anguish, death and more from the play, I was reminded by Strayed that all our experiences teach us something. The pain, once labored over, can be let go of, and the flames of anger once nursed can be put out.
She tells the grieving father to create something for his son and make it beautiful. Perhaps we can all heed her advice and make something out of life's lessons, even if it's tiny and beautiful just for ourselves.
---
"Tiny Beautiful Things" runs through June 27 outdoors at Windhover Center for the Performing Arts in Rockport.