In 'Alice In Rainbowland,' LGBTQIA+ Artists Send A Message With Movement
Dance is the place where art and body intersect. It is pure expression: a release of energy and emotion, and a form of communication that transcends language. In Ana Masacote's "Alice in Rainbowland," a virtual performance premiering through the American Repertory Theater's Virtually OBERON series on June 10 and available on-demand through the end of the month, dance is the medium by which the classic story of a girl tumbling through a rabbit hole is transformed into a space that holds and celebrates queer joy, pain and pride.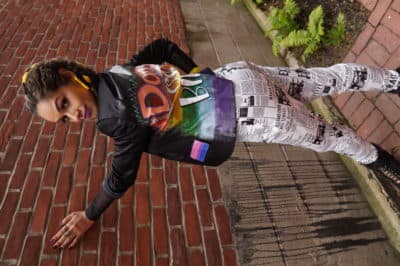 "What I really love, in terms of dance encompassing a social space, is that it really connects us with our bodies," Masacote says. "We all move in the world in our own way. Being able to help people understand a conversation in a place that we are all able to connect with has a much different effect than just having a one-to-one, talkative conversation."
An award-winning Afro-Latin dance specialist and advocate for LGBTQIA+ acceptance in the dance world and beyond, Masacote created a dance project called Queer Bodies in Motion that aims to build awareness about discrimination faced by the community while uplifting and celebrating LGBTQIA+ identity. "Alice in Rainbowland" is the project's debut artistic work, a twist on the original story that sees the White Rabbit (played by Masacote) leading Alice into an underground world of rainbows and ballrooms — places where queer culture is born.
Devised over the course of six months, Masacote describes the formation of "Alice
in Rainbowland" as a collaborative effort from top to bottom, involving artists and creatives from Massachusetts, New York and Rhode Island. Together, the artists use movement to explore topics of gender identity and expression through vogue, hip-hop, Afro-Latin dance and drag. As Alice travels through Rainbowland, she stumbles upon scenes where its inhabitants demonstrate that whoever you are or whoever you love, you are always worthy of respect and acceptance. The show is specifically geared toward families.
"We talk about how dance is not binary, and the way that the intersection of mindfulness and dance intersects with mindfulness and life," Masacote says. "There's a big conversation on what does the binary mean, and how does the way that we experience our world also intersect with the way that it affects the queer community?"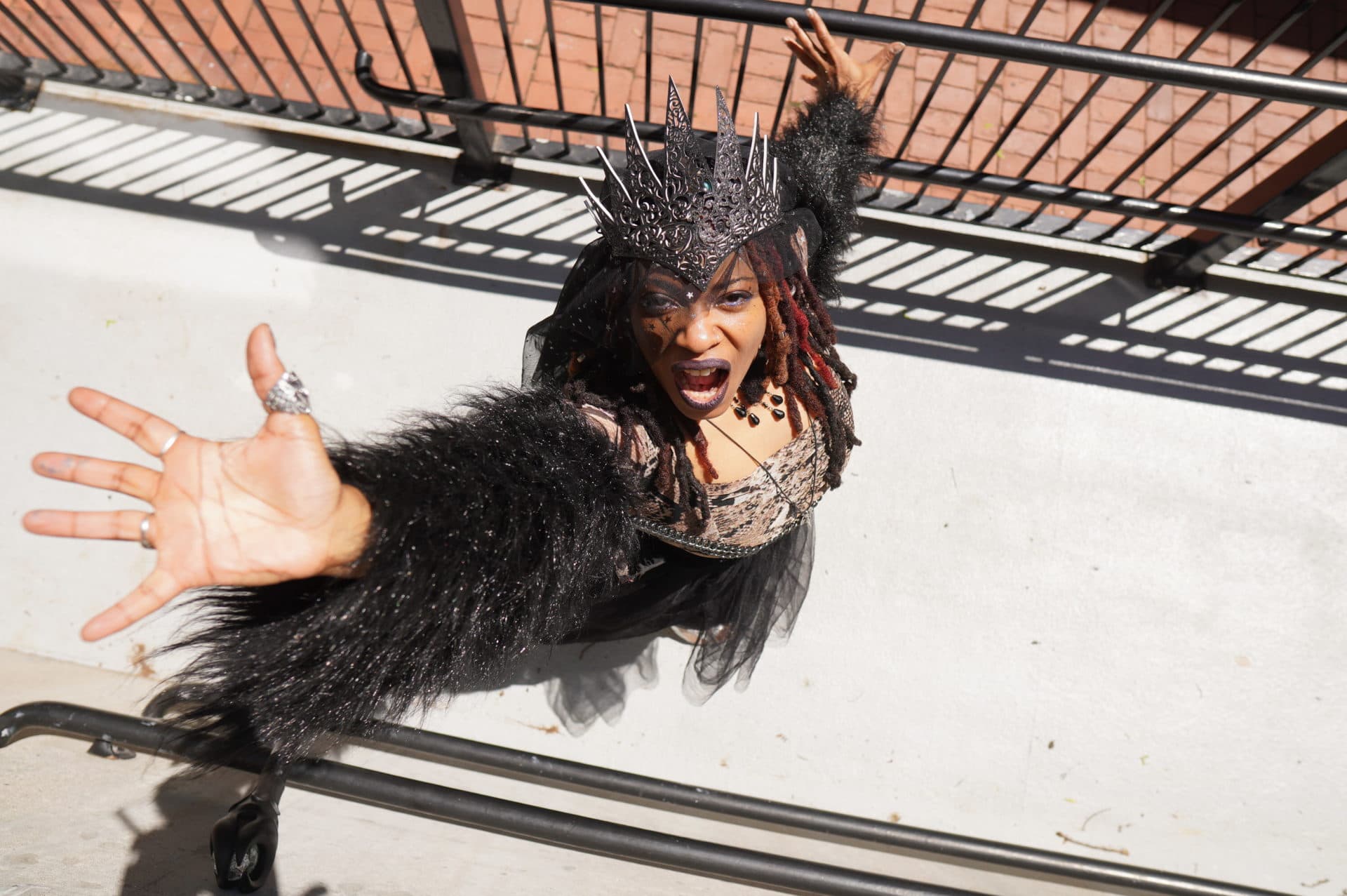 Local icons from across disciplines fill the performance's bill, from ballroom fixture Yyoyo Escada of the Iconic House of Escada, to vogue historian and trans activist Lilly Rose Valore, to award-winning drag artist and content creator Just JP, and many more. Each artist brings their own imprint to the performance, breathing new life into familiar characters with their unique lived experiences and mediums of expression.
One such example is JP's lip sync performance to Colette's "A Mi Manera" in glittering, rhinestone-studded drag as White Flower, who encourages a lost Alice to keep going, and to move through life on her own terms.
"That song has so much meaning to me, it's a song that I've been performing since I was 9, hidden away in my bedroom. So it's great, those times in which I can bring the favorite things of drag, and my activism, and they can, like, merge together," says JP. "My character is a plant, right? And plants are not known for being dancers or moving around. But I know that I didn't need to move around the stage to be able to fill it, and to be able to bring those more subtle movements; we have dozens of muscles in our faces. That's why 'face' is a category in and of itself, you know, in ballroom."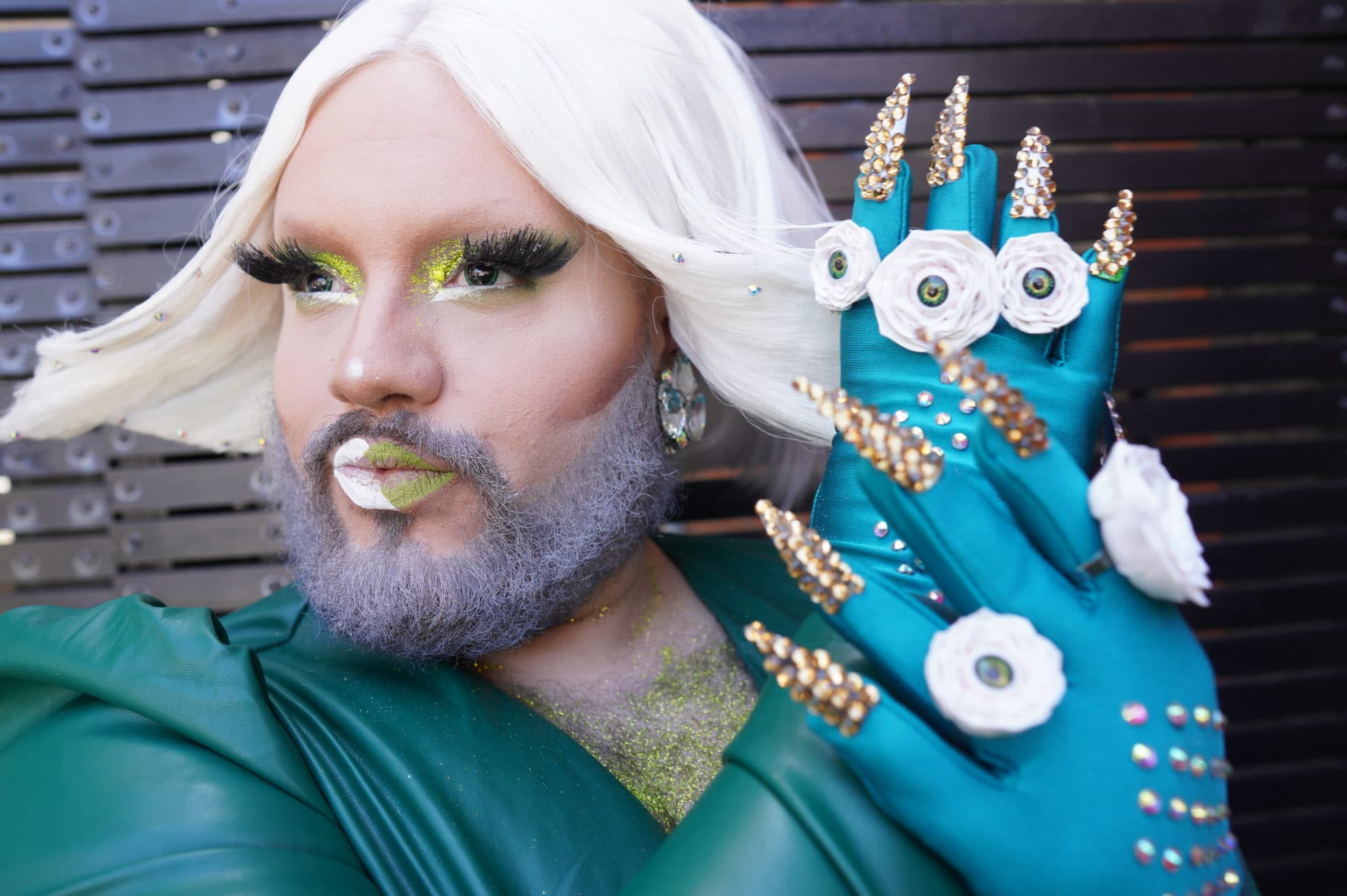 The core concept for "Alice in Rainbowland," Masacote explains, originated from a conversation between Masacote and Valore that blossomed into a fully-realized performance.
"When Ana [Masacote] asked me to play Alice, I was a little scared and shook, because I've never done lines. I never was an actress and more of a dancer," says Valore, who portrays the titular heroine. It was her idea of a dance centered around Alice that inspired Masacote to bring the idea further. "To see it turn into this wider production was an amazing moment for me because it pushed my artistry. The crew and everybody else in the community reminded me that we're doing this together. It's not just you doing this activism. You can breathe, live in the role, and have a good time."
What began as the plan for an in-person variety show needed to be reworked to be completely virtual due to the arrival of the coronavirus pandemic. But the challenge soon became a blessing, as the creative team realized that working remotely made it possible to collaborate with artists regardless of their physical location, and that creating a filmed performance instead of a live one allowed for fantastic visuals that might not have been possible to recreate onstage. Beyond production capabilities, Masacote is also grateful for the increased accessibility to the program that a virtual presentation provides.
"When you have an in-person performance, you're limited to the amount of ticket sales that you can have and the bodies that you can get into the room. When you do something virtual, you can get people from around the world to tune in," Masacote says. "That's such a unique opportunity to be able to spread such a worldwide message into different parts of communities."
A virtual performance also makes queer nightlife accessible to folks who have historically been excluded by physical spaces that weren't designed with a diversity of experiences in mind.
"Doing something virtual means that folks who are homebound, folks who can't go out because of curfews, folks who can't go out because of cost [can attend]," says JP. "It opens up the possibility of entertainment."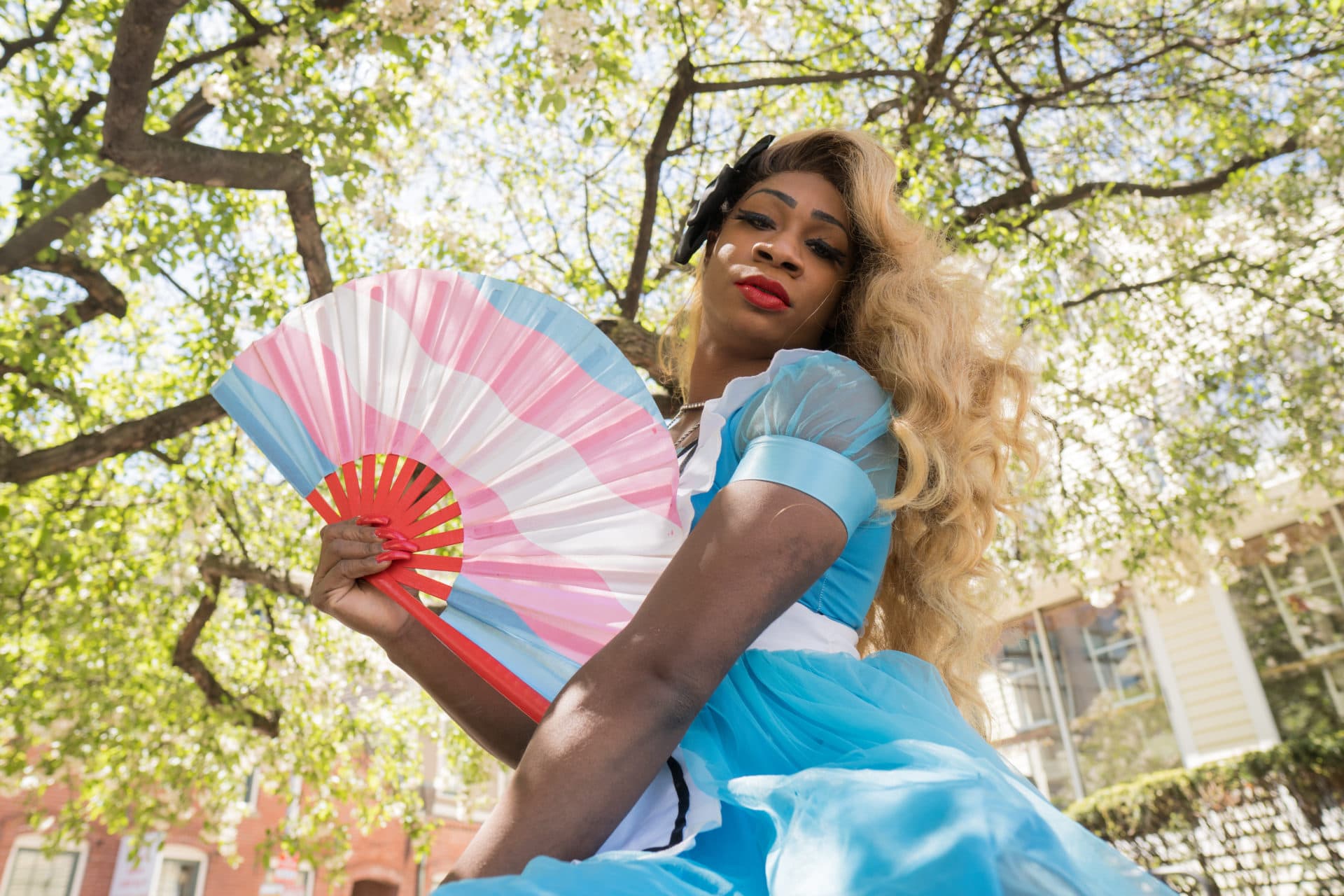 Making "Alice in Rainbowland" accessible to as many people as possible is vitally important, as the show is dedicated specifically to LGBTQIA+ youth. Positive representation is necessary at a time when youth are witnessing more anti-trans bills becoming law in 2021 than in the previous 10 years combined. Meanwhile, 2021 is on track to surpass 2020's record of anti-trans fatal violence. And while vaccination numbers continue to rise, the ongoing pandemic has severely limited many folks' capacity to access queer community in physical spaces; to have that ability to be seen fully, and to be embraced in the unconditional love of a community.
"I really appreciate the fact that it's age-appropriate and that it'll reach youth, because I've been really pushing for normalizing queerness in younger spaces," says Valore. "I think people have misconceptions. Parents only base things off of what they see at Pride. Personally, I think at Pride everyone should be free to do what they want, it's a good thing. But, you know, this is in the form of a children's book, and I think it's okay to let the kids see that."
This passion for reaching vulnerable youth and carving out space for unity rallied the creative team, Masacote shares.
"I think so many of the people that were involved in the project were also involved, not just because they wanted to create art, or they believed in this, but they also believed in the message and in the work that we're trying to bring forward — the change of perspective that we're trying to build in the community," she says.
While "Alice in Rainbowland" carries a message of resilience and a call to action to bear witness to one another and, in Masacote's words, invite more love into our lives, the performers are also excited to foster another important facet of celebrating Pride: fun!
"Do a watch party. Have your bubble come over, you know, do a potluck!" says JP. "Just to have fun, because we also created this with a lot of love. It has a message, a very important message, but it is also very good, high quality entertainment."
---
A.R.T.'s "Alice in Rainbowland" premieres on June 10 at 7:30 p.m. and will be available on-demand until June 30. Tickets are pay-what-you-can and are available now.