Boston Foundation Names Newest Live Arts Boston Grantees, Most Diverse Cohort Yet
Musical works inspired by disability identity created by artist Adrian Anantawan, and a contemporary, evening-length circus show by Circus 617 are some of the projects that will come to life this year through 2021 Live Arts Boston (LAB) grants.
The grants are funded by the Boston Foundation in partnership with the Barr Foundation. (The ARTery is supported by a grant from the Barr Foundation.) LAB has hit new records this year, setting a strong tone for racial equity. While LAB has had a longstanding commitment to supporting diversity, 82% of the grantees are people of color (POC) or POC-led organizations.
Out of 308 applicants, there are 65 grantees, reflecting the program's biggest slate ever. Finally, LAB is sharing $975,000 in grants, representing their largest outlay ever.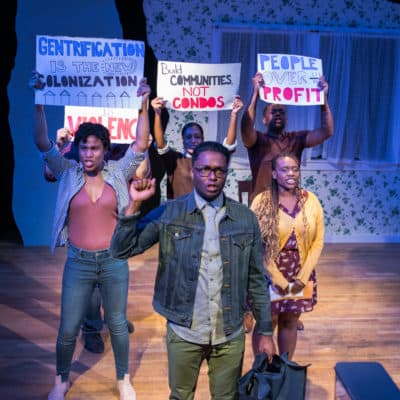 "The program has come to be seen as a place where BIPOC artists, who are too often shut out of mainstream philanthropy, can meaningfully share their ideas and receive support," said Eva Rosenberg, interim director of arts and culture at the Boston Foundation. "That has resulted in BIPOC applicants continuing to share their ideas with us, to be considered in the process, and rise to the top of the pool."
This deeply held commitment to uplifting artists of color shapes different aspects of the program, such as who is on the review panel and who the program partners with. "There is a special timeliness this year, but I want to make clear that LAB has had this priority prior to and will have after the current overdue moment of racial reckoning," Rosenberg said.
Many of the projects that were chosen are interdisciplinary and "take risks," said Rosenberg. The Naked Empire Bouffon Company will put together a satirical, anti-colonial comedy about the diasporic Puerto Rican experience. Artist Todd Dahn will create an urban musical, telling the story of how women of color have been impacted by the founding and growth of America. Jha D. Williams will produce a series of spoken word poetry flash mob events, hitting locations throughout Boston, that honor the experiences of BIPOC and LGBTQ communities.
"We need a critical mass of artistic experiences to process what we've gone through, to facilitate difficult conversations, to start to heal, to come together. I think there's urgency around how do we support these artists who make our community vibrant and more equitable, but also, how do we support the creation of new work that can help us make meaning of the world as it is now?" Rosenberg added.
"Artists are the people who dream up what we don't have or what we're not in yet. We need that so much right now."

Eva Rosenberg
LAB put several changes in place this year. In the past, $15,000 has represented the maximum amount of funding a grantee can be awarded; but in 2021, LAB will award that maximum value of $15,000 to every grantee selected, "to robustly support their projects." The requirement to include a proposed budget as part of the application process has been removed, as LAB acknowledges that it may be difficult to envision a budget with the amount of uncertainty artists are currently facing. The program will also reallocate a portion of the 2021 fund to provide $2,500 grants to each 2020 LAB grantee. In addition, they are providing 6-month extensions to 2020 grantees on an opt-in basis. Finally, LAB will be working in partnership with local arts service organization, Dunamis, which supports emerging artists of color.
The pandemic has impacted the way that artists create work, said Rosenberg, as she said she has observed some make "intensely personal" pieces about mental health challenges brought about by the virus. Others have developed work that reflects racial inequity, social response, and ongoing struggles with injustice. Some have not been able to create for a variety of reasons: perhaps they typically work collaboratively and have not been able to be in the same space as others, or perhaps isolation has been difficult.
"Artists are imagining the future for us," said Rosenberg. "Artists are the people who dream up what we don't have or what we're not in yet. We need that so much right now. It's about seeding and resourcing these brilliant geniuses that have creative imaginations, that are going to help us move forward and help us belong and feel together. In a time of necessary but painful reckoning around race and racism, artists are going to be critical interpreters of where we are and where we might go."
Here are the 2021 Live Arts Boston grantees:
AATAB x CHUANG Stage x Pao Arts Center | Theater
Abria Smith | Spoken Word
Adrian Anantawan | Music
ANSON RAP$ | Music
Anthony Paul De Ritis; Lillian-Yvonne Bertram | Music
Artists' Theater of Boston | Theater
Balla Kouyate | Traditional and Folk Performing Arts
beheard.world | Dance
Billy Dean Thomas | Music
Bordes/Borders/Bordes/Dancemakers from Boston and Puerto Rico Collaboration |Dance
Boston Dance Theater / Jessie Jeanne Stinnett | Dance
Burcu Güleç | Music
Cakeswagg | Music
Circus 617 | Circus Arts
Claudia Medina | Music
David McMullin | Music
DoYeon Kim | Performance Art
Dzidzor | Spoken Word
Elae Weekes | Music
Fabiola Méndez| Music
Faye Dupras | Theater
Forbes Graham | Music
Genie Santiago| Music
Guerilla Opera | Opera/Musical Theater
Guy Mendilow & Regie Gibson: Radio Play(s) Series | Spoken Word
Jacques Schwarz-Bart | Music
Hyphae:Emily Beattie, U-Meleni Mhabla-Adebo, and Rosa Weinberg | Dance
Ilya Vidrin and Company| Dance
Jackie O'Riley & Rebecca McGowan| Traditional and Folk Performing Arts
Jean Appolon Expressions (JAE)| Dance
Jha D Williams | Spoken Word
Jonathan Bailey Holland | Music
Jose Soto | Music
KAIROS Dance Theater | Performance Art
Kim McLarin | Theater
Laura Sánchez García | Dance
Little Uprisings & The Gottabees | Theater
Mariona Lloreta | Dance
Medusa Reclaimed | Theater
Micah/They Watch You Thrive | Performance Art
Mohamed Eltayeb | Music
Muhammad Seven & the Spring | Music
Naseem Alatrash Music
Nathaniel Justiniano / Naked Empire Bouffon Company | Theater
New Gallery Concert Series | Music
Nolan Tesis Performance | Art
Octavia Bryant Music
Omar Najmi Opera/Musical | Theater
Palaver Strings Inc. | Music
Pedro Reina-Pérez | Performance Art
Peter DiMuro/Public Displays of Motion | Performance Art
Phoebe Potts Spoken Word
ReachYou : Katrina + Jonah Goldsaito | Performance Art
Reynaliz Herrera | Music
Smirna Ortiz | Music
Soyoung L Kim | Music
TC Squared Theatre Company | Theater
Theatre of Eternal Values | Theater
Todd Dahn | Music
Transient Canvas | Music
Triy | Music
Victoria L. Awkward, VLA DANCE | Dance
VILLADA | Performance Art
White Snake Projects | Opera/Musical Theater
Zayra Ocasio | Music