3 Environmental Activists Arrested After Occupying Waltham Energy Company Offices Overnight
After more than 24 hours of occupying the Waltham offices of Canadian energy giant Enbridge, three environmental activists were arrested Wednesday afternoon by Waltham police.
"We are here because the Line 3 [pipline in Minnesota] needs to be stopped," protester Samie Hayward said to officers shortly before being taken into custody. "And we are here in solidarity with [those fighting] the Weymouth Compressor."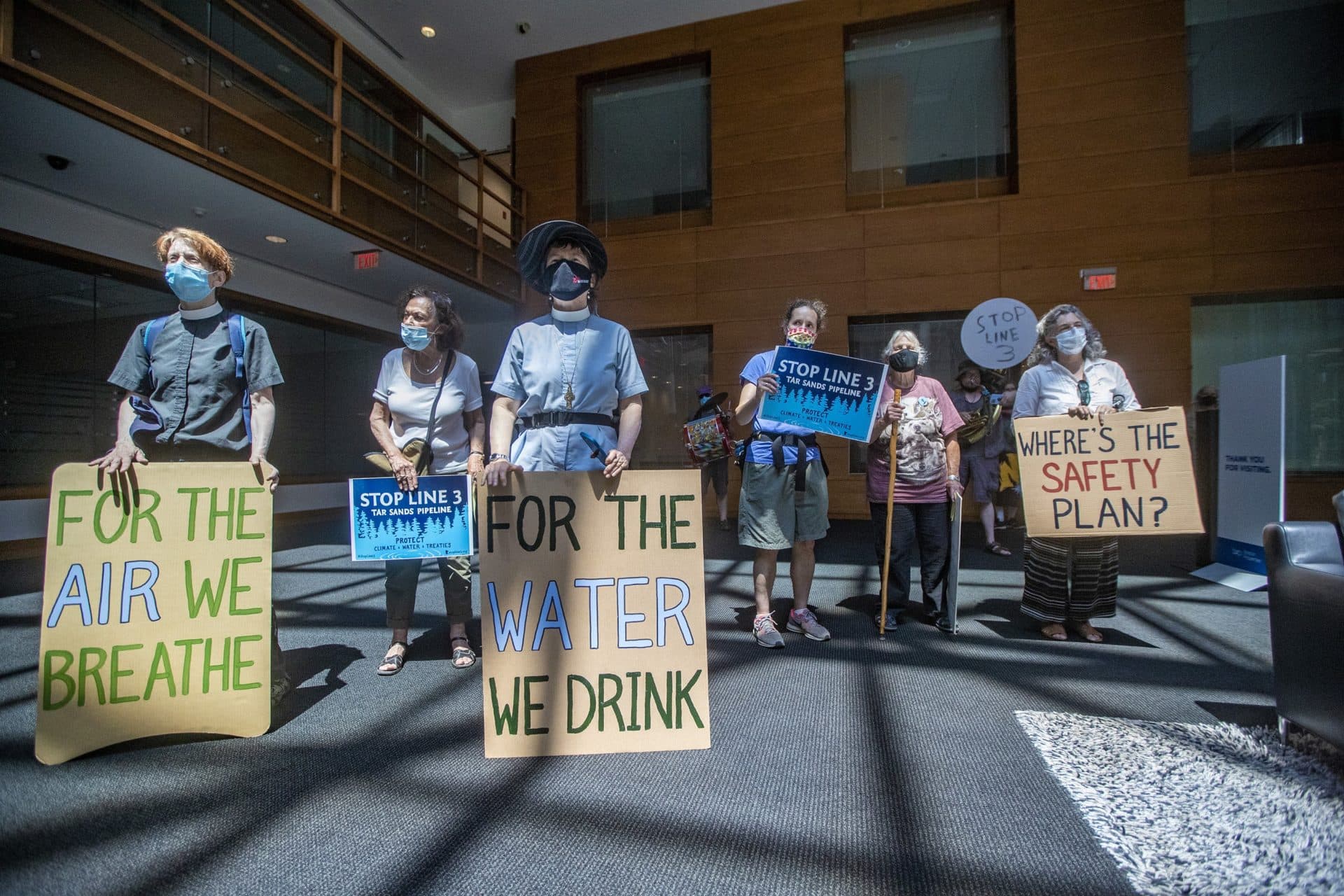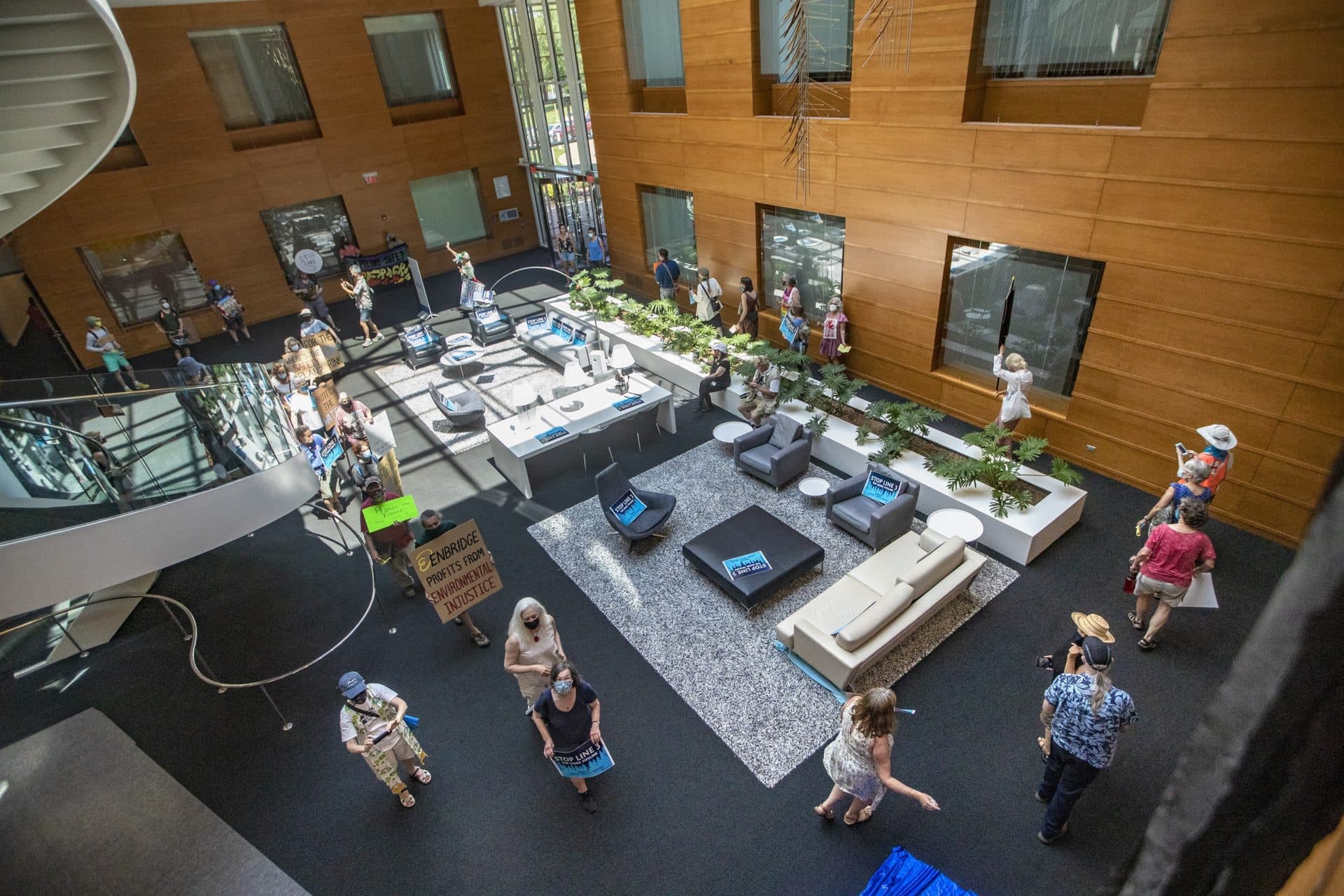 The protest began at around 11:30 a.m. Tuesday when more than 60 activists walked into the office building that houses Enbridge's Northeast U.S. headquarters. Some played musical instruments while others sang or chanted slogans like "we are the protectors." Many held signs that read "Stop Enbridge. Stop Line 3" and "Enbridge Profits from Environmental Injustice."
The protestors, who said they were affiliated with the local activist group Fore River Residents Against the Compressor Station (FRRACS) and standing in solidarity with the Indigenous-led Giniw Collective in Minnesota, accused Enbridge of "committing crimes against humanity" and perpetrating climate change by constructing and operating controversial fossil fuel projects like the Weymouth Compressor and the Line 3 oil pipeline.
"I'm really alarmed about climate change and how poorly as a society we are dealing with it, and I'm here because there are companies like Enbridge that have been given social license to continue doing what they're doing," said one of the protesters, Jeff Gang.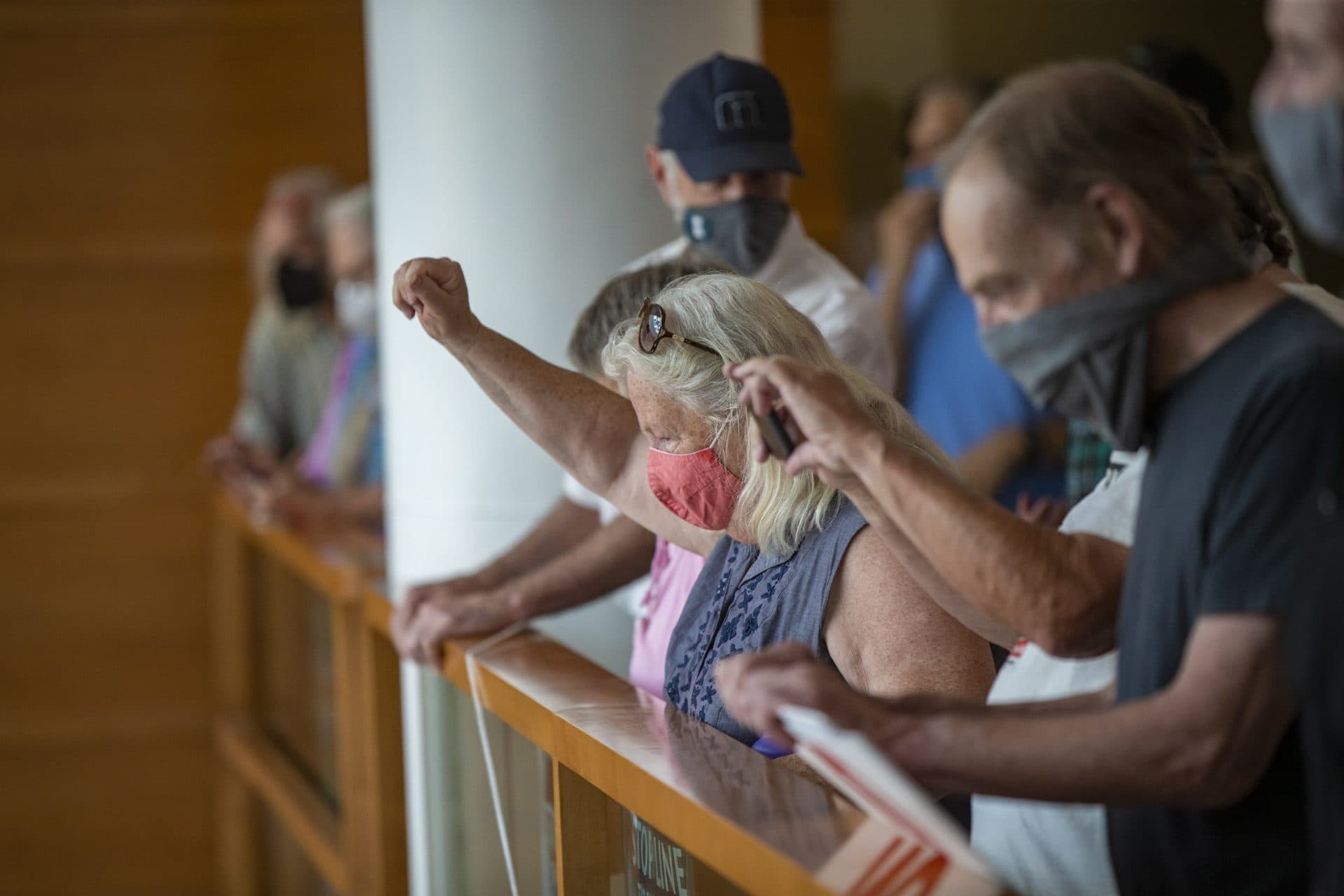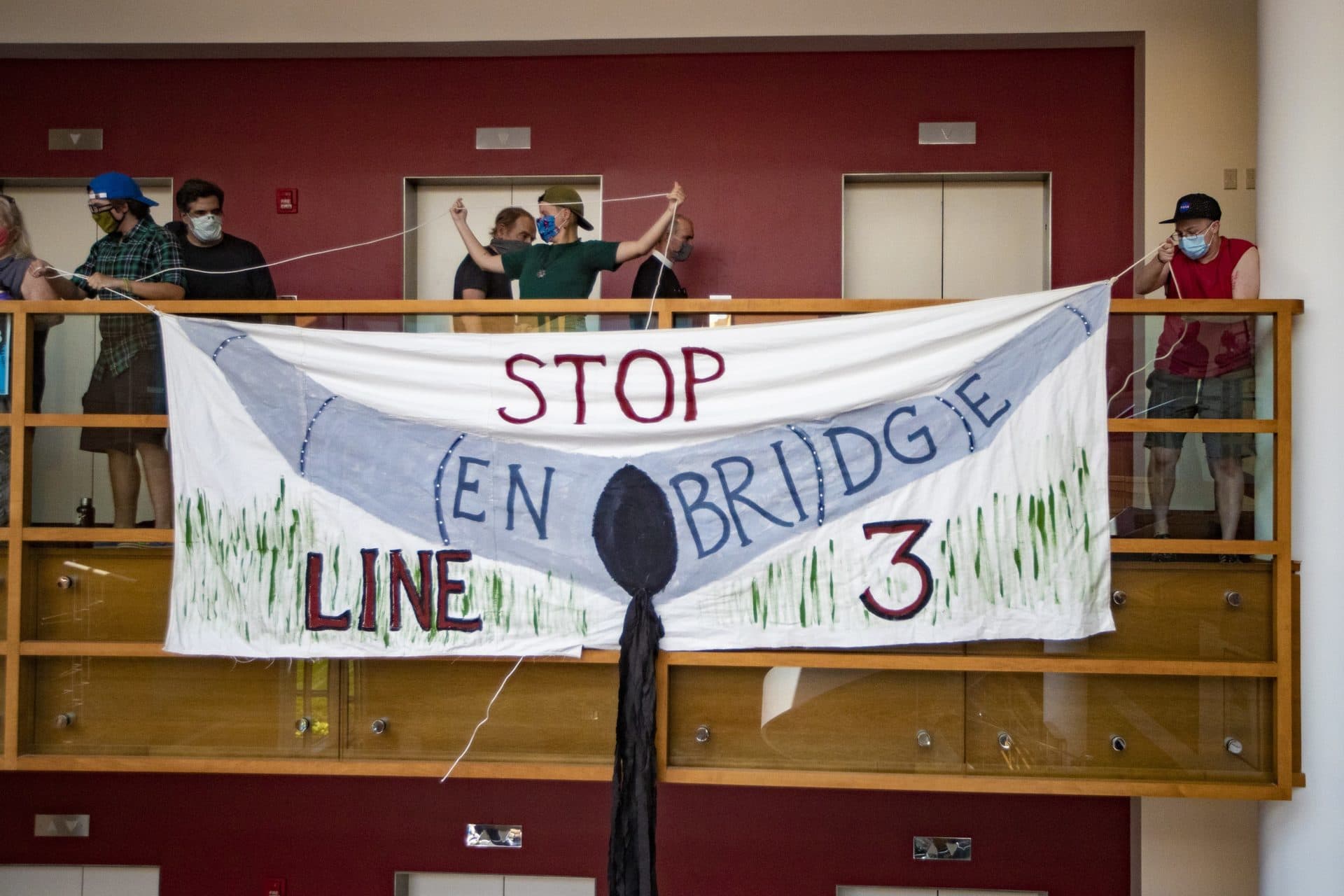 "They've built this compressor in Weymouth, which is dangerous and a disaster for the climate, as well as being deeply unjust for the people who live around it. And now they're trying to build the pipeline, Line 3, cutting through historically Indigenous lands and continuing the circle of genocide that's been perpetrated on Indigenous people."
After approximately 20 minutes of chanting and singing in the office Tuesday, Waltham police arrived on the scene and told the protesters they were trespassing. Most of the activists left the building, but several stayed — and 13 spent the night.
Equipped with a list of demands, they repeatedly told officers that they wouldn't leave until those demands were met. At one point, protester Wen Stephenson picked up a bullhorn and read the list out loud:
In an email, Enbridge spokesman Max Bergeron wrote: "As a company, we recognize the rights of individuals and groups to express their views legally and peacefully. We don't tolerate illegal activities of any kind including trespassing, vandalism, or other mischief."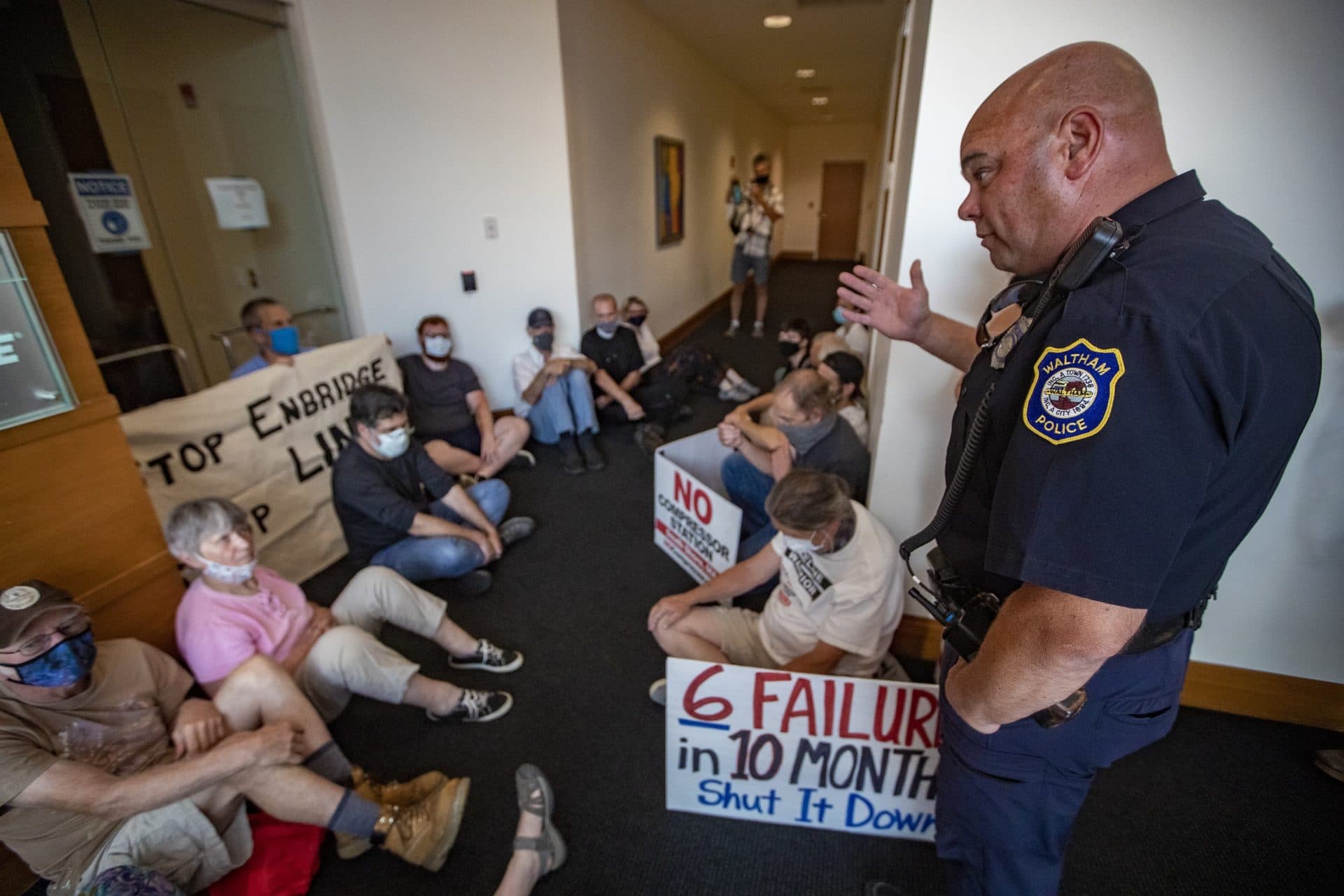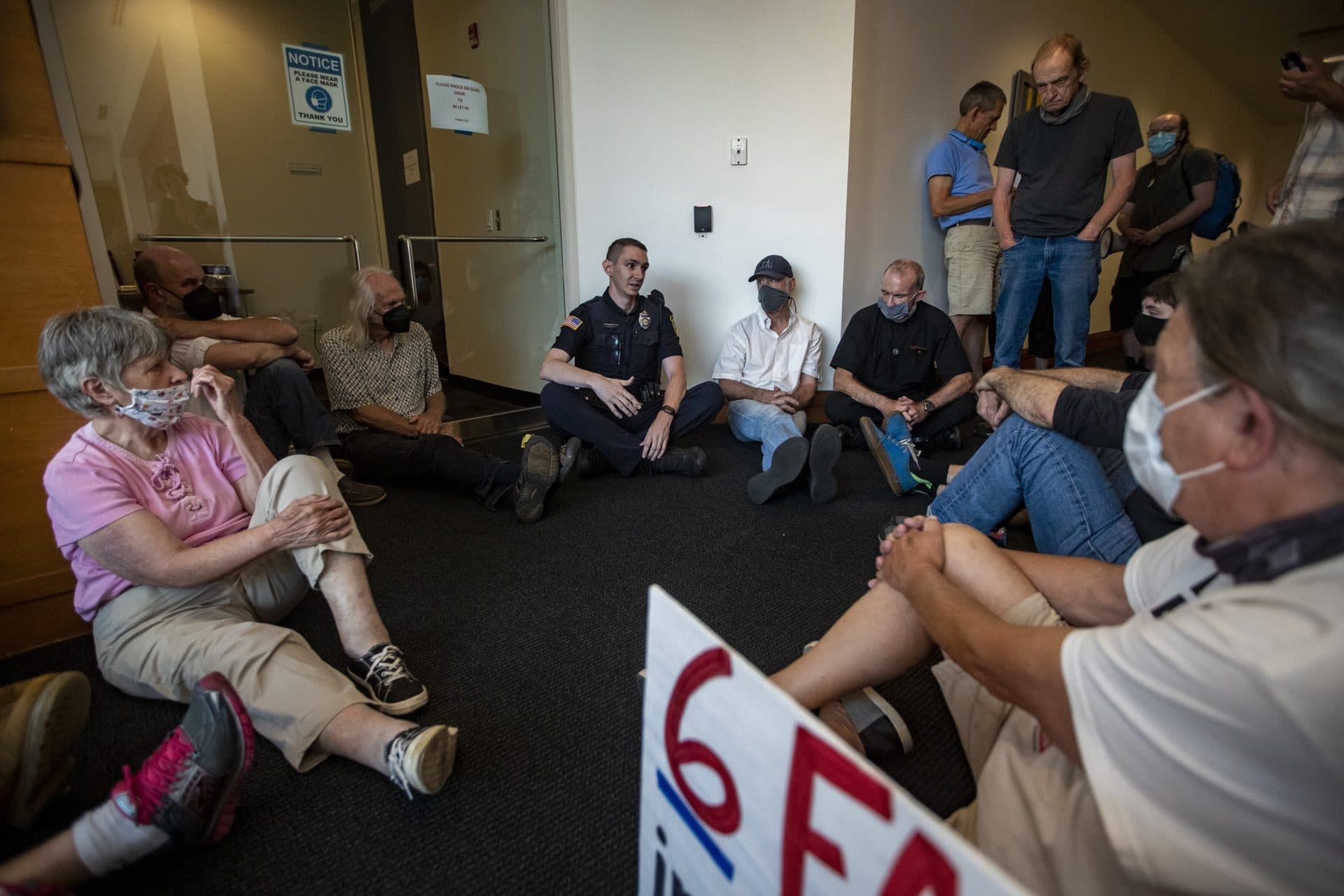 Upon hitting the 24-hour mark, all but three protesters left the building. Alex Chambers, one of those who stayed, explained his actions this way:
"We are here because we are in the midst of a climate and ecological emergency, and Enbridge is creating new fossil fuel infrastructure. And they're doing it by taking out a hazard on Indigenous peoples in Minnesota; they're taking out a hazard on local people in Weymouth ... We are here to stop the machine."
According to activists stationed outside the front of the building, the three were taken out of a back entrance and placed into police cars.
Det. Sgt. Timothy King of the Waltham Police Department confirmed the arrests of three people: Nathan Phillips of Auburndale, Alexander Chambers of Boylston and Samantha Hayward of Castleton, VT. The three were each charged with one count of trespassing.
Correction: An earlier version of this story misstated the number people who occupied Enbridge's office overnight. The post has been updated. We regret the error.
This article was originally published on June 30, 2021.