After Surviving Stabbing, Brighton Rabbi Says We Need To 'Increase Goodness'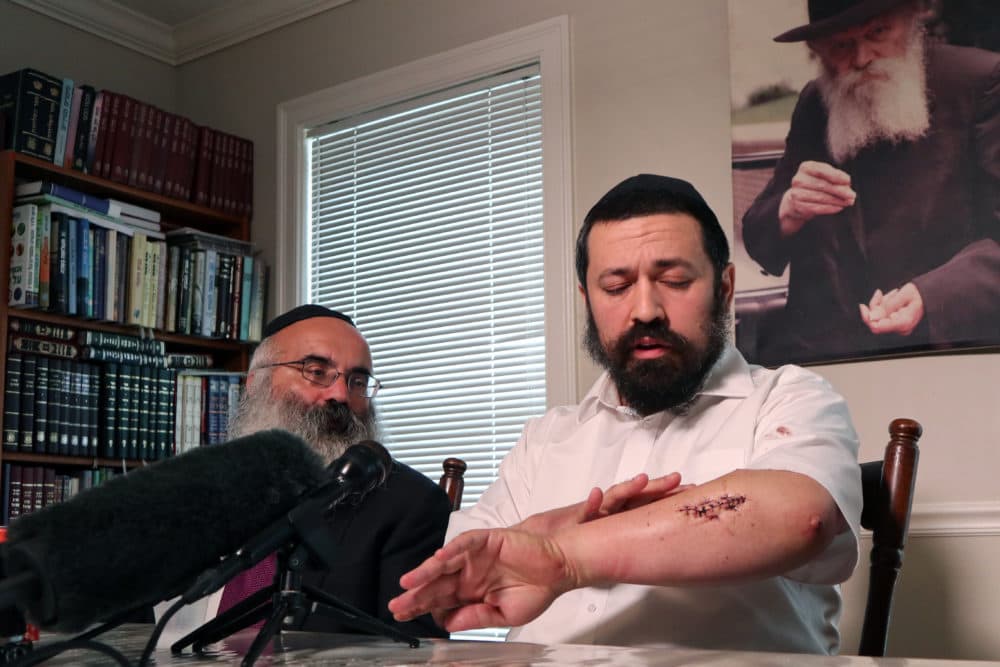 This article is more than 1 year old.
Seated at a table in the living room of his Brighton home Sunday, Rabbi Shlomo Noginski opened up about the harrowing experience he had survived just three days earlier.
On Thursday afternoon, Noginski, 41, said he was in front of Shaloh House, the Jewish day school where he teaches, also in Brighton, when a man came up to him, threatened him with a gun, and walked Noginski over to his own van, which was nearby.
Noginski said he opened the van and offered the man the keys, but instead, the man tried to force him inside. In that moment, he said he believed the man did not just want to steal his car, but also wanted to kill him.
With a visible, stitched up gash on his left forearm and a spot of blood seeping through his white shirt sleeve over his bicep, Noginski told a group of reporters on Sunday that he began to run in a bid to move the danger away from the school. As he spoke in Hebrew and Russian, the executive director of Shaloh House, Rabbi Dan Rodkin, helped translate.
The assailant chased him with a knife, Noginski said, a struggle ensued, and he was stabbed eight times.
"Every person in this world has a mission, and that morning, it was my mission to be there and protect children," he said. "It's what God wanted for me."
After being treated for his wounds, he says he pushed doctors to allow him to leave on Friday so that he could be at home for Shabbat.
Boston police later arrested a 24-year-old from Brighton, Khaled Awad, in connection with the incident. Awad was arraigned the following day on charges of assault and battery by means of a dangerous weapon and assault and battery on a police officer. He pleaded not guilty. According to The Associated Press, a hearing to determine whether he is a danger is scheduled for July 8. Until then, he is being held without bail.
While there have been reports of rising anti-Semitic incidents around the country, Noginski said that he is not afraid that what happened to him will become a common occurrence. "Boston is a wonderful community. And in Brighton, we have a good relationship with all our neighbors," said Noginski, who moved to the city a couple of years ago from Israel.
Nevertheless, Rodkin said the school plans to work with local law enforcement on a strategy to increase security around the school. In the past, he said, Shaloh House has received federal funds for security measures such as security cameras, and bullet-proof windows and doors.
At a community vigil on Friday, County District Attorney Rachel Rollins said her office has opened a civil rights investigation to look into whether the attack should be considered a hate crime.
Although he is just starting to mend physically, he said that his soul is intact. Asked how he is talking to his 12 children about the attack, he said that he is urging them not to be afraid and to show their pride in being Jewish, for instance, by continuing to wear their kippahs, or head coverings.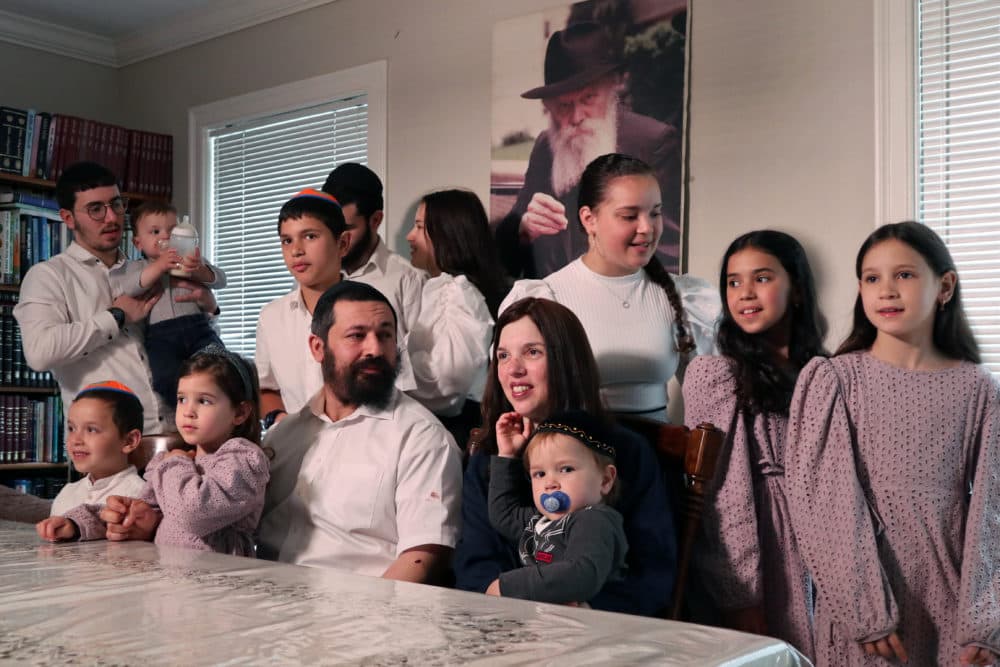 "Unfortunately there's evil in the world," he said. But throughout history, when Jewish people have faced struggle, they always came out stronger. "When we see evil, the best way is to increase goodness."
On that score, Noginski plans to create a class at Shaloh House that will ordain at least eight new rabbis — one for each of the knife wounds he suffered in the attack.