Rhode Island Approves Supervised Drug Consumption Centers
Play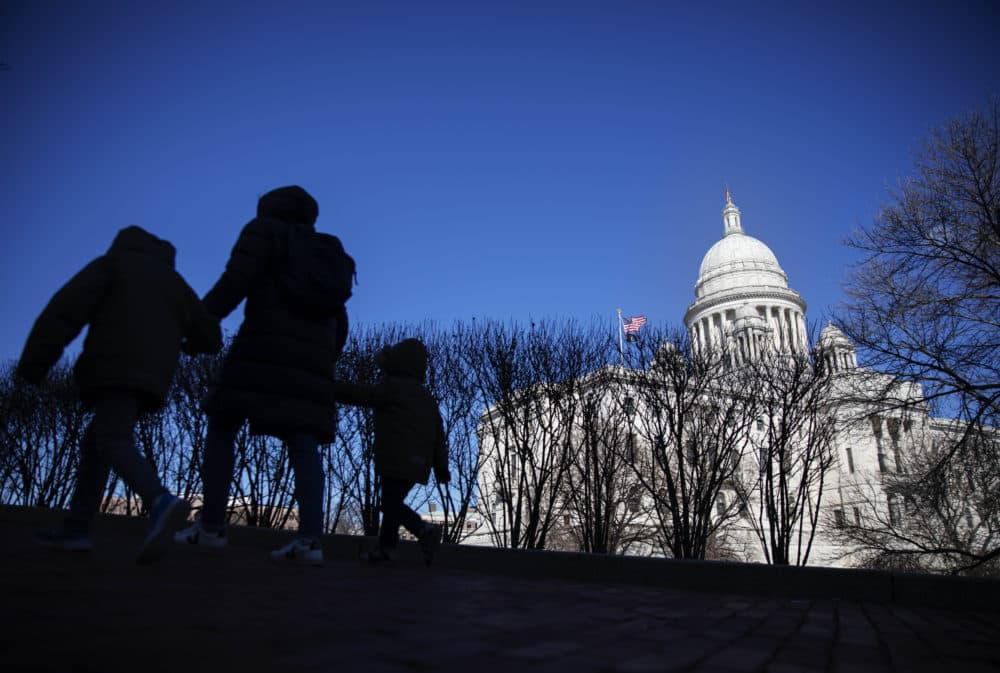 This article is more than 1 year old.
An idea that would have once been unthinkable in the Rhode Island General Assembly found broad support in the final week of the legislative session: giving users a safe, supervised place to take their drugs.
For years, this concept crashed into the get-tough rhetoric of the war on drugs. But the toll of the opioid epidemic — which legislators say claimed almost 400 lives in Rhode Island last year — has sparked a reassessment. In making their case, some lawmakers cite how their own friends and relatives have died from overdoses.
State Rep. Justine Caldwell (D-East Greenwich), for example. She said her 23-year-old cousin overdosed while on Block Island in 2017, leaving a cascade of emotional pain for two roommates who did not initially realize that he had ODed.
"And his family, who is torn apart, and his sister, who's getting married this summer and he will not be at her wedding," Caldwell said, during a more than hour-long floor debate. "So this is a bill that is going to protect Rhode Island families and is a big step in our substance abuse crisis prevention."
The conventional argument against supervised drug-consumption centers is that they send a government-sanctioned message in support of shooting up. Rep. Arthur Corvese (D-North Providence) is among those troubled by the concept.
"We set rules, regulations, laws and parameters for our people to conduct themselves, to comport themselves," Corvese said. "But yet we will say, you want to chase the dragon or shoot up, here's the place to do it. We're going to protect you, we'll have health people there for you and we're going to pay for it."
Rep. John Edwards (D-Tiverton), the House sponsor of the bill, countered.
"This bill will keep people alive," he said. "That's the end result — people, who otherwise will die alone somewhere in our state, will remain alive."
Edwards said ignoring drug addiction adds to the body count, and that it's better to give users a safe, supervised place to shoot up. Supporters say these sanctioned centers have made a positive difference in Canada and almost a dozen other countries.
On the House floor last week, Edwards said he expects Rhode Island to become home to one or possibly two consumption centers. He said the funding will come from such non-governmental sources as foundations. Users would be greeted by health professionals when they bring their drugs to a harm reduction center.
"They would be screened when they go in," Edwards said. "They talk to them. If they want, they could have their drugs tested, tested for quantity of fentanyl — it's in everything. And then they could go to a place in the facility, they can consume their drugs or however they use them, and they're monitored. They stay there until they can get up and walk out on their own."
Legislation to create supervised drug-consumption centers was first introduced a few years ago by state Sen. Josh Miller (D-Cranston).
This time around, the House and Senate overwhelmingly approved bills to create a two-year pilot program, and it is now law. Before a consumption center could move ahead in a particular community, it would require approval from the local city or town council.
In a letter expressing support in February, Providence Mayor Jorge Elorza pledged to work with the state Department of Health to implement the plan.
But Rep. Anastasia Williams (D-Providence) said it would be better to open a drug-consumption center in a suburb, where it would show that drug abuse is not just an urban issue.
"When it's in the urban cores, it's 'crackheads and junkies,' " she said, "but as soon as the white population started dying more frequently, it became an opioid pandemic and solutions started being thought about like this one. But when people of color were in need of these same services, mum's the word, honey."
A federal appeals court earlier this year blocked a municipal drug-consumption center proposal in Philadelphia.
Legislative sponsors of the supervised consumption center say they're confident it will move ahead, due in part to the evolution of federal drug policy and how Rhode Island is covered by a different appellate court.
There was no immediate comment from the U.S. attorney's office about McKee's signing of the legislation for the drug consumption center pilot program.
Asked where Attorney General Peter Neronha, a former U.S. attorney stands on the concept, spokeswoman Kristy dosReis said, "There are substance abuse professionals and advocates who believe this is a concept that has merit. The attorney general is reserving judgement until this pilot program has run its course."
The legislation requires the state Health director and an advisory panel to create regulations by next March for the envisioned one or two consumption centers.
A growing number of cities and states, including California and Somerville, Massachusetts, are pursuing plans for consumption centers.
And the Biden administration is backing the broader concept of harm reduction. The American Rescue Act includes $30 million for evidence-based harm reduction approaches — the first time the federal government has directed money for such a purpose.
This segment aired on July 8, 2021.