A Look At Rise Of The Moors, The Group The Men In The Armed I-95 Standoff Say They Belong To
05:59
Play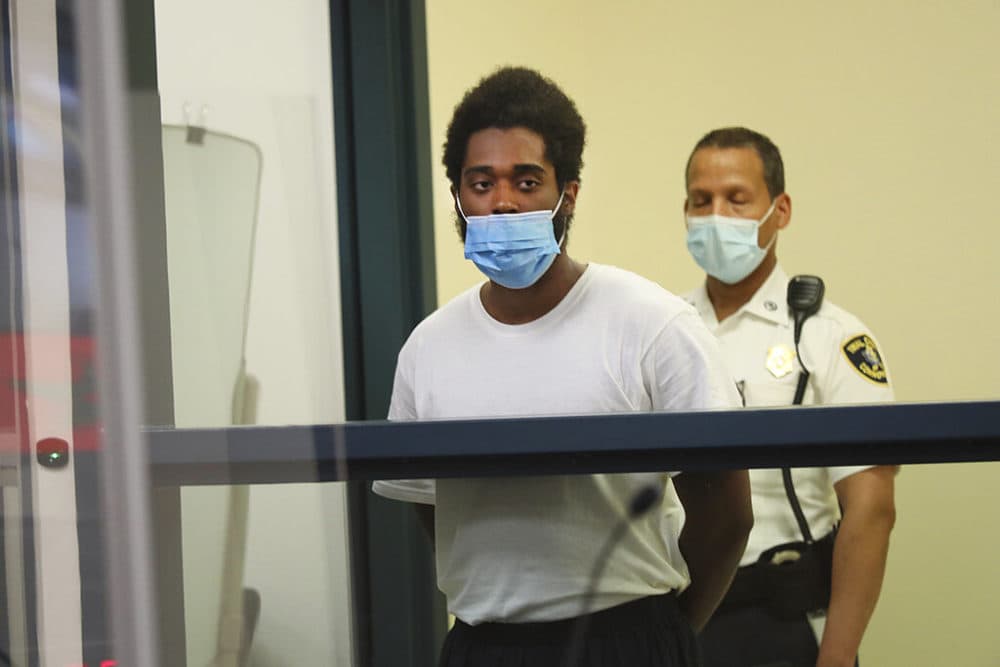 This article is more than 1 year old.
It was chaotic in a Massachusetts courtroom on Tuesday for the arraignment of some of the men involved in last weekend's armed standoff along I-95.
Seven men are being held without bail. Dangerousness hearings are scheduled Friday and two men will be arraigned Wednesday.
Some of the defendants told the judge the court lacks the authority to prosecute them on weapons charge — some refused lawyers, others refused to give their names.
They say they are part of a Rhode Island-based group called Rise of the Moors.
Mark Pitcavage is a senior research fellow at the Anti-Defamation League's Center on Extremism. He says the Moors consider themselves sovereign citizens — who believe they are not U.S. citizens, and not beholden to laws.
"Perhaps the easiest way to think of the sovereign citizen movement is as right-wing anarchists — they seek a nominal government that is, in effect, no government at all, so that nobody or nothing has any authority over them and they could do whatever they want, however they want," Pitcavage said.
Highlights from this interview have been lightly edited for clarity.
Interview Highlights
On whether the behavior of the defendants in this incident is similar to that displayed previously by other members of sovereign citizen groups in court 
[There have been] countless, countless similar incidents. First, sovereign citizens object to being in that courtroom because they believe it's a courtroom belonging to the illegitimate government that has no jurisdiction or authority over them. They believe that they are not citizens of the United States. They are extremely hostile to attorneys, to lawyers, and will typically want to either represent themselves or to have one of their own gurus represent them in court.
On how this compares to other cases involving sovereign citizens
Sovereign citizens typically end up in court. They particularly engage in scams and cons and then crimes of violence that can range up to and including acts of terrorism, although sovereign citizens are actually known for spontaneous or unplanned violence. You know, the incident that these people were arrested for is unusual in that they appear to have been ... traveling to Maine to do some paramilitary training on property. They sovereign citizens movement is not really known as a movement that engages in paramilitary training. And it appears that they knew what the state laws were for transport of firearms in Massachusetts were but still did not want to abide by them. It seems like if they had just simply stowed their weapons away properly, they probably would not have got in any trouble at all.
On whether authorities struck the right balance in this case
I think during the standoff itself, they acted quite appropriately, given how potentially dangerous standoffs involving sovereign citizens can be. I will say, I was surprised after the incident that every single one of them got multiple charges leveled against them — significant, significant charges — more than I actually would have expected from an encounter in which no one actually became violent.
 On whether these groups are a threat 
The sovereign citizens movement has a long-standing association with violence up to and including shootouts, armed standoffs, murders and terrorist plots and attacks. Every year, sovereign citizens kill people in the United States. In many years, at least, one of those first killed will be a police officer. And after an incident in 2010, in which a father and son, sovereign citizen couple, essentially ambushed and killed two police officers in Arkansas, the FBI had elevated them to be a significant domestic terrorism risk. Certainly along with white supremacists and the militia movement, they are one of the major violent extremist threat to the United States faces today.
This article was originally published on July 07, 2021.
This segment aired on July 7, 2021.