John Douglas Thompson Embodies Shakespeare's Complexities For A Post-Pandemic World
The pandemic had really gotten to John Douglas Thompson. He was depressed by the pandemic for many of the reasons that everyone else was, particularly those in the performing arts. Pre-pandemic, he had played Kent to great acclaim in New York in the Glenda Jackson-led production of "King Lear." He had gone head to head with Kate Winslet, his alpha dog one-upping hers, as the police chief in HBO's acclaimed miniseries "Mare of Easttown."
And now, living alone in his Brooklyn apartment, nothing. Except for the variations on a COVID-19 theme that everyone else was going through — Zoom calls, physically-distanced walks with friends, watching the news, including the murder of George Floyd.
Hardly enough for someone who took to the stage at a relatively late age after losing his job as a computer salesman for Unisys in 1986. Theatergoers nationwide should get down on their knees to that computer company. Thompson, now 57, had a life-changing experience seeing August Wilson's "Joe Turner's Come and Gone" (after being stood up on a date). He was so knocked out by Wilson's play that, after losing that job, he decided to go to Trinity Repertory Company (TRC) Drama School in Providence and then do a summer intensive training at Shakespeare & Company — and intensive is the right word for the Lenox company's acting drills. A residence back at TRC later led to the American Repertory Theater, summers back at Shakespeare & Company in Lenox and the country had one of its finest Shakespearean actors around today. Those who've seen him play Othello at any of those three above theaters or witnessed his portrayal of Emile Griffith in the Huntington Theatre Company's "Man in the Ring" are licking their chops to see him as Prospero as Boston theater regains a bit of normalcy with the Commonwealth Shakespeare Company (CSC) returning to Boston Common with "The Tempest" in previews July 21 with an official run July 28-Aug. 8. Performances are free, as always, but advance registration is recommended.
It has been a two-year odyssey for the CSC and JDT. This was supposed to be last year's Boston Common gathering before COVID-19 shut it down, along with just about every other play in the universe. Thompson wasn't only depressed that he hadn't acted in two years, but by what he was seeing during that time, primarily how pandemic problems and systemic racism played into each other.
I mention to Thompson that when I was growing up Prospero was often seen as a Shakespeare stand-in, the great author creating magic on stage as Prospero did on the island where he landed with his daughter Miranda after his kingdom had been usurped by his brother. But long before woke became an adjective, Prospero started to be seen in a less benign light — the European colonizer who enslaved the indigenous inhabitants of the island, Caliban and Ariel. George C. Wolfe directed a terrific post-colonial take with Patrick Stewart as Prospero in 1996.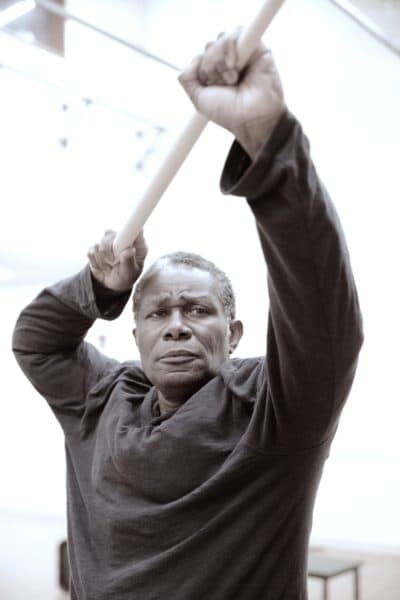 Neither of these is what Thompson has in mind, though both interpretations are in Thompson's consciousness somewhere. Shakespeare, he says, contains multitudes, a la Walt Whitman and Bob Dylan. But Thompson is more centered on the similarities between Prospero's situation and the one that he and so many others found themselves in until recently.
"I look at Prospero as being on that island as his own self-quarantine, and now he's wanting to bring himself back into society. And how is he going to do that? How successful will he be in doing that? And what changes? Where is he at? Where is his state of mind? And will he be able to be a better person coming back? Because I feel as he's been on the island, he's fomented a certain amount of anger and rage and disappointment and his usurpation and the part he played in it and the betrayal by his brother and other people. And so he's been festering with that in his self-isolation, if you will, his forced self-isolation. And now, is he going to bring all that back to a new world? As we are in coming out of COVID...what do we bring back as we move forward in this new world?"
Of course, since Prospero — spoiler alert — ends up rejoining society in a triumphant way and becoming more woke about Ariel and Caliban, that should give this "Tempest" even more of a celebratory sensibility when all is said and done on the Common. Particularly when the comic relief will be handled by CSC favorites John Kuntz and Fred Sullivan Jr., who'll be reuniting with his fellow Trinity alumnus. Thompson, who won an Outstanding Actor Elliot Norton Award, will also be joined by fellow Norton winner Nora Eschenheimer as Miranda.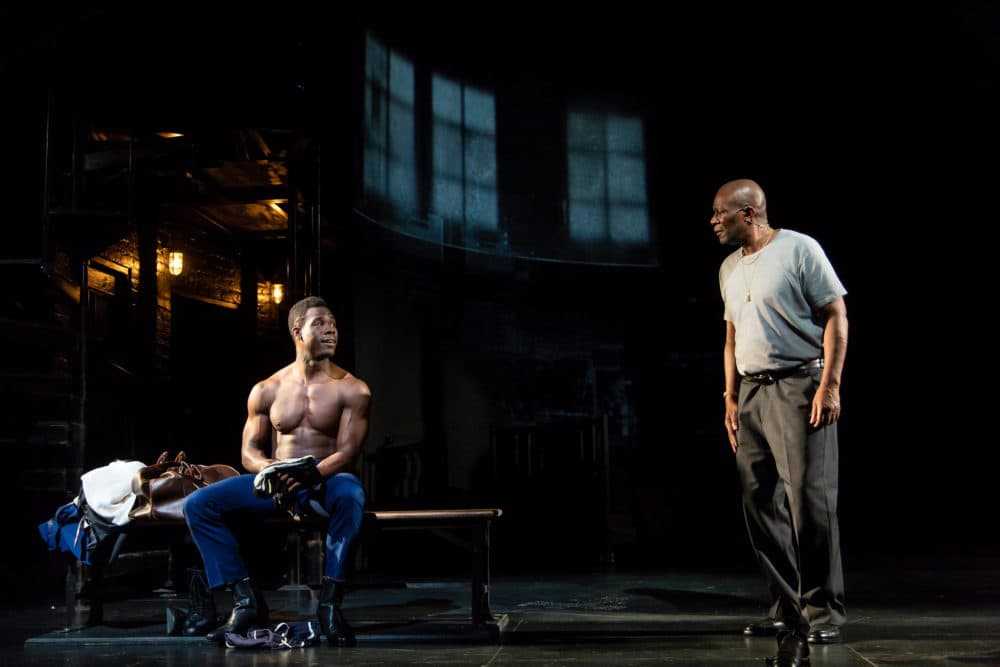 "I saw his first Othello and was in his second," says Sullivan. "Spellbinding. Eventually, he ended up in New York City and the Times was telling us something we already knew: John was a great actor. He is one of the rare breed of actor's actors that cling to the live theater and leave their indelible mark on the stages of the time. He could easily make a lot more money in other mediums, but he is primarily a creature of the stage — leading by example, bringing a profound nobility and excellence to the profession." (Thompson also has two Drama Desk Awards, two Obie Awards, an Outer Critics Circle Award and a Lucille Lortel Award to his name.)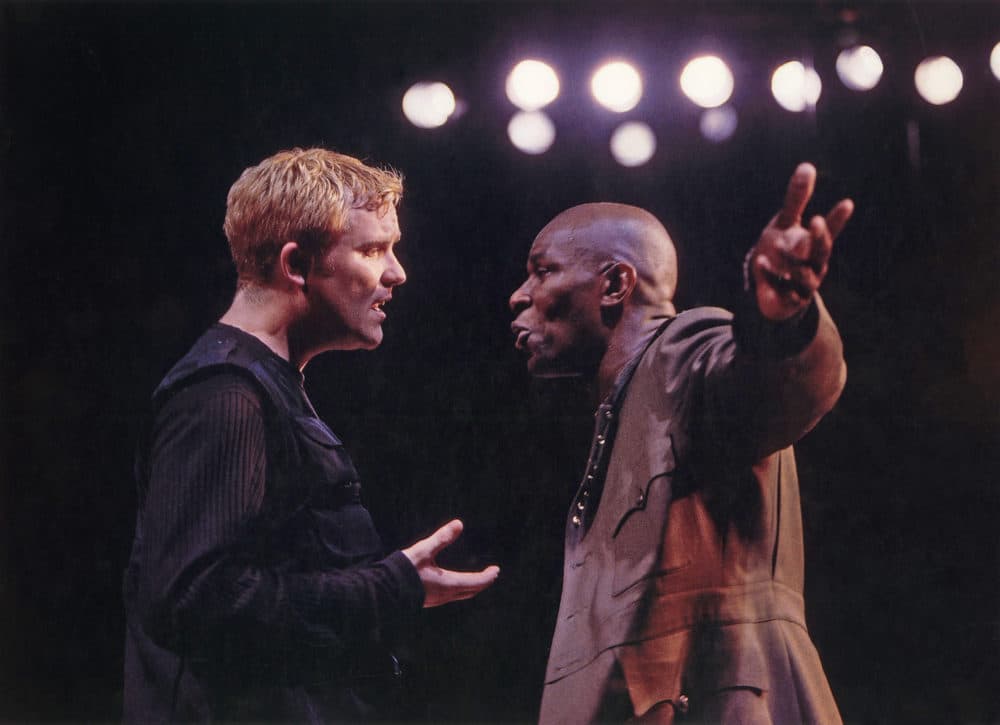 Thompson speaks equally fondly of Sullivan. He also raves about the woman with whom he shared those powerful scenes in "Mare of Easttown," Kate Winslet. He laughs about the confrontations between the two alpha dogs, but when I suggest that she's probably also an alpha dog in real life he says "I wrapped up my last day, a couple of days before Thanksgiving last year. I went over and talked to her and hugged her and I said, 'You're a remarkable person because you care so much. You're so generous and you're kind, you're thoughtful.' And she was and I really meant it because she had enough work to do on her own. But as a producer, she was always trying to make sure people were comfortable, content, happy. So they were in a place to do their best work. And she didn't have to do that. She could have just said you know, 'I'm the lead in this thing. Everybody, you take care of yourself.' I thought it was astounding, given the work she had to do."
Thompson's scenes with Winslet are among the best in the series. His body language alone tells you that Chief Carter has an intriguing back story, even if that story isn't really part of the series. But it's one that Thompson gave a lot of thought to, starting with the fact that he's the only African American in a white, Catholic town. Beyond the politics, Thompson asked himself, "So how do I give a performance that if people pay attention they'll kind of see a back story? …Because you have so few lines to give your back story or allow the audience to know who you are with the exception of your uniform. 'Oh, he's the chief because look at how he's dressed.' If I didn't have that uniform on, you would not know who I was, right? Or what my purpose would be. So that's the other thing in film, because it's a language of images. Theater is a language of words. The way the audiences receive it is very, very different. Because I'm on a television show, you can be silent, be in your costume and the camera's right in on you. And the audience is reading the thoughts of the character. You do that on stage, it's like dead space."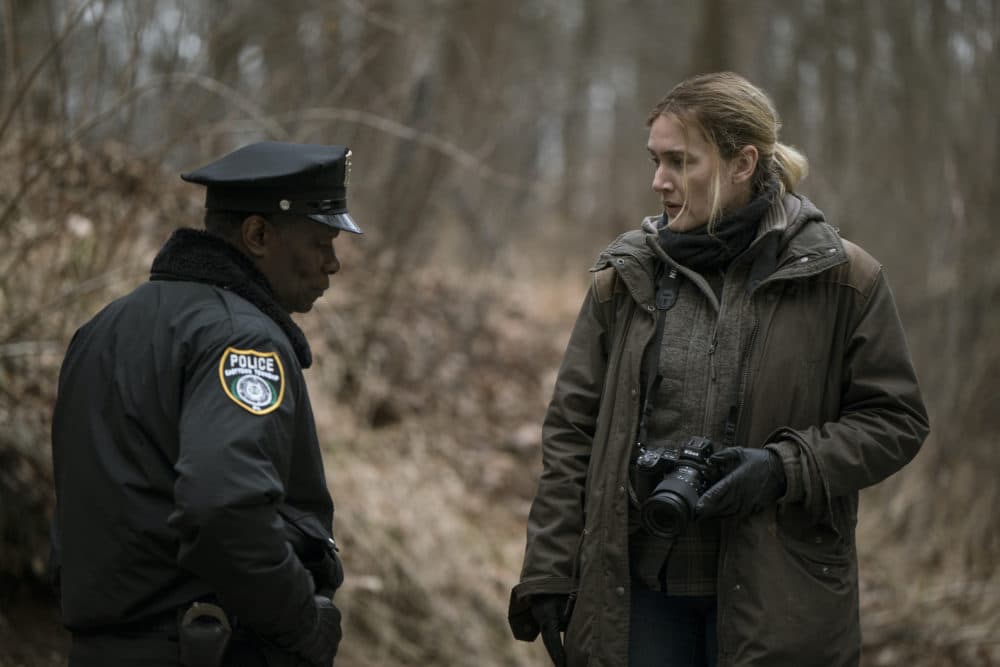 Television and films are definitely part of Thompson's game plan going forward. He'll be playing a Black aristocrat in "Downton Abbey" creator Julian Fellowes' upcoming HBO historical miniseries, "The Gilded Age." And he won't be shy if someone offers him the lead in a good film.
But the stage is where Thompson really comes alive and he wants to do two or three plays a year. Next up for him is Shylock in "The Merchant of Venice" at the Shakespeare Theatre Company in Washington D.C. in March.
What is it like to be playing a Jewish character, one given to caricature in Shakespeare's day? Does agency enter into the equation at all? We talk about how Christopher Plummer, whom Thompson revered in "King Lear," wanted to trade off playing Othello and Iago with James Earl Jones in the '70s, but the feeling was that a white person shouldn't play Othello. Thompson reminds me that he and Jonathan Epstein were going to do something similar at Shakespeare & Company under the legendary company founder Tina Packer's direction about 10 years ago, but the project fell apart for scheduling reasons.
Thompson played Shylock in a student production in Lenox and then joined the main company in Packer's terrific "Merchant of Venice" with Epstein as a thoroughly sympathetic Shylock.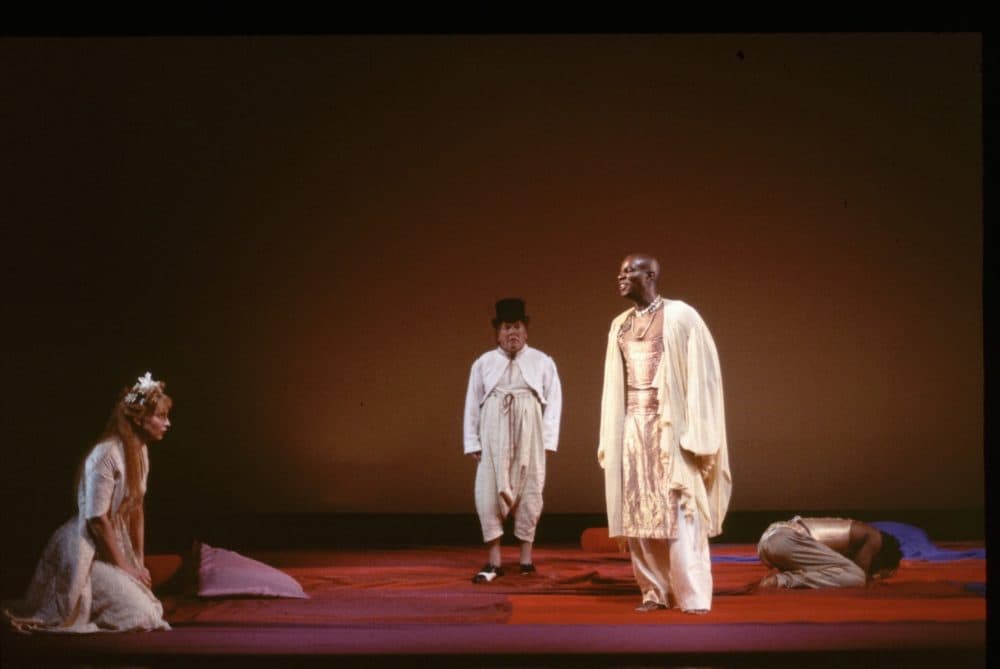 So while Thompson isn't an agency absolutist, he is an activist. "I was thinking, well, what if I went at it as a Black Orthodox Jew who I've seen and certainly heard about. Their numbers are quite small, don't get me wrong. And there is racism within the Jewish context. So that might be an interesting place to start or to study to see if that has any validity. Oftentimes when we think about Shylock, and maybe with a lot of these roles, we just tend to think one way. We tend to center whiteness for these roles, or at least an audience may think that way. Maybe people in the business are expanding that.
"We can have an LGBTQ, we can have an Asian person, we can have Latino, we can we can do whatever we want. And we're liberal people so we will move in that direction. And sometimes the audience that we encounter may not be as liberal. Our job as artists is to help them see it. So that's part of my activism. So me playing Shylock as a Black man is part of me opening up audiences to that idea that there is more than white Jewishness that contains this role. And Shakespeare didn't write it as if, well, it's only a white person who is Jewish can play this role. That's simply not the stipulation. So in that sense, it gives me this opportunity to hopefully bring about that level of activism to the future."
That future seems bright for Thompson and the theater community, locally and nationally, having weathered the blight of the pandemic past. If Thompson's hot streak continues with "The Tempest," "Merchant of Venice" and "The Gilded Age," there'll be even more reason to raise a glass to him — and to Unisys, that computer company that gave us the gift of his acting career.
---
Commonwealth Shakespeare Company's production of "The Tempest" begins July 21, opens officially on July 28 and closes Aug. 8. Performances at the Boston Common Parkman Bandstand are free, but registration is advised.