Mass. In Line For $500 Million In Opioid Settlement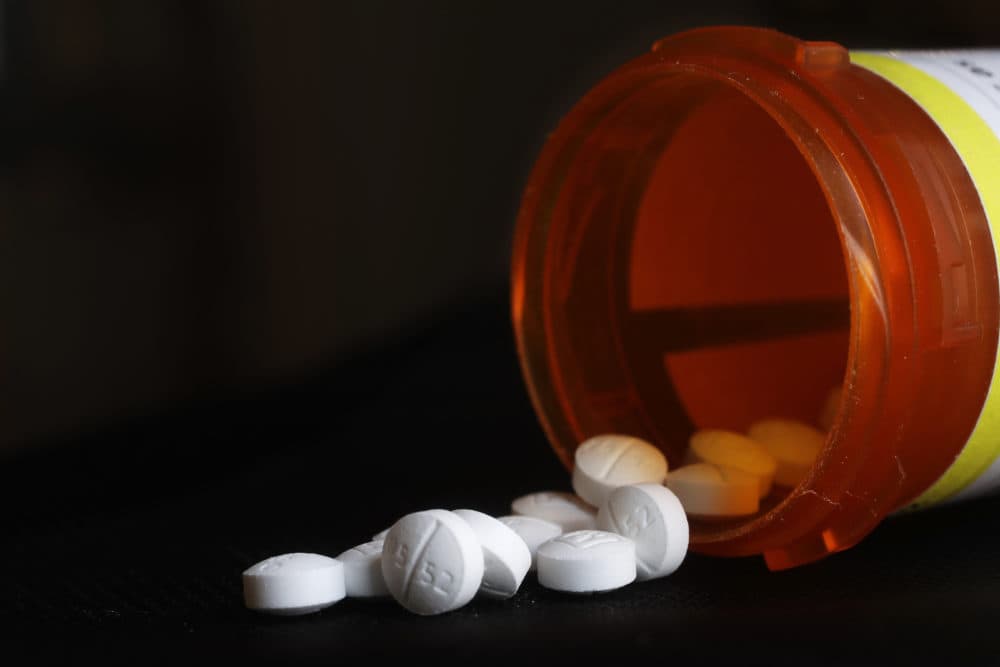 This article is more than 1 year old.
Massachusetts could receive more than $500 million for addiction prevention and treatment from a $26 billion settlement between the states and the nation's largest opioid distributors and a manufacturer.
Three companies — Cardinal, McKesson and AmerisourceBergen — would pay $21 billion in total over 18 years. Johnson & Johnson, the drug manufacturer, would pay as much as $5 billion over nine years.
"I promised the people of Massachusetts that the opioid crisis would be a top priority, that we would hold the bad actors accountable, and that the billion-dollar companies who got rich off the suffering in our communities would pay," said Massachusetts Attorney General Maura Healey, whose office worked on this agreement. "Today's announcement is another step forward in that work."
The money from J&J and the distributors would be in addition to the $90 million Massachusetts expects if an agreement with Purdue Pharma, the makers of Oxycontin, is approved. Massachusetts has already placed $11.5 million into a newly created trust fund, most of which is from McKinsey & Company for its role in marketing Oxycontin.
It's not clear if all of the funds from the deal announced Wednesday would go into the state fund or if some would go directly to the roughly 150 cities and towns that also sued the parties in this case. Some public health advocates worry that cities and towns might use the money for schools, roads or other priorities but attorney Pete Merrigan, who represents 125 of those communities, says he doesn't expect that to happen.
"The goal and the intent is that these dollars will go to abate the opioid crisis," said Merrigan. "Some of the details we're still working through will include how to make sure that happens."
The more than 3.000 parties that sued these four companies will now review the deal and decide whether to sign on.
In Massachusetts, an advisory council has held three meetings to discuss how these hundreds of millions of dollars will be spent. There's a long list of ideas and proposals, including more vans that would bring treatment to drug users, more walk-in clinics, more housing and job training for people finishing treatment programs, more services for children orphaned during the crisis, more multilingual programs run by people of color, better wages for people working in recovery and more addiction prevention education for families and the public.
Dr. Elsie Taveras, an advisory council member, said her initial reaction to this settlement is that there's hope.
"It is the culmination of years of seeing the unbelievable impact that opioid epidemic has had and finally seeing the hope that this money will actually be put toward prevention, treatment and harm reduction," said Taveras, the chief community health equity officer at Mass General Brigham.
---
More from WBUR
---
Taveras and Joanne Peterson, who leads the family support organization Learn to Cope, applauded Healey and her team for their work on this settlement. Peterson said she's not yet hopeful.
" 'Hope' is a tough word for me. I've been doing this for 20 years" said Peterson, who is also an advisory council member. "Nothing will bring family members back. No amount of money is enough."
But Peterson said the money will save lives and help prevent another similar crisis.
"These firms are being hit in the pocket," she said. "If they're paying big money, they'll think twice before doing this again."
Cardinal Health, McKesson and Amerisource Bergen said in a joint statement that they "strongly dispute the allegations in these lawsuits," but expect the settlement will deliver "meaningful relief to communities across the United States."
More residents of Massachusetts died after an overdose last year than in 2016, the prior peak. That includes a 69% increase in deaths among Black men.