Rollins Among 8 U.S. Attorney Picks By Biden
04:20
Play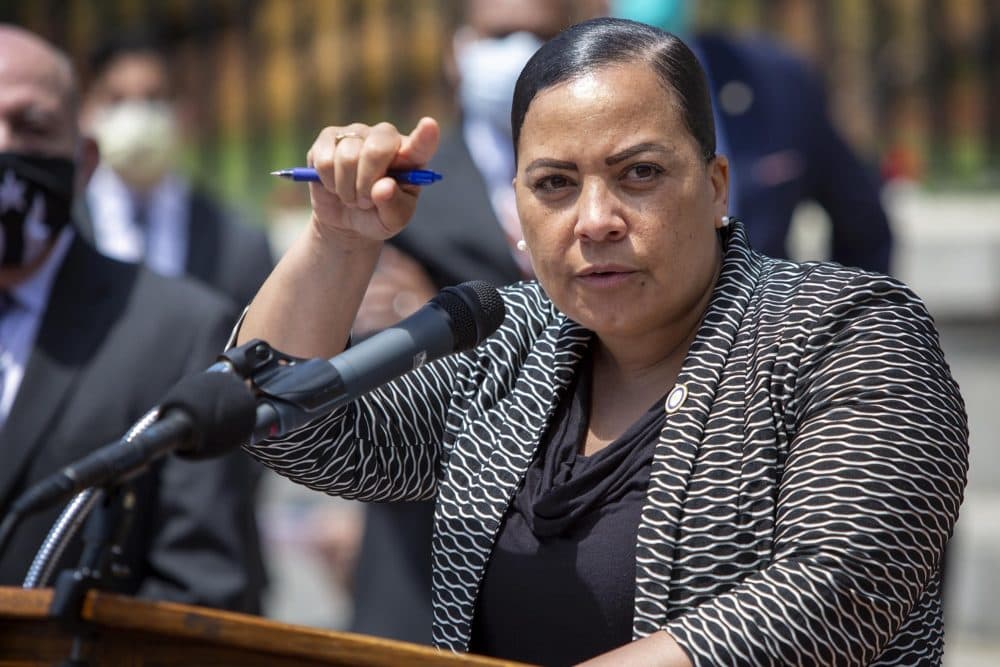 President Joe Biden has chosen Suffolk Country District Attorney Rachael Rollins to serve as the next U.S. attorney for Massachusetts.
If confirmed by the Senate, Rollins would become the first Black woman to serve as the top federal law enforcement official in Massachusetts.
Rollins was among eight U.S. attorney appointments announced by the White House, which said most of those appointed would be "historic firsts."
A White House statement said the nominees were "chosen for their devotion to enforcing the law, their professionalism, their experience and credentials in this field, their dedication to pursuing equal justice for all, and their commitment to the independence of the Department of Justice."
U.S. Sens. Elizabeth Warren and Edward Markey, who recommended Rollins for the post, praised the choice in a joint statement.
"District Attorney Rollins is a national leader on transforming the criminal justice system and shifting away from an approach based on punishment and penalization to one that combats the root causes of injustice, whether it be poverty, substance use, or racial disparity," they said. "She has prosecutorial experience, and is dedicated and committed to advancing equal justice for all, and we are certain that she will be a tremendous U.S. attorney.
The U.S. attorney is the top federal law enforcement official in Massachusetts, overseeing more than 200 federal prosecutors. The office is part of the Department of Justice and reports to U.S. Attorney General Merrick Garland.
Rollins previously worked as a federal prosecutor at the U.S. Attorney's Office in Boston. She also served as general counsel for the Massachusetts Department of Transportation and the Massachusetts Bay Transportation Authority, and as chief legal counsel for the Massachusetts Port Authority.  Rollins was Gov. Deval Patrick's appointee to the Judicial Nominating Commission and a past president of the Massachusetts Black Lawyers Association.
Rollins, the first Black woman to serve as Suffolk County's district attorney, has grabbed national attention as part of a growing movement of progressive district attorneys elected around the country.
She beat four other candidates for the job of district attorney in 2018, running on a promise to decriminalize some low-level crimes that she says lead to mass incarceration.
Rollins has argued that many of the cases in the criminal legal system are the result of poverty and mental health and substance use.
Her office has also focused on addressing wrongful convictions and drug cases based on lab testing done by disgraced former state chemists Annie Dookhan and Sonja Farak. In April, Rollins convened a meeting with dozens of members of the criminal legal system to talk about a systemic resolution to the state's drug lab scandals.
Pushback And Controversy
But her initiatives have rankled high profile members of the state's law enforcement community.
In a 2019 letter, State Secretary of Public Safety and Security Thomas Turco took aim at both Rollins' plan to avoid prosecuting lower level drug crimes and the way her office handled some pre-trial release conditions. Turco said her policies put crime victims at risk.
Rollins defended her so-called " do not prosecute list" at a news conference and said it would help reduce racial and socioeconomic disparities in the criminal legal system. She also suggested that misogyny was at play.
"As your new DA, and the first woman to ever have this job, it has been very apparent to me that the men that were in this position before me were treated with quite a bit more respect," Rollins said. "But I didn't get into this job to make friends, I got into this job to make change."
Also in 2019, Cape and Islands District Attorney Michael O'Keefe wrote an opinion piece in The Boston Globe headlined "The true role of the district attorney." While not mentioning Rollins by name, the article was a thinly veiled criticism of those he described as "social justice district attorneys."
"The social determinants that lead to the commission of crime are complex," O'Keefe wrote. "Yet the criminal justice system, the repository of society's failures, becomes an easy target."
Last year, Rollins joined forces with other progressive prosecutors in Philadelphia and San Francisco to create the "Truth, Justice and Reconciliation Commission." The panel is designed to review racial inequities, police violence and misconduct in the legal system.
Rollins also had a scuffle with public defenders in 2020 when she publicly said that some court appointed attorneys were "overwhelmingly privileged" and "not always responsive to their poor black and brown clients."
Later, Rollins said she was reacting a complaint about a public defender, and maintained that some public offenders need to work with more urgency.
"In no way was I vilifying an entire group of people," Rollins said. "But what I'm not going to do is say to a defendant who sounds like he's in distress, 'Well they don't call you back, good luck with that.' "
After that, the Committee for Public Counsel Services, the state association of public defenders, said it had productive discussions with Rollins and hoped to work on common goals in the future.
Earlier this year, state attorney general Maura Healey and the state Ethics Commission investigated a traffic incident involving Rollins. Healey's office sent the Ethics Commission a written complaint from Kate Lawson, of Dorchester, alleging that Rollins threatened to issue her a ticket and flashed her car's emergency lights as they were both trying to exit the South Bay Plaza parking lot in December of 2020. Healey's office says it conducted a thorough and fair review and found no civil rights or criminal violations.
A Change In Federal Law Enforcement
The U.S. attorney role would be a change in both structure and substance for Rollins. She would jump from overseeing state cases in Boston, Chelsea, Revere and Winthrop to an appointed post where she would become part of a large federal law enforcement bureaucracy.
The move could result in situations where Rollins finds herself on the opposite side she took as a state prosecutor. For example, Rollins sued federal immigration officials in 2019 to prevent them from arresting people during court appearances. In the federal post, Rollins would have to defend Immigration and Customs Enforcement and oversee the prosecution of two court officials who allegedly allowed a defendant to flee to avoid ICE.
When the Biden administration asked senators in December to submit names of candidates for US attorneys, Massachusetts senators Ed Markey and Elizabeth Warren created an advisory committee to start the process of vetting and forwarding names of candidates.
Retired federal Judge Nancy Gertner, who chaired the advisory committee, said the nationwide protests over racial disparities in the criminal legal system factored into the group's decision making.
"I think all of that conspires to a moment for reform and for the next US Attorney," Gertner said.
White House counsel Dana Remus said Biden was looking for diverse applicants, saying the president wanted "talented individuals who would bring to these critically important roles a wide range of life and professional experiences, including those based on their race, ethnicity, national origin, gender, sexual orientation, gender identity, religion, veteran status and disability."
Former Massachusetts US Attorney Andrew Lelling stepped down in February, saying it was time for President Biden to appoint a new U.S. attorney for the state. Lelling was appointed by the Trump administration and held the post for fours years. He now works as a private attorney for the law firm Jones Day out of its Boston office.
Rollins reportedly beat out a number of other candidates for the U.S. attorney post, including Jennifer Serafyn, head of the civil rights unit in the Massachusetts U.S. attorney's office, and a lecturer at Boston University Law School and Deepika Bains Shukla, who heads the U.S. Attorney's Office in Springfield.
Serafyn has litigated cases involving the civil commitment of sexually dangerous people, the Freedom of Information Act and the Clean Water Act. Shukla became the head of the Springfield office in 2019, after working as a community organizer and housing attorney in New York City, and with anti-discrimination agencies. As a woman of Indian descent, she is the first female and the first woman of color to hold the post.
Shortly after Monday's announcement, the head of the ACLU of Massachusetts  praised Rollins' record.
"As Suffolk County District Attorney, Rachael Rollins has demonstrated what a difference a DA makes," said Carol Rose, executive director of the organization, in a statement. "From moving to dismiss thousands of cases tainted by Massachusetts' drug lab scandals to declining to prosecute several low-level offenses, she has prioritized racial justice and fairness in our legal system."
Once Rollins is confirmed, Republican Gov. Charlie Baker will be able to appoint an acting Suffolk district attorney to serve out her term. Among those mentioned as possible replacements are Rahsaan Hall, a former state prosecutor who works with the ACLU of Massachusetts and former prosecutor and Boston City Councilor Michael Flaherty.
Suffolk County voters will have the chance to elect a district attorney for a full term in the fall of 2022.
This segment aired on July 26, 2021.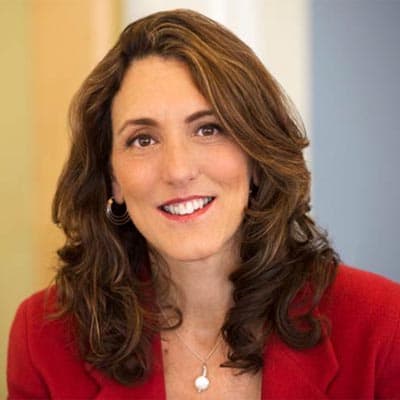 Deborah Becker Host/Reporter
Deborah Becker is a senior correspondent and host at WBUR. Her reporting focuses on mental health, criminal justice and education.