5 Things To Do This Weekend, Including Shakespeare On The Common And A Concert At Crane Estate
The film "Grease" was my first-ever introduction to swing dancing. I remember playing that DVD on the movie player until it was scratched and skipping scenes. (I memorized all the songs, and if I heard them now, I'd probably still be able to sing along.) One of my favorite parts is the swing dancing scene at the school dance. Getting up and moving is mandatory! This week, the Castle Hill Picnic Concert will have the Beantown Swing Orchestra performing swing music that is sure to get you moving. (Bonus points from me if you dress up like a high schooler from the 1950s!) If swing music isn't your thing, there are plenty of other events to check out this weekend, including a thought-provoking art exhibition, Shakespeare on the Common, a film festival and a storytelling event that celebrates mothers.
'The Tempest' on the Boston Common
Wednesday, July 21-Sunday, Aug. 8
The Commonwealth Shakespeare Company returns to the Boston Common in its 25th season with a production of "The Tempest." Directed by Steven Maler, the play explores themes of enchantment and betrayal and takes place on a remote island after a powerful storm destroys a ship. There will be nights where the play will be available to watch with ASL interpretation, open captioning and audio description. Due to the ongoing pandemic, advance registration is advised because of a reduced capacity. [Read critic-at-large Ed Siegel's profile of John Douglas Thompson, who plays Prospero, here.]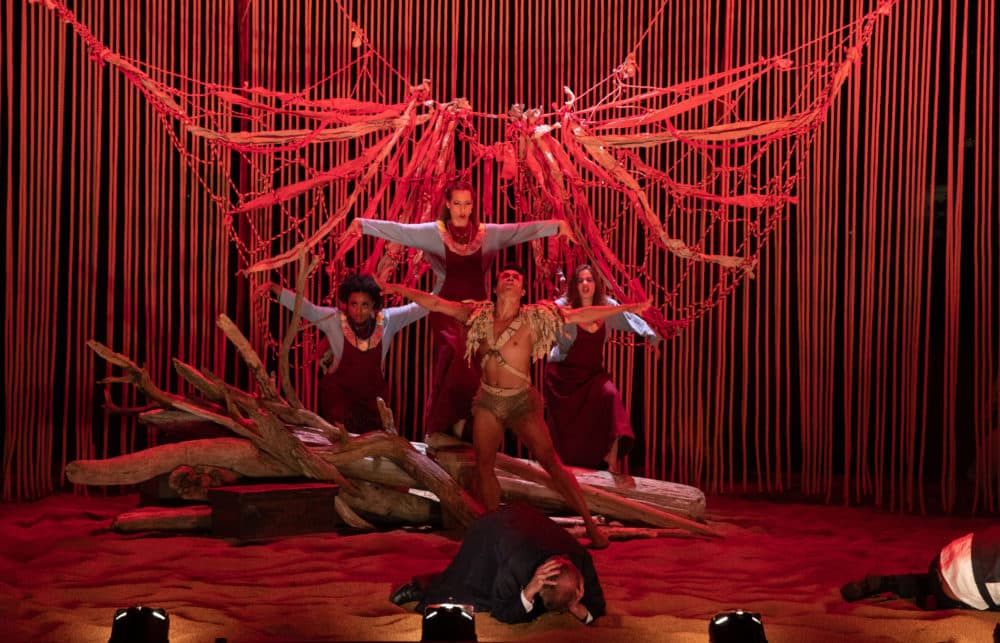 ---
Thursday, July 29-Thursday, Sept. 9
The Fort Point Arts Community Gallery is presenting a new exhibit, "Evidence of Survival — Again," showcasing the work of 18 artists who explore many pressing issues of today's world, including rising sea levels, social injustice and the ongoing global pandemic. The "again" part of the exhibit comes from the history of the Fort Point Arts building and exhibit. Twenty-eight years ago, a group of artists bought the 300 Summer St. building and turned it into affordable live/work studios. A year later in 1994, the original "Evidence of Survival" was on display. There will be an opening reception Thursday, July 29, at 5:30 p.m.
---
Thursday, July 29
The Beantown Swing Orchestra will be performing infectious swing music while you relax (or dance!) and enjoy a picnic on the Grand Allée of Crane Estate in Ipswich. While you're there, take a walk and discover the newly restored gardens. It's encouraged to bring blankets, chairs and tables for the evening. In the event that you didn't pack food, Riverview Pizza and Down River Ice Cream will have food for sale onsite. There will also be drinks for purchase from the Ipswich Ale Brewery, True North Ales, Mill River Winery, 1634 Meadery and Far From the Tree Cider. The weather has been unpredictable lately, in case it rains, refunds will be given.
---
Friday, July 30
For the fourth annual storytelling event, Voices Rising will celebrate "Boston mothers standing in power." Throughout the evening, the Jeremiah Program, a national nonprofit centered around helping mothers and children, will invite guest speaker Acting Boston Mayor Kim Janey to tell her journey of motherhood that she embarked on while she was in high school. Nicole Lynn Lewis, author of "Pregnant Girl," will also share her experience. Comedian and storyteller Bethany Van Delft will emcee this event and brilliantly tie together all the experiences of powerful mothers "daring powerfully." The event is virtual and advance registration is encouraged.
---
Saturday, July 31-Saturday, Aug. 7
The 30th Woods Hole Film Festival offers upwards of 150 films to watch in a hybrid model, with some physical events and some virtual. The festival is jam packed with films from all over the world and celebrates independent filmmakers. The genres range from documentaries, to comedies, animations and short dramas. One of the films that got my attention was "Last Night in Rozzie" with actor Neil Brown Jr. (who I recognized from the HBO series "Insecure"). The film is about a New York lawyer returning to Boston and trying to reunite his dying friend with his 10-year-old son who he hasn't been able to see in a long time. There are plenty of  twists and turns in this one, so you'll just have to watch to find out! [WBUR is a presenting partner of the festival.]