Mass. Housing Advocates Worry About End Of U.S. Eviction Moratorium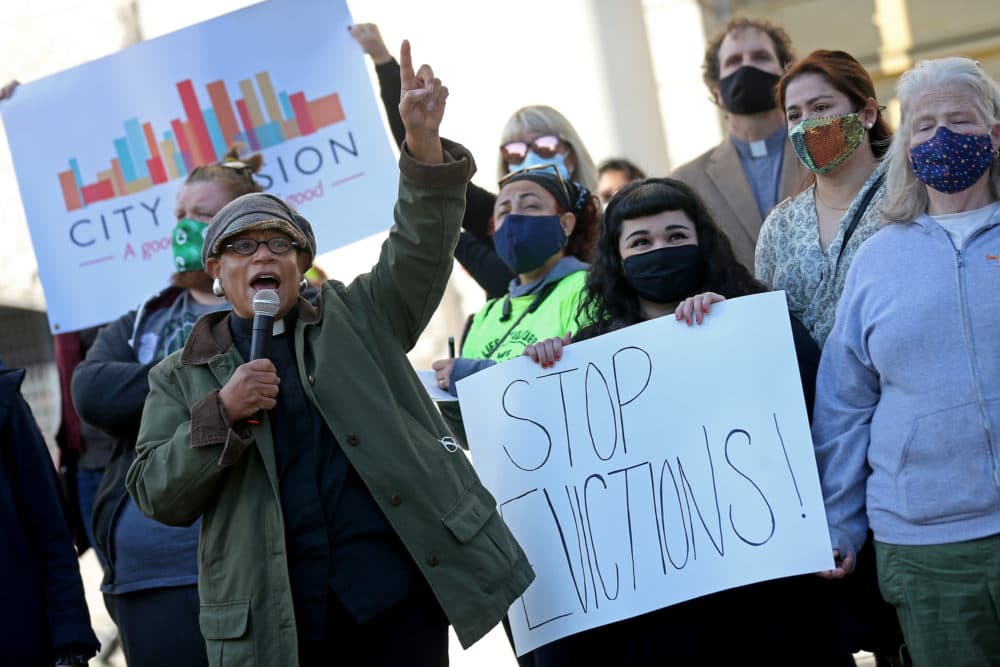 This article is more than 1 year old.
Some housing advocates worry that evictions could surge in Massachusetts after the Centers for Disease Control eviction moratorium expires this weekend.
The CDC ban barred landlords from evicting tenants who could demonstrate that the pandemic impacted them. A broader state ban on evictions expired in October.
Grace Holley of the Mass Alliance of HUD Tenants said she feels the CDC restrictions, though limited, still discouraged many landlords from going forward with evictions.
"There's been a general understanding that, 'We're in a pandemic, there's this moratorium going on," Holley said. "But now you see all these headlines that the moratorium is ending, and I think it's going to signal to a lot of landlords... they get to cut the cord."
Others thing the impact will be more muted here.
Rachel Heller, chief executive officer of the Citizens' Housing and Planning Association, said she isn't expecting a "tsunami of evictions" when the moratorium ends. That's largely because of state rules passed this spring temporarily barring evictions for non-payment if renters are applying for government assistance.
Heller also said tenants can apply for hundreds of millions in rental relief.
"There is a lot of money available and no one should be evicted right now for non-payment of rent," Heller said.
Across the country, more than 7 million households were behind on rent, according to the Census Bureau estimates. And only half of renters say they are "highly confident" in their ability to pay the rent next month.
Even so, some landlord advocates say they doubt the end of the federal moratorium will have much impact in Massachusetts.
Communities including Cambridge, Somerville, and Framingham have their own moratoria in place, and tenants enjoy protections here that don't exist in other parts of the country, advocates note.
Doug Quattrochi, head of the group MassLandlords, said that tenants applying for assistance cannot be evicted until April 2022. While judges could theoretically  approve more eviction executions after the end of the CDC ban, Quattrochi said that's unlikely to happen.
The bigger question, he said, is whether tenants are able to access the state's rental relief program.
"The issue that I'm hearing is not anything to do with the CDC moratorium— the issue is the rental assistance," Quattrochi said.
Skip Schloming, former head of the Small Property Owners Association, said he expects evictions to rise somewhat — but mainly because there were almost none during the pandemic.
Still, Schloming agrees rent relief funds administered by the state aren't being given out fast enough. And that could exacerbate evictions.
"Landlords will want to work out something with existing tenants if they can," he said. "If everybody evicts a tenant that's not paying rent, what do they have in the way of new tenants they can rent to?"