Our Revels Now Are Restarted: 'The Tempest' Gets Boston Theater Buzzing Again On The Common
Theater is always better together.
For more than a year, theater lovers have waited to watch their favorite thespians perform in person. The wait is over in Boston. Commonwealth Shakespeare Company, which has brought free theater to Boston for 25 years ended the live-theater drought in style with a soaring production of "The Tempest" (through Aug. 8) on Boston Common.
Magic, murder and mayhem are at the center of this classic tale which finds Prospero, an exiled ruler whose kingdom was usurped by his brother Antonio, on an island with his daughter, Miranda.
Boasting an excellent, pitch-perfect cast, featuring the increasingly renowned John Douglas Thompson as Prospero, Boston Ballet principal John Lam as Ariel, and local favorite Nael Nacer as Caliban, this Shakespearean offering of betrayal is outlined with forgiveness and hope. That doesn't mean Thompson's Prospero isn't seething with anger toward his brother Antonio (Remo Airaldi). He is. His palpable rage gets conveyed through the razor-sharp delivery of poetic lines so close to Antonio's face that at one point it feels like a physical assault. On the other side of the coin, his interactions with his daughter Miranda (Nora Eschenheimer) exude an aching tenderness.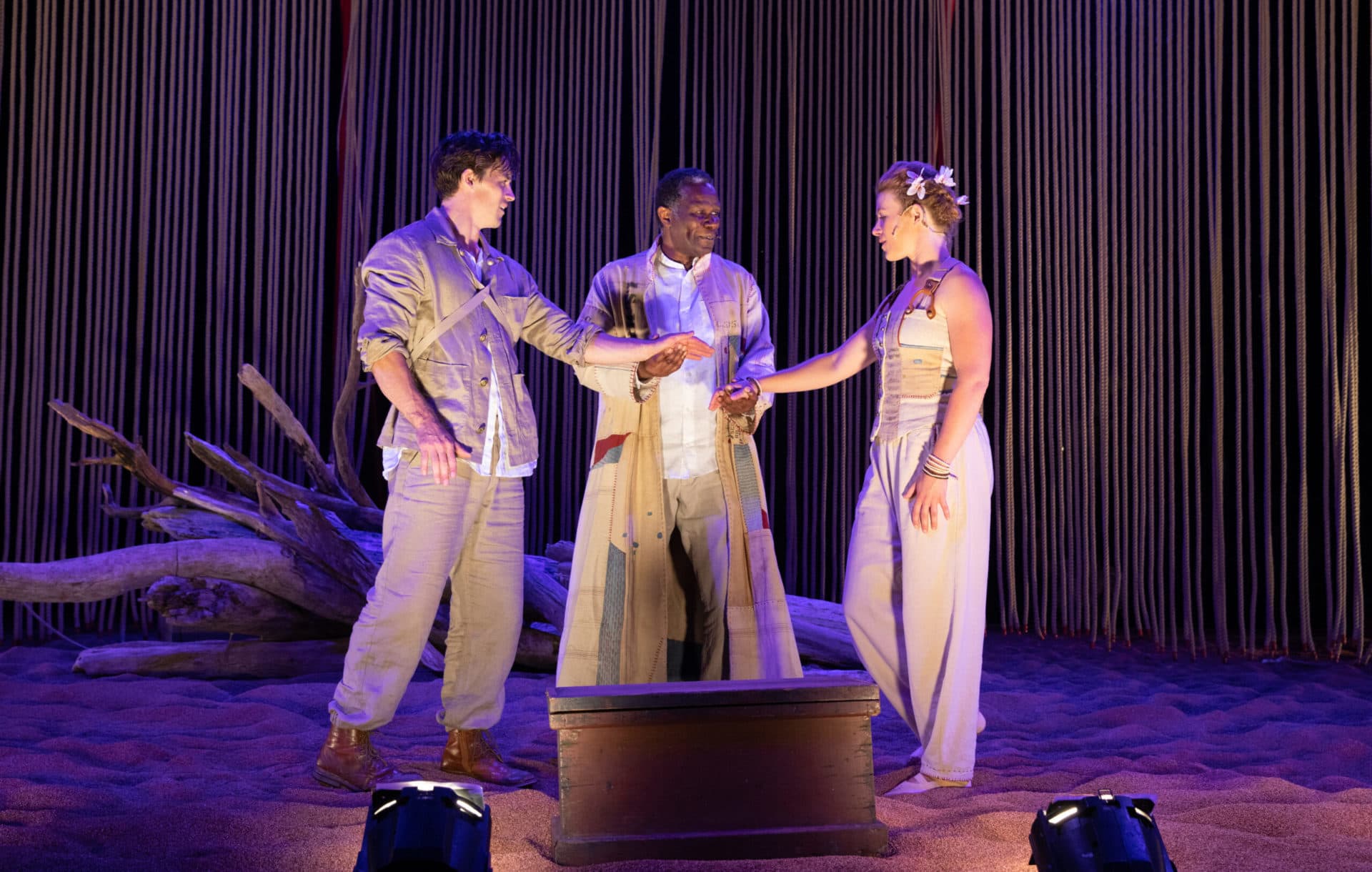 Meanwhile, Nacer — covered in netting and metal rings and tattooed from head to toe — explodes from underground onto the stage. Nacer, who seems incapable of anything less than a great performance, is enslaved by Prospero for trying to rape Miranda after they arrived on the island. Many contemporary productions make Caliban and Ariel the victim of colonialism. Save for Miranda's mention of Caliban's race as vile, that doesn't seem uppermost in Thompson's portrayal of Prospero. When approaching Prospero, Thompson, who has made his mark with Shakespeare and O'Neill on stage and most recently TV's "Mare of Easttown," thought about how the nation quarantined earlier in the pandemic and likened that experience to Prospero's time on the island with Miranda, as he explained in a recent interview with WBUR. "…now he's wanting to bring himself back into society … Where is his state of mind? And will he be able to be a better person coming back?" Thompson asked.
Part of what makes the production — which was delayed a year because of the pandemic — so enjoyable (aside from being together) is the ease with which the seasoned cast feeds off one another. Gonzala (Siobhan Juanita Brown) and Sebastian's (Maurice Emmanuel Parent) natural banter with other characters feels conversational, and the laughter of a child behind me at just the right moments proves that drunken duo Stephano (Fred Sullivan Jr.) and Trinculo (John Kuntz), with their singing and silly antics, have impeccable comedic timing, even as the two plot Prospero's murder with Caliban. (Brown's deliberate delivery did, however, seem out of step with the faster-paced naturalism of the other actors.)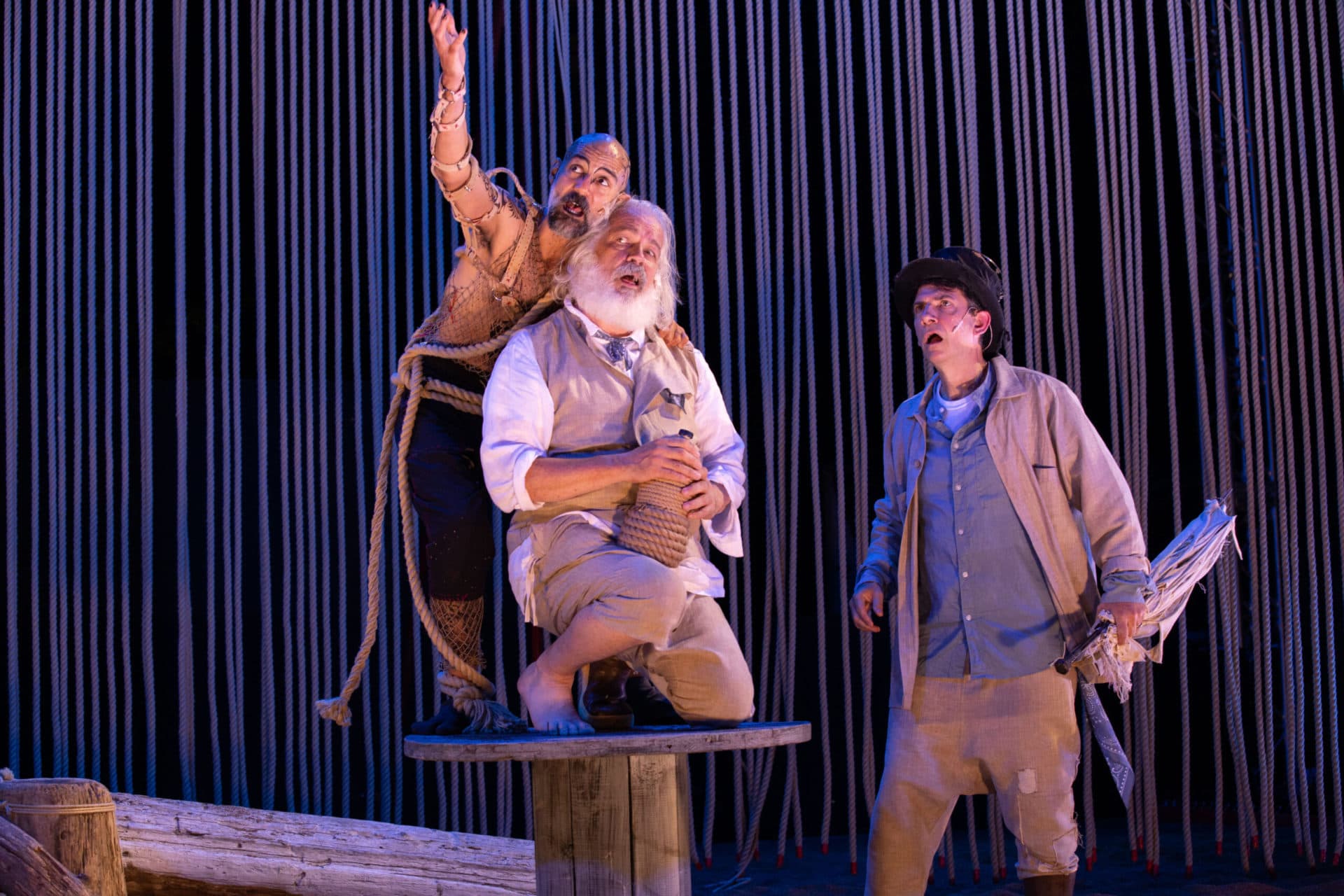 Throughout the performance, I couldn't take my eyes off the lithe Ariel leaping on and offstage. Lam's graceful, sinewy arabesques and other ballet moves augment his Ariel, who was particularly enchanting when bathed in red light, conjuring up a curse at Prospero's bidding.
The eerie, dissonant-like harmonies of the singing ensemble, the mix of historical and contemporary costumes, and simple but clever set design also underline director Steven Maler's scaled down but creative overall vision. Douglas' jacket and Eschenheimer's top seemed fashioned out of old sails, while Lam's fringe and bottom netting add to the character's fairy-like air. The sand, withered tree stump, and backdrop — a semi-circle of ropes on a pulley system that at times delivers wardrobe items and later form what appeared to be wings for Ariel — help place the audience in the lonely isle.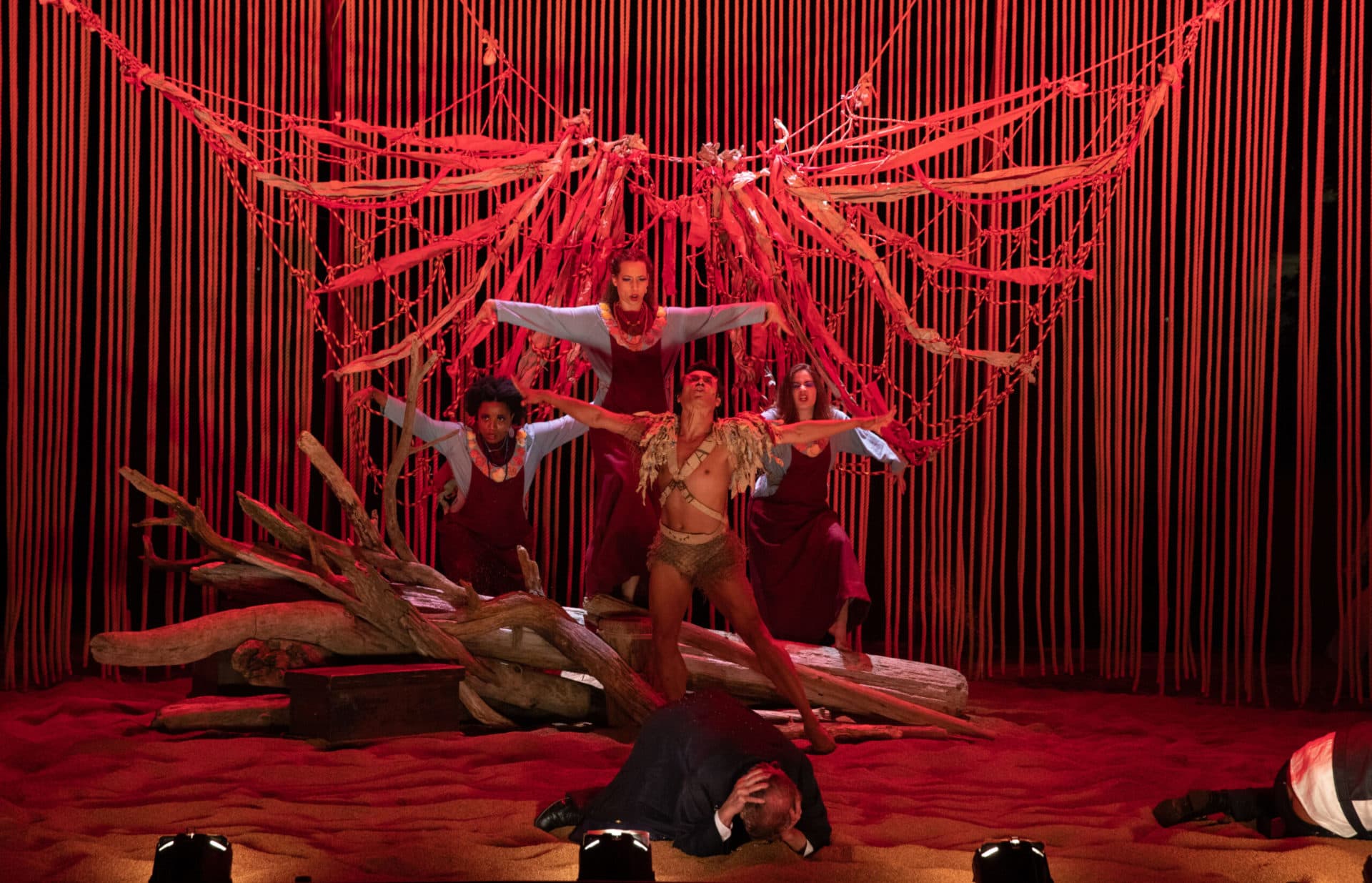 But it's the very human struggle of Prospero, who simultaneously grapples with his fury and his desire to leave the past behind, that makes "The Tempest" so resonant. Should he plot some despicable revenge against Antonio and others complicit in his brother's plan? If so, at what cost? What does it take to truly mend broken fences?
Audiences can draw their own conclusions about Prospero's choices and who he might be once he returns as Duke of Milan. Still, the themes of anger, forgiveness, isolation and the desire to recalibrate and move forward feel remarkably prescient as we move slowly toward some new iteration of pandemic normalcy.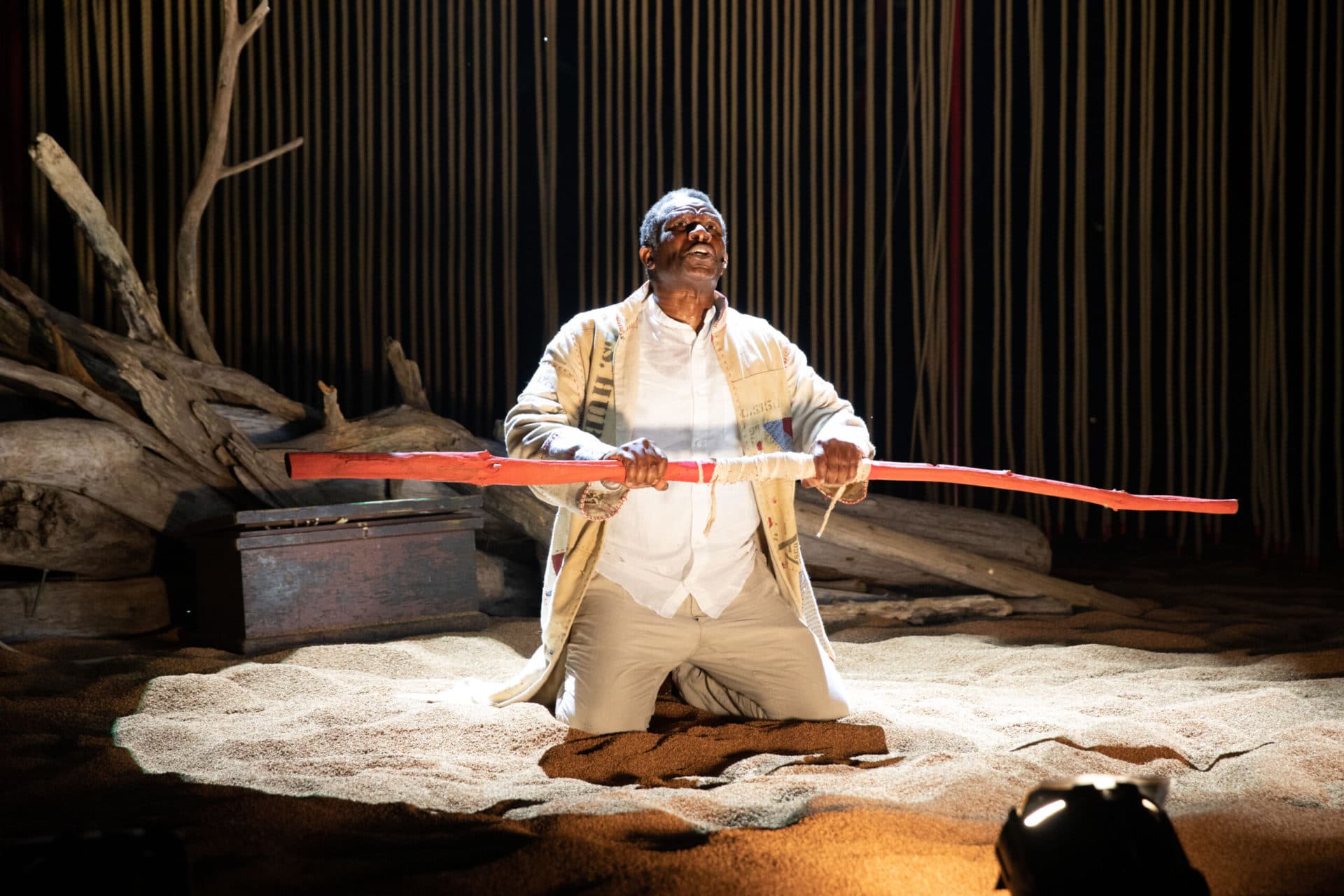 ---
Commonwealth Shakespeare Company's "The Tempest" is free and runs through Aug. 8 on Boston Common. Advance registration is recommended.