Janey Rivals Demand City Release Records For Boston Police Accused Of Misconduct
Play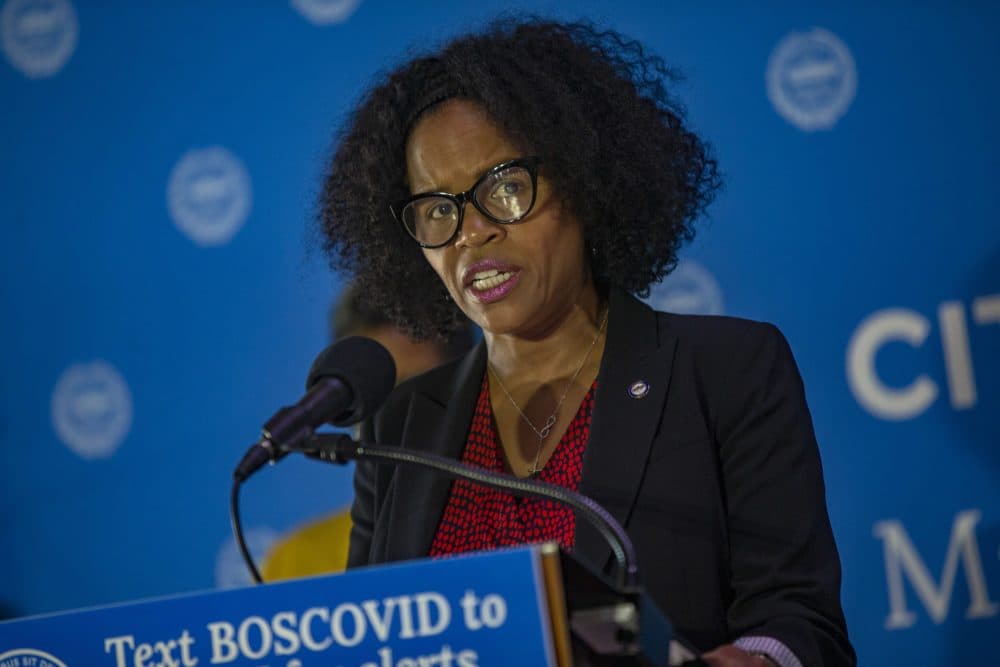 This article is more than 1 year old.
Three of the four major candidates running against acting Boston Mayor Kim Janey blasted her administration for withholding records on police officers accused of domestic violence or sexual assault.
WBUR reported Thursday that Boston police found 13 officers committed domestic violence over the past decade. But the city refuses to provide any information about the cases, including the names of the officers and whether they remain on the force.
The city also rejected requests for records on officers accused of sexual assaults, citing a law intended to protect victims.
City Councilor Andrea Campbell said she plans to issue a subpoena to obtain the records.
"It's really important, if we say we value transparency and accountability, that we are more forthcoming with releasing of this information," she said. "What I'm seeing is a pattern of the acting mayor continuing the pattern of the previous administration, where they're not releasing this information in a timely manner."
Janey defended herself at a news conference Thursday. She said she's working to staff a new watchdog agency charged with reviewing investigations of police misconduct.
"Records will be released," she said. "We will continue to release internal affairs files as we do so. I want to remind you that we will always, always protect the identities of survivors and victims in this case."
Former city economic development chief John Barros, who is also running for mayor, criticized the delay.
"We shouldn't use bureaucracy and our inability to implement the recommendations as a reason not to release," he said. "Let's release now and make sure that the people of Boston are informed and that the individuals who need to be held accountable are held accountable."
Councilor Michelle Wu says she'd also release records of officers who committed domestic violence and sexual assault.
"Bostonians deserve transparency, accountability and real reforms, not announcements that fail to follow through," she said in a statement.
Only Councilor Annissa Essaibi George wouldn't say whether she'd make the records public.
Janey has already dealt with two other police scandals since she was sworn into office in March. She fired Boston police commissioner Dennis White after a report confirmed he was quietly accused of domestic violence decades earlier. And she expressed outrage that officer Patrick Rose remained on the force for 22 years after he was accused of child rape. He is now in jail on charges of molesting other children.
Critics say the city has a long history of keeping secrets.
Sophia Hall, an attorney with Lawyers for Civil Rights, said it shouldn't take scandals like the Rose and White cases to force an examination of the city's transparency.
"This is a time old ... issue that we have been fighting for years and years," she said. "We've had lawsuits that date back more than half a decade even trying to ensure that the city complies with what happens to be a fairly progressive public record statute in Massachusetts."
The state's highest court ruled last year that the city was wrong to withhold the names of police officers accused of drunk driving. And the Secretary of State's office has received hundreds of complaints in recent years from people who had problems obtaining records from Boston officials.
In many cases, people said the city didn't even respond.