4 Loggerhead Turtles Return To Ocean, Amid Cheers, After Stranding On Cape Cod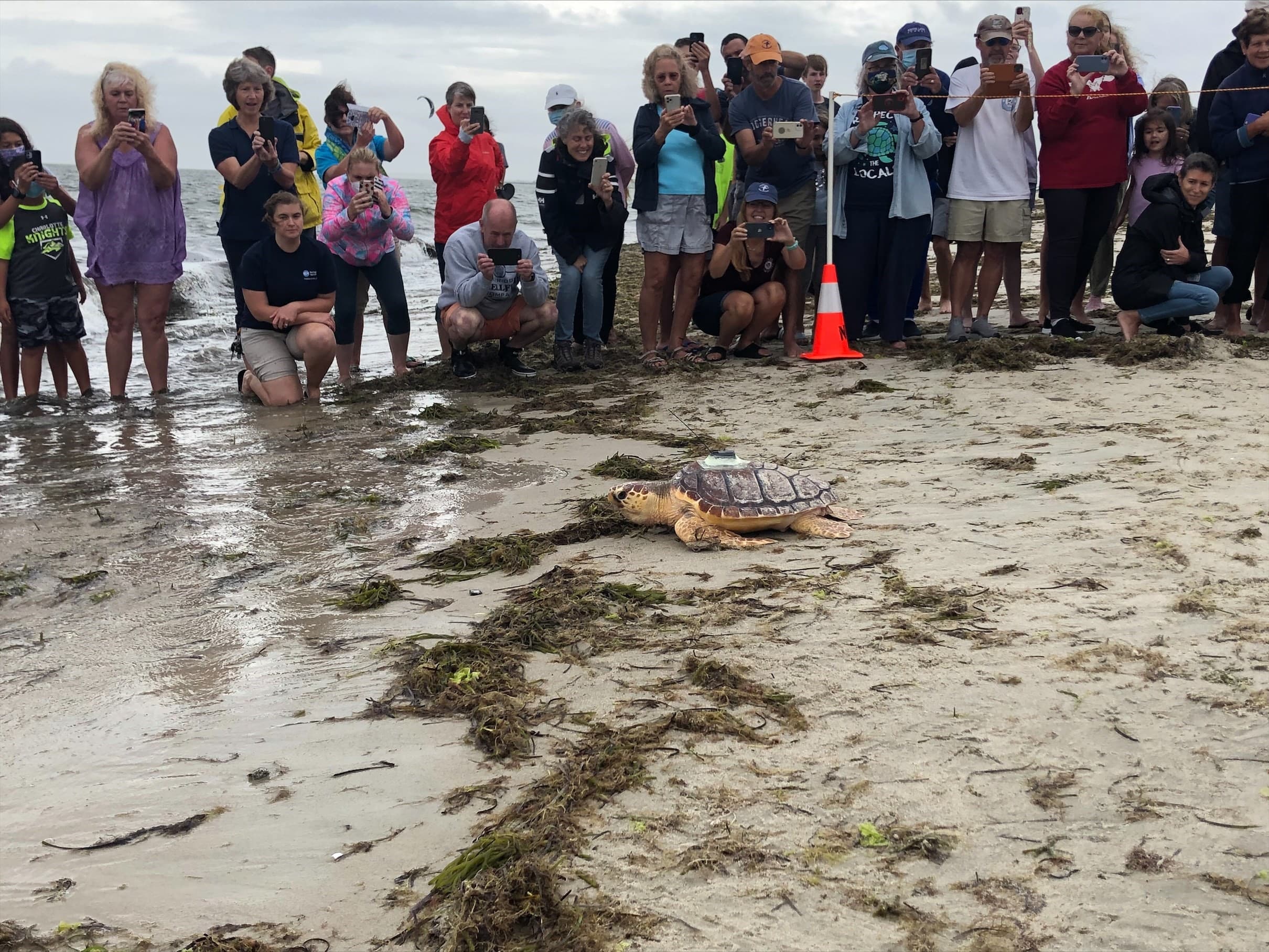 This article is more than 1 year old.
Thursday was a dreary beach day on Cape Cod: gray and cloudy, with rain pattering onto wet sand.
The turtles didn't seem to mind. The two 25-pound loggerheads — nicknamed Peanut and Popeye — paid no attention to the rain, or to the knot of spectators. With steely-eyed turtle focus, they flipper-walked down the sandy beach staring straight ahead, then slipped into the water and disappeared into the sea.
"Peanut and Popeye, they were just motoring into the water," said Kara Dodge, research scientist in the New England Aquarium's Anderson Cabot Center for Ocean Life. "Sometimes they'll take their time and make their way down. But these guys were ready to go."

Peanut and Popeye were two of four loggerheads returned to the wild on Thursday after stranding on Cape Cod last December. Strandings are common in the fall and winter months, when water temperatures drop quickly and can "cold-stun" sea turtles.
"You can think of it as really severe hypothermia," Dodge said. "They're unable to regulate their body temperatures, they can't regulate their buoyancy. They start to have a lot of problems and will end up washing up with onshore winds and storms."
Staff and volunteers with Mass Audubon's Wellfleet Bay Wildlife Sanctuary rescued the stranded turtles and sent them to the Aquarium's Sea Turtle Hospital in Quincy, where the turtles spent the last seven months getting treated for hypothermia, pneumonia, and broken bones. Staff veterinarians cleared the loggerheads to return to the wild last month.
Each turtle left with a souvenir: an internal acoustic tag implanted near its tail. The tags — which Dodge compares to an EZ Pass — will provide data on the turtles' location for about three years, and allow scientist to track their annual cycles.
The two larger turtles — weighing 36 and 45 pounds and nicknamed Glassy Ibis and Captain Koolaid — also left with satellite tags glued to their backs. The tags fall off in about a year, but before that, they transmit the turtles' location in real time.
"That's really important for us at the aquarium," Dodge said, "because we want to understand whether these turtles are doing 'normal' turtle things, which will help us understand if they're going to be able to successfully re-integrate into the wild population."
Dodge reports that Captain Koolaid has already made it to Nantucket.

The New England Aquarium has helped rescue endangered and threatened sea turtles for more than 30 years; last fall and winter they admitted 569 sea turtles for rehabilitation. The three remaining turtles at the Quincy facility will be released this summer.
Dodge said she hopes the acoustics tags, being used in loggerheads for the first time, will provide information that helps protect the threatened turtles.
"We want to know if these animals are surviving over the long term, contributing back to the breeding population and ultimately contributing to population recovery," Dodge said. "That's our conservation goal. And we're now using the tools that could potentially answer that question."