Yum! Gloucester Stage Serves Up Savory Scallops That Are 'Seared' Just Right
Egos, food, friendship and money can be a woeful combination.
Such is this case with pals and business partners Harry and Mike, who co-own a restaurant and have very different ideas of what success looks like in Gloucester Stage Company's "Seared" (through Aug. 22 at Windhover Performing Arts Center in Rockport).  In the entertaining narrative by widely produced Broadway playwright and TV writer Theresa Rebeck, it's evident almost immediately that chef Harry (James Louis Wagner) and the eatery's money man Mike (Matt Monaco) have been arguing for some time with no resolve. Harry desires to make artful culinary fare and Mike wants to make a living.
Patrons love the food, but after a New York critic hails Harry's scallops as a "best bet" in a restaurant column, the chef refuses to make the very dish customers clamor for. Onstage, inside the brick red and yellow working kitchen, the two spar over the entrée — to the sound of sizzling butter and garlic — that could take the place to the next level. Harry feels that food is what's real, and that money is just a symbol of value, he says. He craves fresh ingredients paired with premium cuts of meat and wild caught seafood while Mike frets about the bottom line and thinks frozen sea scallops from the corner supermarket will suffice. The way forward is to compromise, but that's hard to come by.
It's not just the scallops that Harry rails against, it's every suggestion that could improve the restaurant from menus to reservations. He even scoffs at the Brooklyn neighborhood they're in, or rather, what it's becoming.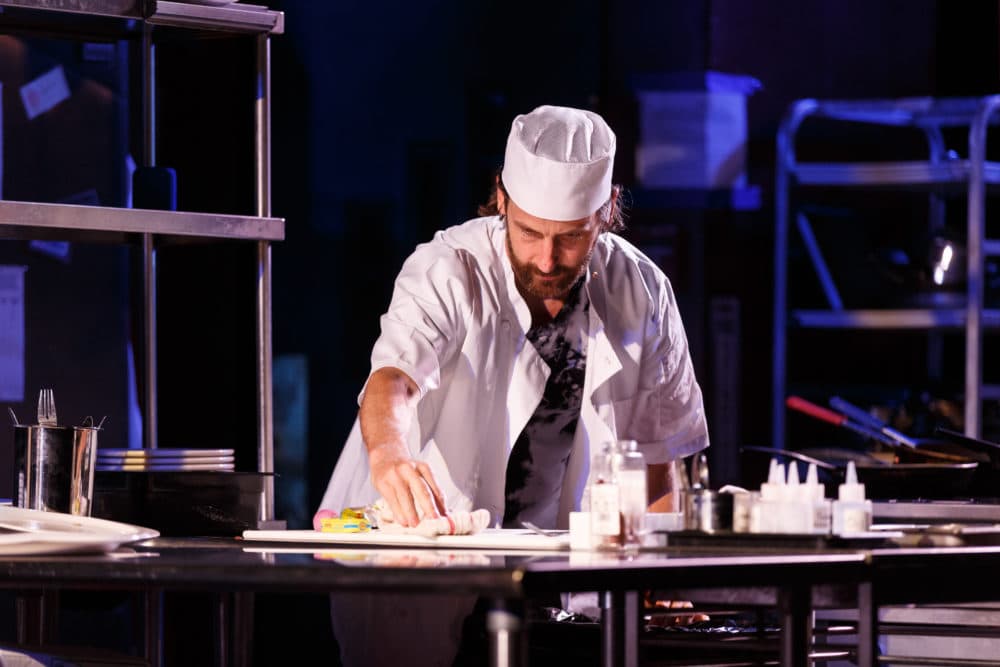 "I hate Park Slope. Aside from the vegetarians who love pork bellies, all the rest of the meat eaters have just laid down and died," Harry says.  Harry also hates capitalism, despite being an entrepreneur. He tells Mike that "your money is more real than my life, my talent, my time, my patience, my love, everything that is essential and passionate ..."
Sound exhausting? It is. Harry's indefatigable foot stomping becomes tiresome during the first half, but the play gets its groove back after intermission.
Victoria Gruenberg, who has helmed several plays including "Jack of Hearts" and "The Laughing Club" as part of the Williamstown Theatre Festival's directing studio aims to "create work that pits heart against intellect." She's successfully done so here.
But the crux of Rebeck's play centers on art versus commerce, an age-old battle that creatives of every ilk must consider. How does one profit from their gift and keep one's integrity intact? Can it be done or is something lost just by participating in a capitalist venture?
This is where the tension lies.
Wagner and Monaco have lengthy lists of theater and television credits between them and the pair make fighting fun, though Monaco's Mike feels more believable. His biting rage erupts when trying to convey to Harry that they're broke and about to lose everything. Harry quips, "I am broke, I just don't mind being broke as long as it means I get to do whatever I want."
But it's the bubbly consultant Emily (Emily Bosco) whom Mike hired without Harry's input and hard-working waiter Rodney (Jordan Pearson) who heighten the hijinks. Emily is a shrewd marketing guru with menu makeover suggestions, tons of industry contacts and a shiny set of knives. And Rodney just wants to do his job and do it well. Early on, he is the only one who can balance out Harry's tantrums and get him to listen.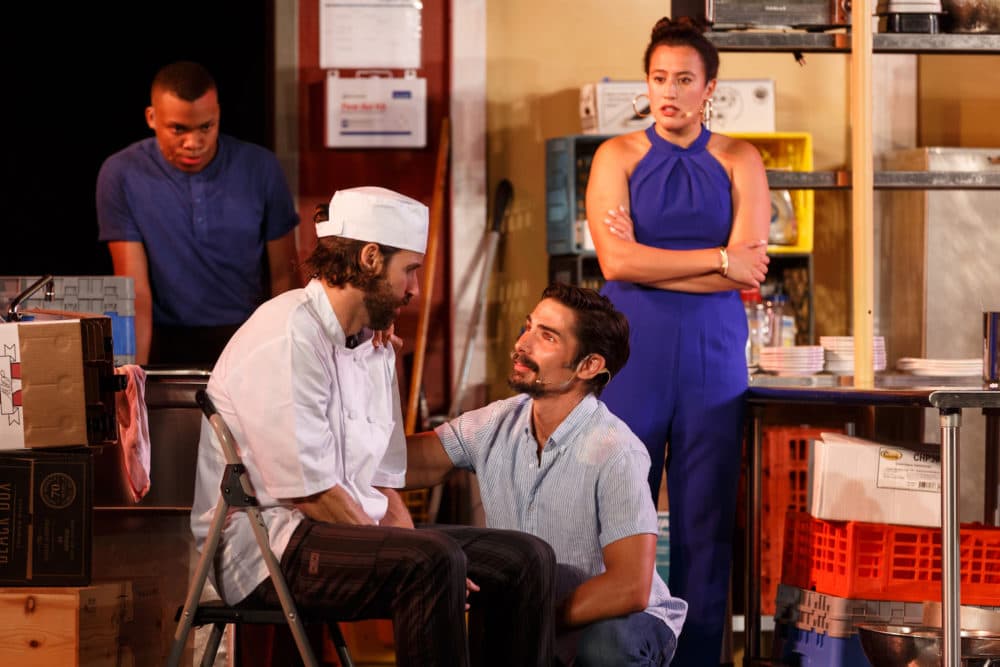 There's romance (kind of), tip-money quarrels, and some big ideas like endorsements that the team considers before an explosive night results in an unexpected end. Most of all, there's laughter and lots of it. Emily's charm, personality and tactics aren't for everyone on staff at the restaurant, but Bosco's naturally funny and a joy to watch. And Rodney, who also knows a thing or two about comedic timing, throws himself into the fray.
Pearson's steady stance as Rodney grounds the whirlwind of anger, selfishness and fear that drives the two main characters overarching philosophical disagreement. Pearson appears to be that way offstage too. When talking about a play he created to benefit his father's nonprofit when he was a teen, Pearson told a local newspaper that "making the right choice is always right." It's fascinating that several years later his character is the one pushing a talented, yet tortured chef to acknowledge his gift and to right his wrongs.
Gloucester Stage Company's "Seared" runs through Aug. 22 at the Windhover Performing Arts Center in Rockport.
---
More from WBUR
---