New Bill Would Set $55,000 Wage Floor For Legislative Staff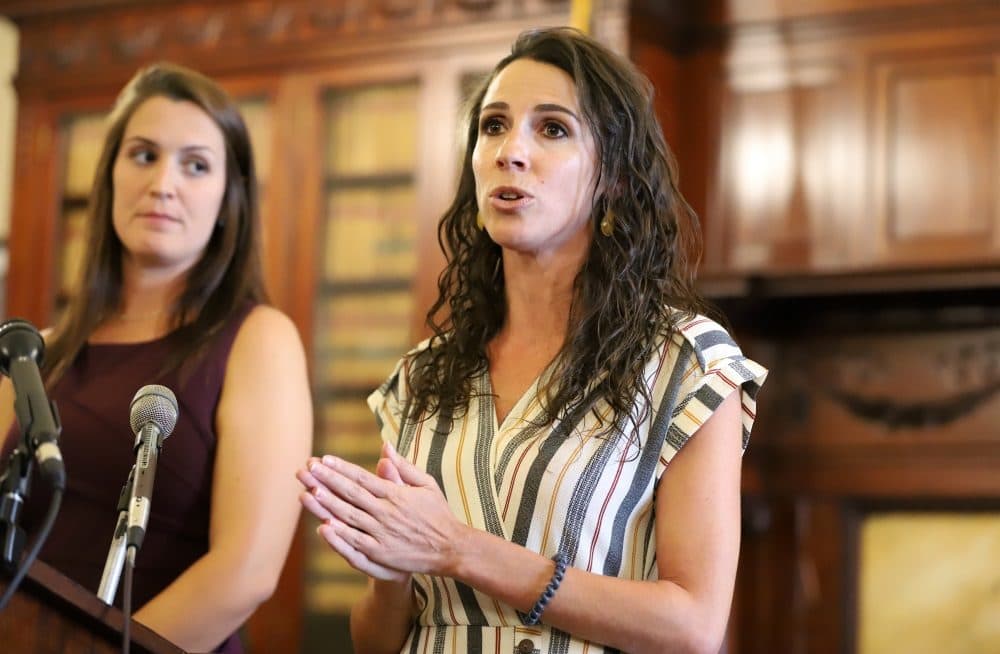 "State House staff salaries are a joke," one legislative staffer wrote in response to an anonymous survey this spring.
"When I left the private sector, I knew that I would be paid less than at my previous job," another said. "What I did not realize is that as a college educated human, I would be struggling to pay my bills working for the state."
Motivated in large part by those survey results that the Beacon B.L.O.C. group published in May, a pair of lawmakers submitted a new package of legislation aimed at improving pay and work conditions for the hundreds of aides in House and Senate offices.
Legislative leaders this spring awarded staff raises and one-time work-from-home stipends, but Rep. Erika Uyterhoeven and Sen. Diana DiZoglio said their colleagues need to take more substantial action to address concerns that leave many staffers anxious about their futures.
"The Legislature constantly talks about diversity, equity and inclusion while at the same time maintaining policies within its own institution that block those from low-income backgrounds and communities of color in particular from being able to gain access," DiZoglio, a Methuen Democrat, said in an interview.
DiZoglio, who helped facilitate the voluntary staff survey and shared the responses with the News Service, and Uyterhoeven filed five bills last week that would set a pay floor for legislative aides, require regular raises, accelerate staff access to health insurance and create new liaisons to represent the workforce.
The first bill in the package (HD 4386) would set a minimum salary of $55,000 for full-time House, Senate and joint legislative employees, increase other salary tiers accordingly, and require annual pay raises scaled to the increase in the statewide median household income.
They also called for providing legislative staffers with yearly cost-of-living adjustments (HD 4388) and offering retroactive bonuses to offset costs incurred during the pandemic (HD 4387).
Uyterhoeven said lower pay poses a disproportionately large barrier to current and prospective staffers of color, who often do not have the same degree of access to "generational wealth" or "safety nets" — such as supplemental income from a parent — that white often employees enjoy.
"Is this opportunity for becoming a staffer in the State House something that's actually an option for everyone?" the Somerville Democrat said. "If it's such low pay, or if it's such an uncertain work environment, that's something that a lot of individuals and particularly candidates of color can't be eligible for."
In May, shortly after Beacon B.L.O.C. released its survey results, House Speaker Ronald Mariano and Senate President Karen Spilka announced that staff that month had been informed of 6% raises and one-time stipends of $500 to cover work-from-home costs.
"I know that this year has been difficult," Spilka wrote to staff in a May 11 letter. "I encourage all of you to speak with your manager, my Chief of Staff Mary Anne Padien, or the Senate's Human Resources team if you need assistance in any way. I also encourage you to pay attention to and make time for your mental health."
Asked for comment on the new legislation, a spokesperson for House Speaker Ronald Mariano said the chamber's 2018 rules package formalized the structure for the House's independent human resources department. The spokesperson added that the House has provided biannual cost-of-living adjustments since 2012 "with a brief delay this past session to account for the unstable revenue picture at the time."
The proposed $55,000 floor would represent a raise for most of the Legislature's current staffers.
In 2020, House, Senate and joint General Court full-time employees across all positions had a median annual salary of $51,000, according to a News Service analysis of CTHRU state payroll records. Of the 795 individuals listed as full-time legislative employees last year, 485 — about 61% — were paid at an annual rate of less than $55,000, the comptroller's payroll data show.
The proposed $55,000 floor would land substantially above Boston's median annual per-capita income of $44,690, which the U.S. Census Bureau estimated based on data between 2015 and 2019.
Staff sizes and responsibilities vary across different legislative offices. Many representatives have only a single legislative aide, a role that Beacon B.L.O.C. said typically has a salary around $43,000.
Other offices also employ staffers dedicated to constituents services or research. Some higher-up employees in the House or Senate, such as chief legal counsel or chief of staff for lawmakers in leadership, earn salaries in the high five-figure to low six-figure range.
All 160 representatives and 40 senators received the same base pay rate of $66,257 in 2020, but lawmakers also earn stipends based on leadership and committee positions that substantially increase their overall earnings.
Among lawmakers who remained in office for the entire year in 2020, the median total compensation was $93,553 for representatives and $120,633 for senators, according to the payroll data.
Another bill DiZoglio and Uyterhoeven filed (HD 4389) would eliminate the waiting period that new hires in the Legislature must undergo before their employer-sponsored health insurance coverage begins. DiZoglio said that span typically lasts 60 days, though some employees have reported waiting as long as three months.
Access to insurance featured as a major theme in the Beacon B.L.O.C. survey, with more than 305 of respondents saying that the mandatory delay impacted them. Several described facing substantial costs for COBRA or Massachusetts Health Connector coverage during the interim, and some said they paid out-of-pocket for injuries or health issues while waiting for their State House insurance to take effect.
---
More from WBUR
---
"This was actually something that was raised to us with a higher level of urgency during the pandemic because you had staffers beginning employment during a pandemic concerned about not having health care coverage," DiZoglio said. "That's simply unacceptable. Our staff should not have to worry."
The final piece of their proposal (HD 4390) would create a new position in each branch to serve as a representative of legislative staffers in employment matters.
Under the current system, DiZoglio and Uyterhoeven said, each individual lawmaker can hire their own staff but decisions about pay and benefits lie with the House speaker and Senate president.
Senators previously set pay for their own staff in consultation with leadership, but a Spilka spokesperson said the Senate changed the practice to comply with the Equal Pay Act and is now implementing a system to ensure staff receive comparable pay for comparable work.