With Another Day Above 90, Boston Heat Wave Becomes Official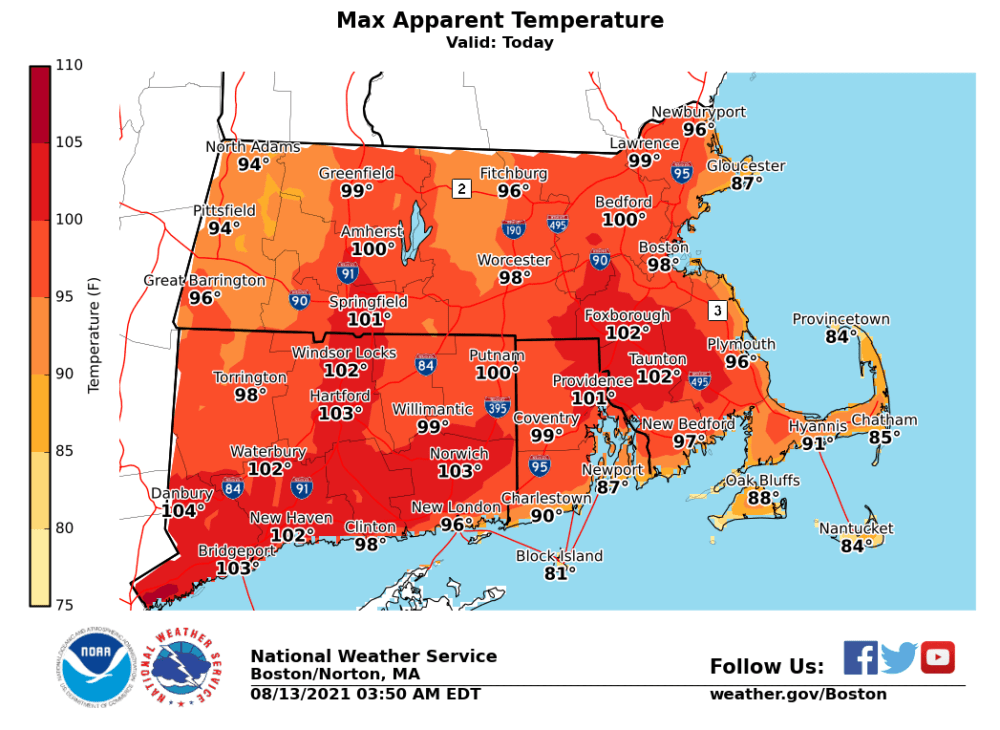 This article is more than 1 year old.
After yesterday's extreme heat, we will feel it again today for the 19th day this year that Boston reaches 90 degrees or higher.
The National Weather Service defines a heat wave as a period of abnormally hot weather that lasts two or more days. Today's heat index values are expected to fall between 95 and 103, the weather service predicts, marking a heat wave for the region. Forecasters have also issued a heat advisory.
After a few days of this heat, our bodies do adjust a bit. This high humidity continuing day after day does, however, take its toll — especially if you're unable to get into a cool environment for an extended amount of time. Today and tomorrow continue to be days you'll want to take it as easy as possible during the hottest part of the afternoon.
The good news — if you don't like this extreme summer weather — is it will be trending dryer and cooler throughout the upcoming weekend.

On Saturday, readings will still be well into the 80s to near 90 and for those locations that reach 90, that will be a four-day heat wave.

Sunday is my pick for the weekend, with temperatures around 80 and very low levels of humidity. We should actually be able to keep the windows open at night — something I'm looking forward to after all this heat.
The number of 90-degree days so far this summer is about 25% above the long-term average of 14.
We can expect this trend to continue in the coming decades in keeping with the climate predictions. Earlier this week, the UN's Intergovernmental Panel on Climate Change (IPCC) released its latest report, delivering the current scientific consensus on the state of our climate. The increasing humidity and hot days we're seeing are completely in keeping with climatologists' predictions.
Meteorologists and climatologists look at the summer as the three months of June, July and August. This year, even with the cooler-than-average July, we are still poised to have one of the top 10 hottest summers on record. Those records go back to 1872.
This current heat wave is Boston's third this year and again, we can expect an increasing number of heat waves in the coming decades. And when we get them, they will last longer and be hotter.
---
More from WBUR
---
Hot summer days have certainly been happening for hundreds of years but if you are not a fan of the weather we're experiencing this week, unfortunately the trend is clear, and the curve is point up.