Mass. Environment Group Draws Lessons From Local Clean Energy Projects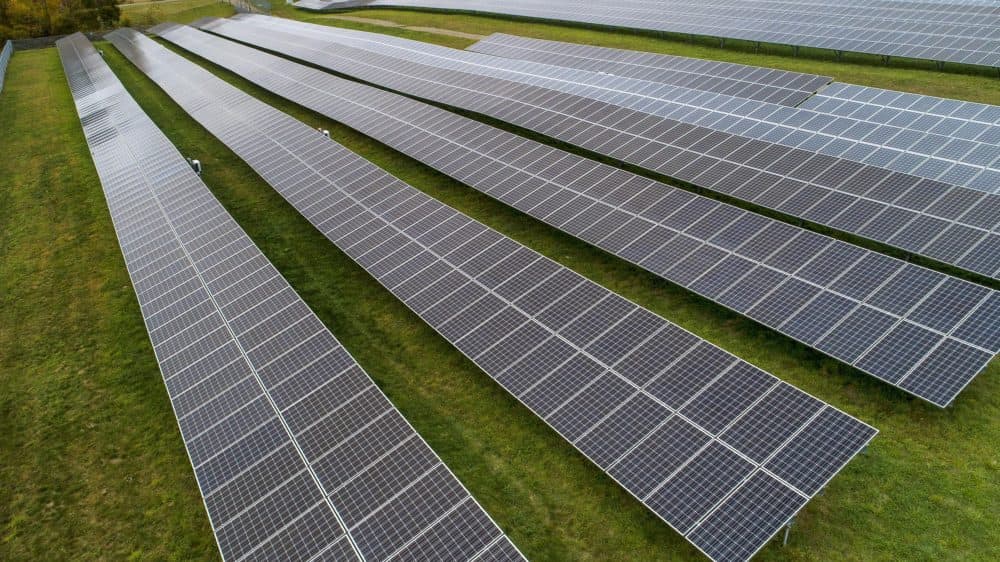 This article is more than 1 year old.
A proposed microgrid in Chelsea managed by a cloud-based algorithm, a joint program that resulted in 31 contracts for air source heat pumps in Mendon and Upton, and the $16.9 million in energy savings generated by the Cape and Vineyard Electric Cooperative are among the projects highlighted by an environmental group in hopes of spurring additional local and state clean energy action.
The Environment Massachusetts Research and Policy Center released its Renewable Communities report Tuesday, exploring seven municipal and regional case studies encouraging renewable electricity, energy storage, clean heating and energy efficiency.
Environment Mass. state director Ben Hellerstein said there's a "very synergistic relationship" between state and local moves toward cleaner power.
"It's certainly the case that state policies — you know, incentives for solar power, for battery storage, for energy efficiency — have made it a lot easier for communities to pursue their efforts at the municipal level, and we've also seen over time that municipal action can help to push state officials to go further, and they know that if the communities in their district are taking ambitious action to expand clean energy, then that makes it easier for them to push similar policies on this on the state level, knowing that their constituents are behind them," he said.
This is the fourth edition of the report. Hellerstein said during a webinar Tuesday that since its first iteration in 2016, Environment Mass. has observed shifting trends.
A few years ago, he said, local efforts focused on municipally-owned buildings like schools and city halls, and many new technologies being adopted involved energy efficiency or solar power.
Now, he said, more tools are being brought to the table and the scope of action has broadened as cities and towns have started "to tackle kind of these big-picture questions of how do we get all residents, how do we get all businesses in our community to transition off of fossil fuels and to do that as quickly as possible."
In Worcester County, the Mendon-Upton Solarize Mass Plus program hosted webinars and conducted other outreach efforts to teach residents about six different "green technologies" — solar photovoltaics, battery storage, solar hot water, air source heat pumps, ground source heat pumps and electric vehicles.
Residents have signed 65 contracts with the program so far, according to the report, including 31 for air source heat pumps and 30 for solar photovoltaic systems.
Anne Mazar, the Mendon municipal representative for Solarize Mendon-Upton, said solar hot water, ground source heat pumps and electric vehicles "didn't do as well."
"But we felt that we educated hundreds if not thousands of people on the technology through webinars and different forms of advertising, so hopefully those people, when they go to buy a car, they'll maybe consider an EV, and it's something that's more familiar to them and they understand it more," she said.
Environment Massachusetts backs bills (H 3288, S 1236), filed by Rep. Marjorie Decker, Rep. Sean Garballey and Sen. Joe Boncore, that aim to transition Massachusetts to 100 percent clean electricity by 2035 and phase out fossil fuels for heating and transportation by 2045. Hellerstein said the bills have more than 80 cosponsors and have been endorsed by more than 60 organizations.
In the fall, he said, Environment Mass. plans to launch a new campaign seeking to have the equivalent of 1 million solar roofs installed statewide by 2030, an effort that will involve both state and local action.
"We know that if we're going to achieve 100 percent clean energy across Massachusetts, that solar power is going to play a key role in how we get there," Hellerstein said. "It is clean, it's local, it's available practically everywhere including on the roofs of our buildings, and it's kind of crazy in a way that we're not doing more to tap into that."